When Sharon Zhao Hanyu '23 was a high school senior in Ningbo, Zhejiang, she was faced with a decision: take the familiar path or head off on the path untraveled. 
The safe choice? Attend a prestigious university in Beijing and major in a foreign language. "I felt like if I went to that school I could imagine where I would be in 10 years," she recalls. "However, I felt like going to NYU Shanghai really would be an adventure for me and full of uncertainties, but also opportunities."
Once at NYU Shanghai, Zhao wasted no time. "The first day I stepped on campus, I tried to explore the opportunities offered by our school to develop myself," she says. But while she enjoyed trying her hand at Student Government on the Events Committee, serving as an admissions ambassador, and volunteering on the Dean's Service Corps, she always had her eyes on her future.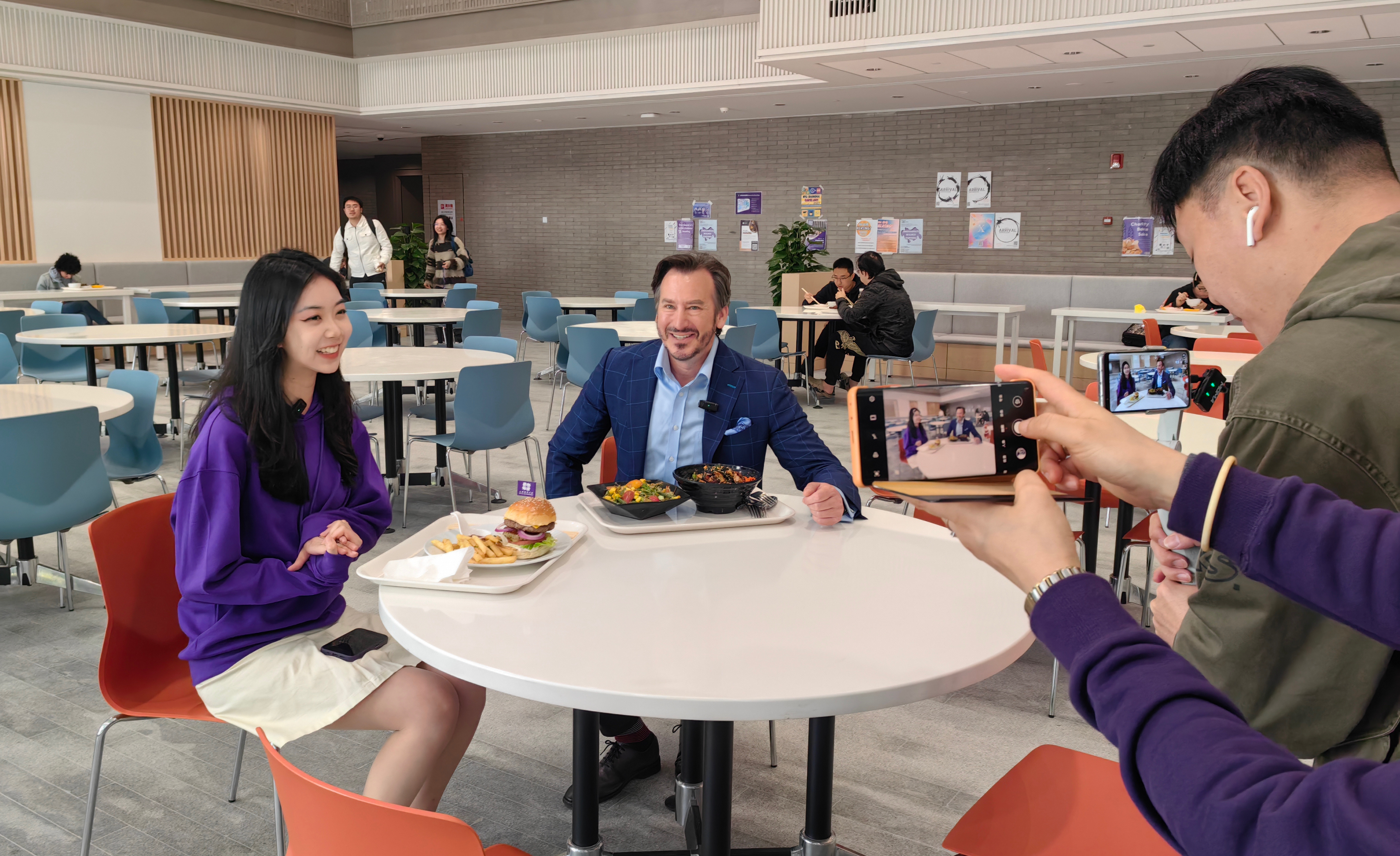 Zhao with ICS television host Steven Weathers on a tour of NYU Shanghai's New Bund Campus in Spring 2023.
Her first stop was the Career Development Center, where she was a constant presence. She made sure to take advantage of the professional resources available to her, talking to career coaches one-on-one and searching for internships. "You can go there any time, at any stage of your career path," she says. "I just wanted to get more knowledge." She says the guidance she found there helped her design her path. "They offered me a great help through the journey of deciding my career." 
Her courses, including GPS, challenged her to get out of her shell. While she remembers the foreign students were very active and talking, she says at first she felt afraid to voice her own opinions. "But [during that first year] I adjusted myself and I also communicated with the professor. She encouraged me to talk more and be more brave to speak up," she says. "As my confidence grew, I felt more comfortable speaking up." 
That confidence benefited her outside of class too. Some of her cherished memories are staying on campus till the middle of the night to prepare for events like the Carnival of Terror and the Dumpling Festival. "I worked with students from different nations and different cultural backgrounds, and we learned [how to collaborate using] different styles of thinking and planning events."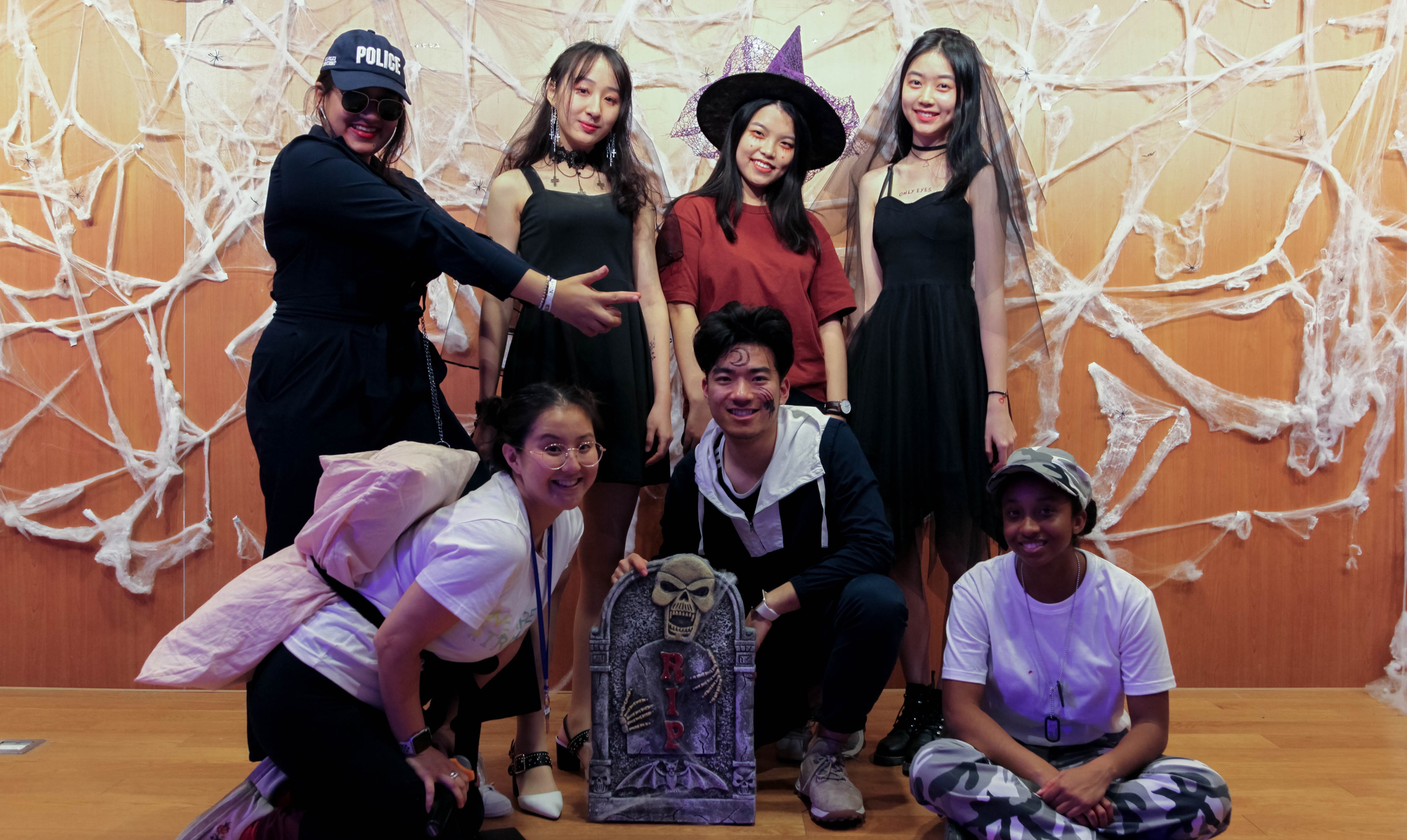 Zhao (back row, right) and student government events committee members organizing a Carnival of Terror in 2019. 
A finance major, Zhao's double minor in IMA and data science helped her develop other skill sets, including web design, video production, online game design, and programming. She especially enjoyed Assistant Arts Professor of IMA Jung Hyun Moon's Communications Lab and Visiting Arts Professor Margaret Minsky's Interaction Lab, where she built a mystery creature from outer space. Professor Minsky says Zhao's curiosity and joy in learning was evident in her classwork. "Hanyu epitomizes intellectual curiosity and always takes the time to document her process and credit others, which takes her work to the next level," she says. 
Zhao and two classmates were awarded funding for a Dean's Undergraduate Research Fund in the summer after her second year, and built a Sentiment Index Model For The Global ESG Market. "[That experience] helped me transform from just a student to someone with some professional experience in doing research," she says.  
Studying at NYU's Stern School of Business in her junior year helped her solidify her goals. "At first I didn't have much knowledge about the investment banking industry," she says. But after talking with NYU Clinical Associate Professor of Finance James Finch, Zhao felt this might be the right next step for her. "He helped me put the pieces of the puzzle together," she says. She completed internships at Bain and EY-Parthenon as she tried to find a good fit. Finally, at an internship at J.P. Morgan, something clicked. "I enjoy dealing with people and working the front desk," she says. "I also like the feeling of managing a lot of products, which is also what corporate banking does."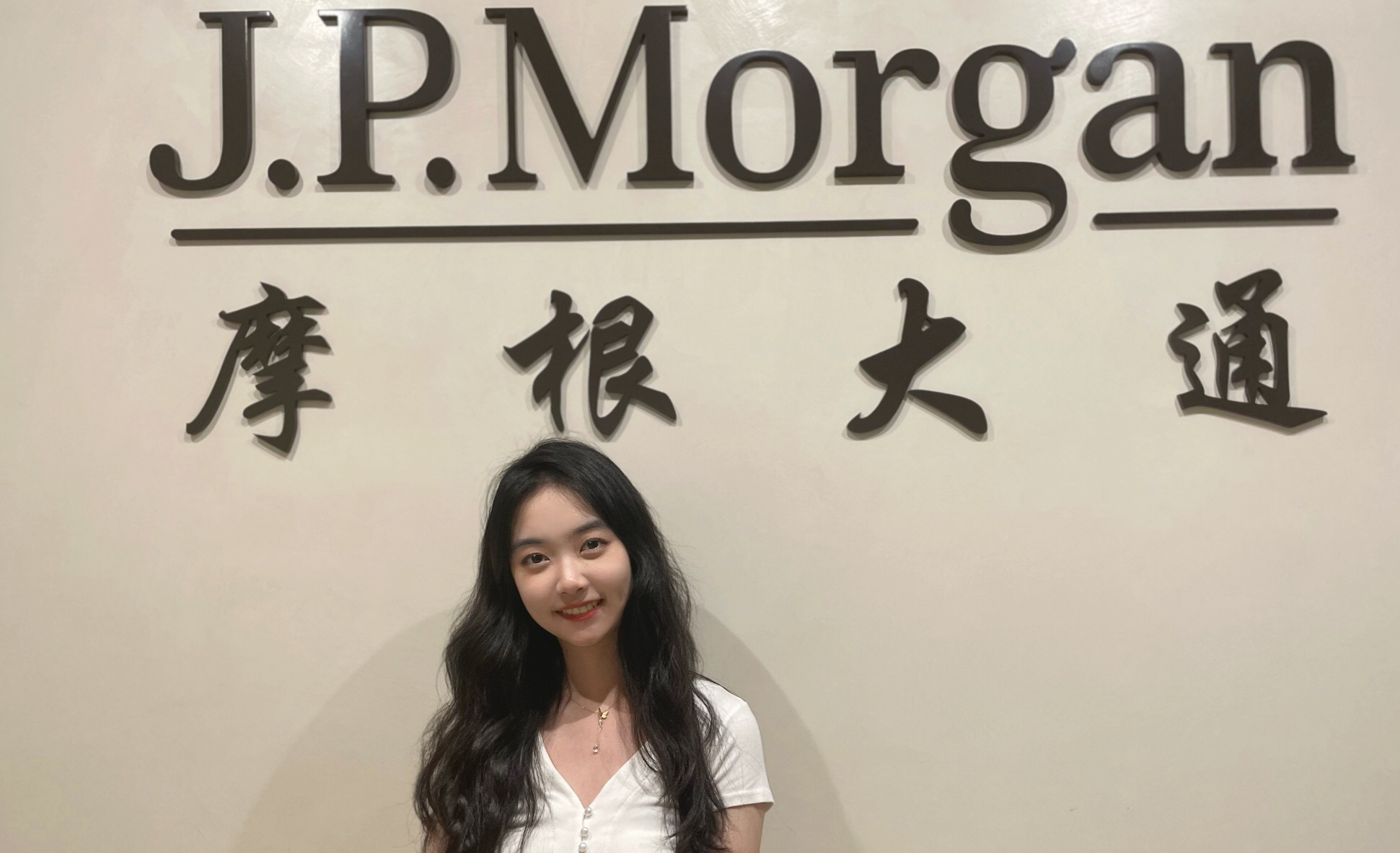 Zhao at her internship at J.P. Morgan's Shanghai office in 2022. 
Making the choice to come to NYU Shanghai might have been the risky path, but it also turned out to be the path of the most growth. Integrating into the international environment at NYU Shanghai was a challenge, she says, but one that helped her grow as a person. 
Four years later, Zhao can feel the change. "I'm more outgoing and self-assured," she says. "I feel like I came here and I got a lot of assistance from the resources at our school, and I progressed to the next level," she says. "It's like this positive loop, which gives me more confidence." She says developing those soft skills will help her in her future career. "Studying in such a diverse community, I feel like I am more familiar or comfortable with dealing with [people with] different opinions and different perspectives," she says.  
After graduation, Zhao will return to J.P. Morgan in Shanghai, this time as an corporate banking analyst. "It's another journey for me, just like the one I started here at NYU Shanghai," she says. "I'm ready for another adventure, something new to explore."