In and of the City: NYU Shanghai Faculty Give Public Lectures at Pudong Library
Nov 18 2021
It's a Sunday afternoon in November and NYU Shanghai Clinical Assistant Professor of History Wen Shuang is giving a talk on the role of rice in modern Arab food culture. An audience of 80 students has gathered to listen to her insights on the history of rice in West Asia and North Africa (commonly known as the Middle East) - from the time it was first brought from China to the region by South Asian merchants to its evolution into an important dish for celebration and festivity in modern day Arab cuisine - served with raisins, nuts, butter, spices, chicken, and lamb. 
The 80 students, however, aren't NYU Shanghai students. Ranging in age from 10 to 80 years old, they are all patrons of the Pudong Library, located just 2.5 miles from the NYU Shanghai campus on Century Avenue. Wen is the 17th faculty member to participate in the "Reading and Life" Lecture Series first launched by the NYU Shanghai Library in 2016. Over the last five years, NYU Shanghai faculty members from a variety of disciplines have given lectures to the general public on their topics of expertise - from fluid mechanics experiments in Antarctica to contemporary Shanghai literature to the reliability of eyewitness identification in criminal cases.
Lecture series organizer and Director of NYU Shanghai Library Zu Xiaojing said the series is one way NYU Shanghai hopes to keep 'giving back' to the Pudong district that has long supported the growth and development of NYU Shanghai. "In the future, we will continue to explore an in-depth cooperation model with Pudong Library to bring better resources to the Pudong public." She added that she would form ways to strengthen the program even further as the university completes its move to its new Qiantan campus this summer.
Wen said she very much enjoyed the two hours she spent with the Pudong residents this month. "I took food as the entry point for the Chinese general public because I want to present the everyday life of the ordinary people in the Arab world," said Wen. She added that she hoped her lecture would help break stereotypes and foster greater understanding about the Middle East and its people.
Mo Fei, the youngest 10-year-old audience member, is a student from Shanghai Puming Normal School Affiliated Primary School. She took detailed notes during the lecture. "Listening to a lecture on the weekend is not taking a 'class' but having fun," said Mo, "What the professor talked broadened my horizons since I could not learn that in the classes and textbooks." After the lecture, she decided to explore a hand grabbing mutton rice restaurant with her parents and read more relevant history books to enhance her understanding.

Left: Professor Wen gave a talk at Pudong Library; Right: Wen communicated with the audience in the Q&A session
Zu said she was also delighted that even after a 20-month long hiatus caused by the COVID-19 pandemic, interest in the lecture program remains extremely strong. Large crowds also gathered for lectures by Associate Professor of Marketing Yan Dengfeng and Visiting Associate Arts Professor Michael Naimark in October and June 2021, respectively. Yan focused his remarks on the vital importance of "data literacy" - and how average consumers could raise their data literacy skills, while Professor Naimark offered Pudong community members an introduction to virtual reality (VR) and augmented reality (AR).
In his talk, Yan warned his audience that in the age of social media, too much of the information we receive every day on social media is unreliable. If people could spend just a little more effort verifying information, they could reduce the likelihood of being misled.   
"It's not too difficult to assess the information quality in most cases but people usually are not willing to do so," Yan said. "For instance, if the information is second-hand, we can simply search for the original content to see whether it has been exaggerated or cropped."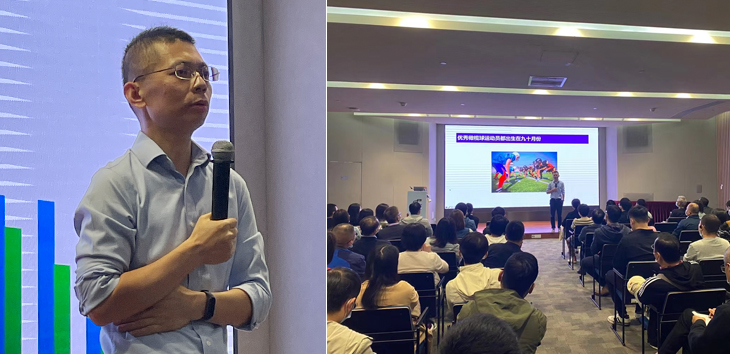 Yan Dengfeng at his Pudong Library talk on "data literacy"
Naimark adapted his talk from his "VR/AR Fundamentals" course, and despite a serious language barrier, he said he was able to reach most of his audience. "It was in English and there was no translator. Still, the audience was entirely Chinese and consisted of elderly people, young adults, and grade school kids. I got the kids laughing, twice. People weren't shy about asking questions!"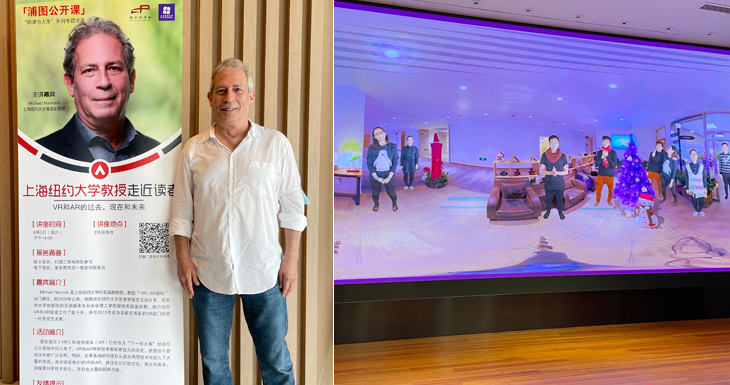 Professor Naimark gave a talk on "Intro to VR/AR: Past, Present, Future"