New Campus Structure Complete as Work Turns to Interior Spaces
Oct 15 2021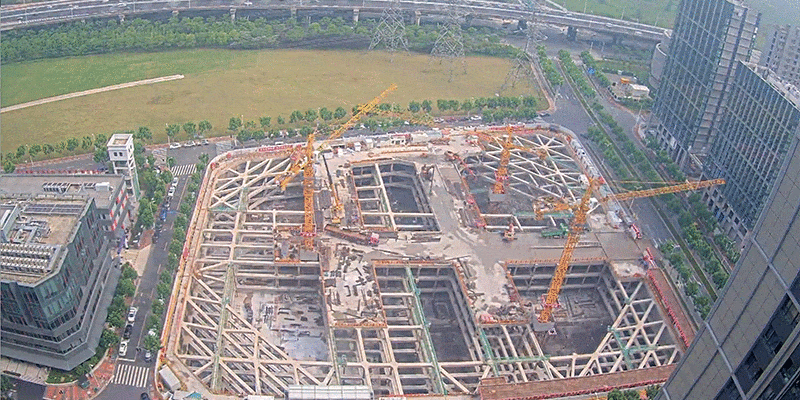 Overcoming construction setbacks last winter due to COVID-19, NYU Shanghai's new campus in Pudong's Qiantan neighborhood is speeding toward a Spring 2022 completion as interior finishing and exterior glass installation got underway in September. Workers completed all above-ground masonry work this summer, paving the way for contractors to install plumbing, ductwork, and wiring, nearly 50 percent of which was completed last month.
Work on the new 9-story, 114,000 square meter state-of-the-art campus composed of four interlocked structures set around an academic quadrangle began in May 2019 and will serve as both an academic home for the NYU Shanghai community and a cultural hub for the Qiantan district.
"The timing of our move to the new campus could not be more perfectly aligned with our 10 year anniversary; it is another milestone when we write our history," said Dean of Students David Pe. "Our new campus is allowing us to expand and build on the spaces that we have been lacking. Our gymnasium, quad, performance arts spaces, the lecture hall that can seat the entire class of students are just a few things that gets all of us excited. We can imagine our place in this city for decades to come."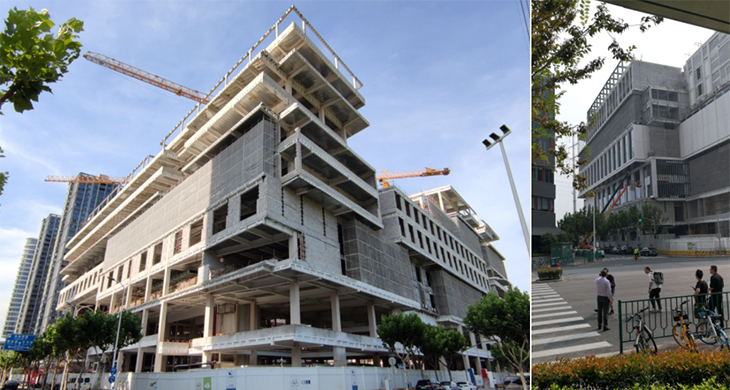 Photo credit: Kenney Zhu
Those familiar with NYU Shanghai's current academic building on Century Avenue will recognize certain design elements in the new campus, such as the brick-pattern walls of the Career Development Center, the multi-cultural furnishings of the World Languages Lounge, and the Allyship in Action Lounge's neon light and warm yellow walls.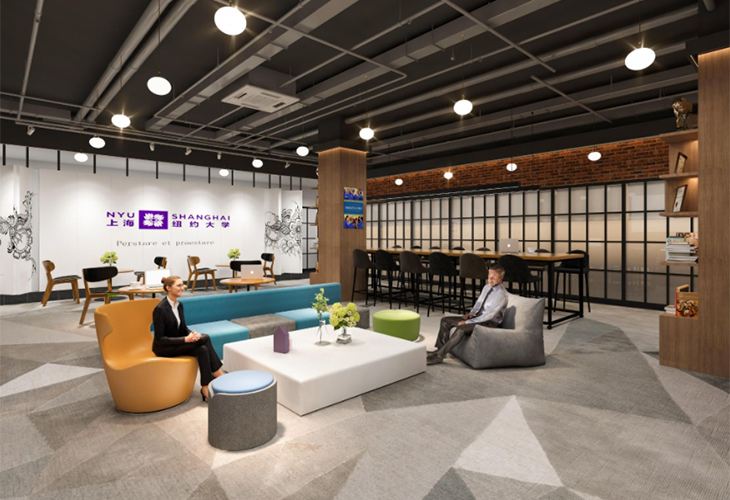 Rendering of the new Career Development Center (Image courtesy of Kohn Pedersen Fox (KPF).
The larger campus will house many new facilities to support the academic, social, and cultural growth of the community, including a 200-seat performing arts recital hall, a black box theater, two indoor gymnasiums equipped to host basketball, volleyball and badminton games, and a two-story reading room adjacent to the library--perfect for book talks and small events.
"The new athletics facilities in NYU Shanghai's Qiantan campus will benefit our whole community," said Athletics Director Luis Wang. "We will have two gymnasiums that include multiple sports court lines as well as equipment that meets international standards. The new Fitness Center and Fitness Studio will also have many upgraded features, not to mention we'll have a table tennis room with enough space to host intercollegiate games."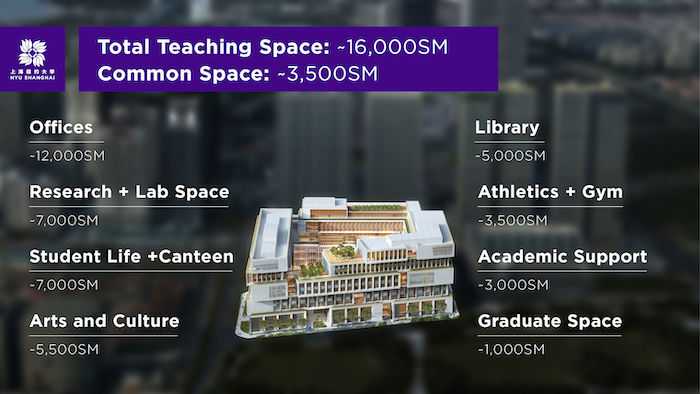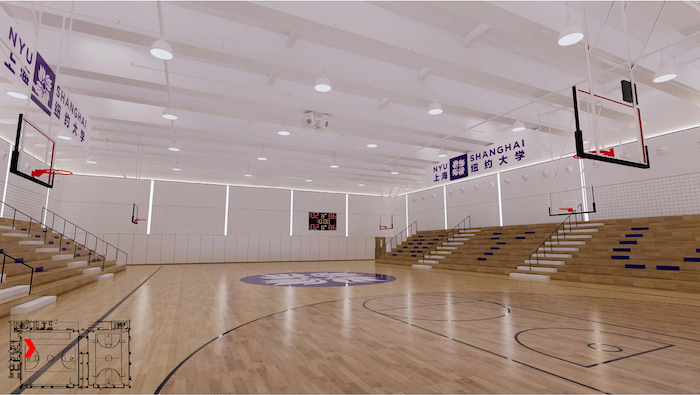 The athletics space will include a fitness center, a gymnasium, and auxiliary gym which will be used for the intramural athletic programs (Image courtesy of KPF).

(Left) The Black Box Theater is a "blank canvas" performance space where students and faculty can create immersive and intimate theatrical experiences. (Right) The dance studio, located in the campus' west building, features a second floor from which passersby can observe classes (Images courtesy of KPF).

(Left) Designed as a cozy study space, the two-floored Reading Room can also host  small scale events and book talks.  (Right) Rendering of the Library academics commons (Images courtesy of KPF).
The new one-building campus is spatially designed for our community to navigate all activities without feeling cramped. It optimizes land space usage, saving several times the space required of most typical multi-building campuses. Built with local and recycled materials, the campus will be universally accessible, with bike lane access and bike storage, and public transportation access. It also utilizes water-efficient landscaping, deciduous trees, solar shading, storm water control, low flow water fixtures, and minimal waste.
Chancellor Tong Shijun said he was looking forward to the day when the campus will serve as a center of education and cultural life in Shanghai. "We will be so proud to welcome students, faculty, and scholars from all over the world. The new campus combines features from the East and the West. It connects the present with the future. With such a great campus, I am confident that we will make a lasting and vital contribution to Pudong, to Shanghai, to China and to the world."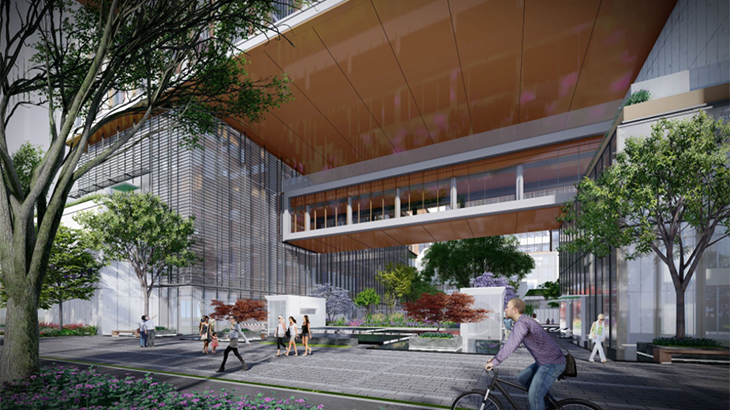 Over the west building's main gateway, a suspended bridge is a physical representation of NYU Shanghai's mission to build bridges between nations and individuals. (Image courtesy of KPF).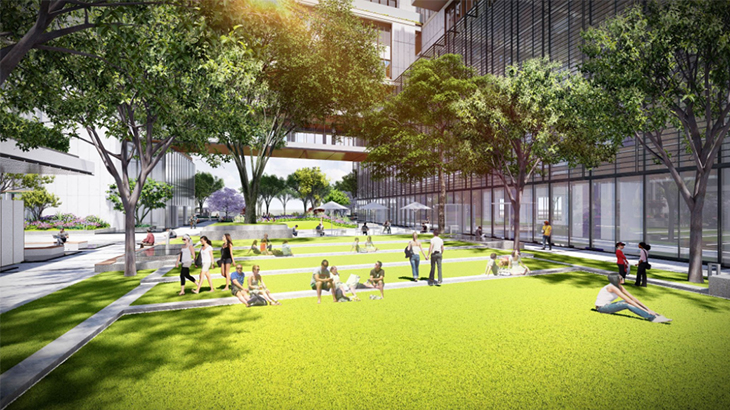 The campus courtyard was designed to integrate two scholarly traditions, the Western 'cloister'-inspired quadrangle and the Chinese Scholars' Garden;  its design allows for sunlight to filter into the courtyard all year long. (Image courtesy of KPF).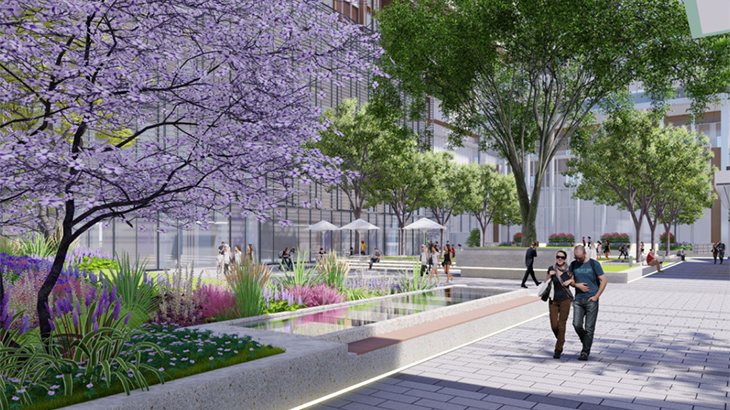 Landscaping of the east and north buildings (Image courtesy of KPF).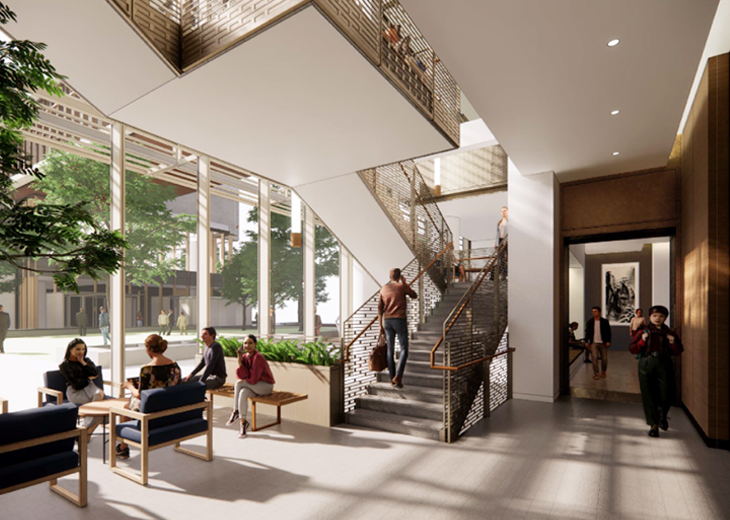 On the first floor of the northeast building, year-long sunlight will filter through the large glass facade, making this space the perfect spot for students to retreat from the cold and collaborate comfortably. (Image courtesy of KPF).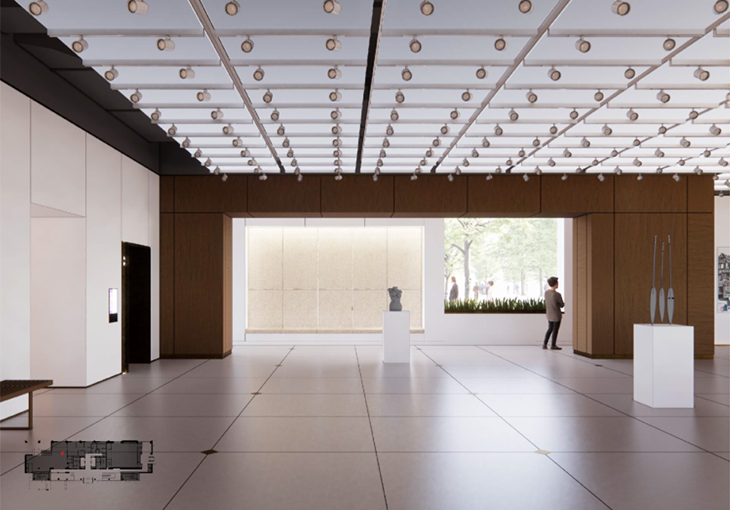 The Institute of Contemporary Art at NYU Shanghai will be housed in this space, providing regular exhibitions from renowned artists (image courtesy of KPF).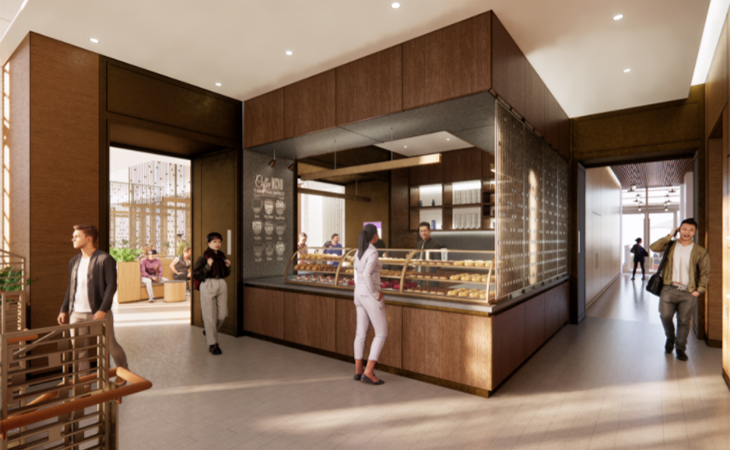 There will be three cafés located through campus to provide alternate dining options for  students. The café on the 1st floor will also be semi-accessible to the public (Image courtesy of KPF).

Located in the south building, the canteen will serve as a full service eatery on campus, serving three meals a day to the entirety of the university population (Image courtesy of KPF).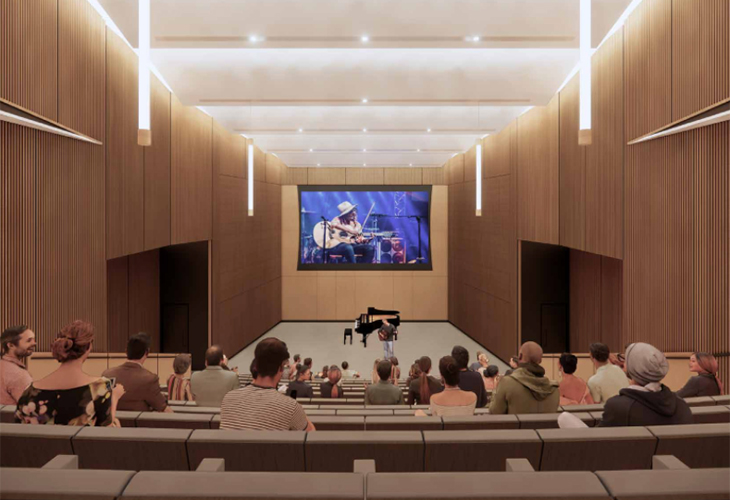 A state of the art recital hall will highlight the music and dance electives offered on campus in addition to hosting performances from outside individuals and groups (Image courtesy of KPF).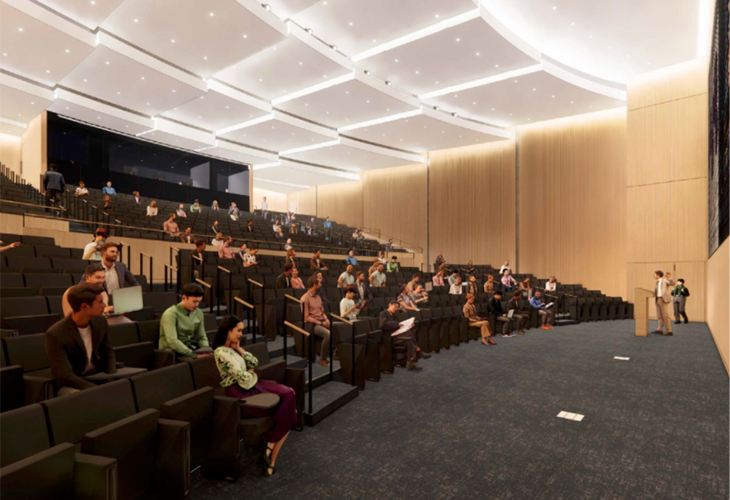 This 600-person auditorium will be used to host both public and university events, including speaker series, panels, and student-led programs (Image courtesy of KPF).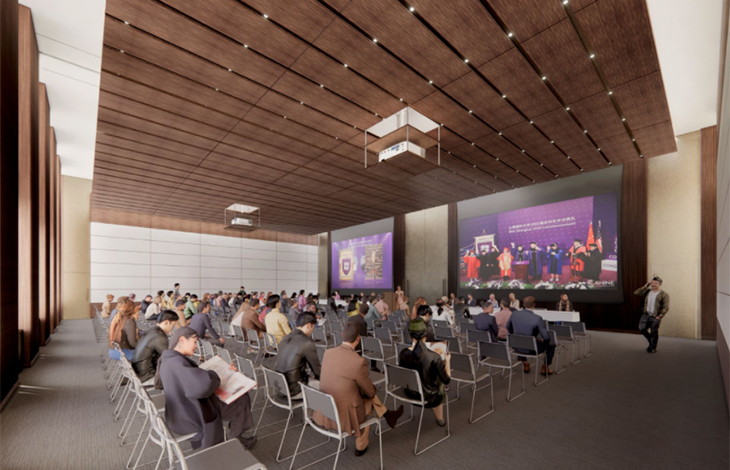 The Colloquium space will allow for the university, research centers, departments, and individual faculty to host conferences, activity fairs, and events for both internal and external audiences (Image courtesy of KPF).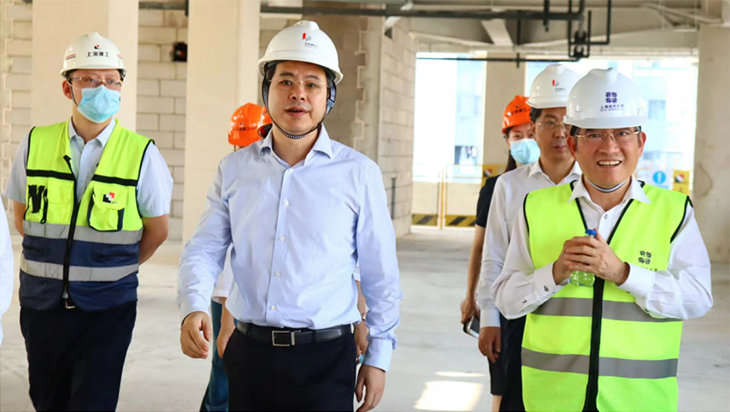 Hang Yingwei (left) Deputy Secretary and District Governor of Pudong New District Committee and NYU Shanghai Chancellor Tong (right) during an onsite visit.