Celebrate Teaching 2021: NYU Shanghai Faculty Share Strategies for Engaging and Inclusive Classrooms
Dec 5 2021
More than 60 NYU Shanghai faculty and academic staff came together last week to share their teaching innovations at this year's Celebrate Teaching symposium. The conference, which was organized by the NYU Shanghai Center for Teaching and Learning (CTL), focused on inventive methods to foster engagement and inclusivity, leading to more positive learning outcomes for students. 
This third annual Celebrate Teaching conference was organized by new CTL Director Katherine Haupert, Assistant Professor Faculty Fellow of Urban Studies Anna Hopper, and Academic Affairs Associate Zhu Yaxuan. "I've noticed that leading inclusive and engaging classrooms is really important to NYU Shanghai's faculty. They're consistently asking about it, and they want to learn what their colleagues are doing," said Haupert.  "We really wanted to utilize the expertise of our faculty."
After being held online in 2020, the conference returned to an in-person format this year, with some participants joining in on Zoom. The event opened with a panel on Engaging Classrooms moderated by Hopper, with presentations from Assistant Professor of Practice in Economics Ilaf Elard and English for Academic Purposes Lecturers Zhang Meng and Sarah Warfield.
Elard recounted how his old methods of teaching started to fail as classrooms moved online due to the COVID-19 pandemic, and he had to experiment with new ways of teaching in order to keep students engaged. "Learning teaching is something I had to do," he shared. "When I first started teaching, I just replicated how my teachers taught me. COVID-19 forced me to innovate." 
At a previous Celebrate Teaching conference, Elard had learned about VoiceThread, a tool for annotating presentations, and he described how he used the tool to increase engagement during online and mixed-mode classes. He employed a flipped classroom model, adding voice notes to his lecture slides so that students could watch lectures before coming to class. Class time was then used for discussion and other interactive activities. This experience led him to use technology more frequently in his in-person classroom, inviting students to take notes collaboratively on a shared Google Document, and asking students to incorporate digital media such as memes into their learning logs.
Zhang and Warfield also shared strategies they used to facilitate learning in their classrooms. Zhang illustrated how she uses multimodal stations in her classroom to give students choices in how they engage with learning tasks, while Warfield described how she tailors use of graphic organizers in collaborative activities to reinforce content knowledge and encourage her students to think critically.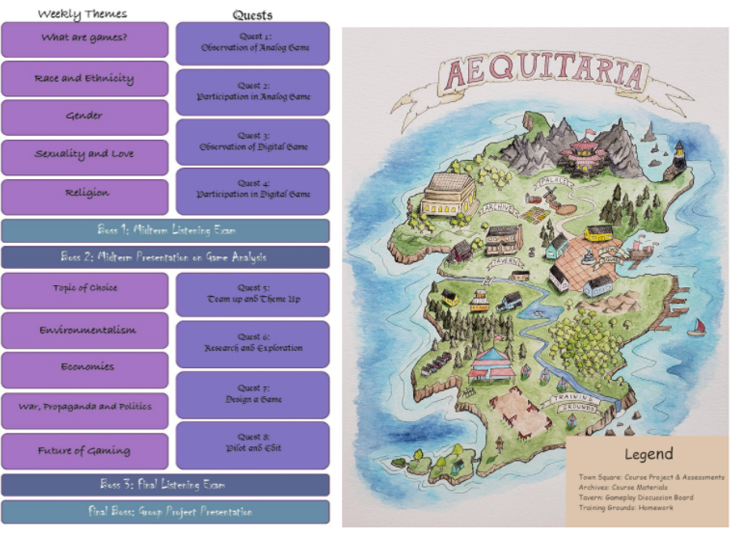 English for Academic Purposes Lecturer Kelly Donovan designed her course as a role-playing game, with quests and bosses taking place in the game world of "Aequitaria." She commissioned an illustration of the game map from artist Megan Keyser. 
English for Academic Purposes Lecturer Kelly Donovan shared a similar experience in experimenting with course design. Donovan set up her English for Academic Purposes class, The Final Boss: Defeating Social Issues in Gaming, as a role-playing game. Students became players in the game, the midterm and final exams were bosses they had to defeat, and assignments throughout the course were quests. Donovan hired an artist to draw a map of the game world, and asked friends, family, and NYU Shanghai faculty members to roleplay as other characters in the game, transforming her course website into an immersive game center. 
The structure and design of the course helped students feel more confident in speaking out in class, Donovan said.  "When the students are role-playing, the pressure of language ability gets shifted onto this other persona," she explained.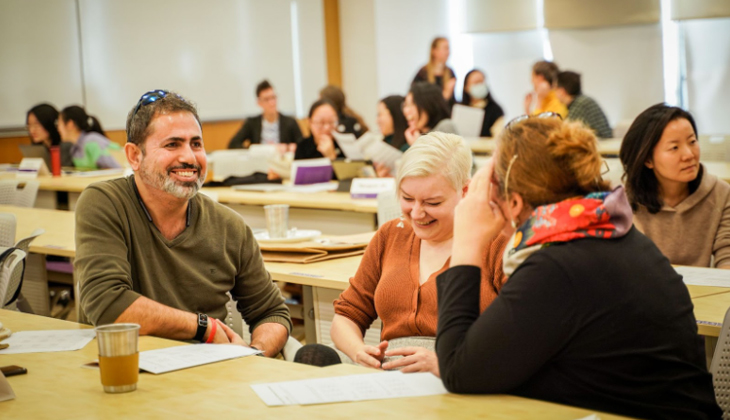 Faculty engaged in discussions about their experiences and classroom strategies in a workshop on Inclusive Classrooms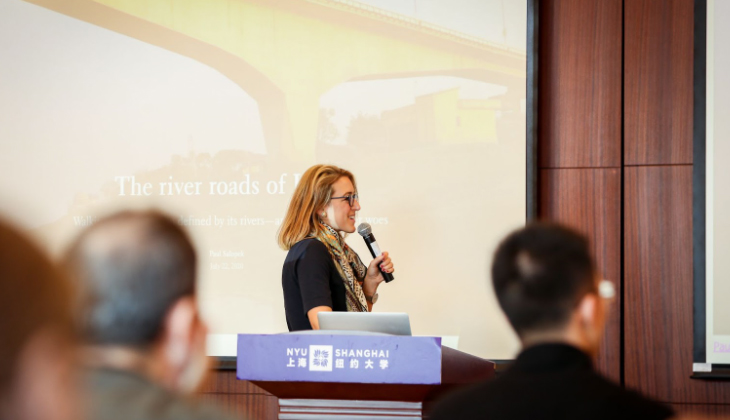 Director of Global Awards and Scholarships and Clinical Assistant Professor of Literature Anna Kendrick described her process of designing class assignments using ArcGIS StoryMaps
The conference proved to be a fruitful space for NYU Shanghai's faculty to share their experiments in teaching. Director of Global Awards and Scholarships and Clinical Assistant Professor of Literature Anna Kendrick presented her experience of using ArcGIS StoryMaps in her Aesthetics and Literature course in Fall 2017, and her Go-Local course Arts and Cultures of Modernity this fall. Kendrick asked students to create StoryMaps to bring together images, course texts, and their own commentary in creative and impactful ways. She described how she adjusted her use of the tool between classes, giving her students different ways of engaging creatively with course content.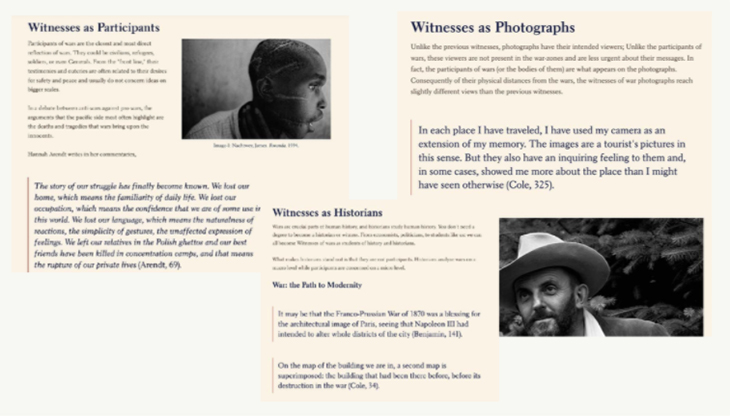 Screenshots from an ArcGIS StoryMap by Leon Xu NYU '24 on "Witnessing War" for Kendrick's  Arts and Cultures of Modernity course
This creativity and dedication from the faculty is something Haupert is keen to tap in future editions of Celebrate Teaching. In the spring semester, CTL is working with Research and Instructional Technology Services to plan NYU Shanghai Teach Talks, a series of talks in the spring semester for faculty to share innovative classroom experiences. Haupert is also fostering collaborations for CTL beyond the faculty, such as with the Academic Resource Center to provide training opportunities for academic support staff. "Teaching and learning happens in a lot of different contexts at this school," Haupert said. "It's inspiring to see people take an idea and turn it into something that leads to better student outcomes."