Hyoungee Kong is an Assistant Professor Faculty Fellow of Art History at NYU Shanghai. In her first year at NYU Shanghai, she has continued her research on Japanese and French visual culture, taught three courses to undergraduate students, and launched NYU Shanghai's first seminar series on gender and sexuality studies. Professor Kong sat down to tell us more about her first year at the university. 
What is your specialty within the field of visual culture? 
I'm an art historian who investigates nineteenth century and twentieth century French and Japanese visual culture. I look at illustrated advertisements and photographic postcards, and color posters from that period from the nineteenth to twentieth century and approach these images through [the perspective of] gender and sexuality studies and queer theory. 
I'm interested in how people could have viewed these visual materials from a perspective that was not always heterosexual, as this lens tends to be neglected in the mainstream, heteronormative framework of scholarship. Thematically speaking, I'm interested in cross-cultural exchange, including this interaction between France and Japan during that historical period, and how encountering unfamiliar images back then helped people to rethink their own bodies and the world around them. 
What are you currently working on? 
I'm actively revising my dissertation into a book manuscript that examines how in the 19th and 20th century, Japonisme  (a Western taste for Japanese things) helped Western women open up in their ideas about their own bodies and sexualities. 
My research examines illustrated advertisements of Japanese-inspired perfumes, kimonos and kimono-inspired dresses, and porcelain objects. These objects were everywhere in nineteenth-century France and consisted of the most visible and influential part of Japonisme as a socio-cultural phenomenon. This scholarly oversight is fundamentally gendered–these materials were not taken seriously because they were associated with feminized social spaces and practices, such as department stores, fashion, and cosmetics. [They were seen as] dainty and precious in the hands of Western women who were able to pick them up in boutiques and department stores. I focus on the overlooked sensorial aspect [of experiencing these objects] and argue that such experiences were linked to the Western fantasy of Japan at the time as the embodiment of cultural differences, including subversive bodily norms and sexual customs. I argue that through engaging with these objects, middle-class Western women were able to imagine bodily experiences that were not always embraced by heteronormative Western conventions [of the time].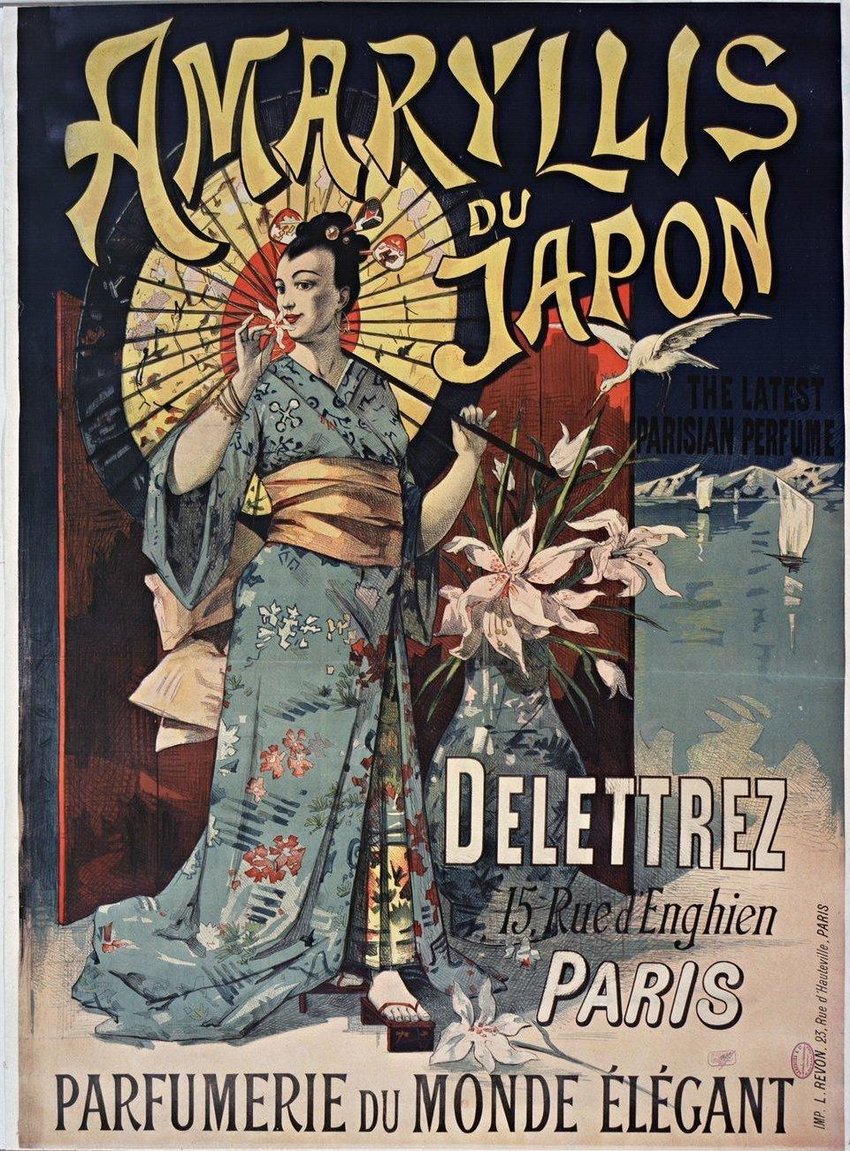 Advertisement poster for the fragrance line Amaryllis du Japon, 1890s. Source gallica.bnf.fr / BnF. Image acquired from the National Library of France.
What courses do you teach? How has your teaching experience been here? 
Last semester, I taught a writing course called "Asian Arts and Architecture." This semester, I'm teaching a foundations course called "What is Art History?" and a course called "Gender and Sexuality in Modern Visual Culture." My students come into the classroom with a sense of curiosity [about], whatever the material they will be learning that day, and they are very responsive, which makes teaching very rewarding. The higher number of international students at NYU Shanghai brings a lot of different perspectives and ideas into the classroom and galvanizes classroom discussions in exciting and productive ways. 
What has your academic experience been like in your first year at NYU Shanghai? 
NYU Shanghai's structure encourages faculty members to be interdisciplinary. I'm a trained art historian, but here I'm in the Humanities area. I've fostered close-knit relationships with two of my colleagues who started around the same time as me. One works on ethnographic projects, and the other is a literary historian. In previous university settings, I've been in departments with only art historians around me as my immediate scholarly community. Here at NYU Shanghai, that's really not the case. We are in an environment where you get to speak and collaborate with people from different disciplines and it really pushes me to be more interdisciplinary in my research and teaching.
Currently I'm working with my colleagues to launch a seminar series on gender and sexuality studies, which is a field that is inherently interdisciplinary. The first talk of the series will be Thursday, March 16 by NYU Shanghai Psychology Professor Pekka Santtila. The title of the talk is "Sex is disgusting! So how can anyone do it?"
--
Read about what other NYU Shanghai faculty are working on:
What I'm Working on: Mohamed Yunus Rafiq, Assistant Professor of Anthropology
What I'm Working On: Almaz Zelleke Explores the Possibilities of Universal Basic Income
What I'm Working On: Pragmatic Solutions with Rodrigo Zeidan
What I'm Working on: Can When You Eat Affect How Well You Sleep?