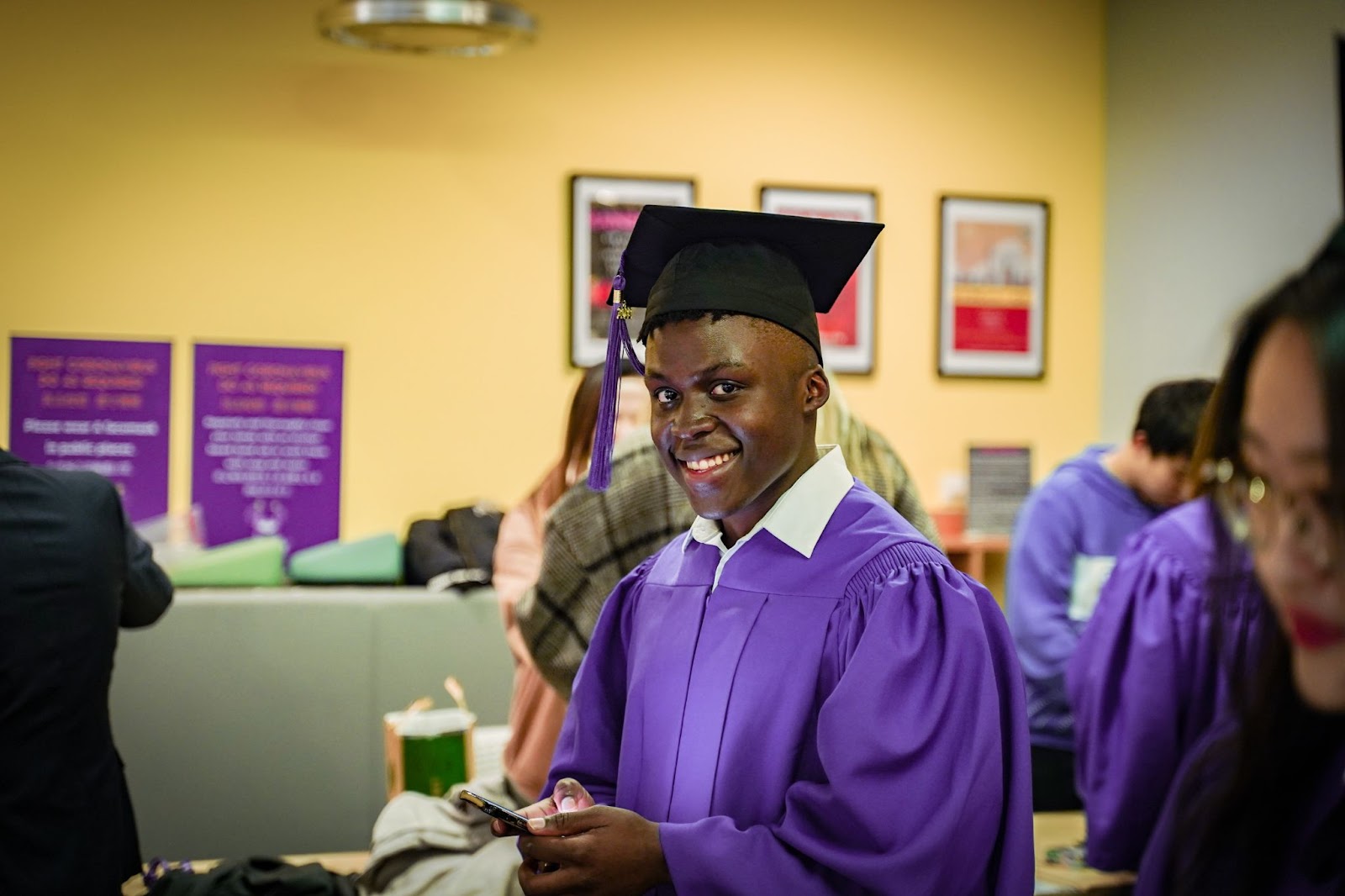 Bongani Ntsakani Musikavanhu '22 usually hesitates when asked about where he calls home. Born in Johannesburg, South Africa, Musikavanhu moved with his family to Boston, Massachusetts when he was nine. "Boston grew on me, but if it were the Olympics, I would be cheering for South Africa," he laughs. As the Class of 2022's student commencement speaker, he's looking forward to addressing the friends, professors, and NYU Shanghai community members who have become yet another home for him these past four years.
In many ways, Musikavanhu embarked on his journey to NYU Shanghai in the seventh grade. "My mother offered me French lessons, but I wanted to be a different individual," he said, recalling the moment he chose to learn Chinese. "I was a very ambitious kid who liked biting off more than I could chew, and I wanted a challenge." 
When applying to colleges, he was set on going to China. "NYU was on my radar–my sister had started at NYU a year before. When I saw that they had a Shanghai campus, it became a priority. I applied Early Decision to NYU Shanghai, and as soon as I heard back from them, it was a 'YES,' and then I came through."
When he arrived in Shanghai, Musikavanhu says he was pleasantly surprised to find that his roommates had names as unique as his own. Burger Wang Boyu '22 from Henan Province, China and Jayoon Kim '22 from Shanghai became two of his best friends, inseparable after their first night out for a hot pot dinner. "I liked that they were unapologetic about only using English with me. It made me realize we should all speak whatever language we want, and that helped me build the confidence to start speaking my own Chinese."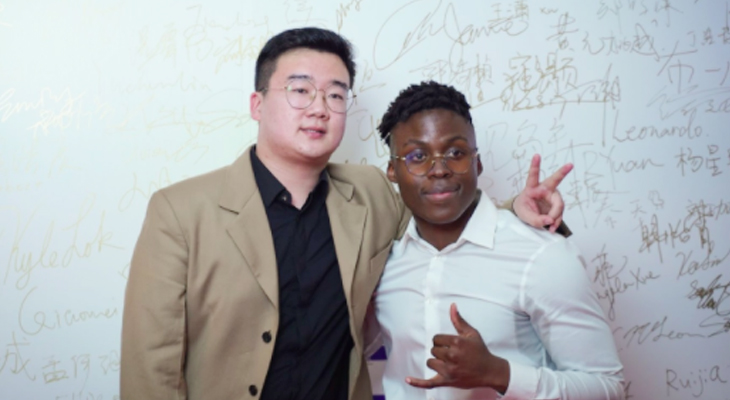 Musikavanhu and his roommate Burger at the Class of 2022's 88 Days countdown.
On campus, Musikavanhu became a Learning Assistant, and gave academic support to students learning Chinese. "Meeting with students allowed me to gain a better perspective of what fluency entails. I realized that confidence and humility is key to sounding fluent. You cannot do well if you are afraid to make mistakes and feel ridiculous. I feel as though pride only feeds into insecurity."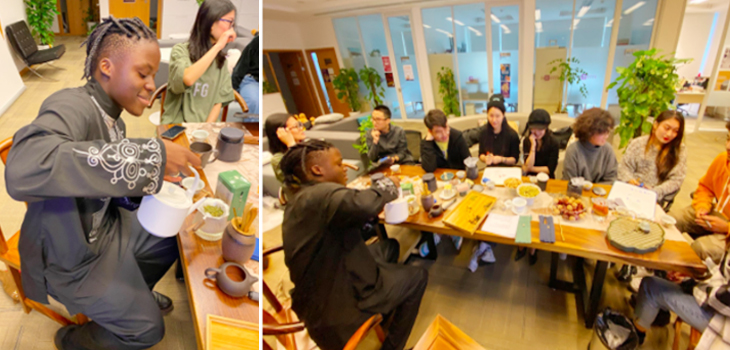 As a Learning Assistant, Musikavanhu hosted a tea ceremony workshop supported by Language Lecturer Jing Chai and introduced students to different types of teas and how they're made.
Musikavanhu has treasured the close relationships he's forged with his professors. "There's a genuine respect and a love that you develop for these people who are nurturing your mind." 
One of his favorite courses was Futures and Options with Associate Professor of Practice in Business and Finance Rodrigo Zeidan. "He made learning about futures and options feel like it was the inside scoop, like nobody else was getting this sort of education–and it was really quite like that, because I was in a class of four other students when typically this kind of class has fifty students," he said. "He provided this intimate learning space that made it cool to learn more about financial derivatives."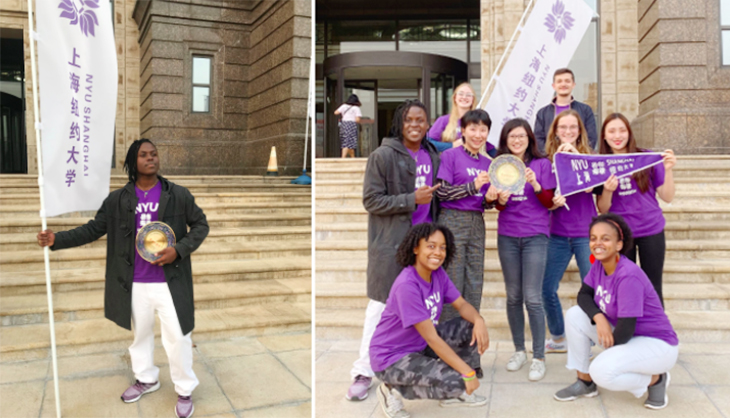 Musikavanhu competed in a televised linguistics competition hosted at Fudan University in 2019 which entailed weeks of rehearsing ancient Chinese poetry. For fun at the event, he also performed a rap he co-wrote with two of his instructors. "I remember forgetting the lyrics during rehearsal to the shock and horror of my teachers, but I assured them and the producers that I would have it down in time for the live broadcast–it all worked out in the end!"
Finding creative ways to immerse himself in Chinese language and culture beyond the classroom became one of Musikavanhu's defining ambitions throughout his college years. Classroom grammar lessons became fuel for writing his own stories, scripts, and rap songs in Mandarin, and inspired him to create a YouTube channel of vlogs and interviews like A Shanghai Tea Ceremony (上海茶道) and Quizzing Strangers in the Streets of Shanghai for a chance to win 1000 Yuan! "I want to create art that uses and merges cultures and languages. I want to create stories that highlight the Black experience in China [and] the different things that exist in that relationship between China and Africa, because it's such a young relationship… and arts and media are a great way to keep the discussion in the right light."
Musikavanhu returned to Boston for winter break in 2019, not realizing that with the sudden outbreak of COVID-19, he would not return until  August 2021."I came back to a very homogenous campus which presented its own benefits and challenges. One benefit was engaging more easily with Chinese culture, but I definitely felt less represented." 
But Musikavanhu found a space for dialogue when he connected with the Black Student Association (BSA). "What struck me was their ability to discuss very intense and topical material in a structured and productive manner. The result has been getting to witness amazing initiatives and events throughout Ally Week, Black History Month and beyond. We recently did a Black History-themed Jeopardy night on Zoom," he says.
"I don't think I would have been able to find many other schools like NYU Shanghai, where they make it their job to ensure that people are represented in spaces that they wouldn't necessarily have been before. I think that's really powerful and I think it's allowed a resilience to build up within me."
Resilience is also something Musikavanhu pours into his assets management internship at Schroders in Shanghai. "My thing has always been putting myself in spaces where it seems like I shouldn't be there, and I think this internship has helped me fight the imposter syndrome that is such a real force in everybody's lives," he says. "You feel as though you are unqualified and nothing like these people–that they probably don't want you to be there. I've had to realize that's a lie we tell ourselves, and I remedy that situation by being present, proactive, and representing myself with confidence and the right attitude."
After graduation, Musikavanhu envisions working for a time as a finance consultant or analyst before possibly pursuing graduate school. "What's been attractive to me is the idea of business from the Chinese perspective and how it's impacting Africa right now. I would love to be able to give equity and capital to places in South Africa specifically–and that's why I've stuck with business and Mandarin. I want to gain skills and knowledge while working in this country, but I see myself engaging with Chinese communities all around the world and going back to and giving back to Africa." 
"I can liken the experience of my past four years to that of two of my favorite fictional characters–Indiana Jones and Jack Sparrow. Both just go out, experience all of these crazy things, and have a little bit of luck as they're trying to figure things out," Musikavanhu said. "NYU Shanghai in a sense, has been my luck."