Student Research Paper Published
Mar 23 2018
Although the concept of adolescent romance has not been widely embraced by parents in China, the research of two NYU Shanghai senior students shows a new generation of Chinese parents redefining traditional views.
Sponsored by the Deans' Undergraduate Research Fund (DURF), Qin Mengxue '18 and Zhuo Ke '18, investigated this evolving topic from a psychological perspective and presented their academic research paper at the 47th Annual Meeting of Society for Cross Cultural Research, held in Las Vegas, Nevada this February.
"It was an unforgettable experience. We were the only undergraduate presenters at the conference. Mingling with leading researchers has broadened our vision," Zhuo said.
Selected as the "Best Undergraduate Student Paper," their research addressed questions about the appropriate dating age for Chinese adolescents? Would Chinese parents approve of their teenage children dating, and how do parents find out about their children's romantic involvement?
Intrigued by these questions, Qin and Zhuo surveyed 193 parents of young adults from 22 provinces across China, and conducted one-on-one interviews with eight of them.
"Apart from academic interest, we had personal experiences that motivated us to conduct this research," said Qin. "Our teachers and parents were against adolescent dating in high schools, and we were asked to focus solely on exams. We wanted to see if it is still the case with Chinese parents nowadays and what has changed."
Their data showed that modern, urban Chinese parents viewed adolescent romance as a part of normative development; however, parents became reluctant to approve romantic relationships when it concerned their own children.
"81.4 percent of the surveyed parents chose 'between 18 and 25 years old' as the appropriate time for their children to start their first romantic relationship, a very late age range compared with Western countries," Qin said.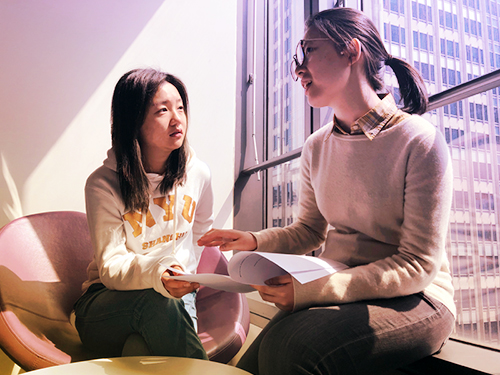 All of the parents interviewed expressed motivation to monitor their children's romantic encounters and play a supportive role in their romantic life, but were reported as unlikely to engage in a verbal discussion with their children on the subject. Among them, 42.4 percent learned about their children's relationship status through observation, 33.3 percent from the children's teachers and friends, and another 12.1 percent from their own friends and relatives.
"In our study, we found a lack of communication within families. From the parents' perspectives, children tend to hide romantic relationships from authority figures. Parents themselves are hesitant, unsure of how to constructively respond to teenage romance," Qin said.
Mentored by Assistant Professor of Psychology Li Xuan, Qin and Zhuo are currently improving the paper with further in-depth data analysis, aiming at publication possibilities. They were also invited to attend the International Society for the Study of Behavioral Development (ISSBD) in Australia to showcase their project this summer.
"It was an excellent experience working with Ke and Mengxue on a research topic that we are all interested in and which has clear implications for family and school practices regarding Chinese adolescents," said Li. "Ke and Mengxue had great ideas, but more importantly, they had the commitment and persistence to bring the project to completion - qualities that are key to their future careers."  
"This project has strengthened our academic research skills, such as data collection and analysis, and deepened our understanding of the cultural context of adolescent development," Zhuo said.
Written by Anastasiya Karavan NYUAD '20