NYU Shanghai Student Wins Fellowship to Create Media Literacy Program for Teens
May 21 2021
On June 1, Shi Jiannan '22 will become the first Chinese NYU Shanghai student to receive a Humanity in Action Fellowship, a highly selective one-year fellowship for young leaders in social justice.
Shi, a Social Science major, will use his award to develop a program to teach Chinese teens the basics of media literacy and critical inquiry. Alongside 22 fellows living and studying across the United States and Europe, Shi will begin his fellowship virtually in June with a month of intensive discussion and mentorship by local scholars and community leaders based in Berlin.  Over the following eleven months, Shi will then design and implement his project with guidance and support from his peers and program leaders.
Shi said he is excited to learn about how Germany's complex history of racial and social injustice - including both the rise of Nazism and the country's present struggles to embrace refugees and immigrants - is addressed in public education and in various forms of media.
"Europe is where a lot of the big ideas about the structure of contemporary society came from, and as a social science major, I really want to get to know what the local context is for these ideas," Shi said. "I also want to explore how contemporary issues in China similarly could be dated back to its own history, which is really important for civic education. Students should be aware that the world that they see now is complex, rooted in the history of China. Even the governance of the internet -- it's all somehow connected to the historical background in China." 
Shi has spent the 2020-2021 academic year taking a gap year to work in a rural Hunan Province high school for PEER (Peer Experience Exchange Rostrum), a non-governmental organization (NGO) he first connected with through NYU Shanghai's Dean's Service Corps program. In addition to managing a student life hub and multimedia library, teaching workshops on civic issues such as gender equality and the ethics of technology, and helping students produce a magazine about issues affecting their school, Shi has also collaborated with PEER colleagues and media industry insiders to create a media literacy program that has already been implemented in two schools.
"I want to empower the students with Internet literacy or media literacy, because I believe in the power of acquiring information using your own agency and autonomy, instead of letting the information just feed you," Shi said.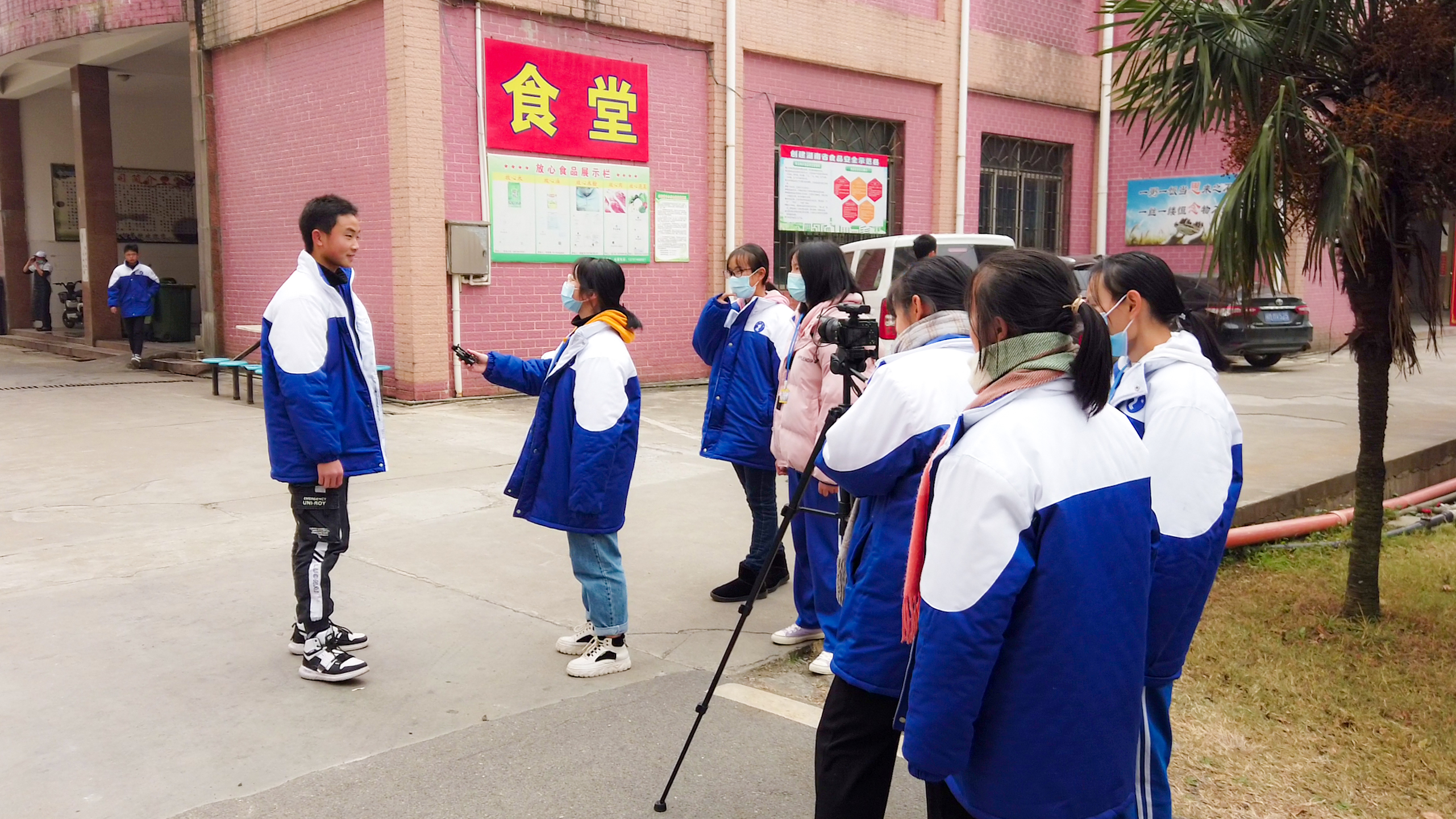 Student journalists mentored by Shi interview a classmate about their school's intense 6 am to 10 pm daily schedule for students, modeled after Hengshui High School in Hebei Province.
Like many Chinese college and high school students, Shi said his complex relationship with digital media really began when he was in junior high school and all his classmates constantly seemed to be on QQ and QZone, two of the most popular social media platforms in China at the time. Shi found that when his opinion on a social interest topic differed from that of his classmates, it was often because they were finding conflicting information on these social platforms and from other online sources.
"A lot of my peers in junior high school would believe in this information without really examining it," Shi recalled. "That was the first time when I realized how diverse online information could be."
After arriving at NYU Shanghai, Shi dove into his interest in how media shapes our lives and society, connecting with former journalist and NYU alum Huang Junliang through the Career Development Center's NYU Alumni Executive Career Mentor Program. As a sophomore, Shi took on his first social action project through Student Life's LEAD program, curating an on-campus multimedia installation on the perpetuation of gender stereotypes through marketing.
"Hearing feedback from the audience about how that installation challenged their way of seeing advertisements affirmed my belief in becoming an activist to better our society and make it more inclusive," Shi said.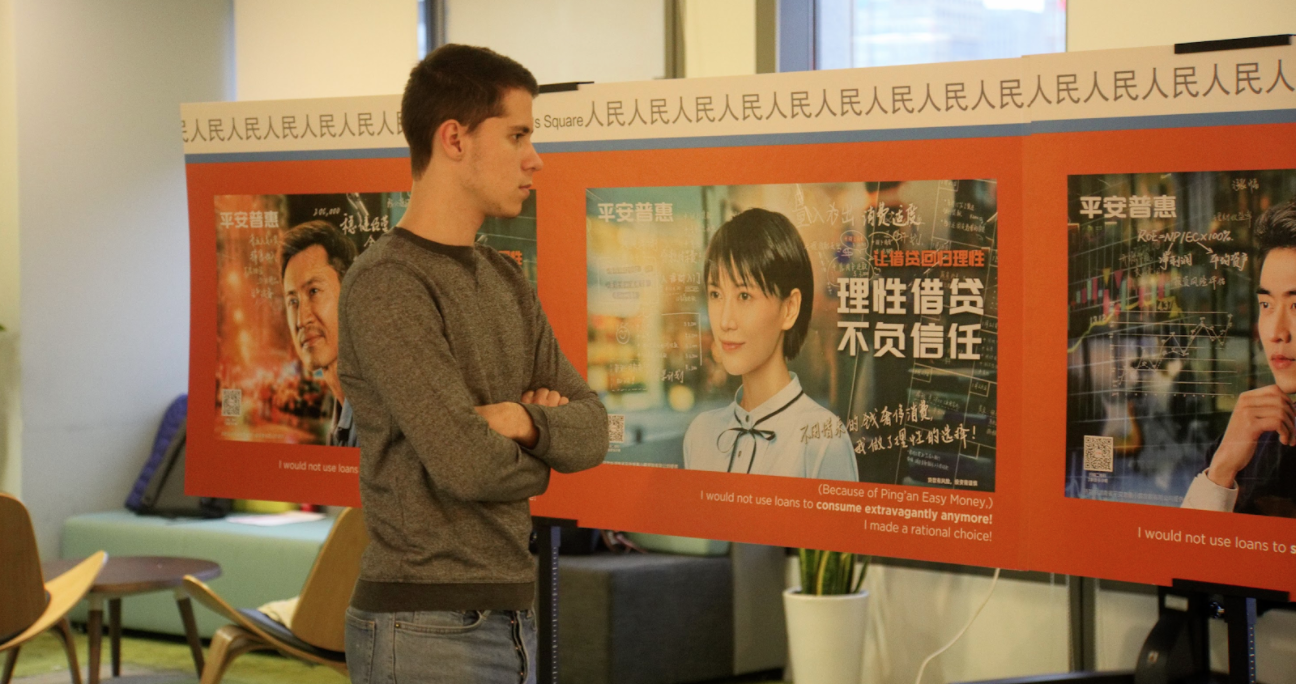 Isaac Schlager '21 views Shi's installation on gender stereotypes in marketing at NYU Shanghai's campus in Spring 2019.
Shi said his study away at NYU Prague in fall 2019 -- coinciding with the 30th anniversary of the Czech Republic's "Velvet Revolution" -- was also instrumental in his decision to apply for the Humanity in Action Fellowship. Through a course taught by NYU Prague faculty member and social entrepreneur Jeremy Druker and through local events commemorating the Velvet Revolution, Shi was able to get an in-depth look at how information literacy played a huge role in shaping the public's understanding of Czech history and its role in their country's future.
"One of the main topics that people were talking about was how the recent rise of the tech giants is again tightening the information environment, and this really inspired me, especially when I heard about one program to raise media literacy for the senior citizens in the Czech Republic," Shi said. "The whole time, I was just reflecting on my home country, China, and I felt like we are facing the same issue, but with a different context."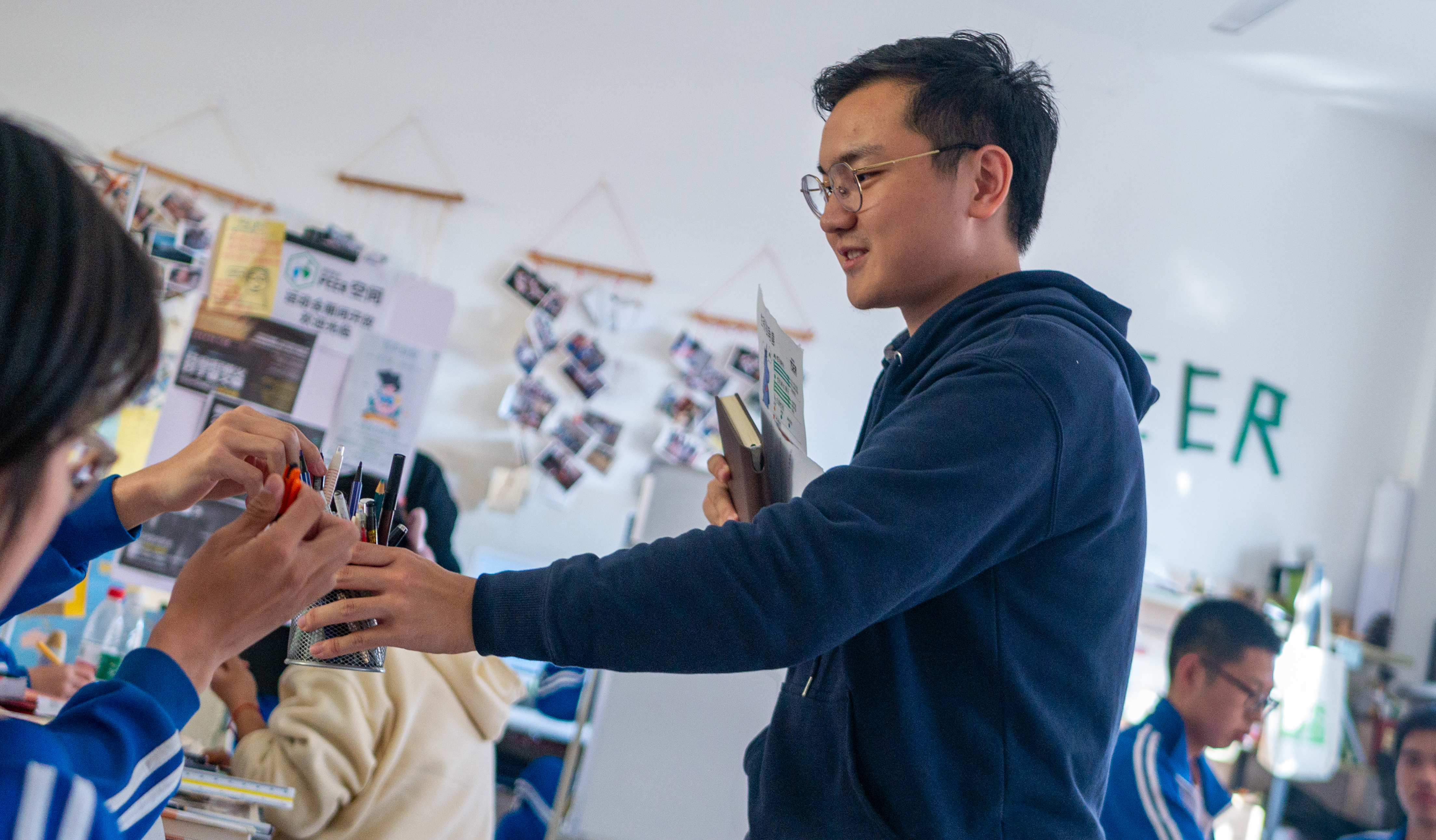 Shi leads a gender diversity workshop in the PEER space at the rural high school where he is stationed. 
Now that he is (virtually) returning to Europe, Shi says he is eager to explore the practical application of these cross-cultural connections.
"I feel like there's nothing much more important or attractive to me than giving back to my own country, by just learning a lot from big thinkers and activists. I just want to bring their ideas into the context of my own community, to the issue that I'm most interested in in my home country," Shi said.