NYU Shanghai Senior Named Yenching Scholar at Peking University
May 25 2022
Kathy Song '22 has been selected as one of 125 Yenching Scholars to study for a Master's degree in China Studies at the Yenching Academy of Peking University.
Song, a Global China Studies and Social Science major, will join graduate students from more than 30 countries and regions in Beijing this September. As a Yenching Scholar, she will receive a full-tuition scholarship to complete a two-year Master's degree in China Studies with a concentration in Politics and International Relations. The fellowship supports tuition, fees, and accommodation, as well as living, travel, and field study costs.
"I'm beyond excited to attend the Yenching Academy to continue my study journey in Global China Studies," Song says. "Although I've stayed in Shanghai for the past four years, I feel like my time here is unfinished. I've grown a lot since freshman year but there's still so much I haven't read and there's still so much Chinese I need to learn. I'm looking forward to seeing what this opportunity can offer to my research interests."
At NYU Shanghai, Song has focused her research on pre-modern and contemporary China, analyzing the evolution of Chinese thought, their world view, values, concepts about the future and China's role and responsibilities in the world.
Her senior capstone explored the reality and rhetoric of Chinese foreign policy through an in-depth analysis of contemporary Chinese philosopher Zhao Tingyang's revived notion of the "Tianxia system," a historical Chinese cultural concept that initially referred to "all under heaven" or the whole geographical world and later became associated with political sovereignty.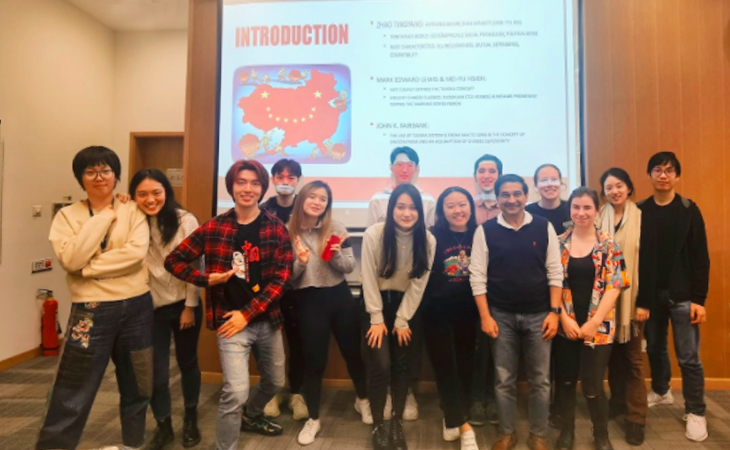 Song (fourth from the left) taking a class group picture of "Tianxia: Traditional China and the World" course, which was taught by Prof. Tansen Sen(second from the right)
"Kathy is one of the most knowledgeable students about contemporary China that I have encountered at NYU Shanghai. Over the past few years, I have seen her become immersed in learning about different aspects of Chinese history, society, and politics. Kathy's admission to the prestigious Yenching Academy at Peking University will help her develop further as a student of contemporary China. In fact, I would not be surprised if in the future she emerges as one of the leading scholars of China," said Director of the Center for Global Asia and Professor of History Tansen Sen.
Assistant Professor of Global China Studies Zhao Lu, who taught Song in his class, "Foreign Societies in Classical Chinese Writing," also spoke highly of her hard work. "In the course, Kathy always translated every single sentence in the assignment, even when she was not required to. When I asked her why she would voluntarily do extra work, she said that she aspired to be one of the best in reading Classical Chinese and would like to take any opportunity to improve. I very much appreciate and identify with this pursuit of excellence."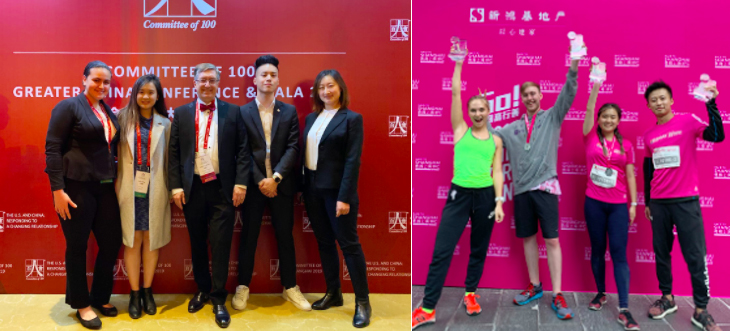 Left: Song (second from the left) at the 2019 Committee of 100 Greater China Conference & Gala in Shanghai; Right: Song (second from the right) participating 2019 SHKP Vertical Run for Charity at Shanghai IFC
As she prepares to graduate, Song said she is thankful for the opportunities she gained while studying at NYU Shanghai. "It has given me the perfect environment to learn Chinese while maintaining a strong connection with my American values," the New York native said. 
Song said she hopes one day to become the U.S. Ambassador to China, or a Secretary of State, or continue a Ph.D. program. "Regardless of which path I choose to go down, my education at the Yenching Academy will help build onto the really strong foundations that I received at NYU Shanghai."
Kathy Song is the sixth NYU Shanghai graduate to win a Yenching Scholarship.
Previous winners include: