NYU Shanghai Launches Center for Brain Imaging Jointly with ECNU to Facilitate "China Brain Project"
Nov 5 2021
NYU Shanghai and its sister institution, East China Normal University (ECNU) together launched a new Center for Brain Imaging (CBI) last week. The Center, which will be based at ECNU's North Zhongshan Road Campus, will focus on brain imaging projects to help expand our understanding of brain and intelligence development in children. The center is the latest of several joint research programs undertaken by ECNU and NYU Shanghai. 
CBI was launched at a ceremony on October 21 alongside the ECNU Research Platform for Brain and Cognitive Development of/affiliated to Shanghai Center for Brain Science and Brain-Inspired Technology (Shanghai Brain), and the ECNU Children's Brain Imaging Center (CBIC), which will become China's first-ever research institute to focus on children's brain imaging. Together, the three initiatives will help support the "China Brain Project" and efforts to expand knowledge of brain and intelligence development through brain-computer interface technology, gene-editing technology, and big data.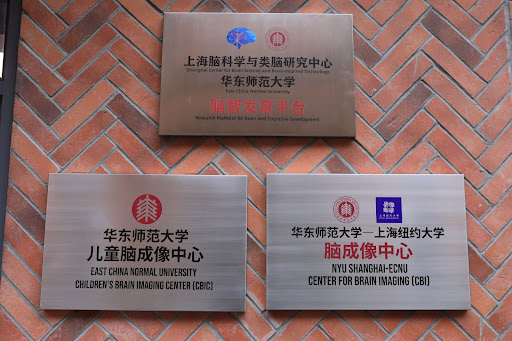 Professor of Neuroscience Lu Zhonglin, NYU Shanghai's Chief Scientist and Associate Provost for Sciences, and ECNU Professor of Psychology Cai Qing will serve as Co-Directors of the NYU Shanghai-ECNU Center on Brain Imaging. "The Center will further enhance the research ability of NYU Shanghai in cognitive neuroscience. With the advanced equipment and the powerful resource integration ability of the Center, scholars here will be able to carry out more relevant researches," said Professor Lu Zhonglin. "At the same time, with NYU's Global Network resources, more cutting-edge research and analysis technologies will be introduced to the Center, to initiate research in cognitive neuroscience across nations, races, and cultures."
CBI is equipped with a full set of brain imaging technology, including magnetic resonance imaging (MRI) and electroencephalogram (EEG) equipment, to provide strong hardware support for scientific research. To make the center less intimidating and more welcoming to their young subjects, the MRI lab is designed as a forest tree house, with an observation window at the entrance for parents to observe and accompany their children. 
The new co-directors were joined at the center launch by Chancellor Tong Shijun, Provost Joanna Waley-Cohen, ECNU Party Secretary Mei Bing, and ECNU Vice President Sun Zhenrong.  Professor Lin Longnian, Deputy Director of Institute of Brain and Education Innovation at ECNU and Co-Director of NYU-ECNU Institute of Brain and Cognitive Science at NYU Shanghai, hosted the event.
"Children are highly malleable in the nurturing process.  However, scientists are still not clear about how human brains are developed and it takes time to identify the scientific correlation between children's brain intelligence development and education, " said Lin. "We still have a long way to go to research on the development of the human brain so as to take innovative actions to personalize education. "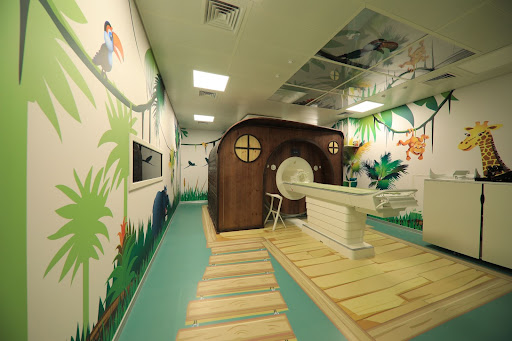 Images courtesy of ECNU