NYU Shanghai and NYU Abu Dhabi Women's Soccer Teams Meet in First-Ever Match
Oct 26 2018
In the final 15 minutes of the game, Clara Luehrs '22, goalkeeper of the NYU Shanghai Women's Soccer team, stepped onto the field as a forward and scored a powerful close-range shot--saving her team from a shut out by sister school NYU Abu Dhabi (NYUAD). Though the NYU Shanghai Qilins lost to the NYUAD Falcons 1-5, both sides were excited to be taking part in a historic first encounter October 23 before a modest but spirited crowd at the Shanghai Community Sports Club.
"I think both teams played an incredible game. The NYUAD girls have played together for a longer time and they have some talented strikers that can put away goals easily," said Amy DeCillis '20, a Global China Studies major who is studying away in Abu Dhabi this semester.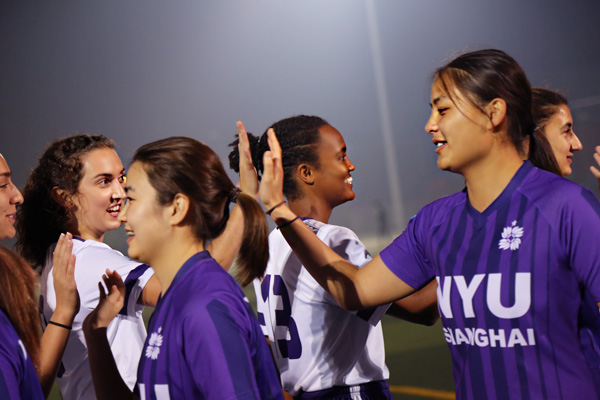 NYU Shanghai Qilins shook hands with NYU Abu Dhabi Falcons ahead of their friendly match on October 23 at the Shanghai Community Sports Club. (Photo by NYU Shanghai)
DeCillis, the captain of the NYU Shanghai team that won last semester's all-city championship, returned this week to Shanghai to play against her old teammates, after joining Abu Dhabi two months ago as a center midfielder.  
"I absolutely love my NYU Shanghai team, and it broke my heart to play against them, but the Abu Dhabi team is like my second family and they're really taking me in as a Falcon," she said. "I knew that either way I couldn't lose because I'm technically on both teams."
On top of scoring NYU's lone goal, Luehrs had a solid performance defending against waves of striking attempts by the Falcons' captain Arantza Rodriguez NYUAD '19, whose quick passes continually disrupted the NYU Shanghai defense line. By the end of the first half, the Falcons, though still overcoming  jet lag, were leading 2-0.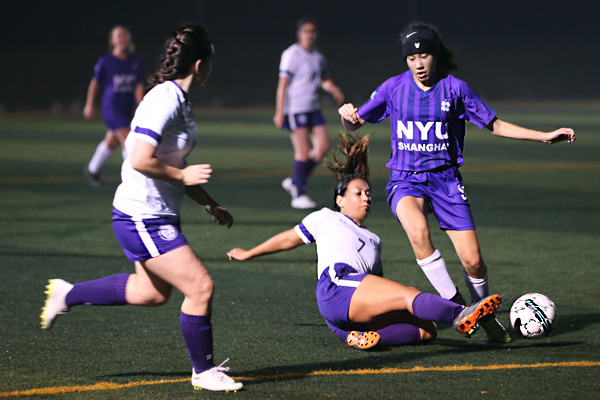 The NYU Abu Dhabi Women's Soccer team captain Arantza Rodriguez, NYUAD '19 (middle), showcased amazing form and skills to lead the Falcons to final victory. (Photo by NYU Shanghai)
The NYU Shanghai team had a much better second half, successfully executing many crosses and penetrating the penalty area, but the Abu Dhabi team was still able to find the back of the net another three times.
It was not until Luehrs dropped her goalkeeper's gloves to take on the striker's position that the competition began to even out.
"I'm glad I had the opportunity to play on the field! I think the position as forward is easier, as you are more likely to score, and your impact is more obvious. However, as a goalkeeper, your job is probably one of the most important positions, even if your role may seem less obvious at times," Luehrs said.
The NYU Shanghai girls were not weighed down by their defeat, acknowledging the strength of the other team and the fun they had despite the result.
"Our opponent did a great job of connecting passes and moving the ball around. Their counterattacks were very strong, and I think that's how they mostly managed to overtake us," Luehrs said. "We did a good job as well, given the limited practice. We need to spend more time playing together to get to know each other's styles, so we can support each other better."
Following Tuesday's game, the 12 members of the Abu Dhabi Falcons took in some sightseeing, visiting Yu Garden, the Tianzifang arts enclave, and Zhujiajiao watertown. They also played a match against the Shanghai Women's International Football Club on Thursday, before flying out on Oct 27.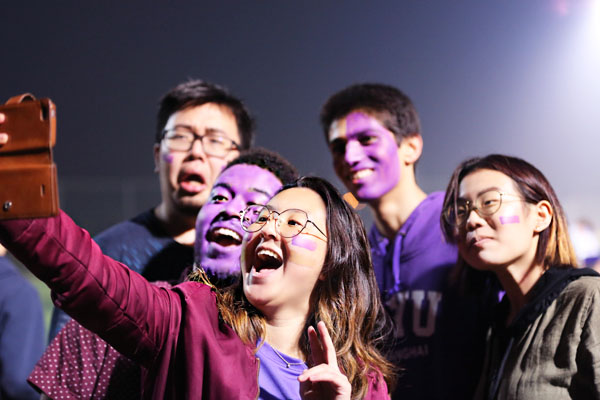 The violet painted crowd rooted for both teams throughout the match to celebrate their friendship and athletic spirit. (Photo by NYU Shanghai)
Shanghai is the latest of the Abu Dhabi team's international matches. Over the years, the team has traveled to play teams in Italy, India and Qatar. Peter Dicce, assistant dean of students and director of NYU Abu Dhabi Athletics called the visit to Century Avenue a success. The Abu Dhabi players had the opportunity to explore student life in Shanghai and seemed more interested in choosing Shanghai as a study away destination.
"Hopefully such exchanges will continue on a regular basis. Next year, the NYU Shanghai team can visit us," Dicce said. "We are all one university at the end of the day."
---
This year, the NYU Shanghai athletic teams are sponsored by Legend Team Building and Dong Dao Construction.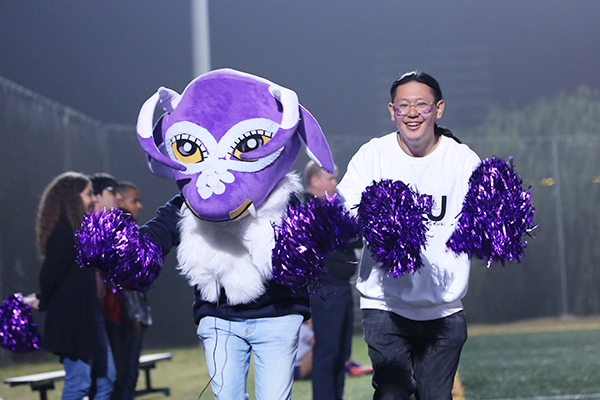 NYU Shanghai mascot Qilin was also in the field to raise team morale. (Photo by NYU Shanghai)