NYU Shanghai-ECNU Center on Global History, Economy, and Culture was jointly established in 2017 by NYU Shanghai and East China Normal University. The Center studies the development and changes in the international strategic framework of China's peaceful rise and the shift of world orders.  
To celebrate NYU Shanghai's 10th anniversary, Director Interview Series sat down with Chen Jian, NYU Shanghai Distinguished Global Network Professor and the director of NYU Shanghai-ECNU Center on Global History, Economy and Culture. He shared with us the Center's history, mission and vision, and some of the inspiring projects they're working on. 
What are the two co-directors' main responsibilities? Could you introduce some of the center's leading scholars?
NYU Shanghai-ECNU Center on Global History, Economy, and Culture was initiated by Shen Zhihua and me. Shen Zhihua is an expert in the history of the global Cold War and Sino-Soviet relations. He is an ECNU professor and director of the Center for Cold War History Studies. As co-directors, we divide our work based on our respective strengths. With his huge reputation in Chinese academia and influence abroad, Shen Zhihua's focus is on domestic cooperation. I'm responsible for the center's international exchanges. As a Global Fellow at the Woodrow Wilson International Center, I can leverage my long-term experience cooperating with world-class institutions such as Harvard, Yale, LSE, and Oxford University, strengthening the Center's interactions with the international scholarly community. Although we have our own emphases, our overall goal is the same, which is to build the center into a research-oriented think tank bringing together the most prominent scholars and research team in the history of international relations at home and abroad and establishing in-depth cooperation with the world's most influential research institutions.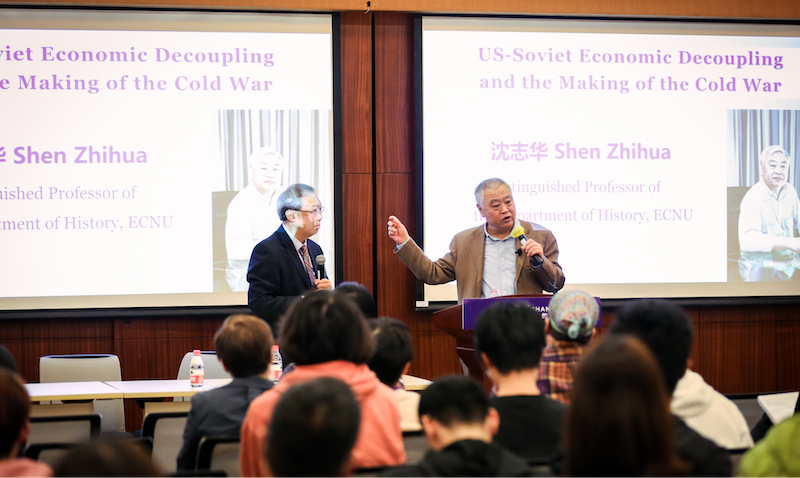 On November 8, 2022, Shen Zhihua (right) gave a lecture on "US-Soviet Economic Decoupling and the Making of the Cold War." The talk was commentated and interpreted by Chen Jian (left)
Currently, the core members of our center include NYU Shanghai Provost Joanna Waley-Cohen, who specializes in modern Chinese history, comparative Chinese and Western history, and cultural history of late imperial China; Zhao Lu, assistant professor of global China studies, who specializes in Chinese intellectual and cultural history; Ivan Rasmussen, assistant professor of practice in political science, who served as a fellow at the U.S. Department of State, Duke University, Gates Foundation, and the RAND Corporation; and Yao Yu, deputy director of ECNU's Institute of Studies on China and Its Neighboring Countries and Regions. We also have renowned visiting scholars, such as Bai Tongdong, professor of philosophy at Fudan University and adjunct professor of philosophy at NYU Shanghai. The center brings together scholars from around the world to contribute their perspectives. 
What kind of research and academic activities will the Center offer? What are your strengths?
The Center sets out three core missions: research, academic cooperation, and teaching and learning quality improvement. The three intertwined missions reinforce each other. Our center covers a wide range of research areas, including the history of the Cold War, 20th-century international relations, Sino-US relations, China's reform and opening-up era, and China's relations with its neighboring countries. Moreover, we hold regular theme-based academic conferences, guest lectures, research talks, and other exchange opportunities with global experts in international relations and politics, society, history, economy, and culture.
By taking full advantage of our strengths in collection of primary source and archival materials, we conduct cutting-edge research, while promoting high-level scholarly exchange and cooperation. China has shifted from "revolution" to "reform" over the past century and this great transformation has opened up a new area of study.  
Please brief us on the activities held by NYU Shanghai-ECNU Center on Global History, Economy and Culture since its establishment. What kind of influential events have you held in the past?
The Center hosts more than a dozen lectures, roundtables, and seminars each academic year. We try to plan topical events that offer context to current affairs both at home and abroad. For example, to mark the 55th anniversary of the Sino-India War in 2017, we held two events exploring the changes in China-India relations, as well as exploring the origins of the Chinese-Indian border conflict and suggesting possible solutions to it.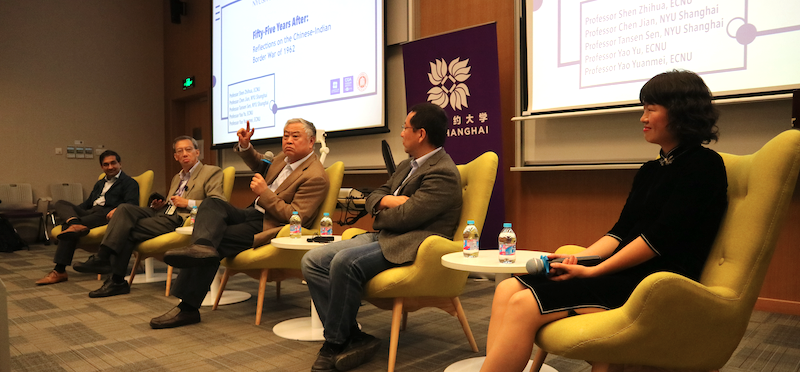 In October 2017, together with NYUSH's Center on Global Asia, the center held a roundtable to discuss the Chinese-Indian Border War in 1962 
In 2019, as the China-US trade war intensified, we organized a series of speeches and roundtable discussions.We invited Wang Jisi, former Dean of the School of International Strategic Studies at Peking University; Odd Arne Westad, Elihu Professor of History and Global Affairs at Yale University; Robert Ross, professor of political science at Boston College and fellow at the Fairbank Center for Chinese Studies at Harvard University; and other acclaimed scholars to have in-depth dialogues. The consensus that emerges from the discussions is that "There can be no 'decoupling' of China-US trade and economic cooperation. Both countries and the world will benefit from ending of the friction."
December 2021 marked the 80th anniversary of China and the United States becoming World War II allies. We hosted a forum and invited Zhang Baijia, former vice director of the Chinese Communist Party (CCP) History Research Institute, Rana Mitter, professor of the history and politics of modern China at Oxford University, Professor Odd Arne Westad of Yale University, Kenneth Jarrett, former president of the American Chamber of Commerce in Shanghai, and Niu Jun, professor of international relations at Peking University to reflect on the lessons of the past and how they might inform present-day China-US relations.
That was a very popular event, with about 200 participants signing in from around the world. The panelists shared their perspectives and largely agreed that today, just like in the past, cooperation would greatly benefit both China and the US, while confrontation will serve neither. This was one of our largest, highest-level events since the Center's establishment.
In its second decade, how will NYU Shanghai-ECNU Center on Global History, Economy and Culture contribute to the cultivation of the student body?
I believe that primary sources and critical thinking are of paramount importance in conducting historical research or teaching undergraduate courses at NYU Shanghai. I try to present different perspectives via first-hand materials and thinking critically. 
The significance of primary sources in historical research cannot be overstated. Historical data is the basis for forming questions, refining ideas, and constructing explanations. Only by acquiring and taking full advantage of reliable source materials can we master the methods of genuine historical research. I strongly encourage students to search for as many and as diverse resources as they can while starting their research. When writing Zhou Enlai: The Man and His Times, I continuously dig deep into such primary sources as the writings, diaries, correspondences, archival documents, oral history, memoirs, and other first-hand materials available, which laid a solid foundation for my authoring of a more well-rounded, vivid, and truthful narrative of Zhou Enlai as a 20th-century giant. 
As for the development of students' critical thinking, I tell them that: "You can challenge my academic views, but please respect all the primary sources I collect." Viewpoints coming across in different materials can only be critically used based on careful contemplation supported by strong evidence. The description of a historical event often varies when it is retold or interpreted by different people at different times. Students thus need to learn to think independently when exploring historical materials and produce their own perspectives that are original and unique. When improving their understanding of the academic world, students can acquire the mentalities and methods to rationally reflect on the past, present, and future, while sympathetically exploring society, the world, and life.