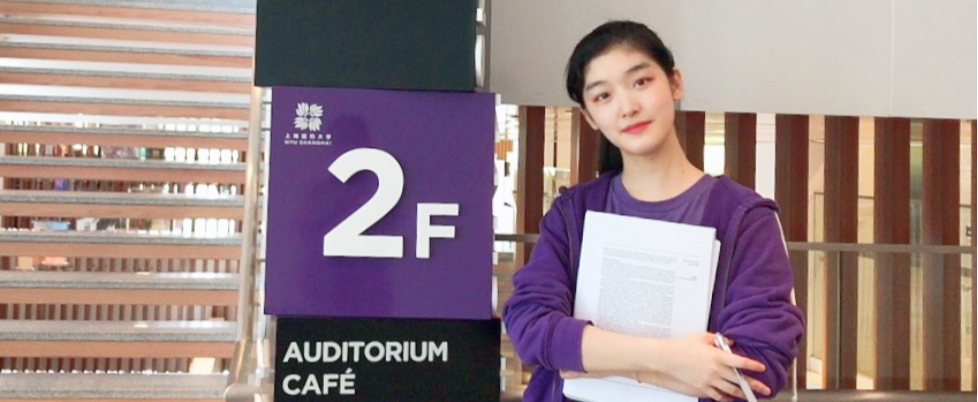 When asked to summarize her four years in NYU Shanghai in a word, Elin Shi Yiling '22 replies, "pandemic." COVID-19 cast its shadow over three out of the Class of 2022's four years at college, forcing classes online for long periods of time and challenging the university's mission of bringing students from a variety of nationalities together. Nevertheless, this year's student Commencement speaker still found ways to transform some of the challenges of her time into opportunities to make a difference. 
Shi was just two months into her semester at NYU's Washington DC Study Away center when the COVID-19 virus reached the United States in the spring of 2020, forcing her to return to Shanghai. But on her flight back home, Shi decided to be part of the solution.  She applied for a Deans' Undergraduate Research Fund (DURF) grant to study hospital accessibility in Shanghai under the guidance of Guan Chenghe, Assistant Professor of Urban Science and Policy at NYU Shanghai.
Though she had already taken social science and business and finance classes related to urban policy, Shi had not yet taken any of Guan's classes before she asked him to serve as her research mentor.  "But Professor Guan's standard for me, a first-time researcher, was by no means lowered," she says.  "From the very beginning, he set publication as my ultimate goal for the project. With his encouragement, I experienced the whole process of academic research for the first time, tested my resilience, and it also gave me a better understanding of the practical value of scientific research."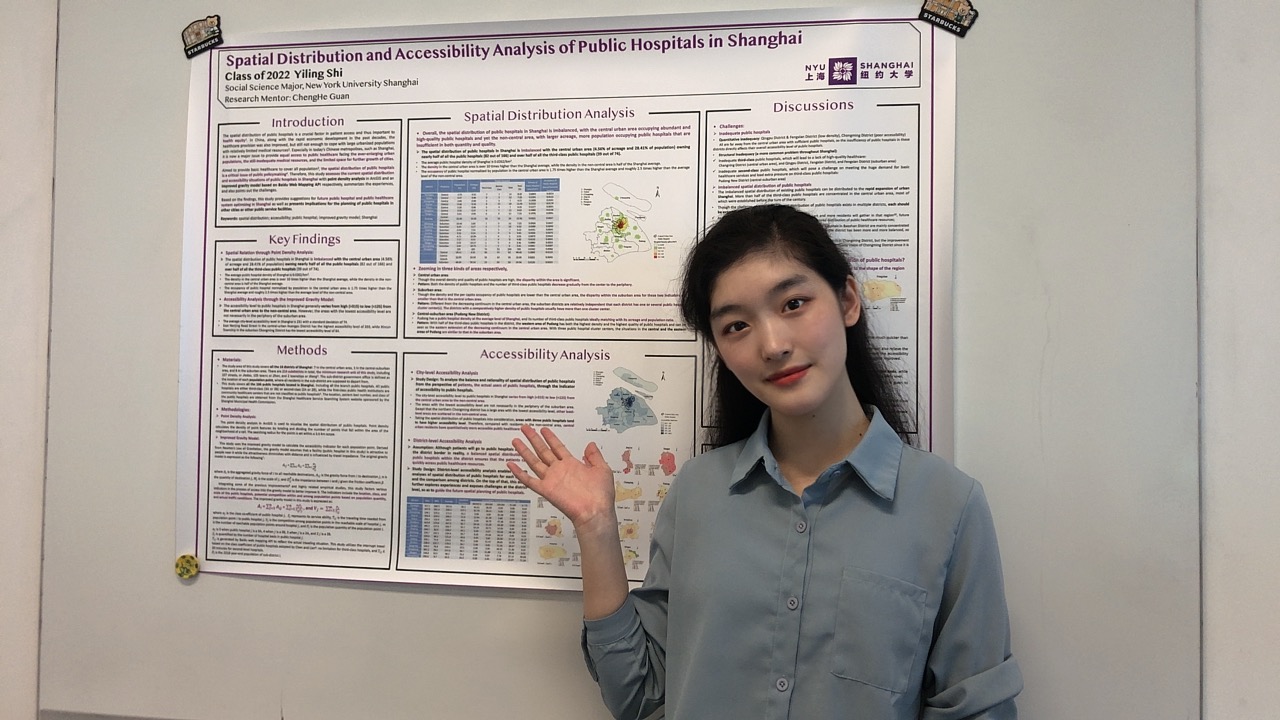 Shi presenting her research to the NYU Shanghai community  
The results of her research were "completely beyond [her] imagination," Shi says. Her paper Spatial Accessibility Patterns to Public Hospitals in Shanghai: An Improved Gravity Model earned the NYU Global Urban Showcase Long Paper Award and was published in The Professional Geographer, with Shi listed as the first author. "The paper provided detailed and concrete suggestions for future public healthcare optimizing in Shanghai, which may also be leveraged to other cities or other public service planning," said Professor Guan. 
Despite the ongoing pandemic, the summer of 2020 turned out to be quite a busy one for Shi. As a "2020 ASK Health Future Fellow," she conducted a case study on three tech companies' digital solutions to COVID-19 in China that was included in the Rockefeller Foundation's report on Tackling COVID-19 Pandemic through Integrating Digital Technology and Public Health: Linking Experiences in China to the World.  
Shi also found the time to join two exchange programs - 2020 Initiating Mutual Understanding through Student Exchange (IMUSE) and the 2020 BRICS Summer Workshop, representing China in international dialogues about how young people could tackle the pandemic. As if she weren't busy enough, Shi also volunteered with the Red Cross assisting in the customs clearance of goods. Her efforts won her a nomination for Shanghai College Student Year of 2020. 
At NYU Shanghai, Shi has also found time to be an extracurricular leader, serving as Secretary of the Youth League, Deputy Secretary-General of Model United Nations, and an Ally week ambassador.
Shi prefers to call each line of her already formidable resume "some cherished trying-out experiences" rather than "highlights" of her college career. "The highlight of my four years here at NYU Shanghai has been a journey of consecutively and bravely trying out new areas, new positions, and, along the way, figuring out who I am, what I have passion in, and what I would feel the most comfortable to do in the future," Shi says.  
"I believe this is only possible because of the inclusive and supportive spirit of NYU Shanghai. It is my safe zone, allowing me to think and try out boldly. Anytime I needed any actual help in academics or career development or any mental support, there was always someone I could connect with and receive support and guidance from, and it meant a lot for a college student in her or his early 20s."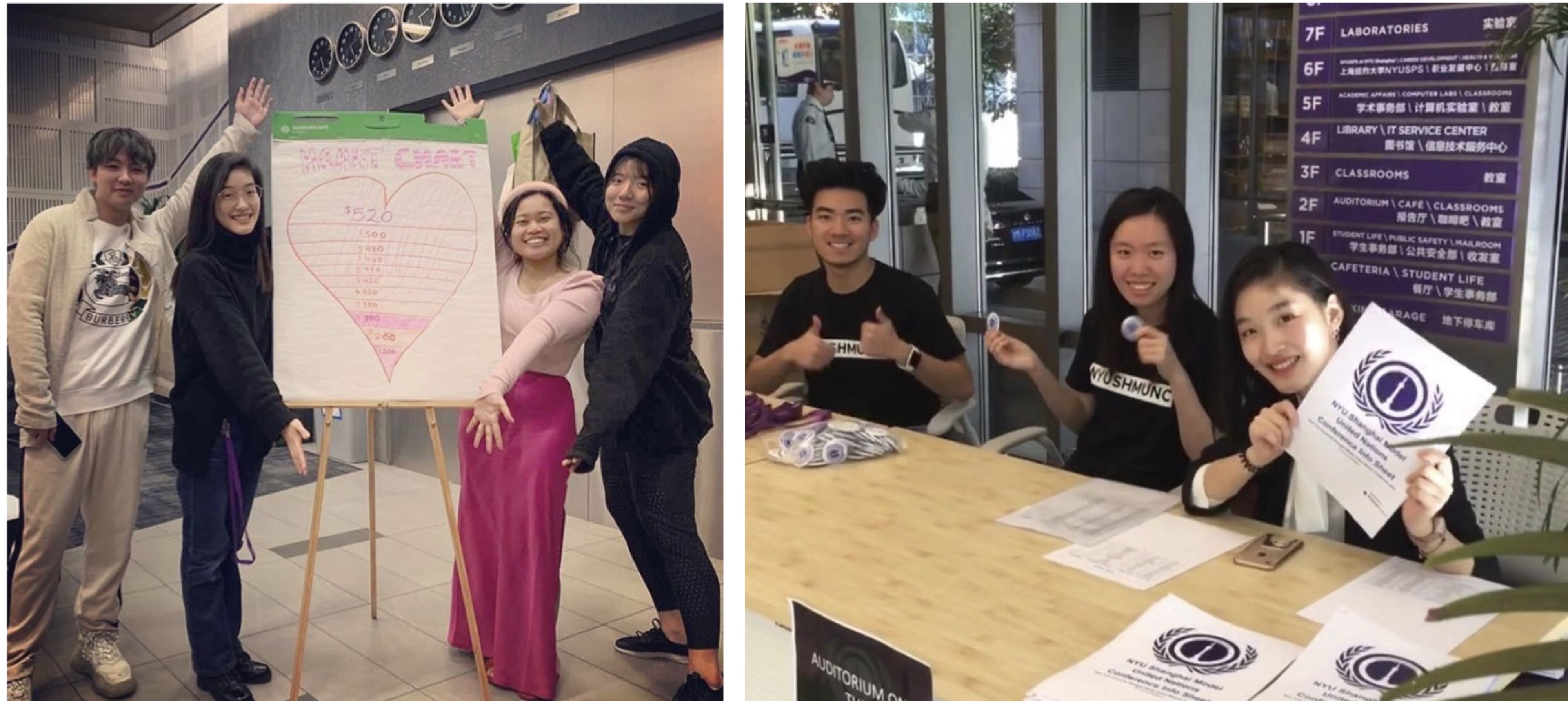 Left: In February 2020, Shi (second from left) and her fellow classmates organized a fundraiser for coronavirus relief in Wuhan. Right: Shi (right) at the 2019 Model United Nations Conference.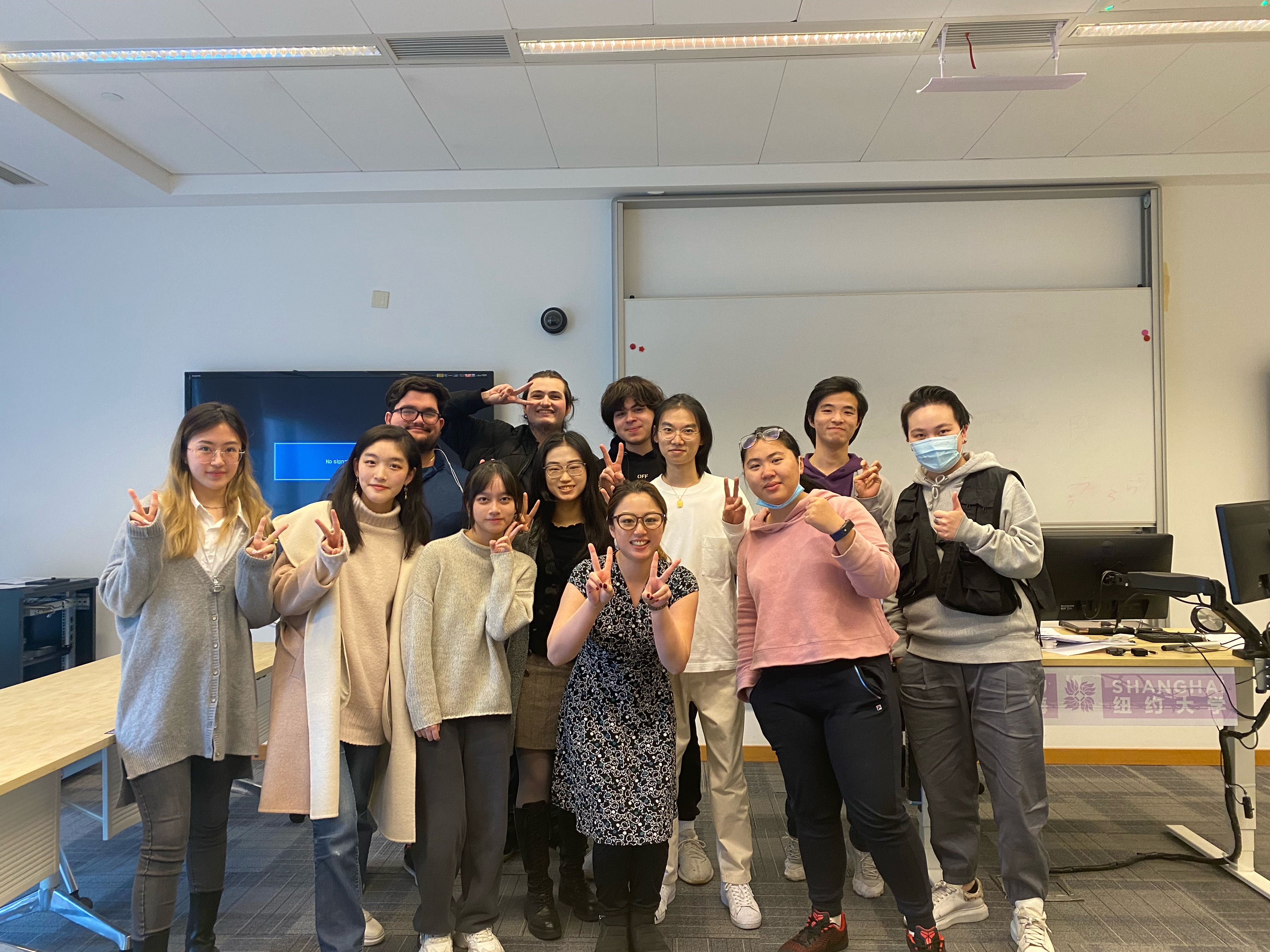 Even as she began her senior year, Shi embraced yet another "trying out experience," enrolling in a Japanese language course. Shi Yiling (second from left) poses with her Japanese language teacher Kaoruko Minamoto (center) and classmates. 
This summer, Shi Yiling will embark on yet another "trying out experience" as a business analyst at Ernst & Young Advisory, choosing for now a career in business instead of academia. "I am more motivated to learn and apply the established human intelligence and knowledge as much as possible to the practical world," she says.  
Later this month, Shi will serve as one of two student speakers at commencement. Despite the pandemic, Shi says her experience truly exceeded her expectations.  
"No matter what will happen in the future, I will carry the persistence and resilience that NYU Shanghai taught me, to keep pressing on."