Trip.com's CEO Talks Travel, Gender Equity, and Pandemic Resilience With NYU Shanghai Students
Oct 29 2021
"It is better to travel 10,000 miles than to read 10,000 books," Trip.com CEO Jane Sun advised an audience of 100 NYU Shanghai students on October 25, quoting a famous Chinese proverb that has also become the guiding principle of her work at one of the world's leading online travel companies. 
  
"The more you travel, the more you learn," she said. "It's such a great way to learn [about] culture, to learn about people, and the more understanding we have for each other, the more likely we can maximize our shared interests and bring the world together."
 
Sun, named one of Fortune Magazine's Top 50 Most Powerful Women in business from 2017-2020, joined Vice Chancellor Jeffrey Lehman on the NYU Shanghai auditorium stage for a "Conversation with the Vice Chancellor," a series of in depth interviews conducted by Lehman with prominent guests from around the world. Sun's interview marked the first Conversation since the onset of the COVID-19 pandemic in early 2020.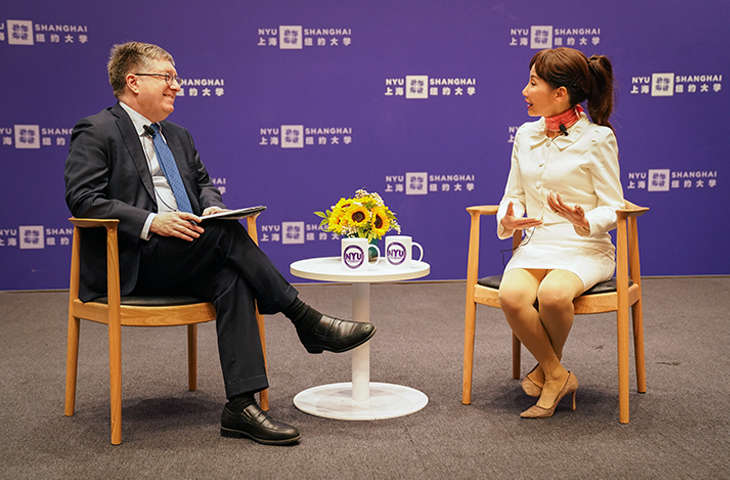 Lehman and Sun began their conversation by discussing her upbringing and early experiences as a student in the US, where she first grew an appreciation for seeing the world and connecting with people from different backgrounds.
 
"That experience totally changed my life," she said, when recalling the kindness of a professor at the University of Florida. "It really gave me the belief that we humans share so much common interest, rather than differences, and [that] I wanted to become a good bridge between China and the USA."
 
After working for ten years in Silicon Valley, Sun decided to return to China as the Chief Financial Officer of Ctrip and tap into an industry that she said would "not only make people happy, it will also promote international exchange and global peace." 
Sun has risen alongside the company, becoming CEO in 2016 and shepherding Ctrip's evolution into the Trip.com Group, a company now valued at $20 billion. Lehman asked Sun about her efforts to cultivate a company culture that fosters female leadership.
 
"I always feel a tremendous responsibility to pave the way for our female workers," Sun said, describing  a series of company policies to help women employees succeed both at work and as mothers, including coverage of fertility treatments such as egg freezing, complimentary taxi rides for pregnant employees, and flexible working hours for new mothers. This perspective is one that Sun said is vital to have in boardrooms around the globe. "We need to have a voice at the executive level so female employees' concerns are addressed." 
Lehman shared his own experience as a father, asking if Sun was "seeing more interest among Trip.com's male employees in their role and responsibilities as fathers?" 
Sun noted that the company "encourage[s] male employees to participate more in [their] children's school."  She also said that the company recently announced a policy of working from home two days a week, which could allow both mothers and fathers greater flexibility to balance work and parenthood.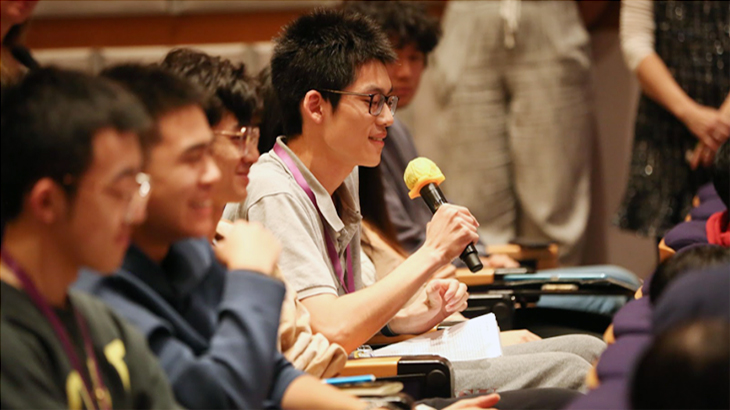 Students in the audience also had a chance to ask Sun questions, touching on a variety of subjects including sustainable tourism and how the company has weathered the Covid-19 pandemic. Sun said Trip decided early on in the crisis to refund customers, choosing to spend five or six billion RMB a day to refund orders.
 
While doing so may have caused the company some short-term pain, she said it also helped secure loyal consumers. "Customers remember who stands beside them during a difficult time," Sun said.
 
With global travel not currently possible for China customers, Sun said the company has turned domestic, focusing on promoting travel within customers' home provinces or cities. However, Sun said the Trip.com team is already preparing for the high demand they're expecting when China does reopen for travel to and from abroad.
 
When asked how Trip.com is reaching younger consumers, Sun said the company is focusing on connecting with them through a variety of new platforms, including TikTok and Bilibili. Such work also provides a unique opportunity for younger employees at the company to highlight their talents.
 
For young people looking to make an impact in business, Sun encouraged NYU Shanghai students to be confident in their abilities and focus on what innovations they can bring to a company.
 
"Results will tell everything," she said. "Know what will add value for your clients. No matter if you are female or male, young or old, people will look at the results."