A Toast to Life Beyond College!
Mar 2 2018
On Wednesday, the senior class celebrated the 88-day countdown to graduation with student performances and a champagne toast to new beginnings.
Seniors took to the stage to play the guzheng, sing, and perform hip-hop dance routines and a sketch from the NYU Shanghai Reality Show. Students also perused a photo installation displaying memorable moments from their past four years.

Chancellor Yu Lizhong and Vice Chancellor Jeff Lehman joined the festivities by raising their glasses in honor of the graduating class. Lehman urged students to "remember NYU Shanghai as part of your ongoing identity, through relationships you've formed with classmates and faculty, as well as the special ideas and values that you've acquired at NYU Shanghai."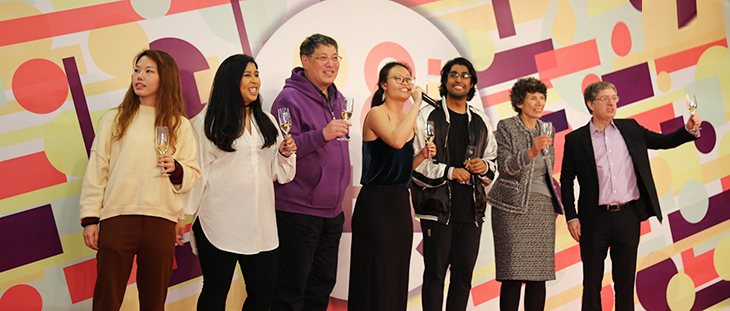 The high point of the evening came when Kadallah Burrowes '18 and Chen Mengzhu '18 were selected by fellow classmates to represent NYU Shanghai's Class of 2018 at the NYU All-University Commencement at Yankee Stadium in May.
The 88-Day Launch Off event was organized by the Students' Commencement Committee and sponsored by the Office of Student Life, and marks the beginning of a series of farewell events leading up to graduation on May 23, including Purple Day on March 14, which will celebrate school pride. 
"This is the time to contemplate the changes of the school and of ourselves, a time for reflection, appreciation and transcendence," Chen Mengzhu '18 said.

Photo Credit: Chen Qianyi '21