The Show Must Go On...Zoom
Mar 27 2020
Practicing social-distancing from his bedroom in Easton, Maryland to help 'flatten the curve' of COVID-19, NYU Shanghai Thespians Society club president Ryan Hoover '22 tasked himself with a challenge: write, direct, and produce a play that has passion, poisoning and a pet tarantula to be performed on video-conferencing platform Zoom at the start of May.
"Panic, fear, and uneasiness are rampant during the COVID-19 outbreak and seem more infectious than the virus itself," says Hoover. "Now, more than ever, art is important in this period of isolation for many stuck at home. Just because we're all social distancing doesn't mean that we shouldn't still get to enjoy theater."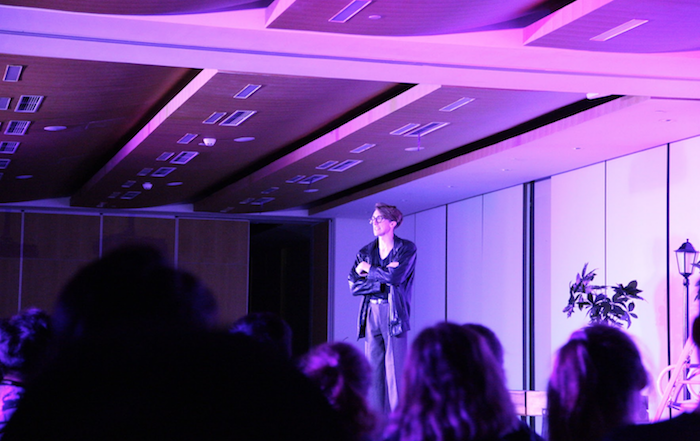 Ryan Hoover on stage for the performance of Cloud 9, the finale of NYU Shanghai's 2019 Ally Week
Hoover -- who is still hammering out new pages daily-- titled his dramatic murder mystery "The Zoom Play That Goes Wrong," inspired by "The Play That Goes Wrong" by Henry Lewis, Henry Shields, and Jonathan Sayer, where chaos and things falling apart are presented as a means of comedy.
"Zoom is a useful academic tool, but has shortcomings which are immediately apparent upon entering the digital classroom," Hoover says. "This play looks to take the chaos of Zoom to the 'stage' and use the technological short-comings in a tactical and comedic setting."
Hoover posted a call-out on social media inviting the entire NYU global network to audition for any of the 13 roles of his murder mystery, set in northern England in the 2010s. So far he has received interest from all three of NYU's global campuses as well as submissions from China, Texas, Maryland, New York, the UAE, Australia, and Russia.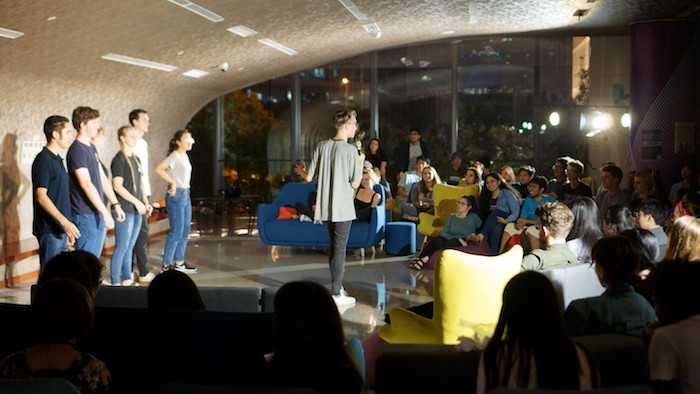 NYU Shanghai Improv team's Halloween Show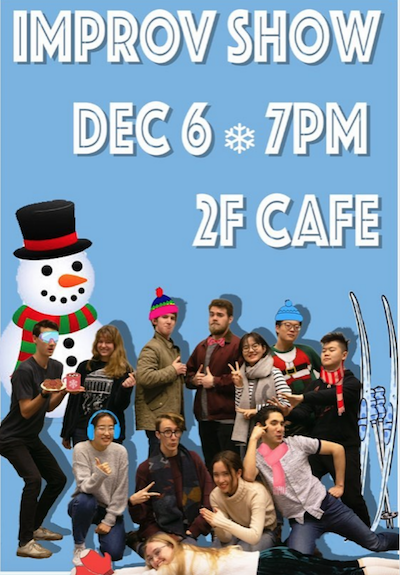 Poster for a December Improv Show
In a Zoom audition room, participants deliver a one-minute comedic monologue in a British accent (optional) along with some cold reads. The cast and crew list will be released on April 4, at 12:00 pm EST.
All who are interested can fill out The Zoom Play That Goes Wrong audition packet, which includes a sample script and synopsis of the play as well as how to audition.
Hoover emphasized that casting would be all-inclusive, with all characters gender-flexible, an established practice of NYU Shanghai's Thespians Society that dates back to previous performances including "Cloud Nine" and other improv shows the club has put on around campus.

Cloud 9 poster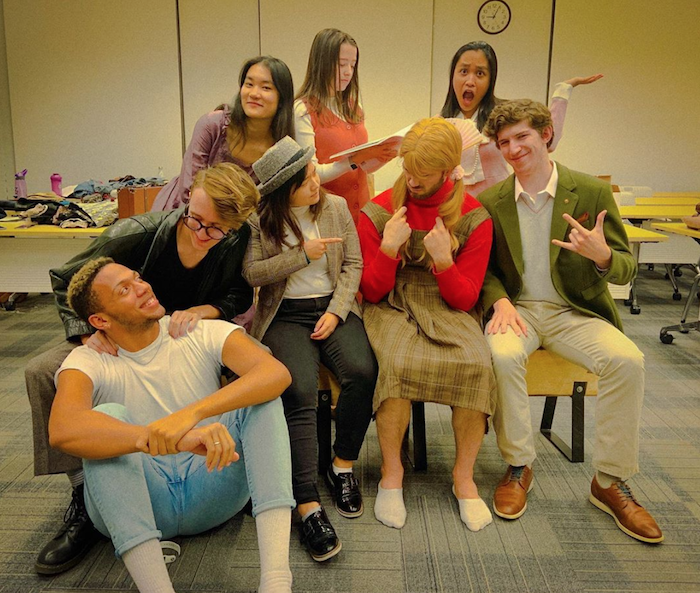 The Cloud 9 cast
"We want to construct the appearance of a standard stage play murder mystery and then pull apart the seams. From the munching sound of an unmuted classmate to a professor's comedically incomplete knowledge of technology, the online learning environment would be hilarious if it wasn't our education on the line." 
Viewers can expect to "kick back, mute [their] microphones, disable [their] cameras, and enjoy the show" hosted on Zoom starting May 1 and 2.

Audition for The Zoom Play That Goes Wrong here.