Record Number of High Schoolers Join Model UN Conference at NYU Shanghai
Nov 6 2018
Some 160 high school students from across China and as far away as Germany gathered on Century Avenue last weekend to participate in the second annual NYU Shanghai Model United Nations Conference (NYUSHMUNC).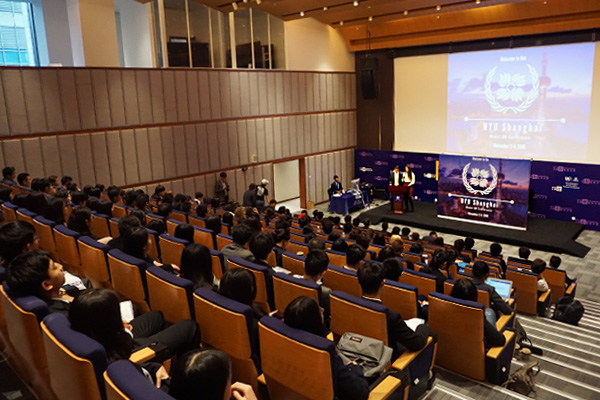 The three-day conference, which brought aspiring young diplomats together to represent the interests of diverse nations in debates focused on the theme of transnationalism and how interconnectivity between nations fosters growth and prosperity, broke the record for the largest student-led event at NYU Shanghai. About 20 NYU Shanghai freshman also joined the conference as delegates and lobbyists.
Justin Wang, Secretary General of NYUSHMUNC and president of NYU Shanghai Model UN Club, said the conference turnout more than doubled last year's.
In his welcoming remarks at Friday's opening ceremony, Chancellor Yu Lizhong noted that NYUSHMUNC was unique in that it had been recognized by the United Nations and endorsed by United Nations Academic Impact (UNAI). He compared NYU Shanghai itself to the United Nations, describing both as arenas where "people from different backgrounds interact with each other and create dialogues that can further thinking, bring about ideas, and build friendships."
The students were divided into four separate committees: Security Council, General Assembly First Committee: Disarmament and International Security, Human Rights Council, and Economic and Social Council. Each committee tackled urgent global crises such as the situation in the South China Sea, the illegal trafficking of weapons in combat zones, humanitarian assistance to the Rohingya people, and mitigating the growth gap between urban and rural communities.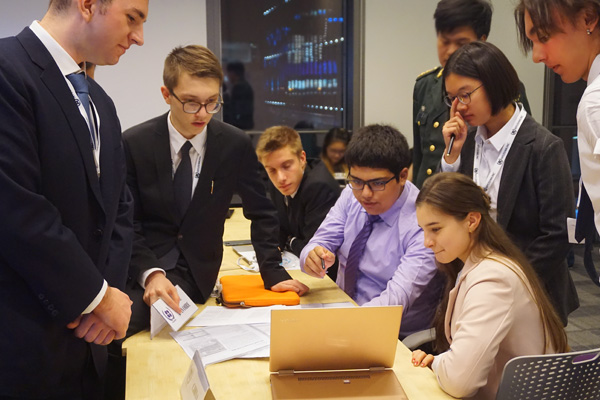 Blake Harrell '21, a Business and Finance major, viewed the gathering as a great firsthand experience for researching real world issues, how they affect different parts of the world and how each country deals with the issues. "It forces you to look at the issue at hand from different perspectives," he said.  
Representing Australia in the Economic and Social Council in his first model UN conference, Ke Liangze, a high school student from the Shanghai Foreign Language School, argued fervently for further sustainable development in More Economically Developed Countries (MEDCs). "[Model UN] is greatly beneficial to my debating ability, and the experience is furthering my interest in law and legislation," he said.  
Ke's sentiments matched almost perfectly with the goals  of the conference organizers: "The conference identifies young minds with elite critical thinking, communicating, collaborating, and researching skills, and provides a platform for them to further their passion in turning the world into a better place," Wang said.
NYU Shanghai students served as facilitators during each lobbying and debate session, helping to guide debate in a way that stimulated new and innovative ideas. Tigran Feroyan '21, head chair of the Economic and Social Council, was content with the enthusiasm and the level of involvement from the 50 participants in his session.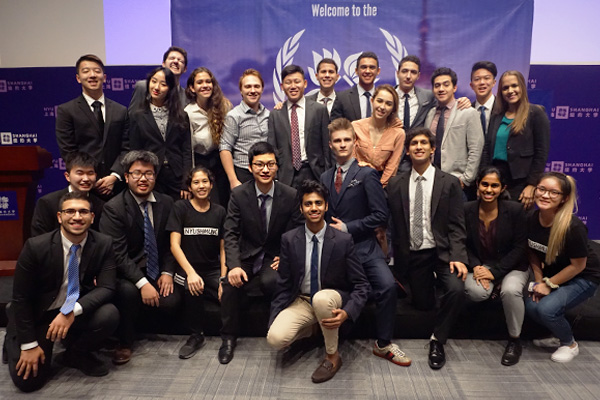 This year, Model UN was a truly international gathering with 18 students who had flown in to Shanghai from St. George's International School in Cologne, Germany to represent countries such as Côte d'Ivoire, Greece, Niger, Qatar and United States at the event. The students came at the invitation of NYU Shanghai Model UN Club through their classmate Timur Kurbanov '21, who is also an alumnus of St. George's.
Alexander Hewing, a St. George's student, appreciated his first experience visiting a completely foreign country. "Shanghai is a very different culture, with a different school system, but it's so interesting and insightful to see how other countries work, for better or worse."
Wang says he hopes that Model UN will continue to grow at NYU Shanghai. "I would love to see more and more chances for our own NYU Shanghai delegates to go abroad and present their speaking and debating skills to an international audience."
This year's conference was sponsored by Huaxia Finance, who has supported the NYU Shanghai Model UN Conference since its founding. "We shouldn't narrow ourselves to the comfort zone of traditional thinking. Our generation can avoid this trap by complementing deeper learning with broader thinking," CEO Benny Li told participants at the conference.