Peer Tutoring at NYU Shanghai
Apr 12 2018
For those who wish to polish their writing and speaking skills, The Academic Resource Center (ARC) at NYU Shanghai is now putting in place a pilot program for peer tutors to complement services provided by its writing and speaking professionals.  
This semester, the ARC has trained five Writing & Speaking Learning Assistants (known as LAs), available to any student studying at NYU Shanghai for writing advice, presentation feedback, or essay peer reviews—at any stage of the writing process, from raw ideas to  finalized drafts.
One of the new LAs, Risha Hoag '20, is a social science major who hopes to boost her communication skills through hands-on tutoring experience. "As LAs, we are taught to give useful suggestions instead of instructing students what they must do. The ultimate choice is up to the student," she said.
The pilot program entails a comprehensive 3-stage process. Incoming Learning Assistants first observe mentoring practices delivered by Global Writing & Speaking Fellows, the ARC's writing and speaking professionals. They then assist the GAFs during student appointments, and in the final stage, pick up the main tutoring responsibilities.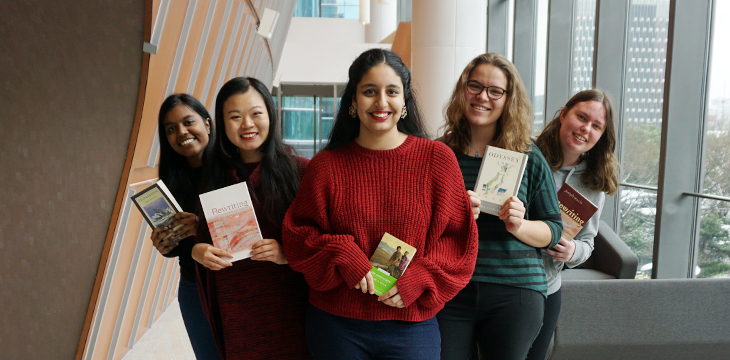 Gurkriti Singh '20, another new LA, was even able to assist a masters student studying law, who sought writing advice on a memorandum. A sophomore with no previous exposure to law, Gurkriti was at first intimidated, but by focusing on the flow, organizational structure, and strengths of the written argument, the session was a success.
"From a personal learning perspective, that session proved to me that writing is a life skill, just like cooking or cleaning the house is," she said.
Cydney Delia, director of the ARC, said the pilot program will be beneficial not only to NYU Shanghai's rapidly growing student population who rely on the ARC for academic advice, but also to the LAs who will earn valuable leadership and professional experience through training and hands-on practice.
"For LAs, the program helps develop a pathway to full-time career opportunities as Writing & Speaking Fellows after graduation," Delia said.
With a second phase of the pilot program already underway, NYU Shanghai students can now register for appointments at the ARC with both peer Writing & Speaking Learning Assistants and Global Academic Fellows by visiting: https://nyus.mywconline.com/
They look forward to seeing you!