NYU Shanghai Hosts User-Centered Assistive Design Challenge
Jul 29 2019
A wheelchair cupholder expandable enough to hold cups of varying sizes. A scooter that can be driven with a single hand. A smartphone camera stand for wheelchair users.  
These are some of the new assistive technologies that emerged from NYU Shanghai's labs and classrooms this summer, as three teams of volunteer designers, technologists, and people with disabilities came together over several weeks to participate in a design challenge to develop new products to improve the quality of life for people with disabilities. 
Co-sponsored by the Interactive Media Arts (IMA) faculty and the Academic Affairs' Office for Community Engaged Learning, the challenge was organized by the group Hackability@NYU Shanghai, who recruited diverse teams consisting of a mix of Chinese and international members, including students from local universities, design professionals, and at least one individual living with a physical disability.
The three teams, "Supermakers,""WeMove," and "Lamobility" —spent most of June designing, testing, and refining their prototypes, meeting every Tuesday at NYU Shanghai for three consecutive weeks. They presented their wheelchair and scooter modifications to peers and faculty on campus in a final meeting in July.
Each week, the teams became better at communicating across language and cultural differences, overcoming time constraints and adapting their knowledge to the assistive design field, said NYU Shanghai Resident Research Fellow Young Chung, a faculty member who helped guide the event to its fruition.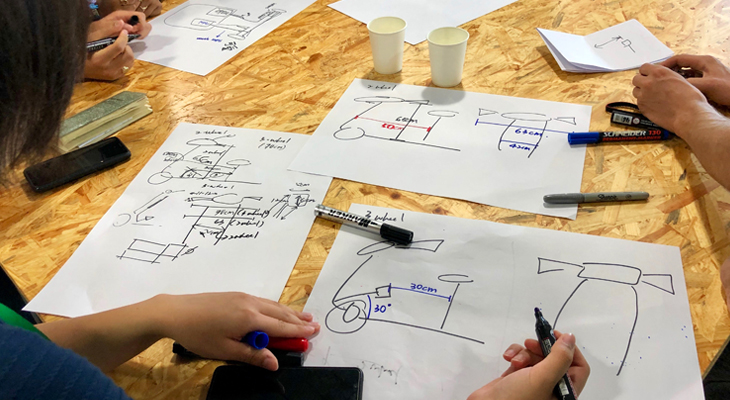 Brainstorming and drafting ideas

Chung says a key aspect of the design challenge was active participation of individuals living with disabilities in the design process. "Since the individuals with disabilities were also main designers of each project, the groups' goals were focused on creating a real solution for a real context."
Vera Zhong '21 an Interactive Media Arts major, said she worked alongside students from Shanghai Dazhong Technical School and Nanyang Technological University Singapore as well as professionals with expertise in 3D printing and freelance design. Zhong noted that working on the same team with people who would actually be helped by the new technologies was invaluable. 
"There are many conveniences in life that we take for granted. Without empathy, we would never consider these conveniences as challenges for some people," Zhong said. "Having the end-user provide feedback allows for designers to incorporate a greater sense of empathy in the product, and helps us formulate...a method for people to reclaim convenience."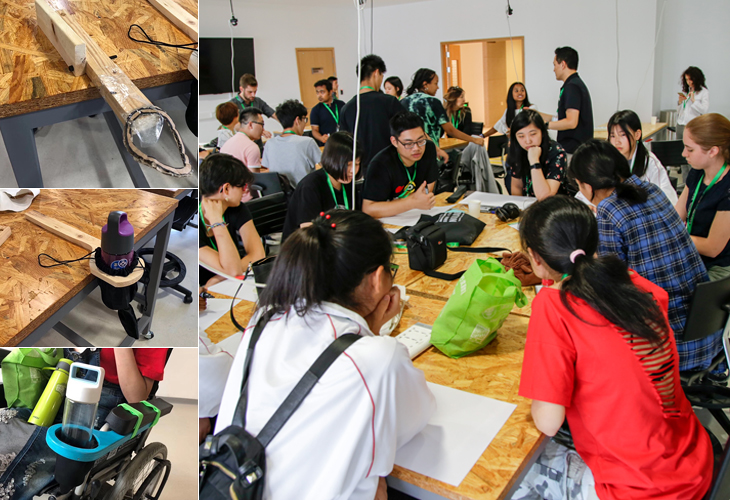 Left: Various stages of prototyping for the wheelchair cupholder. Right: Teams discuss ideas and draft designs.
After several weeks, the Supermakers team presented a wheelchair cup holder that accommodates bottles of different shapes and sizes. The wooden holder was created using a computer numerical control (CNC) cutter, features cone-shaped elastic fabric, and is easy to attach, remove, and clean.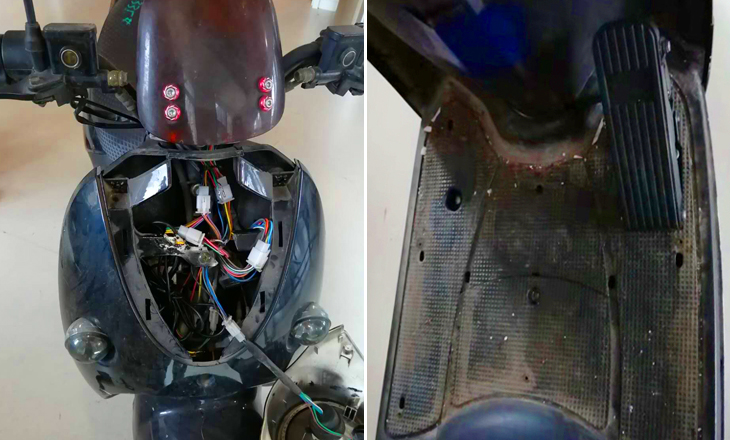 A foot pedal was added to this hacked electric scooter so it could be driven one-handed.
The WeMove team hacked an electric scooter by rewiring a foot pedal to the right handle. The added foot pedal makes it possible for one-handed riders to drive the end product.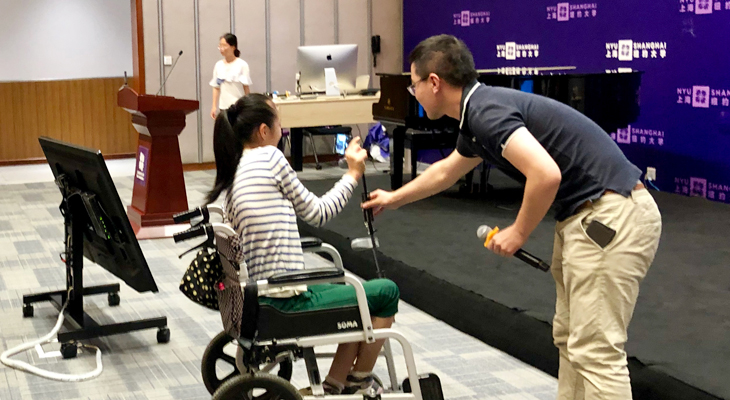 Selfies for everyone: An adjustable wheelchair attachment makes it easier to take steady smartphone photos.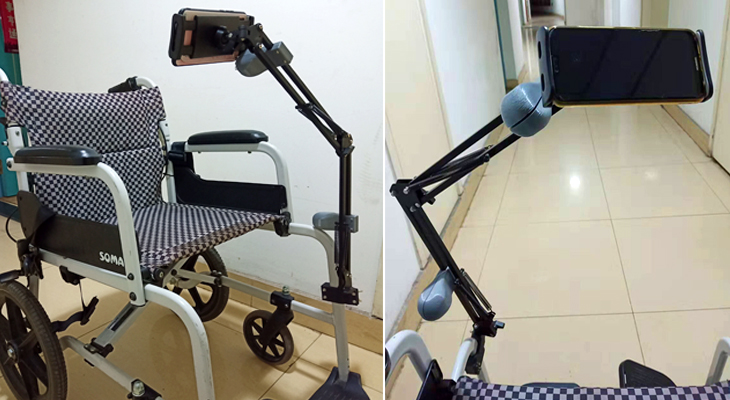 And the Lamobility team created a mobile device stabilization system that helps wheelchair users take steady photographs with their smartphones. Their presentation featured a live on-stage demo, and ended with an audience selfie following the presentation.
During their July presentations, each team also shared their design process to give the audience an in-depth understanding of how the project took shape, and how it could potentially evolve in the future.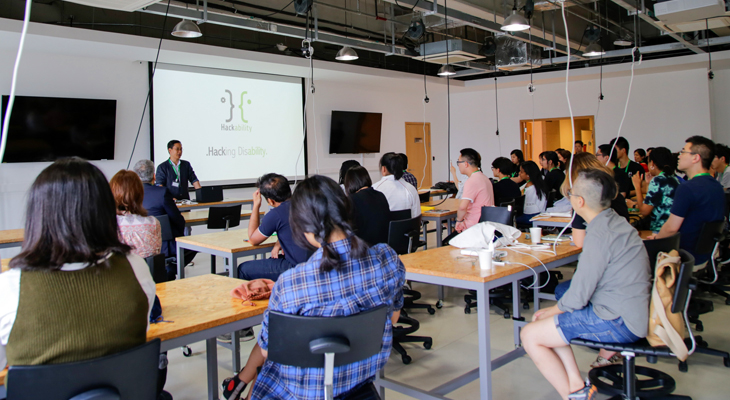 Young Chung speaks to this year's Hackability@Shanghai audience.
The spirit of Hackability will continue on at NYU Shanghai this fall as part of Young's Deans' Service Scholars (DSS) course, "Assistive Technology", where students will consider how design, development, and use of technology can improve quality of life for individuals with disabilities.