NYU Shanghai Faculty Research Seeks Solutions for Post-COVID-19 World
Apr 24 2020
As the coronavirus pandemic has swept around the world, governments and institutions in almost every country on Earth have found themselves taking extraordinary measures to prevent the virus's spread. Those measures have left billions of people tackling unprecedented obstacles in every aspect of their everyday lives.
From training ourselves to follow healthier habits to training teachers to foster creative collaboration online; from tackling the virus itself to tackling the racism that has dogged responses to the pandemic's advance, NYU Shanghai faculty members are putting their cutting-edge skills and international perspective to work breaking down the pressing problems that have transcended national borders in the wake of COVID-19. Find out how below and on our faculty COVID-19-related research blog.
One in a Million: First Steps Toward a Vaccine
Assistant Professor of Chemistry Sun Xiang is taking the most direct approach to ending the coronavirus pandemic: finding a potential source of a vaccine for SARS-COV-2, the virus which causes deadly COVID-19 infections. Using computerized molecular dynamics simulations based on the latest developments in reaction rate theory, Sun and Postdoctoral Fellow Tong Zhengqing are trying to identify a molecule that will bind quickly and tightly with the novel coronavirus's spike protein. Since a COVID-19 infection begins when the virus's spike protein binds to a human cell's Angiotensin-Converting Enzyme 2 (ACE2) receptor, a molecule that binds to the spike protein will block the virus from attacking human cells.
 The initial identification of such a particle is the most difficult stage of vaccine development, Sun says, since there are thousands upon thousands of candidate molecules. Potential vaccine particles range from small inorganic chemical molecules to small peptides, or short strings of amino acids which form the building blocks of proteins.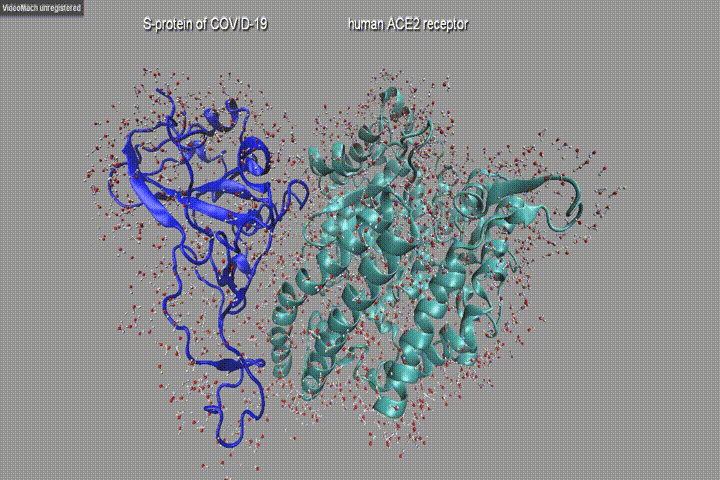 Sun and Tong's simulation of the interaction of SARS-COV-2's spike protein (left, in purple) and a human ACE2 receptor (right, in green) with molecules in an aqueous solution. Image by Tong Zhengqing.
 "The biggest challenge for finding a drug for COVID-19 is to screen candidate drug molecules systematically and efficiently, which can really only be done using computational simulations," says Sun. "Even with our advanced technology, in principle, we could go on running simulations with new candidates forever since there is a huge database of small candidate molecules, including new molecules that could be synthesized."
But Sun is confident that an answer is out there, and that his team could provide vaccine developers with the key building block of an effective inoculation. 
"We cannot promise any timeframe of finding the vaccine for COVID-19, but our research will be able to provide some guidance for COVID-19 vaccine discovery and answer the questions of if, and especially how fast, a drug molecule could bind to the virus," he says.
Thinking Outside the Mask: Apps and Wearables Can Slow Infection's Spread
 The effectiveness of social distancing measures in many countries affected by coronavirus has shown that relatively simple changes in our everyday behavior can go far in stopping the virus's spread. But many of us have learned the hard way that making such small adjustments is often easier said than done. 
 Assistant Arts Professor of Interactive Media Arts and Associate Director of the Program on Creativity + Innovation and IMA/IMB Christian Grewell is hoping to make that process a little bit easier with the help of smart wearable devices. Grewell, whose research focuses on developing digital networks that effectively analyze and transmit human emotion and communication, is working with Microsoft's advanced hardware research group in Shenzhen, China to create a smart bracelet that prevents face touching and an Apple Watch and Android Wear app that promotes effective hand washing. Meanwhile, he is also collaborating with fellow researchers and developers from NYU Abu Dhabi on an app that will warn users when they are within six feet of another person.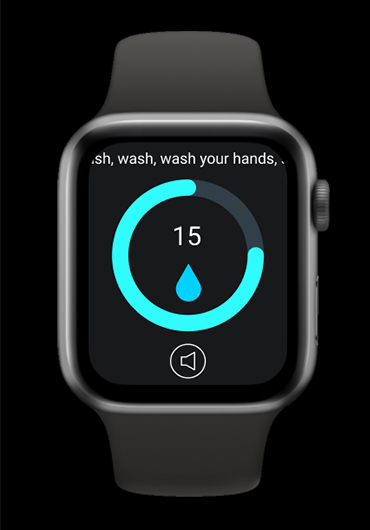 A prototype of the interface for Grewell and Microsoft's smart watch app to encourage effective hand washing.
The smart bracelet recognizes when its wearer is washing their hands and plays a 20-second jingle, encouraging the wearer to wash their hands for the full extent of the tune in order to thoroughly break down and wash away any SARS-COV-2 cells. In contrast, the smart watch app lets off a warning tone when it detects that its wearer is about to touch their face, potentially allowing viral cells to enter the body through mouth, nose, eyes, or any small abrasions on the skin. Both use basic machine learning algorithms to learn the patterns of their wearers' motions and behavior, making them vastly more effective than simple motion-sensing devices. 
 Although social distancing measures and international travel restrictions have slowed development of the devices, prototypes are already in production. Grewell believes his teams' devices and apps will be ready for consumers in time to prevent a resurgence of the virus in late 2020.  
"Racism Is a Virus": Documenting Xenophobia to Promote Unity
As members of an intrinsically Chinese but also uniquely international community with ties that span borders and cultures, many NYU Shanghai students, faculty, and staff have found themselves stuck in upsetting conversations that conflate Chinese identity (or identity as a Wuhan resident) with infection. Global Perspectives on Society Teaching Fellow Wang Jing was especially struck by how many well-respected Western media outlets racialized their discussion of the virus.  
"When they first reported on coronavirus, many journalists weren't careful enough in the language they used. For example, the New York Times would directly say "Wuhan Virus," and quickly every news outlet followed, including on their social media accounts," Wang recounted. "Later these reports and this terminology were picked up and circulated in social media or other news outlets, just like the [false] reports about bat soup." 
In response, Wang and friend Li Li, a PhD student in archaeology at Germany's University of Tubingen, decided to create the Sinophobia Tracker, an online archive where they document and analyze racist discourse about the coronavirus. Sinophobic memes, conspiracy-touting editorials, and firsthand accounts of discrimination posted on social media by people of East Asian descent all appear side by side, testifying to the pervasiveness of racist discourse in worldwide reactions to the coronavirus pandemic.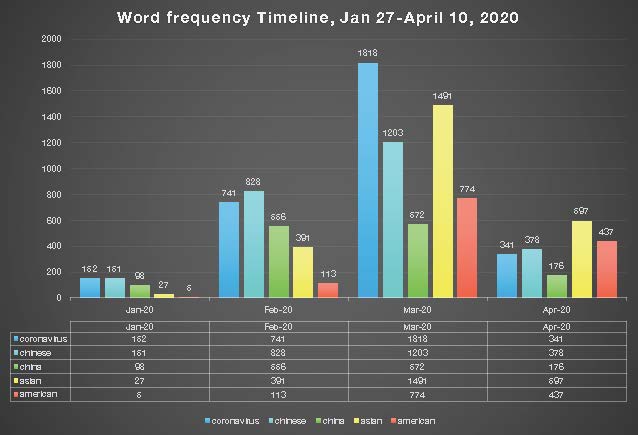 The results of Wang and Li's word frequency analysis of content documented on Sinophobia Tracker.
Wang says the site was inspired by both the death of Dr. Li Wenliang – widely acknowledged as the whistleblower who alerted Wuhan's citizens to the deadly virus in their midst – and by her own research among Chinese Muslim communities, where she learned the importance of documenting what scholars call "traumatic memory."
"Traumatic memories have tremendous power in our human experience," Wang explains. "They are like scar tissue that really never goes away after one is injured or hurt. They stay on, as a reminder of our past and a warning for the future."  
"By documenting and analyzing them, we can have a better understanding of how certain diseases—whether natural or cultural—have plagued us and how we might try better next time to avoid its negative impacts."
The Sinophobia Tracker project will form the core of a new interdisciplinary course designed by Wang, Pandemics and Race. The course will examine the intersection of public health systems with race- and culture-related discourse. In addition, the project will also form a central part of a new program on race, xenophobia, and public health to be developed in concert with Student Diversity programs at NYU Shanghai.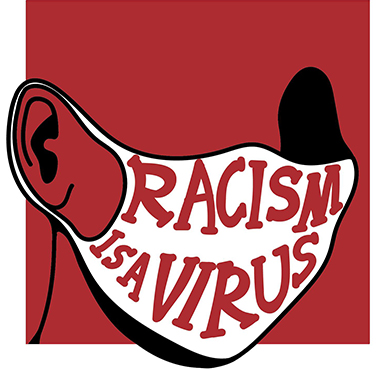 The logo for anti-Sinophobia activist Instagram account @ChineseAgainstRacistVirus, which is featured frequently in the Sinophobia Tracker. 
 Wang says she hopes that the Sinophobia Tracker will ultimately help those who read it understand the insidiousness and counterproductiveness of the cultural "disease" that is racism, whether that racism is taking place against East Asian people outside China, or whether it takes place within China against certain Chinese social groups or ethnically non-Chinese people. 
"One of the most important lessons, I think, is the realization that virus does not discriminate but people do," she says. "Focusing on this message can help us do more as a community in terms of education and public outreach."
From Gurus to Co-Learners: Getting Creative with Music Education
The World Health Organization (WHO) estimates that over 1.5 billion children and young people around the world – nearly 90 percent of the world's students – have been affected by school closures due to coronavirus. This means potentially billions of negative educational outcomes, and billions of tough choices for teachers and students. 
Affiliate Faculty at NYU Shanghai's Program on Creativity + Innovation and NYU Steinhardt Associate Professor of Music Education and Music Technology Alex Ruthmann, who specializes in the intersection of music education and technology, has stepped into this breach with passion. Ruthmann is working closely with music educators at NYU Prague, NYU Shanghai, the Singapore Ministry of Education, and Steinway & Sons piano to adapt their music teaching strategies to online formats while meeting the individual needs of their courses and students. 
In his work with NYU Prague and NYU Shanghai, Ruthmann advised instructors to translate the performance aspect of music classes into the exchange of short videos between teachers and students. As a result, music teachers have had to become expert video editors, Ruthmann said. Several have even used these skills to create virtual ensemble performances from students' individual video submissions.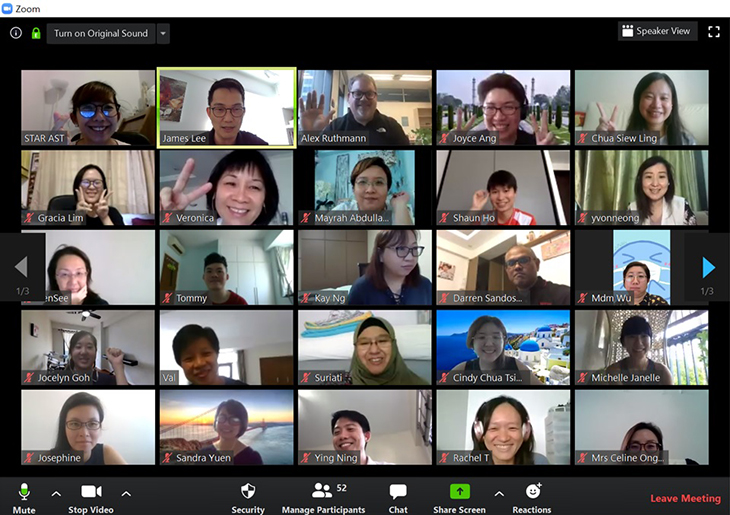 Ruthmann (top row center) hosts a live webinar for Singapore's music teachers to help educators find ways to make students' thinking and creative process visible and audible through virtual tools. Image by STAR Singapore.
As part of his year-long appointment as Outstanding Educator in Residence with the Singapore Ministry of Education, Ruthmann is hosting Zoom workshops on individualizing digital tool use for Singapore's music educators. His seminars emphasize designing classes that make students' creative processes visible and shareable while responding to students' wide range of access to technologies for learning. That has often meant encouraging students to create music in non-traditional ways, such as through creative music-making apps and programs Ruthmann helped develop at the NYU Music Experience Design (MusED) Lab.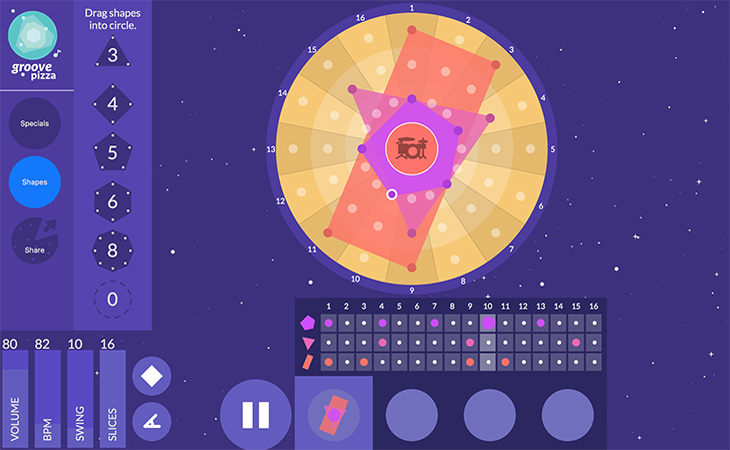 Kid-friendly music creation app Groove Pizza, one of the free innovative programs Ruthmann helped create through the MusED Lab. Find Groove Pizza and other music-making apps on PlayWithYourMusic.org
Ruthmann says many music educators have adapted courses to online formats by redirecting courses toward original music creation, finding creative ways to maintain the social side of music making. Ultimately, Ruthmann says, this process has challenged music educators to rethink the very nature of musical collaboration. 
"From a teaching perspective, there now has to be a shift from the guru/conductor on the podium directing everyone together, to individuals working in parallel as co-learners and teachers, supporting each other's learning," says Ruthmann. 
Ruthmann and Assistant Arts Professor of Interactive Media Business Yanyue Yuan have begun a Creative Learning Webinar series and research study focused on how NYU global network faculty are responding to the need to conduct courses online. They will study how the online teaching experiences of higher education faculty in Spring 2020 inform their face-to-face teaching approaches in Fall 2020.
Read more about NYU Shanghai faculty working on COVID-19-related research.