NYU Shanghai Celebrates the Class of 2022 in a Virtual Commencement Ceremony
May 26 2022
NYU Shanghai honored some 400 graduates from NYU Shanghai and other NYU degree-granting campuses in a virtual ceremony on May 26. Graduates hailing from 34 countries and regions tuned in along with friends and family from around the world at 20:22 China Standard Time to celebrate the conclusion of their NYU Shanghai journeys. 
Resilience was a common theme throughout the ceremony as speakers praised the class for meeting the challenge of earning a degree during a pandemic that has cast a long shadow over half of their college years, including the current lockdown that prevented them from celebrating in person. "We may not have a choice when the pandemic may end, and when life can get back to normal, but we always have a choice in the attitude that we have towards challenges and difficulties. Such an attitude will be the foundation from which you build on your future. And the hardships you face today may one day prove to be the best training program for a stronger you," said Commencement speaker and Winter Olympic Champion Yang Yang.
Despite the online format, commencement organizers were able to preserve many of the traditions from the five previous NYU Shanghai commencements, including a "procession" featuring photos of the graduates and their professors. The NYU Shanghai alma mater music video was updated to feature defining moments of the Class of 2022. And the Oriental Pearl Tower was virtually lit in violet in honor of the Class of 2022.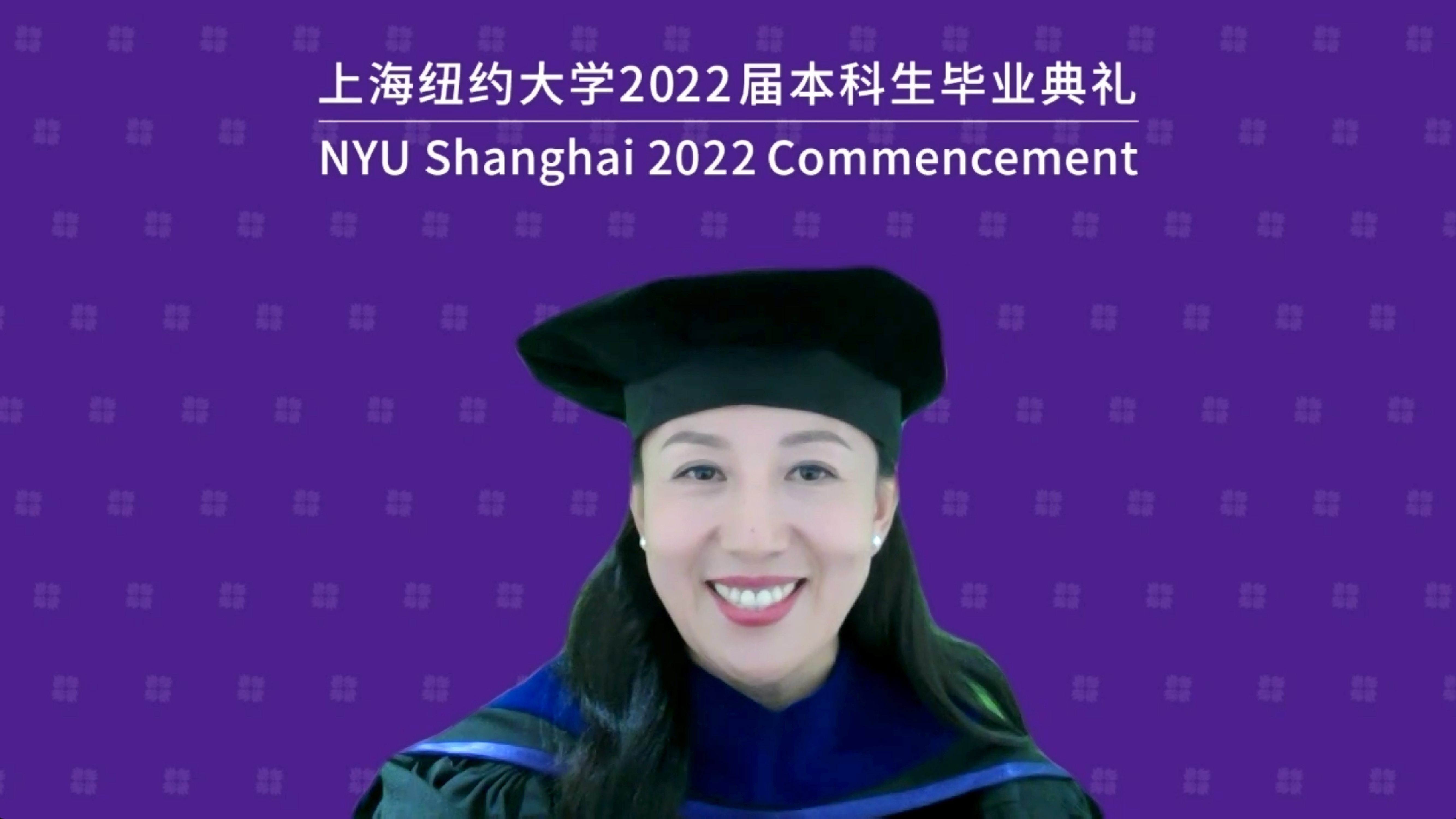 Keynote speaker Yang Yang, a two-time Olympic gold medalist in short track speed skating, delivered her speech from her home in Shanghai. In the speech, she shared her own story of setbacks and resilience. She recalled how at her first Winter Olympics in 1998, she was disqualified after posting a world record time in a semifinal and crossing the finish line first in the final. "I decided to face the defeat head on, not blame the referees or other skaters, but focus on myself to find out where I could do better and use it as a motivating factor for moving forward," she said, noting that she would go on to win the next five world championships. "Hardships can indeed make you stronger. But only through your positive thinking," Yang added.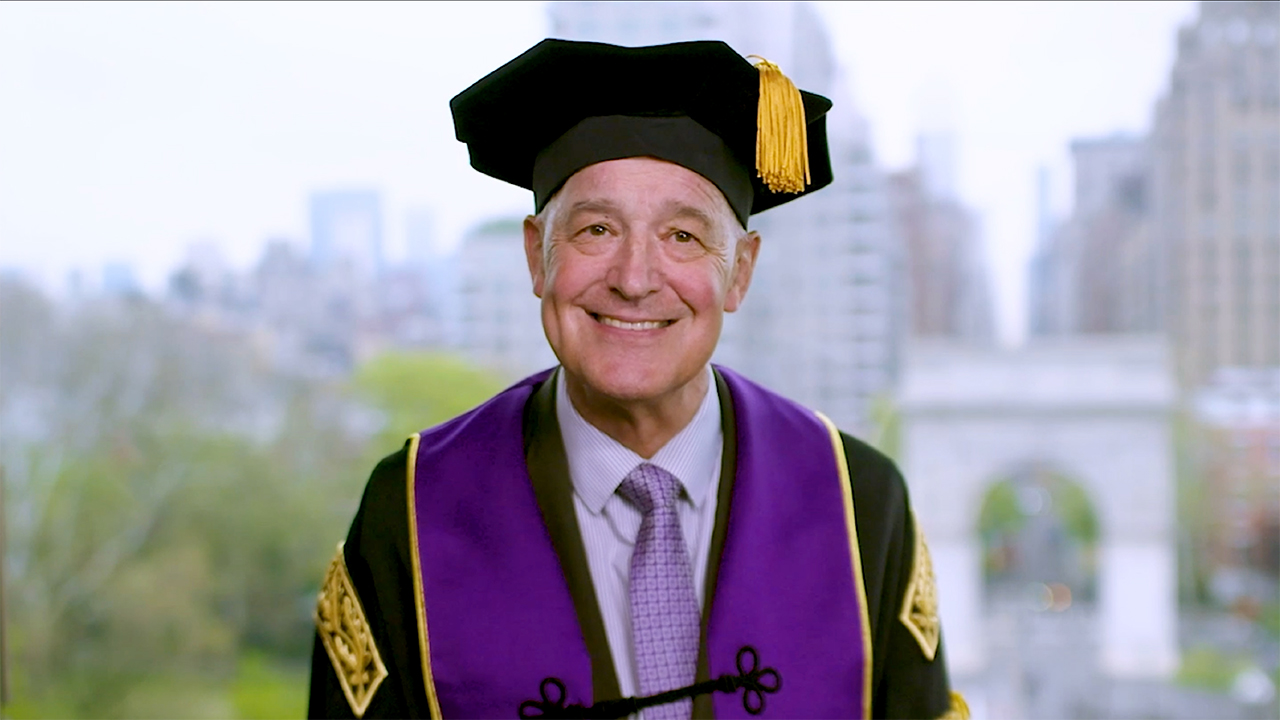 In a recorded address from New York City, NYU president Andrew Hamilton praised the graduates for their perseverance. "I hope you can take with you the confidence that you achieved your goals and earned your degree during a time of significant upheaval. You deserve not only our recognition but our admiration for what you have accomplished."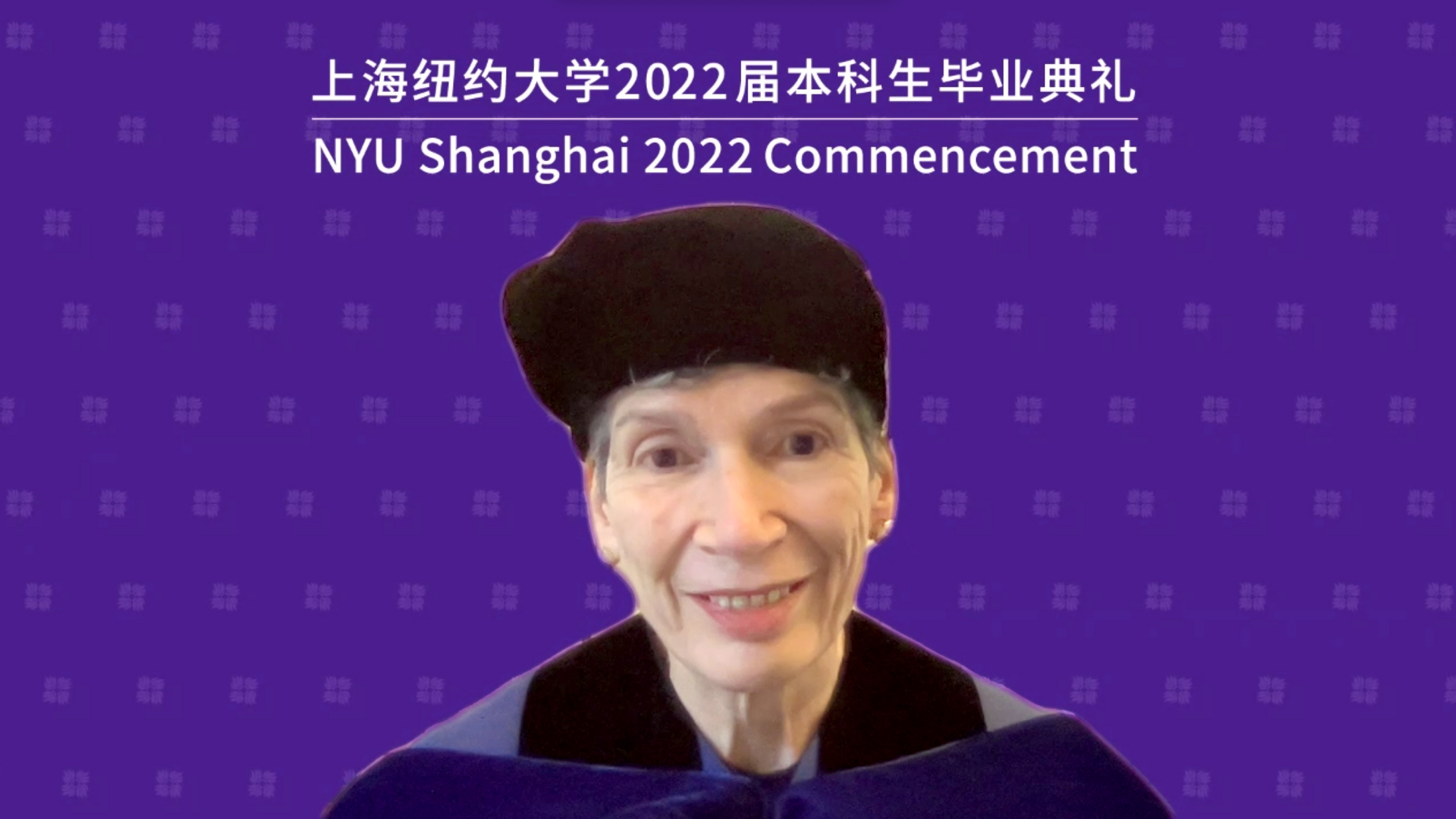 NYU Shanghai Provost Joanna Waley-Cohen added to President Hamilton's sentiment. "Out of unpredictability can come adaptability; out of crisis can come opportunity; out of disaster can come new experiences and self-fulfillment. We cannot say that the unexpected is necessarily all bad, or that predictability is necessarily all good, and in fact we cannot really say that anything can be categorically declared to be all good or all bad, for everything contains the seed of its opposite."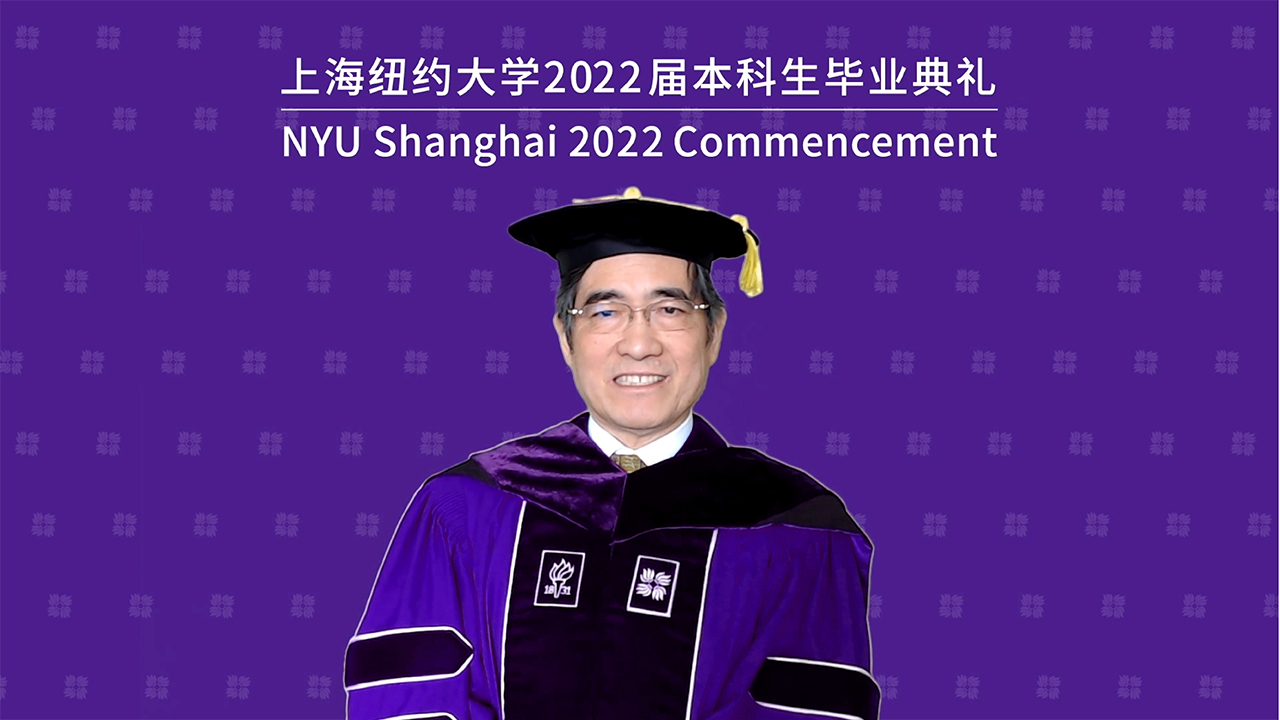 Delivering his address from an NYU Shanghai dorm room, where he has been staying with locked down students for the last several weeks, Chancellor Tong Shijun encouraged the graduates to think about how the challenging few semesters, and especially the last few weeks - can help them as they face a world beyond Century Ave. "It is my sincere hope that from now on, not only the e-learning skills that you've gained, but also the moral and personal virtues that you have shown and you have cultivated in these challenging semesters, will be your most cherished assets along your personal journey in the future," he said. "Along with all the academic progress you've made at NYU Shanghai, these skills and virtues will hopefully provide you with tremendous advantages as you navigate the world as NYU alumni."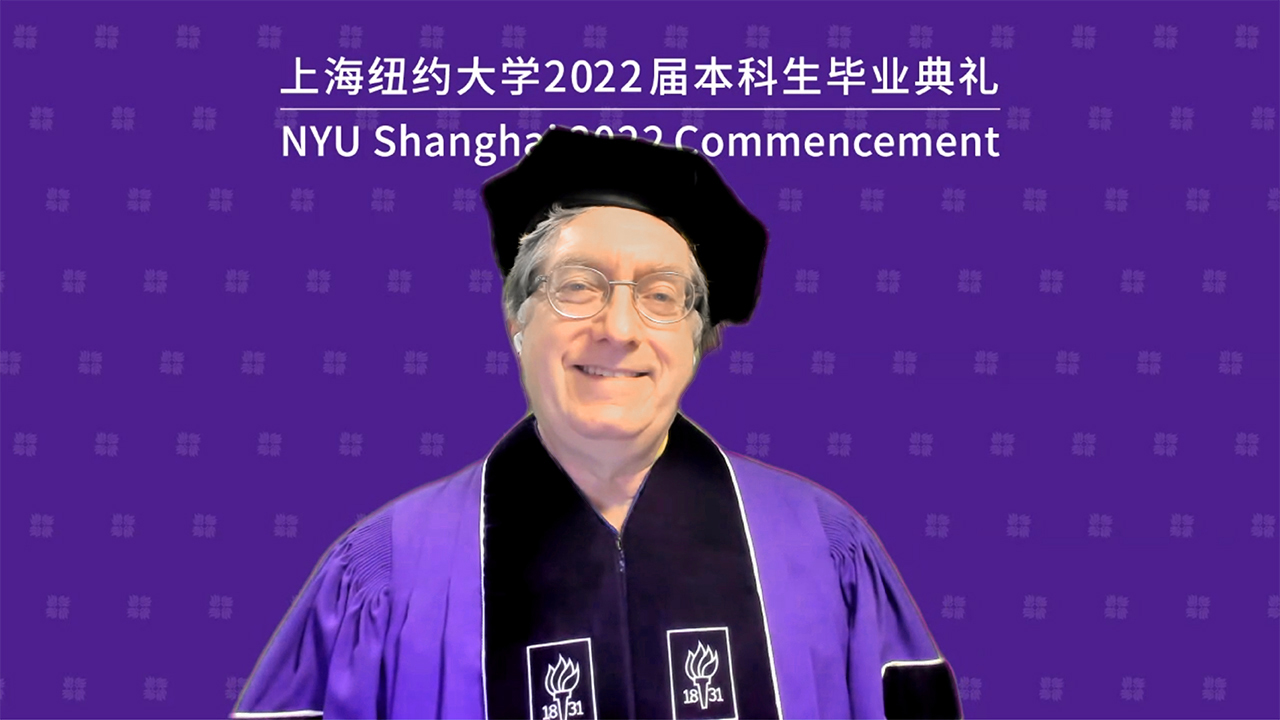 Vice Chancellor Jeffrey Lehman celebrated the Class of 2022, leaving them with hopes for living in a world where they can find common ground with people different from them. "[During your years at NYU Shanghai], you have built real friendships with people who are very different from you, and you know they are not dangerous. You have gotten to like people who disagree with you about important issues and you know they are not evil. You have felt the joy of discovering that your old understanding of the world was too simple, and that a more complex combination of perspectives is both more accurate and more beautiful," he said. "So when you hear or read something that makes you feel agitated, remember your time here and ask the key question: How might that be not completely right? Might there be another way to look at things?... Might my former classmate see things differently?"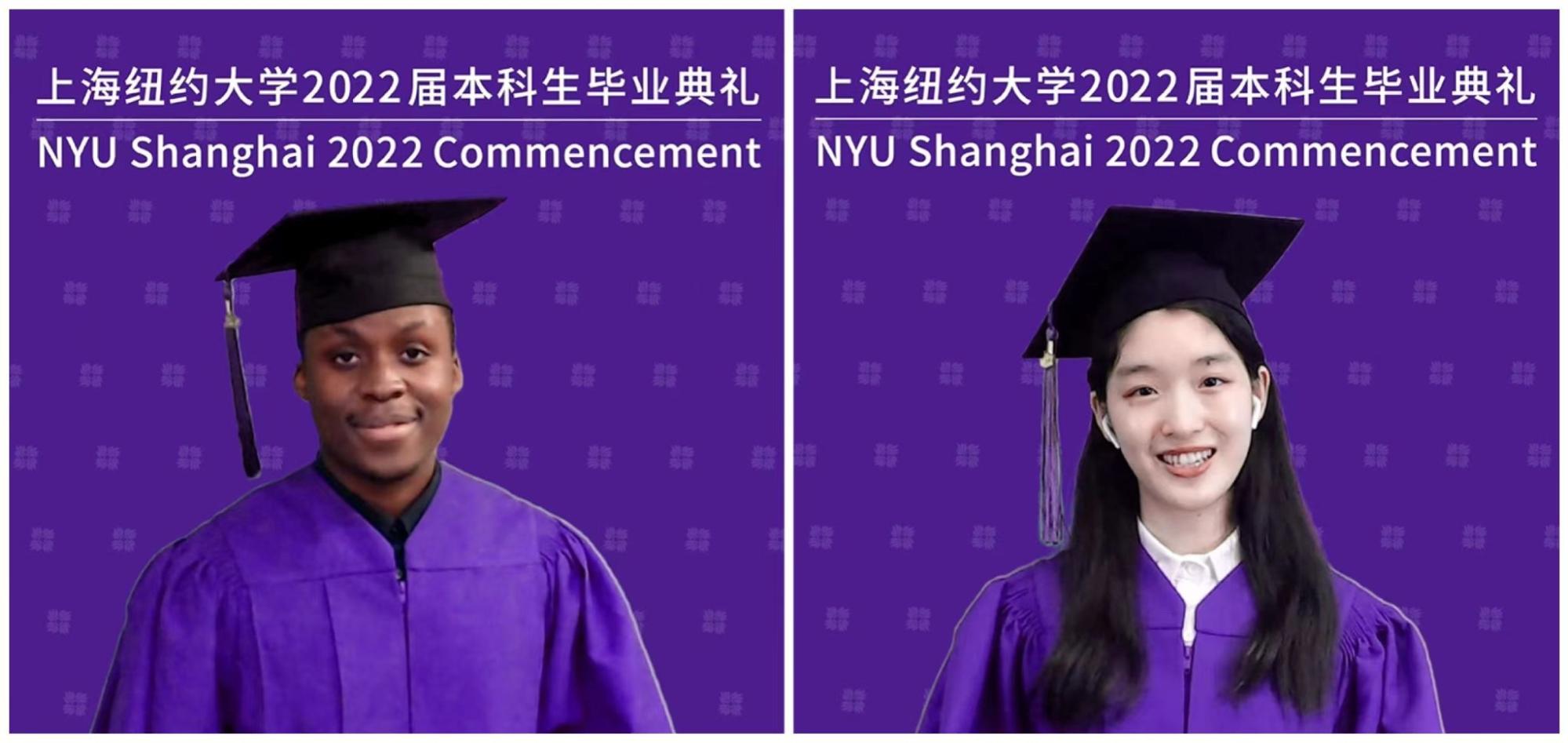 Student speakers Bongani Ntsakani Musikavanhu '22 of Johannesburg, South Africa and Shi Yiling '22 of Shanghai reflected on the lessons they have learned at NYU Shanghai, and how they hope to infuse their global citizenship and newfound courage into the next steps of their lives. 
"Four years in NYU Shanghai not only injects the spirit to challenge authority, but also guides us to find the anchor with which to stand still in this complex world…" said Shi. "Being a true global citizen, I ultimately realize, is not only about how an individual can change the entire world, but more about inviting and facilitating as many people as possible to build a better world together and shine the human spirit."
"I would like to encourage the Class of 2022, and future NYU Shanghai students to let fear guide you to moments of courage. Go talk to that student you have never met before in their language. Go hang out with the old people in the park," said Musikavanhu, who delivered most of his speech in Mandarin Chinese. "Yes, you may get turned down, but there is a chance that you may find warmth. There is a chance that you could be the one person that informs or changes an entire worldview simply by being yourself." 
Despite the unprecedented challenges of the global pandemic, NYU Shanghai's Class of 2022 have succeeded beyond expectation. Among the Class of 2022, there is a Schwarzman Scholar, a Yenching Scholar, and two Erasmus Mundus Scholars. Many graduates will go on to pursue graduate degrees at institutions such as UC Berkeley, Harvard, Yale, Massachusetts Institute of Technology, and University of Cambridge. Others will take their first steps into the workforce, joining multinational companies both in China and abroad including J.P. Morgan, Amazon, IBM, and Bytedance. Still others will go on to work in nonprofits around the world or teach, like in Japan's JET program. 
-- 
Watch the Class of 2022 Tribute Video.
Watch the entirety of NYU Shanghai's 2022 Commencement Ceremony.