NYU Shanghai Seniors Win Erasmus Mundus Scholarships
May 20 2022
Two NYU Shanghai seniors have won full-tuition Erasmus Mundus Scholarships to pursue graduate studies in Europe. Xu You '22 will use his award to study for a master's in Big Data Management and Analytics (BDMA), while Jaime Cantwell '22 will pursue an International Master in Central and Eastern European, Russian, Eurasian Studies (IMCEERES).
Sponsored by the European Union, the Erasmus Mundus Scholarship promotes cooperation among top higher education institutions in the world, and gives students from both EU and non-EU countries the opportunity to take multidisciplinary courses at a different school each semester. 
Beginning this fall, Xu, who graduates this month with a degree in Data Science, will take Business Intelligence and Big Data Fundamental courses in Brussels, Belgium, and Barcelona, Spain. He will choose from among schools in the Netherlands, France, and Italy for his second year studies. 
"I've always been passionate about the intersection of social work and education," Xu said. "This program provides a perfect platform for me to delve into my interests. It not only combines Computer Science technologies and Data Science strategies, but also addresses their cross-disciplinary applications in industry for social good." 
Xu said he is looking forward to a career in public service. As a Dean's Service Scholar at NYU Shanghai, he volunteered for the Peer Experience Exchange Rostrum (PEER), a Chinese nonprofit organization, ran PeerPal Club, the only service-based student club to create social impacts by mentoring junior high students in rural countries, and leading summer camps for rural and migrant youth, including NYU Shanghai's inaugural College and Career Lab. "In the future, I may work for a not-for-profit or a cross-border data-related giant, or take the chance to apply for a second master's program in education, or try something I never thought of before," Xu said.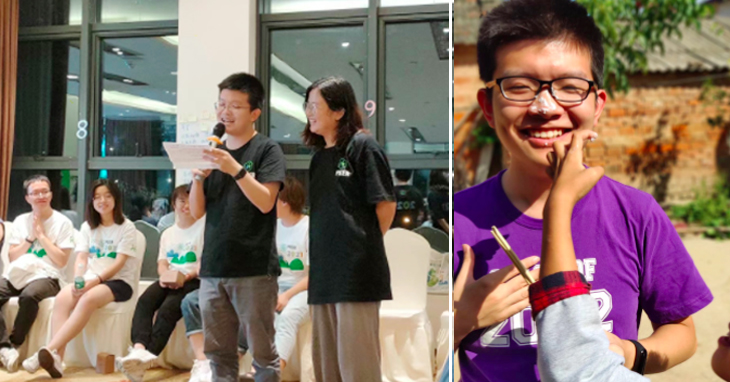 Left: Xu at the closing ceremony of PEER's summer program volunteer training camp in Wuhan, Hubei, where he worked as a volunteer mentor and Service-Learning department intern in 2021; Right: Xu spent his birthday with kids in a Henan village when he traveled in an NYU Shanghai DSC trip with Chi Heng Foundation in 2018
"Xu You put a lot of time and effort into academic service-learning courses and programs, not only early in his college life but throughout his entire college career. He showed his long-term commitment to understanding the educational needs of disadvantaged populations, and was a quiet, humble leader and team member," said Associate Dean for Academic Affairs Diane Geng. 
Jaime Cantwell '22, who is majoring in social science with a concentration in political science, said her Erasmus program of study will be helpful to her goal of becoming a language analyst with the National Security Agency (NSA) or the U.S. Department of State.
"Language analysts are required to have a comprehensive understanding of the culture and history of their region of interest in addition to high proficiency in the language. Through IMCEERES, I will have the unique opportunity to gain a nuanced understanding of the culture, history, and politics of Eastern Europe and Central Asia through direct study in those regions," said Cantwell.
Cantwell plans to spend her first year in Estonia and Scotland (UK) to complete the first degree, an International Masters (IntM) in Central and East European, Russian and Eurasian Studies. In the second year, she will decide between schools in Georgia and Kazakhstan to earn a second degree in International Relations and complete a work placement at an international organization such as UNESCO or the American Chamber of Commerce.

Left: Cantwell (first from the right) in a Chinese language department event with Language Lecturer of Chinese Chai Jing (first from the left) at the Shanghai Old City Wall in Spring 2018; Right: Cantwell (right) checking in students as an Orientation Ambassador in New York for first-year student orientation in Fall 2021
Cantwell attributed her success to the tight-knit community at NYU Shanghai, especially when it comes to building relationships with professors and other mentors. She worked with the admissions department since sophomore year and played a leadership role as an International Admissions Ambassador Captain in the past year. 
"Jaime is a strong student who is very diligent, organized, and hardworking. While sometimes a bit quiet, Jaime has impressed me regularly with her commitment to the (major!) task of a senior capstone/thesis project. In addition, she was able to quickly assimilate readings plus adapt her research to the existing scholarly literature. She would benefit from and be a great contributor to the Erasmus Scholarship program," said Assistant Professor of Practice in Political Science Ivan Rasmussen, who helped Cantwell complete her capstone research on Indonesian public opinion in the context of the Belt and Road Initiative. 
Meet NYU Shanghai's past Erasmus Mundus Scholars: Benny Weilun Zhang '18 for Urban Studies and Emma Yunqi Song '20 for Evolutionary Biology (MEME).