Olympic Medalist Yang Yang to give 6th NYU Shanghai Commencement Address
May 13 2022
Short track speed skating Olympic medalist and world champion Yang Yang will address the Class of 2022 at NYU Shanghai's commencement ceremony on May 26. 
Born in Tangyuan, Heilongjiang, Yang Yang is China's first-ever Winter Olympics gold medalist. Skating in three Winter Olympics - in 1998, 2002, and 2006 - Yang earned two gold medals, two silver medals, and a bronze medal. She also won 59 world titles during her 23-year career, becoming the winningest international athlete in China's history.  
"It is my great honor to be the guest speaker for the Class of 2022 at NYU Shanghai's commencement ceremony," said Yang Yang, "I'm lucky to have this opportunity to share some of my life experiences with students on such an important day, cheering for their bright future and encouraging them to open a new chapter of their life."
The ongoing pandemic has imposed many challenges to the Class of 2022. Yang said she fully understands how students feel in lockdown, as she is also in lockdown in Shanghai and also experienced the "closed-loop management" during the 2022 Beijing Winter Olympics where she was quarantined for several weeks before returning to Shanghai. "Every generation has its challenges to tackle, and these challenges are the mission of the era we live in." 
"From Yang Yang, I hope, our students can understand more clearly how to turn one's given potential into real achievements, and how to turn one's personal talents and privileges into public goods and social benefits," says Chancellor Tong Shijun. "With her great achievements and contributions both as an athlete and as a retired athlete, Yang Yang embodies those values and virtues that students graduating this year, the year of the hard and heroic struggle against the pandemic, would probably know best how to cherish in their future life: resilience and solidarity."
For her inspiring and record-breaking achievements in athletics, made even more special by a year in which China hosted the Winter Olympics, Chancellor Tong Shijun will present Yang with the NYU Shanghai Chancellor's Medal of Honor.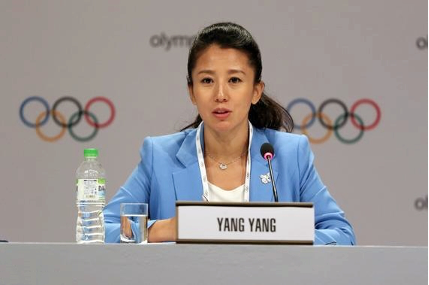 Yang Yang was the first Chinese person to be elected to an IOC committee member as an athlete. She was also the first female secretary in the International Skating Union's 125-year history. In addition, she served as a member of the 11th and 12th National People's Congress, and the vice-chairwoman of the All-China Federation of Youth.
After retiring from skating, Yang has stayed active in the sports world. She currently serves as the Vice-Chairwoman of the World Anti-Doping Agency. During the 2022 Beijing Olympic Winter Games, she served as chairwoman of the Athletes' Commission, and she also serves as a 13th CPPC member. In Shanghai, Yang founded the Feiyang Ice Skating Center to develop winter ice sports in China. She also established the Champion Foundation, which is dedicated to sports education and athletic careers for children in China.