NYU Shanghai Campus Reopens with Rigorous Safety Measures and Mixed-Mode Teaching
Apr 28 2020
Three months after closing to prevent the spread of COVID-19, NYU Shanghai welcomed seniors, graduate students, faculty and staff back to campus on April 27, with the support of comprehensive health and safety measures and "mixed-mode" teaching to deliver classes both live and online.   
Some 57 students and 31 faculty members returned to the Academic Building on Century Avenue on opening day. Staff and authorized contractors were also back in the office, many of them working to enforce new measures in access control, body temperature check, and social distancing.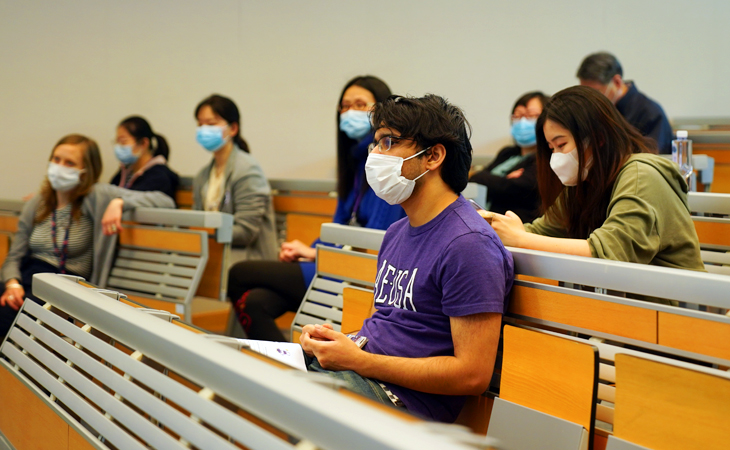 University leaders expect about 100 seniors to arrive in the coming week, and another 300 juniors, sophomores, and freshmen to return once campus is open to underclassmen on May 4.  
All returning students will be required to attend a health and safety briefing. On the first day, Chancellor Yu Lizhong walked students through information on the coronavirus, how to protect oneself from it, and preventative measures all NYU Shanghai community members will be required to follow.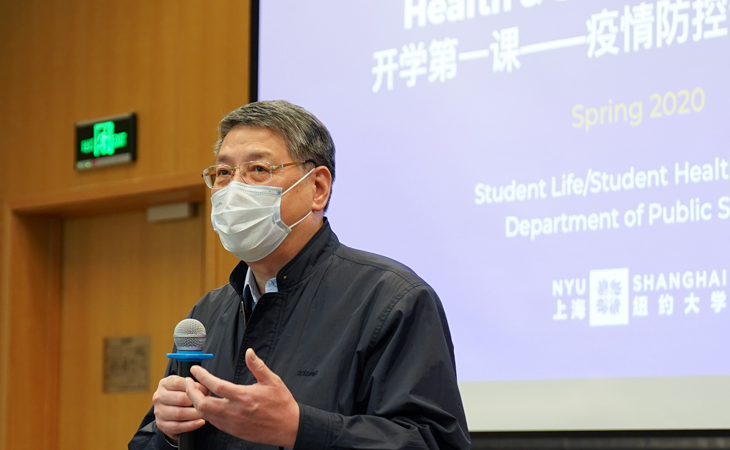 Amy DeCillis '20, who has stayed in Shanghai since the beginning of the pandemic, said she was reassured by the safety precautions and was delighted to be able finally to return to Century Avenue.
"I definitely have the feeling of coming home. This is my final semester here. It would be such a shame if I wasn't able to spend time at the school I've been attending for the past four years. It's bittersweet though because so many people are not here. You want to see people. You want to hug them and kiss them. But you can't because of the COVID-19."
Return to campus is optional this semester for students and faculty, since many remain overseas and are unable to enter China due to travel and border restrictions. Professors who are outside China will continue with online teaching, while those who have returned to campus can hold "mixed mode" classes - live classes that are simultaneously delivered through a battery of digital tools. 
'Mixed Mode' Teaching
Multiple departments at NYU Shanghai have worked together to ensure classes could be delivered  both live and online. The university purchased additional cameras, speakerphones, iPads, USB-Cs and other devices to record and deliver classes. 28 faculty members participated in face-to-face training with the Information Technology (IT) and Research and Instructional Technology Services (RITS) departments. Special attention has been paid to make sure that remote audiences can see what professors are writing on whiteboards and hear what they are saying without disruption or delay.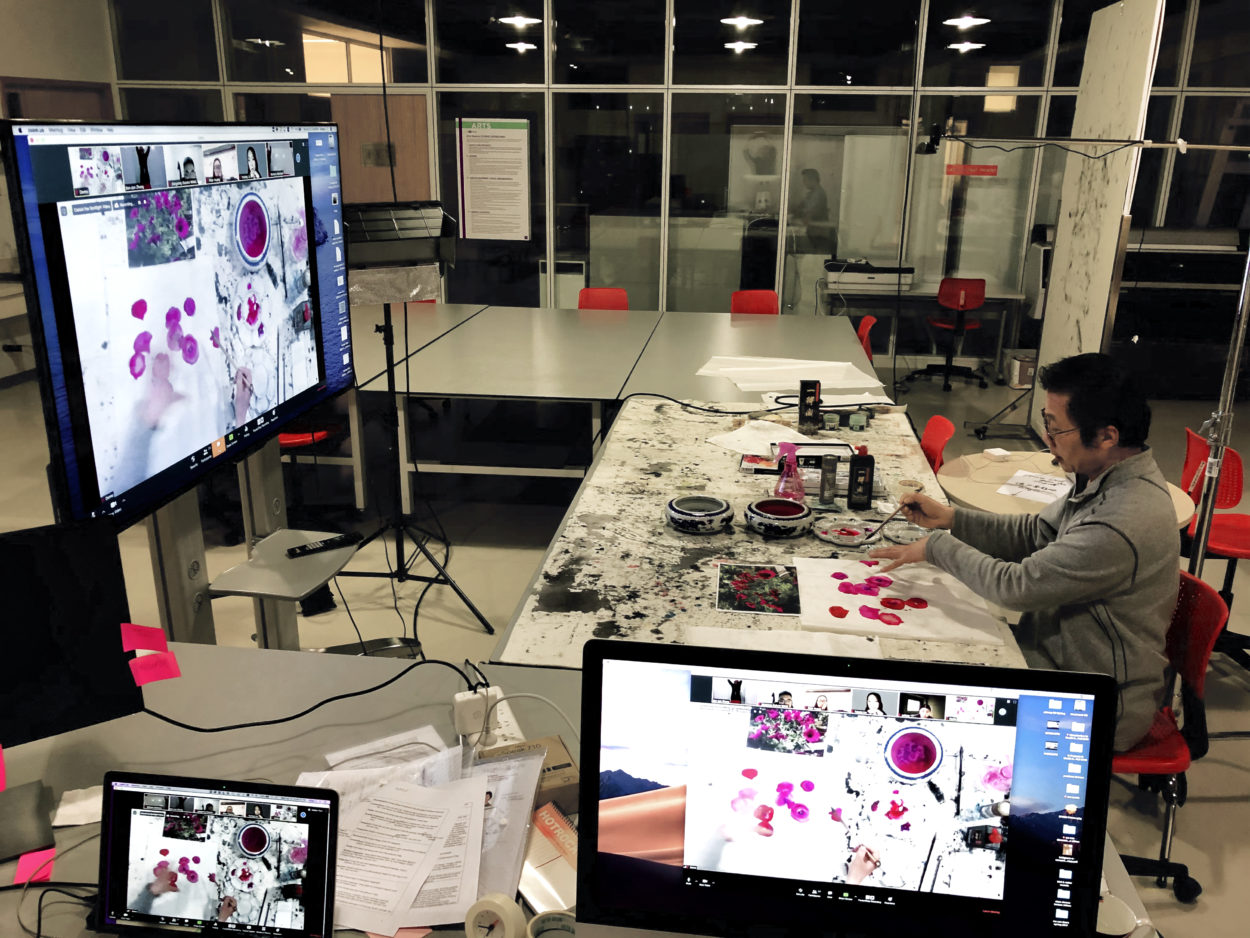 For instance, Clinical Associate Professors of Arts Barbara Edelstein and Zhang Jianjun plan to hold their course, Introduction to Studio Art and Projects in Studio Art, with three computers, two web cameras, a camera and five screens in their studio to three students participating live in the classroom and another 12 students who will sign on from around the world. 
"The IT team did a wonderful job in offering us the assistance to do mixed-mode teaching," said Assistant Professor Faculty Fellow of Data Science Ling Shuyang, who taught Mathematical Foundations of Data Science and Machine Learning in person for the first time on Monday. "It is very nice to teach in person. I am able to write on the blackboard now, which is a big plus."
Ye Yuntian '20, who majors in data science, attended Prof. Ling's class on Monday. It was his first in-person session as well since the reopening. "I felt very 'real' being part of the class," he said. "And I think it's easier for me to participate since I can just speak, instead of turning on my microphone or typing in the chat."