My First Weeks in Shanghai
Feb 2 2018
Editor's Note: Anastasiya Karavan is a sophomore at NYU Abu Dhabi. She chose to spend this semester studying in Shanghai. As a newcomer to the city, here's a reflection on her first two weeks at NYU Shanghai, including her very first experience with a Chinese food challenge.
This week, NYU Shanghai offered cultural adventurers on campus a free ticket to a Chinese-learning rollercoaster. On Wednesday, the Chinese Language Program kicked off their first event of the spring semester—the Local Chinese Food Challenge night.

As a study-away student from Abu Dhabi, I immediately thought this could be a great opportunity to learn more about authentic Chinese cuisine, but only when I walked into Room 965 did I realize that the title of the event included a "challenge" in it, not just "Chinese food."
Having started my 2-credit Conversational Chinese just two weeks ago, I felt intimidated at first standing at the entrance watching students from Elementary, Intermediate, and (what at least seemed) Advanced Chinese classes all mixed together, chatting in a language so quickly that I could only understand occasional simple words like "wǒ".
Yet, before I got even a tiny bit embarrassed, a smiling instructor welcomed me and handed me nicely-made handouts, which contained all the needed vocabulary for the night's challenge, including helpful expressions like tián-sweet, xián-salty, wǒ yào-I want.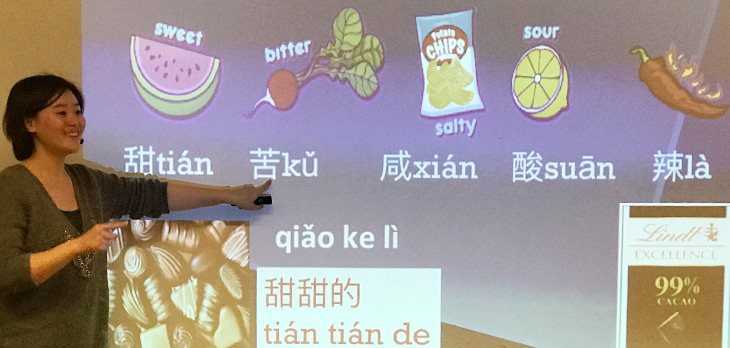 Reassured by the careful preparations, I felt I could fully participate in the event's interactive challenges, which turned out to be fun and stress-free, as students were learning Chinese words without even realizing it. I received a secret bag with select local Chinese foods unknown to many Westerners and discovered 12 traditional Chinese dishes and snacks. I was impressed that after 20 minutes of the workshop I was even able to describe how the tortoise jelly I just tried for the first time tasted—in Chinese!
The welcoming attitude to people from foreign cultures did not seem unique to the Chinese Language Program. Outside the classroom, one little 10-year-old stranger helped my friend and I eat Shanghainese soup dumplings properly after a few of our failed attempts. My RA introduced our residence floor to local "cat cafes," leaving us to play with over fifteen kittens while we waited for our food. Looking ahead, I cannot wait for this new-to-me culture to become more and more familiar, as my study-away friends and I advance throughout the semester.

And for those who will only take on the challenge to study at NYU Shanghai in the future, here are a few surviving tips I can offer: buckle up your cell phones and download useful apps such as Pleco (Chinese dictionary), Eleme (food delivery), Alipay (mobile payment), Baidu (Chinese search engine), metro maps and other apps, walk or bike as much as possible, take advantage of the meal plan absence as an excuse to try new cafes daily, and prepare for a true rollercoaster ride!