Former Chinese Trade Negotiator and WTO Judge Joins U.S. Business Leader for Dialogue on World Trade
Nov 8 2018
On Wednesday November 7, in the wake of the U.S. midterm elections and the first-ever China International Import Expo, Madame Zhang Yuejiao, a former chief trade negotiator for China and former World Trade Organization (WTO) judge, joined Jeffrey K. Rageth, former Global Vice President for Government Affairs for 3M, and director on the Board of Directors of the United States Chamber of Commerce for a lively discussion about prospects for US-China trade and engagement in an age of escalating trade friction between the world's two largest economies.  
Zhang reminded the audience of nearly 300 drawn from NYU Shanghai and other universities of the interdependent nature of China-US relations. "The China-US relationship sometimes encounters problems, but it is the most important bilateral relationship worldwide," Madame Zhang said. "Instead of being in conflict with each other, we should find common ground and work together. It will be beneficial to China, to the US, and to the rest of the world."
Rageth presented a US view on the bilateral trade tension. He argued that many economically frustrated Americans experiencing sluggish wage growth found themselves relating to President Donald Trump's "Make America Great Again" slogan, even though his attitude towards China made them nervous.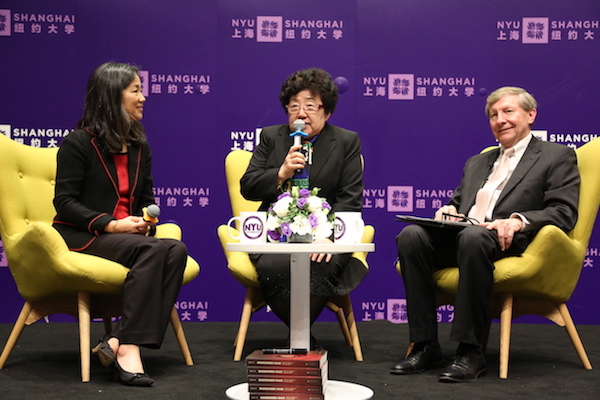 Rageth said he didn't think the results of the midterm elections would have much influence on US policy toward China. "Even though Democrats and Republicans have profound differences on many issues, they pretty much share the same attitude towards trade relationships with China. Democrats are more likely to focus on issues such as clean energy and global warming, but not so much difference in others."
Rageth said he believes there is room for optimism for the future trade relationship between China and the US, mentioning the recent Xi-Trump phone conversation, where the two leaders emphasized trade issues.
"There are few winners in trade wars," Rageth said. "You have to believe that sooner or later both countries will find a way to compromise, as Madame Zhang said, to find the middle ground, and eventually to reset, update, and modernize the China-US relationship."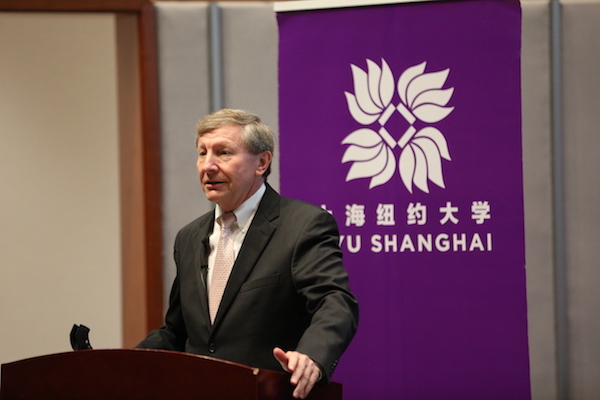 Currently teaching at Tsinghua University, Zhang has accomplished many 'firsts' throughout her career in world trade. She was the first Chinese national to join the World Bank Legal Department, and the first to be elected as one of the seven members of the WTO Appellate Body. She was also the first Chinese person appointed by the President of the World Bank as an independent arbitrator at the International Centre for Settlement of Investment Disputes (ICSID).
Recalling her past experiences in international trade law, Zhang also stressed every person's duty to enhance mutual conversation and understanding between the two countries. "Dialogue is important. Telling new stories to the 'outside' people is not only a job for news reporters, but for everyone." For example, she said that few outside China realized that there are specialized
courts set up in China in recent years to settle disputes relating to Intellectual Property Rights.
Wen Tao '22 came out of the talk inspired by Madame Zhang. "Her story revealed a Chinese woman's legendary career in the world legal order. She was the only woman in almost every picture that she showed us. In my Global Perspective on Society class, we were talking about the history of feminism a few weeks ago, and her speech gave me so much more insight on the topic."
NYU Shanghai alumnus Ye Lin '18, currently working at the Asia Pacific Model E-port Network (APMEN), an international organization devoted to trade facilitation, came back to Century Avenue especially to join this special occasion.
"Madame Zhang's personal career development reflects the progressive changes of the role that China plays in global trade. Especially in recent years, China has become more and more important in the global economy, advocating for free trade and multilateral trade to improve trade facilitation."