Prominent Researcher Launches Child Well-Being Survey
May 30 2014
Dr. Wen-Jui Han, a well-regarded American scholar at the NYU-ECNU Institute for Social Development at NYU Shanghai, recently launched a pilot study in Shanghai. The 2014 Child Well-Being Survey is an effort to collect national large-scale longitudinal data on socio-demographic characteristics, living arrangements, employment and work, and individual and family well-being in China. Dr. Han's research pays particular attention to children in general and to children living in different contexts in particular. Particular focus is given to differences in socioeconomic status, differences between urban and rural areas, and differences between children with migrant and non-migrant parent(s).
Dr. Han started with a target sample size of 2,500 first-grade children who are currently attending elementary schools located in the Shanghai area. Information on children's socio-demographic characteristics, well-being and school information is being collected from school principals, teachers, and parents. The ultimate goal is to implement this data collection effort not only nationwide in China but also across Asia to collect, compile, and analyze the contributing factors to children's well-being through a longitudinal lens.
Preliminary results of the 2014 Child Well-Being Survey will be presented during the International Forum on Social Policy and Social Development, June 28-29, 2014. Sponsored by the Institute, the Forum aims to provide a platform for scholars, stakeholders, and policy decision-makers around the world to present and exchange knowledge about the issues surrounding social policies and social development in Asia and the West.
About Wen-Jui Han
Wen-Jui Han is currently a Professor at the Silver School of Social Work at New York University, as well as the Director of the NYU-ECNU Institute for Social Development at NYU Shanghai. She is the principal investigator for the Child Well-Being Survey. She received her Ph.D. in Social Work (with an emphasis in Social Policy) in 1998 from Columbia University School of Social Work. Dr. Han has substantive knowledge and skills from multidisciplinary training in sociology, developmental psychology, economics, and public policy that provide a broad background in the issues surrounding policies and services designed to enhance the welfare of children and their families. Her research interests are in the area of child care, parental employment, child and adolescent academic and health well-being, immigrants, and public policies. Toward this end, Dr. Han has conducted numerous large-scale, nationally-based studies with sophisticated research methodology. Dr. Han is known for her work on addressing issues surrounding policies and services designed to enhance the well-being of children and families. Her work has been published in highly-regarded peer-reviewed journals in various disciplines including Demography, Developmental Psychology, Public Health, Public Policy, and Social Work.
Dr. Han's scholarship has also been honored with such awards as the Excellence in Research Award from the Society of Social Work and Research for her article entitled "Bilingualism and academic achievement," and the 2013 Nobuo Maeda International Research Award from the American Public Health Association for her paper, "Trajectory of Physical Health, Cognitive Status, and Psychological Well-Being Among Chinese Elderly."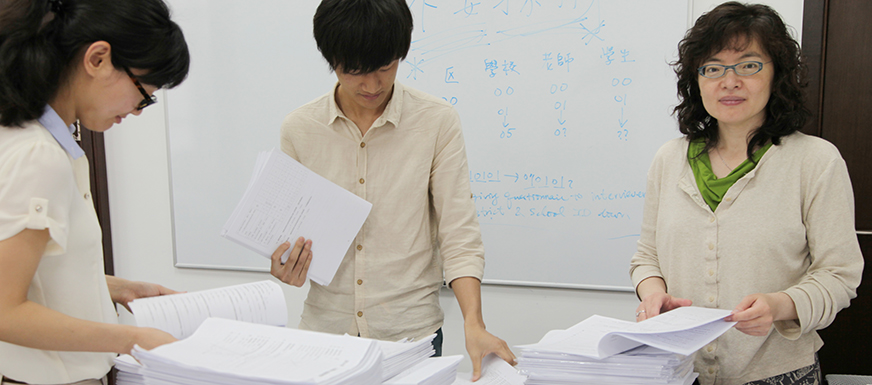 Professor Wen-Jui Han (Right) in her office at NYU Shanghai with two project assistants
About the Institute
NYU-ECNU Institute for Social Development at NYU Shanghai brings together the scholars and professionals at the East China Normal University School of Social Development (ECNU SSD) in Shanghai, China with the faculty members at the NYU Silver School of Social Work (NYU SSSW). This collaboration aims to create a vibrant and collaborative institute that will produce not only the highest quality of social scientific research but also the highest impact of scientifically-informed research to shape practice and policy response in improving the well-being of both societies. The Institute will sponsor world-class research that informs social policy and practice, prominent academic programs that are locally and globally relevant, and conferences and professional training activities that contribute to the outstanding academic reputation of NYU Shanghai and both sponsoring institutions.  An essential mission of this research institute is to apply both multidisciplinary and interdisciplinary perspectives to address the poverty and inequality issues that are experienced by both societies (China and US) but that are manifested in unique ways in each society. The Institute is founded on the principle that poverty and inequality are the root causes for many emerging and existing social issues and that this guiding framework, when applied to research, can lead to improvements in social development. Thus, the Institute for Social Development has four intertwined purposes:
Research: Produce top-tier research through collaborations between faculty members at ECNU and NYU that carry great implications to inform policy and practice in local, national and global contexts. Poverty and inequality will serve as the guiding framework for research in the following three priority areas: migration and immigrants; children, youth, and families; and aging. Research in each of these areas will address issues such as economic, emotional and physical well-being of individuals and families, including the contributing factors, the contexts, and the mechanisms that promote positive and healthy well-being.
Education: Provide and exchange educational curriculum at both ECNU and NYU to advance professional and cultural competency at both universities with the aim of providing doctoral, masters' and bachelors' degrees at the NYU Shanghai campus.
Collaboration and exchanges: Institute opportunities for both ECNU and NYU faculty, students, and researchers to collaborate on education and research; provide opportunities for these scholars to visit both campuses (New York University and NYU Shanghai); organize regular national and international conferences as a platform to facilitate exchanges and collaborations among scholars from both societies.
Training: Provide education and training programs to students and faculty members, as well as to personnel currently employed in government and non-government social service–related agencies in order to advance the social work profession in local, national and global contexts through both ECNU and NYU. Another important purpose and the contribution of training will be to provide opportunities to translate our gained scientific-knowledge through our research projects into languages and knowledge and skills that can be applied and understood in the field and by the general public.
Further Information: Visit NYU-ECNU Institute for Social Development at NYU Shanghai