Ally Week Comes to Life on Campus, Online and Abroad
Nov 11 2021
How does sexism affect our daily lives? How much do we know about the history of the foods we eat? What is Black joy? What advocacy efforts have been made for trans rights in China? How can we learn self-compassion and better support people who belong to disadvantaged groups?
The NYU Shanghai community explored all these questions and more during the 8th annual Ally Week, with Diversity Initiatives unfolding a packed schedule of events on campus and online from November 8 to 12.  
Ally Week is designed to get the community talking about and sharing perspectives on social issues, intersectional identities, and our individual and collective experiences -- on campus and beyond. This year, many activities were led by students themselves or were collaborations with campus organizations such as the Black Student Association, NYUSH Reads Committee, and NYU Shanghai's College and Career Lab (CCL). 
Two marquee events used film to share the perspectives of transgender youth and those living with physical disability to the NYU Shanghai community. Regina Wu NYU MSW '23 hosted a screening and panel discussion of Xiaodi (晓迪)—a documentary about a trans youth who survived conversion therapy in China. And on Friday, Tate Pan '24 screened his own documentary short film about his junior high school teacher, who lives with disabilities caused by polio. Following the screening, Pan hosted a DIY comic book workshop exploring how to practice allyship in daily life.
Other activities included a fair on food and identity, a workshop on non-profit work, and discussions on diversity in superhero movies and gender and power dynamics in the university.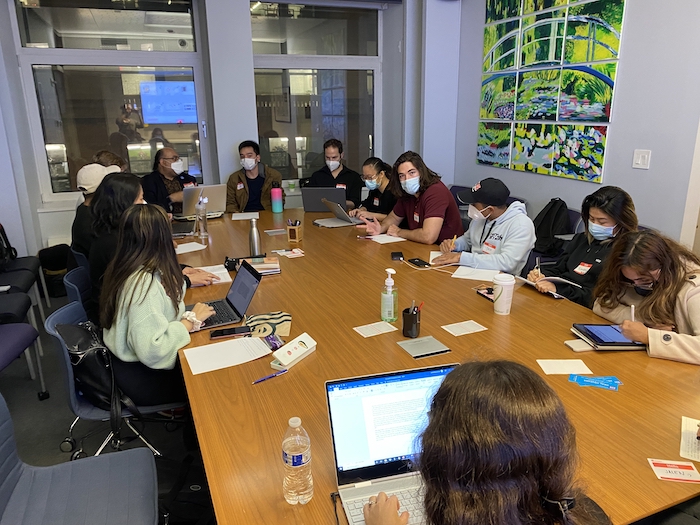 Community members currently based in New York also took part in a special series of in-person events such as multiple creative workshops that explore writing about identity, intimacy, and the body, as well as a panel discussion on community allyship. 

Check out photos and highlights from our Shanghai-based events below.
"Black Joy & Diversity in Superhero Movies"
"Not an Ivory Tower: Gender & Other Power Dynamics at the University"
"So You Wanna Help? Supporting Disadvantaged Populations through Non-Profit Work"
"Born A Mistake? Screening of Xiaodi & Trans Advocacy in China"
"Exhale: Healing & Self-Care Meditation"
"Ally in the Making: Who, Why & How"
"You Are What You Eat?"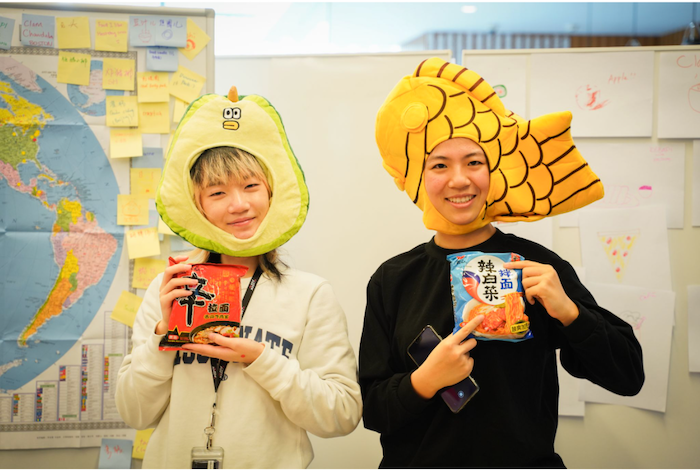 To kick off the week, the university's cafeteria and cafe were transformed into an interactive fair called "You Are What You Eat?"and dedicated to the foods we love, how they inform our identity, and their intricate and often overlooked histories.

Participants tagged their hometowns on a world map and hung up sketches they made of their favorite foods from them. 
Through food history quizzes, NYU Shanghaiers picked up some interesting trivia: chili peppers were introduced to Asia by Portuguese traders, tequila can only be produced in very specific areas of Mexico and must contain specific information on the label, and many Victorian-era Europeans believed that eating meat would make women "uncivilized." The fair was led by Diversity Initiatives' Jingyi Huang, and was co-organized with NYUSH Reads.
"Black Joy & Diversity in Superhero Movies"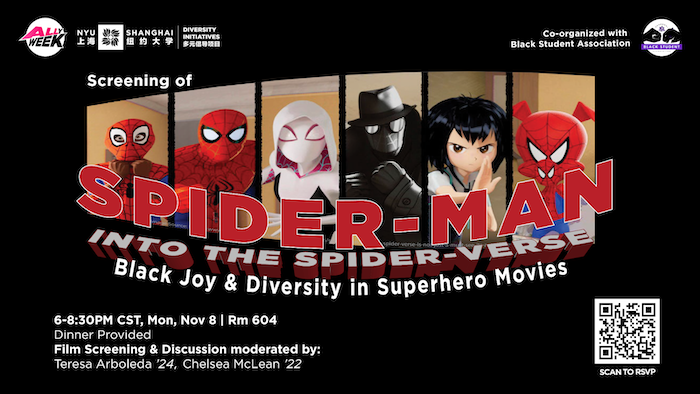 On Monday evening, Chelsea Mclean '22 and Teresa Arboleda '24 co-organized a screening of Spider-Man: Into the Spider-Verse, followed by a discussion on diversity in superhero movies and "Black joy" with the Black Student Association (BSA), co-sponsored by NYU Shanghai Humanities.
"I define Black joy as an act of resistance. Black people can be happy despite their trauma and oppression," said Mclean, president of BSA. "It's about the humanity of Black people and their simplest need to feel free and safe in their pursuit of happiness."



(Left) Introduction of the evolution of Marvel's Ultimate Spider-Man character. (Right) Key terms defined ahead of group conversation. 
In the post-screening discussion, students addressed the difference between tokenism and genuine representation in cultural products, and whether the film exemplified one or the other. "Tokenism is when you add characters just for diversity, someone who is stereotypical," said Mclean. "For example, if there is a Black best friend character that never gets a developed backstory. It is always a little difficult to determine if representation is truly genuine, as movie companies do profit off of diversity," said Mclean.
"It comes down to the feelings that the movie gives us--that's where we can personally make a distinction. For instance, Spider-Man Into the Spider-verse does not feel forced," she added. "The main character has his back story fleshed out, and the story is not centered around trauma or stereotypes."
"Not an Ivory Tower: Gender & Other Power Dynamics at the University"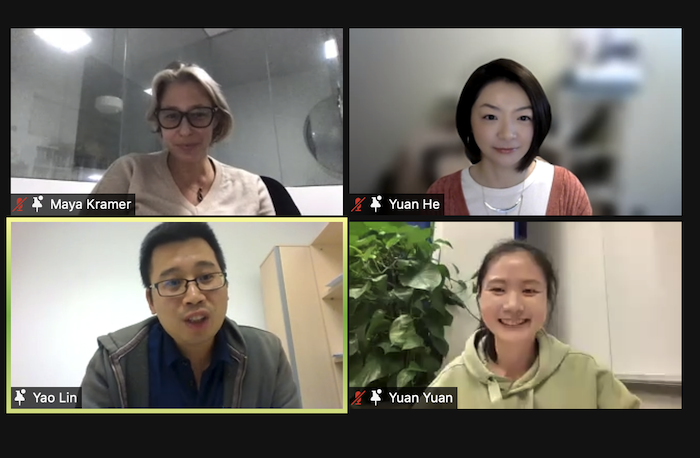 On Tuesday, NYU Shanghai faculty shared their experiences and perspectives on how gender, race, nationality, culture, and language create power imbalances in the classroom and in the broader university community. The online panel discussion, "Not an Ivory Tower: Gender & Other Power Dynamics at the University," brought together Assistant Professor Faculty Fellow of Philosophy Yuan Yuan, former Global Perspectives on Society (GPS) Teaching Fellow He Yuan (now an associate lecturer at University College London), Postdoctoral Teaching Fellow for GPS  Lin Yao, and Clinical Assistant Professor of Arts Maya Kramer. 
Panelists shared their individual experiences of sexism caused by gendered imbalances within the university environment, with Kramer highlighting expectations for female faculty to be more "lenient or caring"  instructors and to take on more administrative and service-oriented tasks in addition to teaching and research. 
The panel explored how differences in language and culture can create and reinforce power imbalances, especially at NYU Shanghai, and participants shared their strategies for combating these imbalances in their teaching and research. 
"I am trying to pay attention to the patterns of participation in my classroom, thinking about different kinds of disparities in line with gender, familiarity with language, or whether someone is a first generation college student," said Yuan. "I think about how I may help students with their distinct backgrounds and reach out to them to try to find out what they need."
"So You Wanna Help? Supporting Disadvantaged Populations through Non-Profit Work"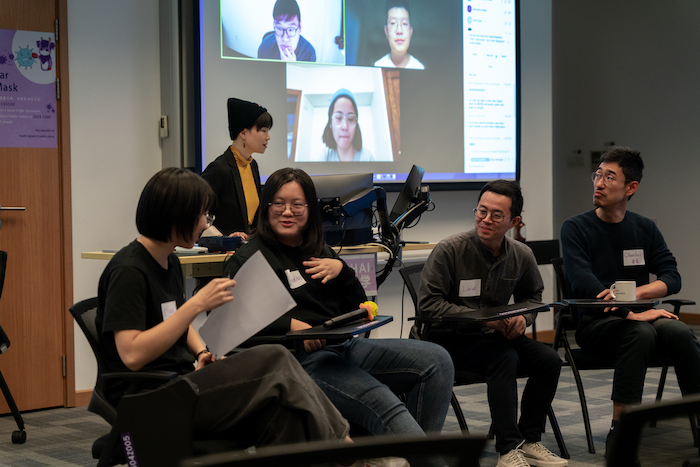 Wednesday's two-part, mixed-mode event, "So You Wanna Help? Supporting Disadvantaged Populations through Non-Profit Work" featured a panel discussion hosted by E'jane Li '22 on how to turn an interest in allyship into real, positive action to support vulnerable individuals and communities. Student attendees then put together their own roadmaps to jumpstart their community service ideas.
Panelists Qian Chunhao of NYU Shanghai's office of Community Engaged Learning, Assistant Professor of Psychology Cui Lixian, Associate Professor of International Education (NYU) Hua-Yu Sebastian Cherng, Meredith Lu '24, Zoey Liu NYU '21, and You Xu '22, shared their reflections from working with migrant children in the inaugural NYU Shanghai College and Career Lab, a free summer camp designed to teach children from a traditionally disadvantaged group lessons about team-building, decision-making, self-expression and independent learning.
Qian prompted students to set aside worries that their time or resources will not be impactful enough, saying that the first principle in service learning is simply "to do no harm."
"As a university, we have a lot of resources and privilege," Qian said. "So if we're not the people to offer this, who else is going to do it?"



Participants reflected on issues they care about and mapped out their own plan to help a disadvantaged group, considering the needs of their target population and how their own experiences and skills might contribute to that issue. They then went around the room and shared their action plan with others. 
Qian identified allyship as a key component of social change, prompting students to form small groups based on similarities in the action plans they formulated in the second half of the event. Meredith Lu facilitated an online version of the activity for remote participants.
"Born A Mistake? Screening of Xiaodi & Trans Advocacy in China"

Thursday night featured a mixed-mode screening of Xiaodi (晓迪)—a documentary about a trans youth who survived conversion therapy in China.
After the screening, Regina Wu NYU MSW '23 moderated an audience-engaged discussion on trans advocacy in China alongside the film's two directors Chen Junmi ( Xiao Mi) and Gao Guo, and Sachi Qin, an organizer from Beijing LGBT+, who shared perspectives on how to advocate for thedepathologization of transgender identity in China.
Xiao Mi and Guo expressed hardships they faced during filming including the initial hesitation from Xiaodi herself about sharing her painful story. "She was afraid of people mocking or attacking her, and I started to understand how difficult it was for LGBTQ+ people to be open in the public sphere, because of hate speech and attacks," said Xiao Mi. "But after the campaign, she received a lot of support, financial support too."
The guests discussed how nonbinary or genderqueer identities are understood within the trans community and what everyday people can do to be allies for the LGBTQ community. 
"Some transgender people hold a binary gender and are men and women; others like us, have a gender outside of this binary and are gender fluid or gender queer, but there are many transgenders in the community that aren't aware of that," Qin said. "There's a kind of transgender hierarchy where people who have the surgery are at the top and non-binary people are at the bottom. When I started my job as a transgender project manager, so many people were like, 'Who is this person? Is this person a lesbian? Is this person trans enough?' They always ask these kinds of questions, and I have to say, it hurts a lot. So if you don't really understand us well, please try to take some time to learn more instead of hurting our feelings."
 

Some of the ways the panelists suggested that allies can show support to trans and gender-diverse people were by sharing about LGBTQ+ events on social media to show that they care, as well as incorporating even a small rainbow item in their everyday life--like donning a pin on their clothing to hanging a small rainbow flag in their office space, as a signal to others that they are approachable and supportive.
"We need to aspire to have a safe space for the LGBTQ+ community, especially the transgender community," Guo said. "I think people should allow themselves to understand gender and sexual diversity, make friends with transgender people, use their correct pronouns, and respect everyone's gender expression and identity."
"Exhale: Healing & Self-Care Meditation"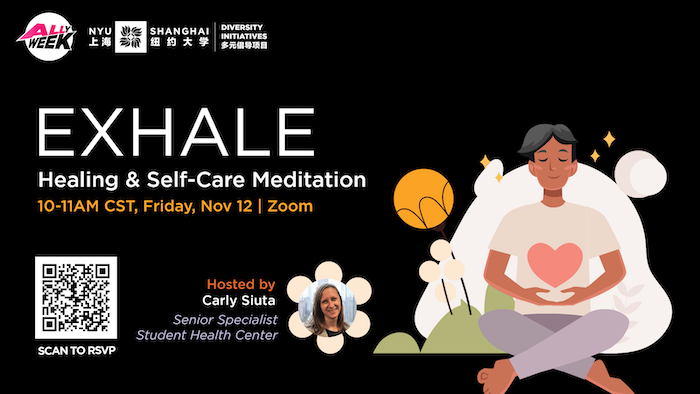 Friday started off with a morning of mindfulness and a Zoom workshop on self-care meditation and healing, led by Senior Specialist at the Student Health Center, Carly Siuta. 
The session provided a guided meditation practice of healing and self-care based on the Mindful of Race approach developed by author, educator, and meditation teacher Ruth King. 
"King focuses on the inner work of healing from experiences of racism through self-compassion and feeling at peace in our own bodies," Siuta said. "This mindfulness practice can be quite helpful to address stress and uncomfortable emotions related to experiences beyond racism."
"Ally in the Making: Who, Why & How"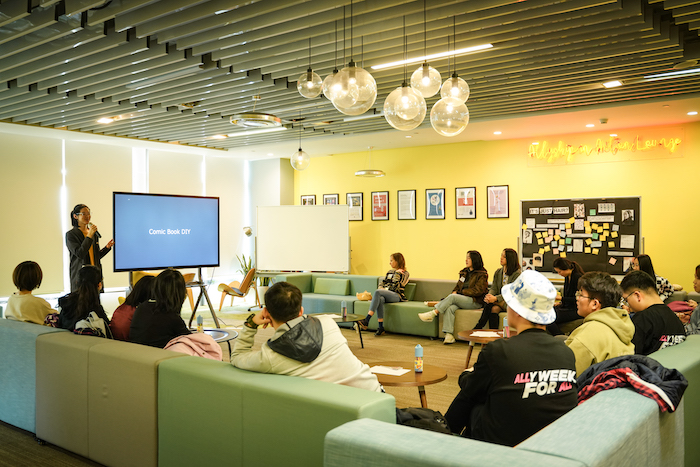 Who are our allies, why do we need them, and how can we become one? For Ally Week's final event "Ally in the Making," NYU Shanghai student and event host Tate Pan '24 shared his experience benefiting from and becoming an ally himself through a video he created about his junior high school teacher who lives with poliomyelitis, a medical condition that causes difficulties in walking or running.
"My junior high school teacher has been a great inspiration and an ally to me. She helped me through a time of distress and doubts that derived from my family," said Pan. "I made this interview video because I wanted to learn more about her experience and how she supported others, as well as how others might have supported her. I hope that this video can invite the audience to reflect on how they might be supported and how they can become allies to others."
Pan spoke about some of the hardships he faced during his first semester at NYU Shanghai--his family was moving houses, his grandmother was diagnosed with anxiety, and he was weighed down with academic stress.
"My friends recognized my feelings and even though they couldn't solve my problem, they recommended the Student Health Center to me, and I appreciated that a lot," he said.  "Allyship is not a goal, but a life-long learning process."



Participants created a mini comic book that visualized their own ongoing practices of allyship.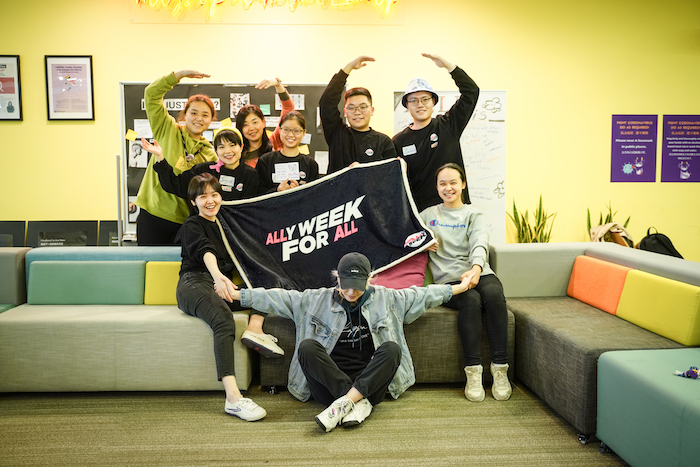 Follow NYU Shanghai Diversity Initiatives on Instagram @nyushanghai.diversity
Learn more about Ally Week here.