With her Canon 7D Mark ii and a Canon 6D at 24mm in hand, NYU Shanghai alumna Nicole Chan '17 (aka "nicoco") -- set out on five excursions across Shanghai from December to February 4 to complete 一个人的城市, One Person City, a photo series documenting Shanghai's transformation into an empty city during the COVID-19 outbreak. 
On foot, by bike and by metro, Chan rediscovered Shanghai as it has never appeared before during this year's Spring Festival period, which happens to be the planet's largest annual human migration. Her solo adventures took her to The Bund, People's Square, West Nanjing Road, Lujiazui / Rainbow Road, Yuyuan Garden, Jing'an Temple, and metro stations and malls across the eerily empty city. "As a collection, [these photos] reinforce that there were no people, anywhere," she says. "Many of the locations are designed to accommodate hundreds of people."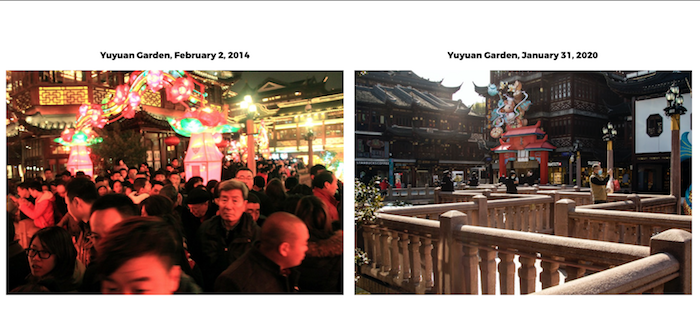 Q: How did you come up with the idea for the series?
一个人的城市 One Person City began as a curiosity to see how a sleepless, major international city would react to uncertainty. The Coronavirus only became nationwide news after Wuhan was quarantined in late January. I began exploring a few days afterward, which coincided with the official Chinese New Year celebration. Visiting popular Chinese sites during the New Year festivities is usually similar to being in New York City during the New Year's Eve ball drop. It is usually crowded, crowded, very crowded. From my single experience going out in 2014, I decided to never visit popular spots during the New Year holiday again.
This year, I didn't know what to anticipate. In hindsight, I vastly underestimated the collective Chinese memory of SARS from 2002. What I found through my trips around Shanghai was emptiness filled with anxiety. My experience living in Shanghai during the Coronavirus outbreak, seems similar to that of many others -- isolation. People didn't just avoid crowded areas, they didn't leave their homes at all. Over several days of biking, walking, and metro-ing around the city, most of the people I saw were janitorial staff, security officers, and cashiers. It was a "Where's Waldo?" where Waldo represented millions of people.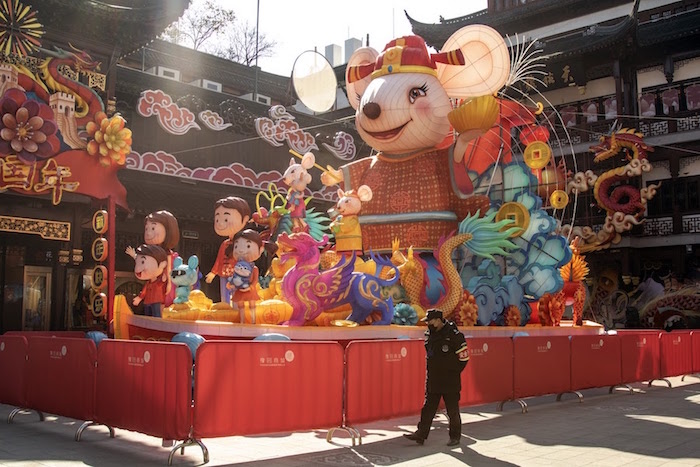 Q: What was your impression of Shanghai before the Coronavirus outbreak?
I have lived in Shanghai for about six years. It is an amazing city where you can see the elderly in tracksuits doing synchronized dancing, can feel safe running late at night as a woman, and can access much of East Asia and Southeast Asia. It is a place of rich history, where change happens instantaneously. In the time I have had the privilege to live here, I've watched Shanghai transform from a cash-based economy to one that effectively runs on mobile payment. Thousands of public bikes have materialized from thin air, and new metro stations open every year. In the 90's, people saw Tokyo as the city of the future. Today, that city is Shanghai.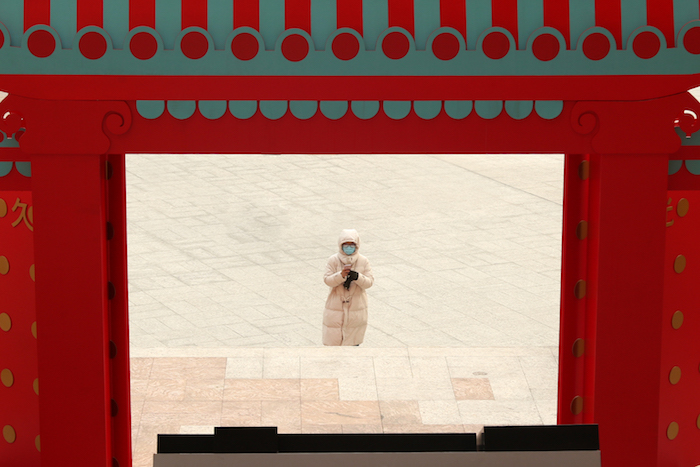 Q: How did the city change when the virus started spreading?
The virus has robbed Chinese people of the happiest time of their year. It is meant to be a time of large family gatherings and indulgence. Instead, people are worried about getting sick, their loved ones getting sick, resource shortages, losing their jobs, and months of hardship that are likely still ahead of them. It's not clear when things will return to "normal" as new procedures are put in place domestically and travel restrictions are added internationally. The objective of 一个人的城市 One Person City is to capture what this fear looks like: it is the invisible unknown. On one of my trips, I sneezed and a woman two meters away took a wary glance at me and then took an extra step back. An article I read today speculated that the virus could through the plumbing. Misinformation spreads like wildfire.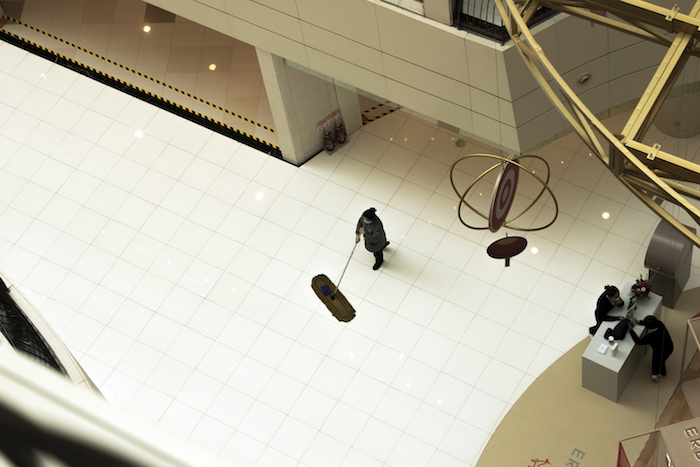 For the past two weeks, everything has stopped. The government extended the national holiday an extra week to delay travelers, and only critical businesses such as grocery stores and public utilities were allowed to remain open. The city was empty. People began hoarding food, and fresh produce was completely bought out. As of Monday, February 10th, most businesses have been allowed to reopen, but the city remains eerily empty as people remain self-quarantined in their homes. There is a lot of anxiety in the air.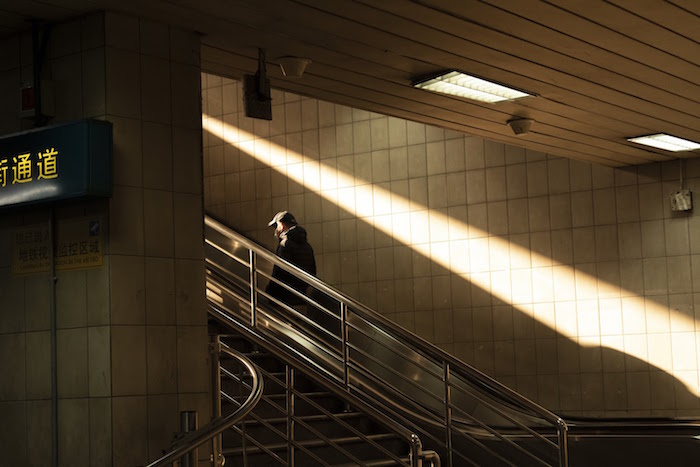 Q: Did you take any safety precautions?
I regularly wear a face mask, wash my hands, and disinfect my phone. A face mask is good to contain the germs if you sneeze, and stops you from touching your nose/mouth as often. On the flip side, it also (hopefully) protects you from other people. At this point, people are very nervous when they see someone without a face mask, and it's effectively required if you're going out in public. Because there are so few people out and about, my concerns are less about contacting a sick person directly, and more about touching an infected surface. In other words, it's less likely someone will sneeze on you, but more likely that someone wiped their nose and then touched an Oreo package at the supermarket that could transfer the virus to your hands. Everyone has their own levels of concern and their own set of precautions, but at the end of the day, I feel it's impossible to and moreover, unhealthy to completely isolate yourself.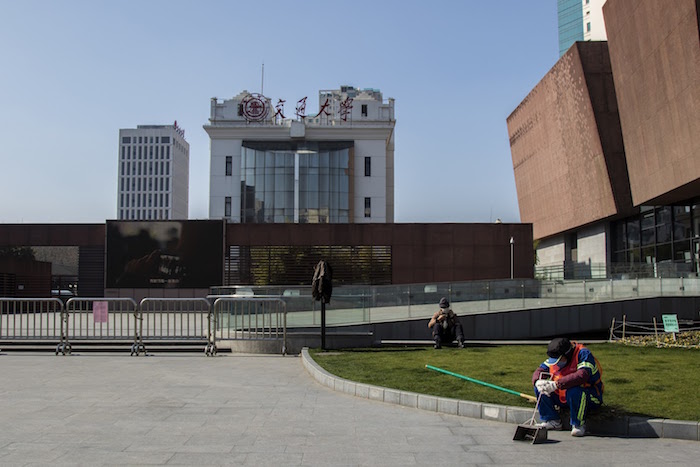 Q: What did you learn about the city and the people living there while working on this project?
I thought a lot about class privilege as I traveled around the city and saw primarily low wage workers such as sales clerks, janitors, and security guards. It was a somber moment when I realized these people might be more fortunate than workers who go unpaid during this period or simply fired.
But there were also moments of levity. On one day, I biked down streets filled with laundry hanging off every railing, street pole, and tree in sight. On another day I saw a long queue for (of all things) bubble milk tea. These are much-appreciated signs that, despite the very legitimate fears and concerns, life goes on and the city will come back to life.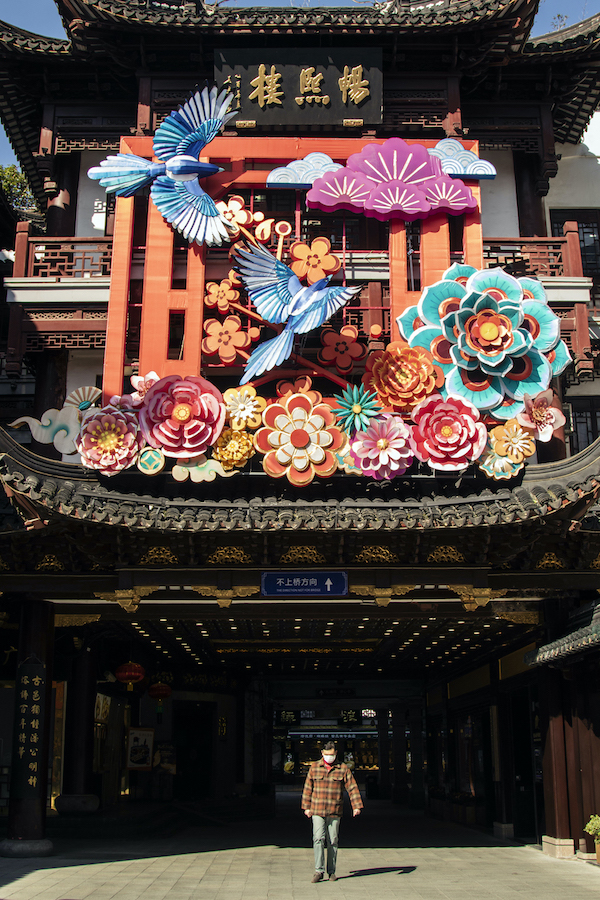 Q: Why is this series important?
一个人的城市 One Person City is important because it demonstrates the effect of the Coronavirus on China. Even if hundreds of thousands of people were hospitalized with the Coronavirus, China still has a population of 1.4 billion people. For the average citizen, the reality is not going to be a medical facility, but isolation. China is the most populated nation on the planet, and Shanghai is China's biggest city. It can be difficult to visualize what 24 million people look like, so seeing spaces designed for 24 million people being empty will give a viewer some insight.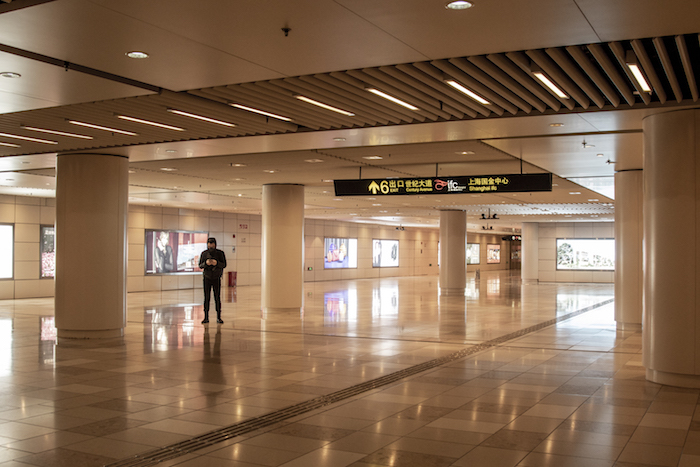 Q: Is there anything else you'd like to add?
There's been a disappointing amount of racism and fear-mongering as Chinese people are blamed for the virus's incubation and spread. There is fear and panic, but there is no need to fear and panic about East Asian looking people or our cultures. An old man died in Sydney's Chinatown because people were scared to give him CPR. We can really do better.    
 See more work by Nicole Chan at nicoco.co and follow her on Instagram at @nicolattes