Students in NYU Shanghai's LEAD Program—which helps students to promote positive change on campus through dialogue, action, engagement, and leadership—this year created multimedia projects and hosted workshops to raise awareness and educate the greater community on issues and matters close to their hearts.  
This year's projects included an art gallery and workshop on how women's bodies are perceived in media and art, videos and installations on how identity is more than just a 'monochromatic' prescription, and discussion stations on how we as individuals and as a society contribute to the perpetuation of "involution" or excessive competitiveness and self-exhaustion in the working world.
Students can spend up to three semesters working alongside peers and cultivating diversity and social justice awareness within the community. Many of their works, events, or discussions are hosted at the Allyship in Action Lounge.
Learn more about current projects below.
"Wait, So You Are...?" A Student Project on Monochrome Identities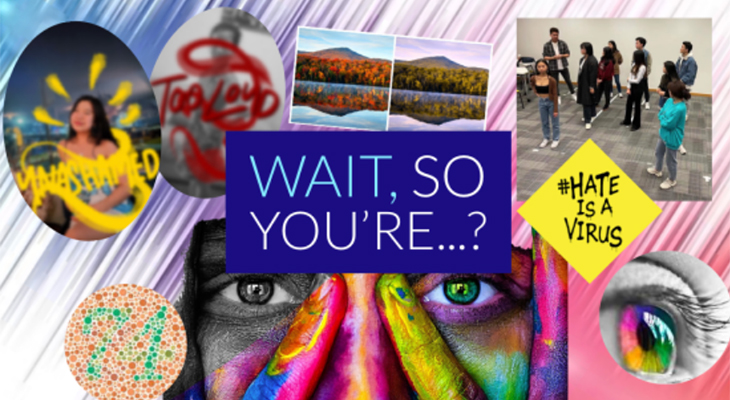 She's a girl. They're Asian. How often have we judged someone by a single quality they have? 

Cindy Li '24, Declan Mazur '23, Kat Woo '24, Hannah Liu NYU '24, Tate Pan '24, Jianing Zhang '22, and Jono Ganbold '23 coordinated across different locations and time zones to create installations, videos and on-campus activities that shed light on how identities—like what it is to be Asian-Australian or colorblind—go beyond being one shade or hue.
Posing before the installations are: New Student Programs Coordinator Li Li, Diversity Initiatives Specialist Joyce Tan, Cindy Li '24, Declan Mazur '23, Hannah Liu NYU '24, and Tate Pan '24--missing Jianing Zhang '22, who was also part of the project.
Declan Mazur'23, who has an uncommon form of colorblindness called achromatopsia, created an installation called "Twilight Zone," which contrasted the vision of a normal-sighted individual with that of colorblind individuals.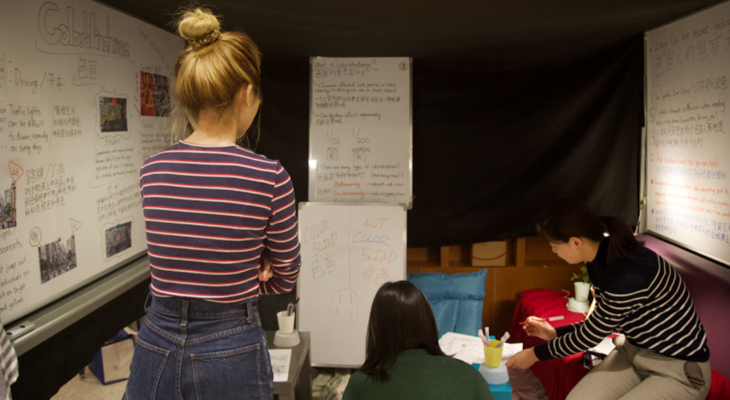 On the walls: everyday symbols and whereabouts that colorblind individuals pay extra attention to, such as traffic lights, visual artwork, and fashion choices. "As I only see in a form of gray scale, I created a display (from my perspective) showing half of a room as being colorful and the other monochrome," says Declan. "The idea was to get people thinking about their own perspective, their own cognitive processes of interpreting symbols, their own attachment of meaning based on color."
"Much of the research I looked at for colorblindness had been completely updated from when my parents explained it to me as a child," Mazur says. "At first I wondered if I should have a 'see'er' that can identify all of the colors for me when I created the display. But I wanted people to ask as many questions as they could, since our community thrives off of our diversity and curiosity. The display was simply a way to engage conversations about how we interpret the world."
Watch the video Monochrome Identities Colorblindness Episode 1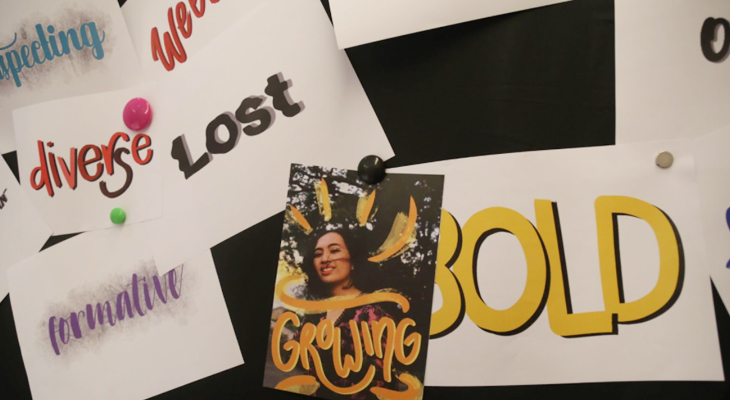 Kat Woo '24, of Sydney, Australia, interviewed close friends who like her, identify as Asian-Australian, and created a video of their responses. Watch the video Monochrome Identities Asian Australians Episode 2. Woo then designed graphics that illustrated each interviewee and a word that they chose in association with their identity.

Watch Monochrome Identities | Chinese Americans Spectrum | Special Edition by Hannah Liu NYU '24 and Cindy Li '24

Participants also created colorful 'word clouds' exploring their own identities.
We Woke: An Event Series on 'Involution' and Labor Injustice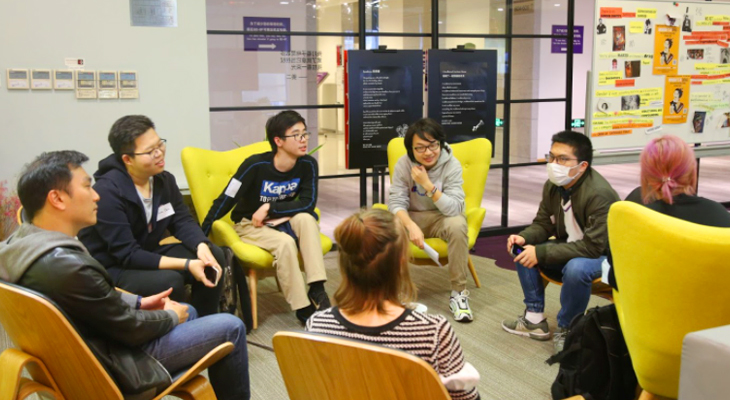 Do we work to live, or live to work? E'jane Li '22, Alex Zou '24, Evy Gao NYU '24 and Dean's Fellow Ziyi Mo invited the NYU Shanghai community to spend two days thinking and talking about labor, stress, competition and exploitation.

During the week of April 20, the group hosted a lunchtime booth in the cafeteria where community members could shared experiences and opinions about what it means to be "involved(卷)" in endless competition. 

The next day, the lunch-time discussion centered on manual workers in China and around the world who struggle to make their voices heard. On display were poems and songs by and for workers, featuring a range of authors, from Chinese poet and factory worker Wu Xia, to American singer Bob Dylan to Ugandan teacher and writer Isaac Watum.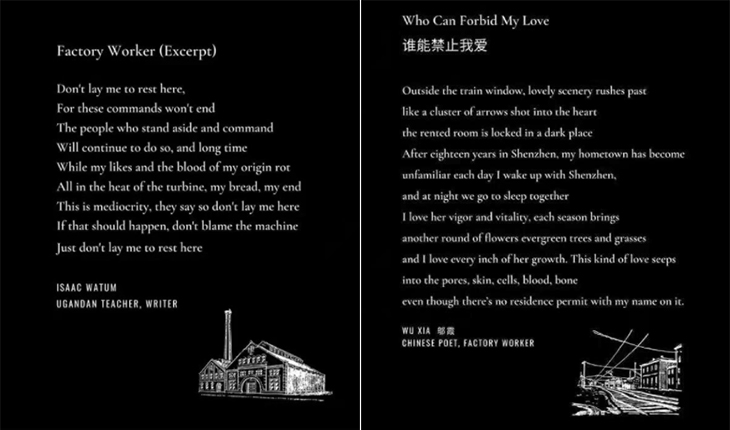 The group also hosted "'Involution': A Student-Led Dialogue on Competition & Stress," in the Allyship in Action Lounge. Participants rotated through several discussion stations and unpacked labor-related terminologies trending on Chinese social media such as  内卷 (nèi juǎn) "involution," a term related to agricultural economy but now used to refer to feeling trapped into  a  life of  excessive competitiveness, and 打工人 (dǎ gōng rén) or "laborers,"  a term used by many middle-class Chinese people to self-deprecatingly satirize their own less-than-ideal working conditions.
Some of the questions they faced were: How is the system of competition and self-exhaustion created and perpetuated? What role do we each play it in?
"Having seen E'jane, Alex, and Evy's investment carrying out the project from the research phase to its actualization, I was impressed by how much they have grown in terms of their event coordination, facilitation, and leadership skills," says Dean's Fellow Ziyi Mo. "It was particularly incredible that they created space for not only students but also for staff and faculty to hear each others' opinions on stress and competition."
Shameless: A Feminist Series on Shame
Why is there so much shame surrounding the female body, and how does the media we consume affect how we perceive femininity? Abby Clark '23, Hannah Owen '23, Tate Pan '24, and Daniella Guerrero '23 explored these questions through a two-event series on female reproductive processes and how femininity is portrayed in the arts and media.
They worked closely with Jingyi Huang, a Dean's Fellow, who helped them through the ideation and marketing stages, to tabling and the final workshops.
The first workshop, on May 5, was titled 'Female Reproductive Organs and Objectified Bodies,' and facilitated by Owen. Through a reproductive art gallery and performance art piece, participants explored how women's bodies are perceived in society and how artists choose to depict or confront shame associated with reproductive processes, while reflecting on their own associations and ideas of shame and stigma.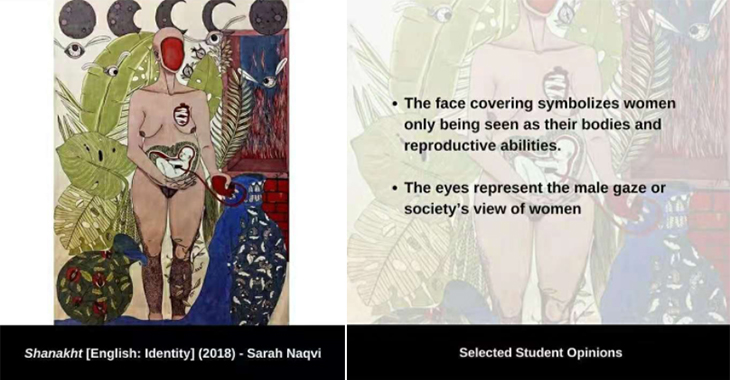 Featured artworks and selected student opinions, courtesy of NYU Shanghai Diversity Initiatives Instagram account.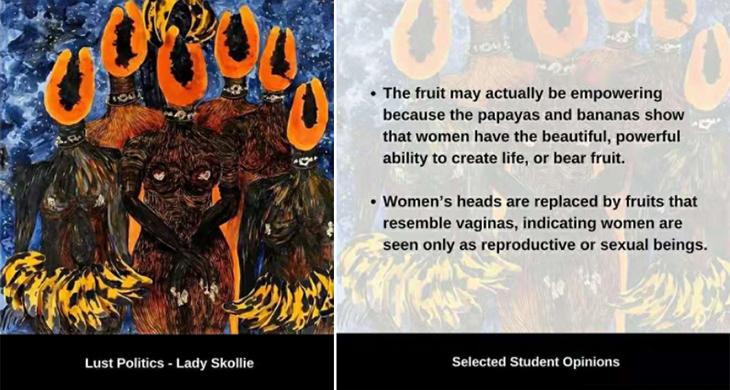 The next workshop, 'Media, Arts, and Femininity,' facilitated by Clark, used poetry and popular media clips as fuel for discussion.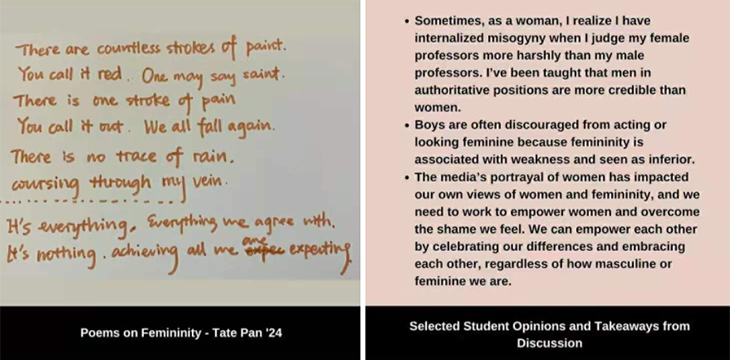 An example of poems created and student opinions given from Thursday's workshop, courtesy of NYU Shanghai Diversity Initiatives Instagram account.
"I'm incredibly proud of this group of students for carrying out their Diversity in Engagement projects. It's heartening to see that the students care about diversity and inclusivity, and exhilarating to see them translating that awareness into action," says Diversity Initiatives Specialist Joyce Tan. 

"I hope their experience this past semester has helped them see social justice as both a process and a goal," she adds. "Their creativity and resourcefulness showed us the unthought-of possibilities of student-led initiatives. How to work with each other in equitable ways, how to come up with alternatives when things don't go as planned, how to influence others without imposing your ideas - these are all things that one doesn't learn about advocacy and organizing unless they 'walk the talk' in a mindful, reflexive way." 
Advocacy for Gender-Neutral Restrooms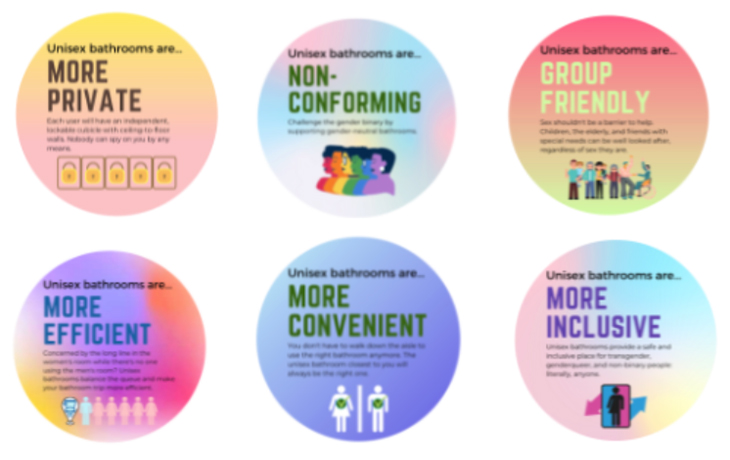 Dustin Baolong Chen NYU '24, Lauren Yawen Zheng '24, and Hannah Liu NYU '24 have been working on a campaign to advocate for gender-neutral restrooms on NYU Shanghai's current and future campus. 
Using eye-catching graphics, the team advanced several arguments: Lockable ceiling-to-floor walls mean better privacy. Less waiting in line. Group-friendly allowing families to stay with their kids, the elderly, or someone with special needs. More convenient, as it will eliminate the need to wander around searching for the 'right' restroom. And, finally, inclusiveness, creating safe spaces for everyone, including transgender, genderqueer, and non-binary people. See the design sample.




Follow the Diversity Advocates on Instagram at @nyushanghai.diversity.