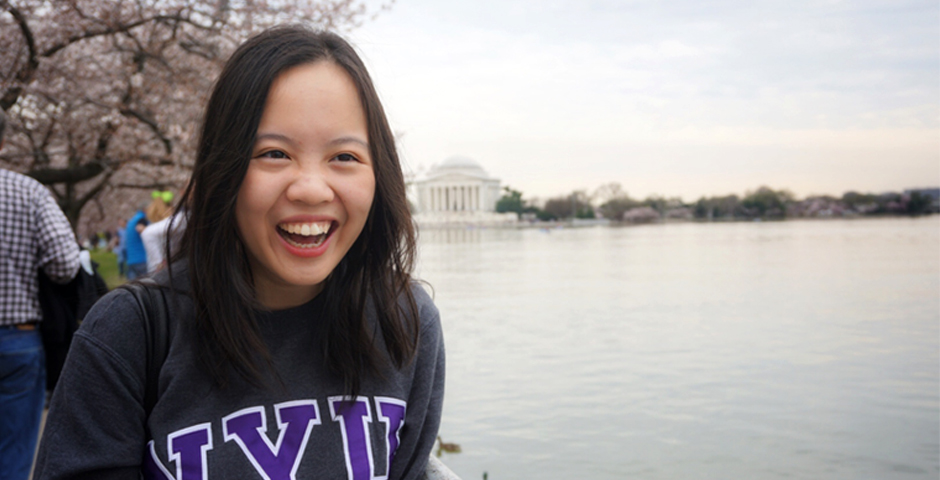 Hometown: Kunming, Yunnan Province. 
Major: Social Science with Environmental Studies concentration, Business and Finance (double major)
As He Ziqing '20 describes all the experiences she has gone through over the past four years as an NYU Shanghai student, she notices that one word keeps popping up.
"I just realized I say the word 'uncertainty' a lot," she says with a smile. "But now, I have the confidence to say, 'OK, there's uncertainty, but I kind of know how to deal with it.' Even if something crazy happens, I can find ways to adapt to it." 
He's journey of grappling with uncertainty began back when she was a Grade 11 student in a traditional Chinese high school in her hometown of Kunming, Yunnan Province. She was in her high school's science track, but she was interested in pursuing a career in business, and she had a passion for the environment. When she heard that NYU Shanghai students could freely choose their major and take classes in a broad variety of disciplines, she was intrigued. 
But at that time, NYU Shanghai had not yet had a graduating class. Though her parents never tried to discourage her from attending this new university, they were wary, and He herself felt a bit daunted – Shanghai was awfully far away, the university was new and untested, and she and her family were completely unfamiliar with its academic system.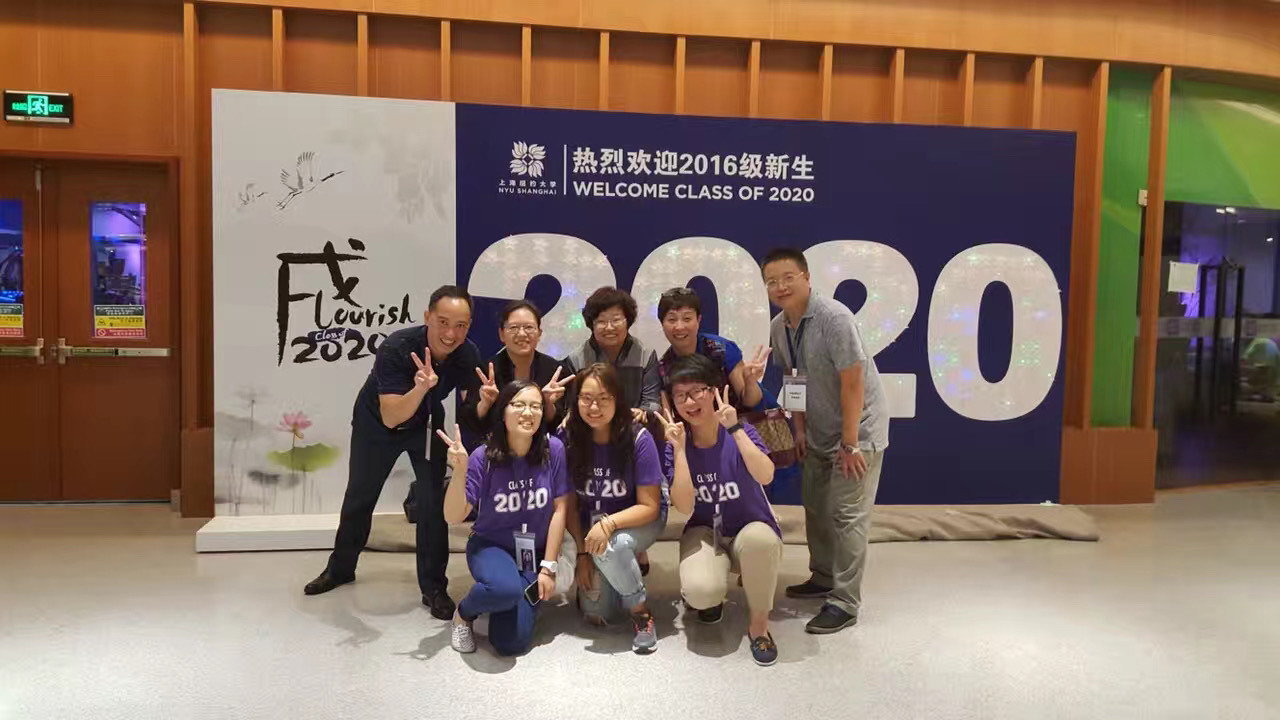 He (bottom row left) and her parents (upper row, 1st and 2nd on left) join fellow Class of 2020 classmates from Yunnan  LinYutong '20 (center) and Chang Yiqi '20 and their families at orientation in August 2016.
After an amazing experience at Candidate Weekend in Shanghai in spring 2016, He says she knew that NYU Shanghai had to be the place for her. Her parents were still a little worried, but when the time came to make her final decision, He says, "They told me, 'We trust you and trust your ability to face these challenges and solve problems on the way.'"
He's freshman year was indeed full of challenges. "I had hundreds of pages of readings in English every week, and I could understand every word in a sentence, but I didn't really know what it meant as a sentence," she says, laughing now at what was once a huge obstacle. "I was not familiar with the environment, I didn't have familiar food with me - so it was very scary. But getting to know people here helped me, and along the way I got to know myself."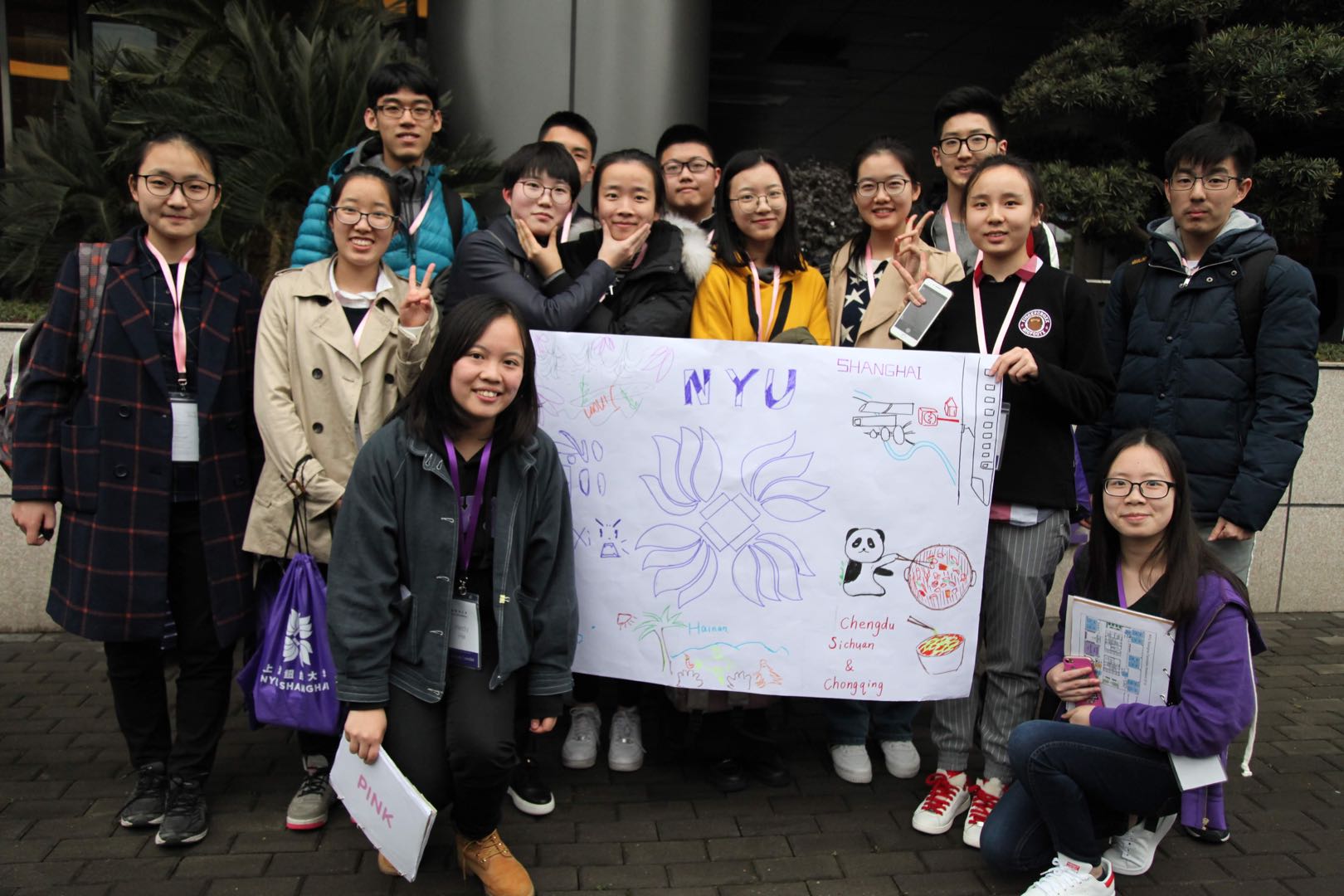 Candidate Weekend played such an important role in her own decision to attend NYU Shanghai that He (kneeling on left) served as a group leader for the same event in both her freshman and sophomore years. Here she poses with the group of prospective students she led in Spring 2018.
Part of that process of getting to know herself was finding that her interest in the environment was actually more of a passion. She joined student club Green Shanghai as a member of their executive board during her sophomore year, organizing events with local businesses and tending the group's urban farm outside the Century Avenue building every week with faculty, staff, and classmates. Alongside her business and finance classes, she took Assistant Professor of Environmental Studies Li Yifei's course Environment and Society and found herself wanting to dig deeper. Li's teaching style and course design also taught her to challenge assumptions and view an issue from many different angles. 
"Professor Li's classes gave us many opportunities for discussion and for the exchange of ideas with classmates. This is a very interesting process for me, because it really taught me how to agree on our differences," He explains. "We have different backgrounds or experience, so we can come to different conclusions, but they should always be based on respectful and meaningful discussion."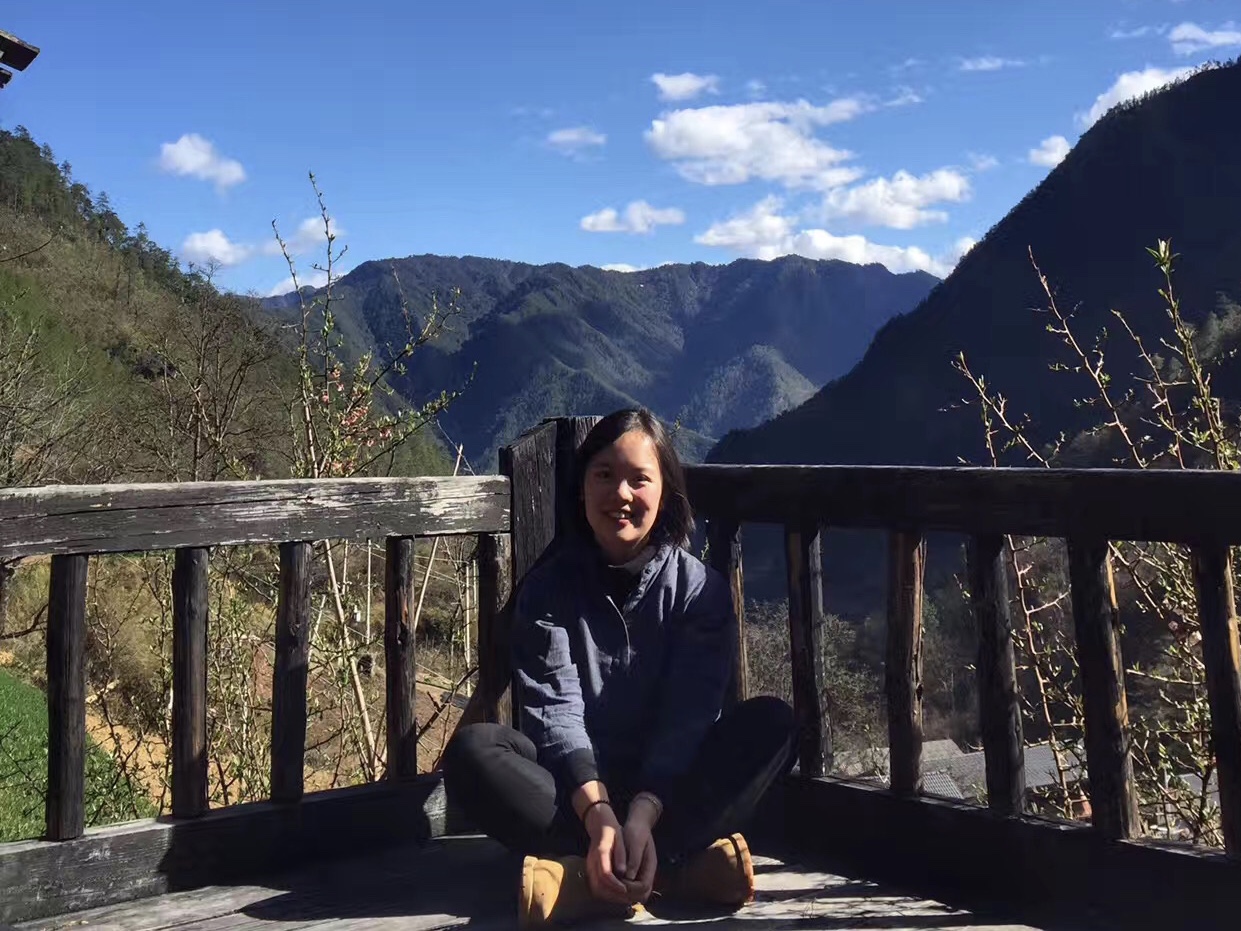 At Xiangguqing (响古箐) in Yunnan's Baima Snow Mountains Nature Reserve (白马雪山自然保护区) in Spring 2017 on a Dean's Service Scholars trip to rebuild snub-nosed monkey habitats in collaboration with the Yunnan Green Environment Development Foundation (云南省绿色发展基金会). He and her classmates planted nearly 300 trees.
Li invited He to serve as a Research Assistant on the Zaanheh Project, combing through historical documents to examine how changing water courses shaped the history and development of Shanghai. He says the research sparked an interest in studying public policy, although she says she didn't know it was called "public policy" at the time.
"I saw that officials had this plan in the documentation, but that plan didn't really get into our real-life practice. I was very curious about that gap, and I realized it applies to every social issue. So I decided to see if I could learn something more about that," says He.
Inspired by this newfound interest, He studied away at NYU's Washington, D.C. campus, where she took a broad range of courses on environmental studies and public policy,  nerded out with other policy junkies, and interned at the North American Environmental Education Association and the United States Green Building Council. She spent the other half of her study away year in New York, taking specialized business and finance classes at  NYU's Stern School of Business.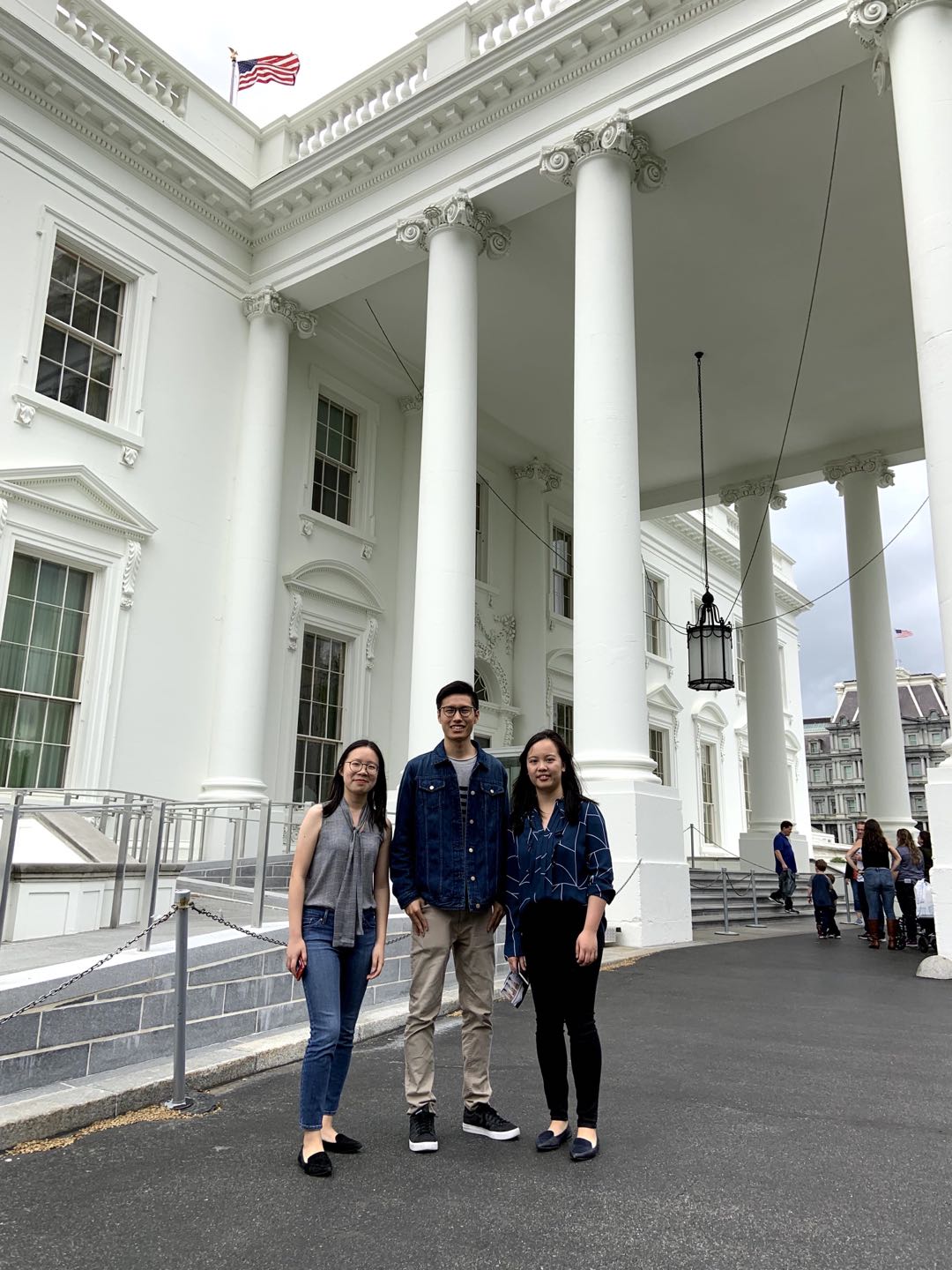 At the White House in Washington, D.C. with Susan Zou '21 (left) and Owen Zhang '20 (center) in Spring 2019.
One of her favorite classes throughout her entire college experience was NYU Stern Clinical Associate Professor of Business and Society Matt Statler's course Social Impact Consulting, where she and a team of classmates were paired with an education nonprofit to design a real marketing plan for new environmental education programming.
"It was just a totally new experience for me. It helped me learn how to approach clients, how to write reports and how to present a final deliverable in presentation form – it really impacted how I have chosen to work in the field after undergrad," He says.
The exposure to the highly variable, in-depth work of consulting led He to an internship at Shanghai-based strategic sustainability advisory firm Collective Responsibility in summer and fall 2019, and ultimately to a full-time position at PwC's new Integrated Urban Services division in Shanghai after graduation.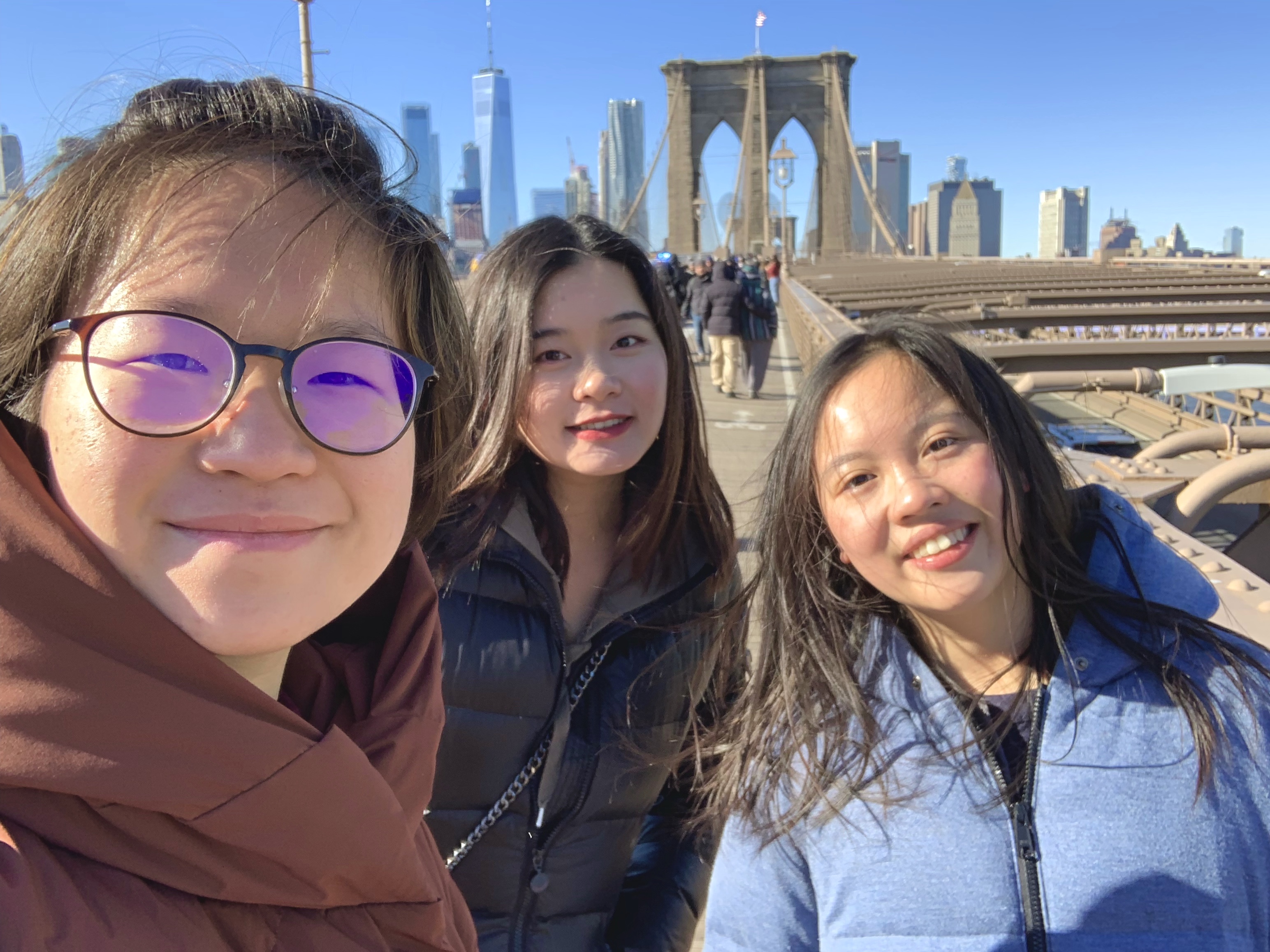 On the Brooklyn Bridge in New York City with classmates Chang Yiqi '20 (left) and Zheng Jiaxin '20 (center) in Fall 2018.
He says she is extremely excited about her first post-college job, where she will be melding both of her interests by consulting for governments and public sector clients. Although He says she is still uncertain about the challenges that this new position will throw at her, she knows that the lessons she learned about herself at NYU Shanghai will continue to guide her in the right direction.
"This kind of global experience I got at NYU Shanghai really makes me think that if you put me anywhere in the world randomly, I could find a way to work around it, find the right community, or create my own experience there," He says. "NYU Shanghai is really a place to challenge us, to inspire us, but also to support us." 
Professor Li, who He says has played such a pivotal role in her growth as a scholar and as a person, also shares her confidence. "Since I met Ziqing in her freshman year, I have continued to witness the tremendous initiative and hard work she invests in her personal intellectual growth and the flourishing of the NYU Shanghai community," Li says. "Through these past four years, she has grown into a caring, upright, and intelligent global citizen."
Undergraduate Admissions Summary
"If you put me anywhere in the world randomly, I could find a way to work around it, find the right community, or create my own experience there."