Candidates Abound
Mar 23 2018
A total of 600 high school students from 32 provincial regions across China took part in a weekend of sample lectures, writing exercises, group activities and personal interviews at NYU Shanghai.
Candidate Weekend, part of NYU Shanghai's pioneering admissions process for Chinese applicants, grants a select group of Chinese high school students a chance to make lasting impressions through group projects and one-on-one interviews over the span of 24 hours ahead of the national college entrance exam (Gaokao) in June. The Gaokao score is only one component of the multi-dimensional assessment for NYU Shanghai candidates.
"Through our unique selection model, we are able to discover the strengths and potential of each candidate that usually cannot be captured in a traditional Chinese evaluation model," said Zhou Hong, Assistant Dean of Chinese Admissions.
"Our experience over the past five years also shows that students who excelled during Candidate Weekend have all grown into much sought-after global leaders, after four years of study at NYU Shanghai," Zhou said.
This year, the University is also expanding the volume of its merit-based scholarships, as the student body grows. Scholarships will be distributed based on students' performance at Candidate Weekend, as well as their overall high school grades and awards.
The University's first destination report for the school's inaugural Class of 2017 was released in early February. From landing jobs in top-flight companies, joining an overseas service mission, to earning coveted postgraduate scholarships, 261 graduates from NYU Shanghai's first class have distinguished themselves across industry sectors and education institutions.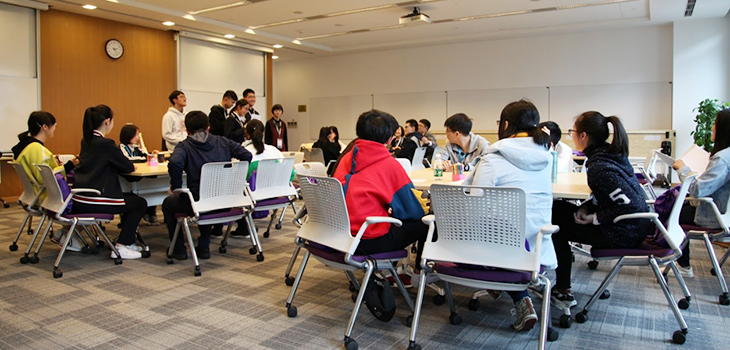 Katie Korhonen, Director of Admissions for NYU Shanghai, said the Candidate Weekend not only assessed the candidates' English proficiency, but also their fit for the NYU Shanghai community. "Students were challenged to use their time on campus to decide if NYU Shanghai is the best place for them to pursue their undergraduate degrees," she said.  
On the international admissions side, NYU Shanghai is seeking to enroll exceptional non-Chinese students for the Class of 2022 from a pool of 11,200 global applicants, according to Katie.
"We have already enrolled over half of our international student population through Early Decision I and II. Students who applied during the Regular Decision period will receive results by early May, at the latest," she added.
All prospective students must apply to NYU Shanghai through the Common Application. For international students, applications are assessed by admissions officers in their region before offers are sent out. All accepted international students are then invited to visit NYU Shanghai before committing to a final decision.
---
Find out more about how to apply to NYU Shanghai here.