Name: Kylee Madison Borger '17
Hometown: Riverside, California
Major: Global China Studies Minors: Chemistry and Political Science
From joining NYU Shanghai's first-ever class of students to taking on an advocacy fellowship with the American Medical Association (AMA), Kylee Madison Borger '17 has never been afraid to try new things. Ten years after first stepping foot in Shanghai, the alumna reflected on her time at NYU Shanghai and how it has influenced her.
What was it like being part of NYU Shanghai's inaugural class?
We got really close because we went through a lot together. We were building the university, and that included everything from the curriculum to student clubs to traditions like the Dumpling Festival. I helped found NYU Shanghai's Honor Council.
I was also on the soccer team when it first started. By my senior year, we were a competitive team and not just scrimmaging with other schools. So that was really fun. We got to play in the university women's soccer league, and I was able to finish out the season by getting a trophy for being top scorer in the league.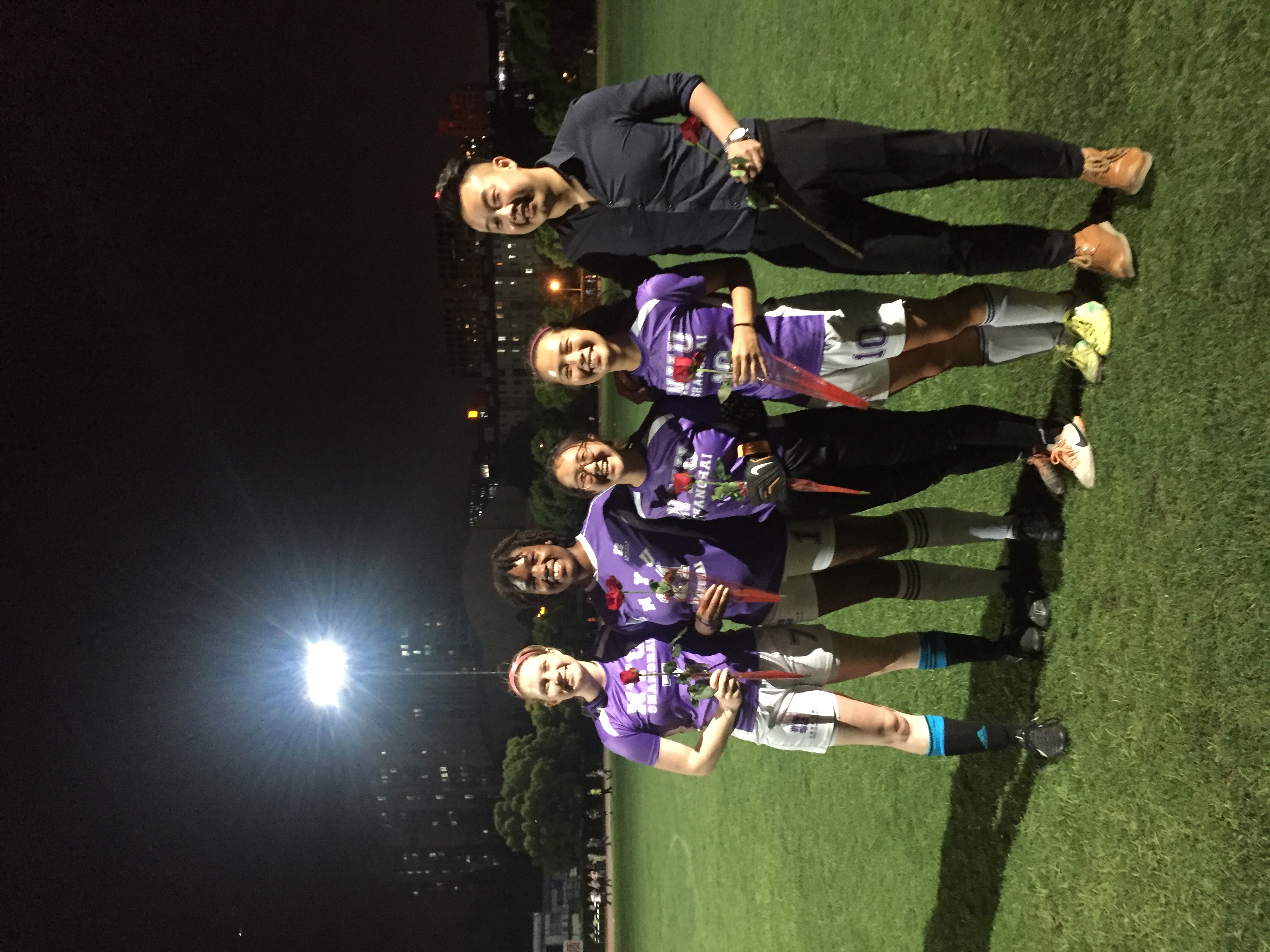 Borger (left) with other NYU Shanghai seniors and their soccer coach at their last game in 2017
You've been called one of the most influential medical students today. What are you working on?
I'm currently taking a year off from medical school to work as a Government Relations Advocacy Fellow (GRAF) with the AMA. Part of the role involves being a liaison to the medical student section of the AMA. I help support students in their advocacy work, and I get to travel to medical schools across the country on behalf of the AMA.
The other part of the fellowship includes advocacy and lobbying to help advance the AMA's policies, whose aims range from improving patient health to gaining support and funding for various issues: residency slots for physicians, telehealth coverage by Medicare, and health insurance reform.
Last fall, we got a bill passed in Congress that would allow employer-sponsored 401(k) plans to make matching contributions to individuals based on their student-loan payments. So you don't have to choose between paying back your student loans or putting money towards retirement. Since physicians and medical students are the most in-debt graduates, this is a big deal. I feel like I'm doing something that makes a difference for a lot of people before medical school is even over.
How did attending NYU Shanghai shape you as a person?
It pushed my boundaries, and made me really adaptable. I don't think I would be the person I am today without NYU Shanghai. I grew up in a very conservative area, with lots of people who look like me, and going abroad expanded my knowledge of the world.
Public health as a career happened for me because of an internship I did with the Office of Minority Health at the US Department of Health and Human Services. I applied for it as a first-year in NYU Shanghai, and my advisor wrote me a recommendation letter for it. That internship shaped my interests in public health and health equity.
My global experience in Shanghai then influenced my graduate studies on health disparities and global epidemiology. My career plan as a physician is to do outbreak and disaster response, which would bring all of that together.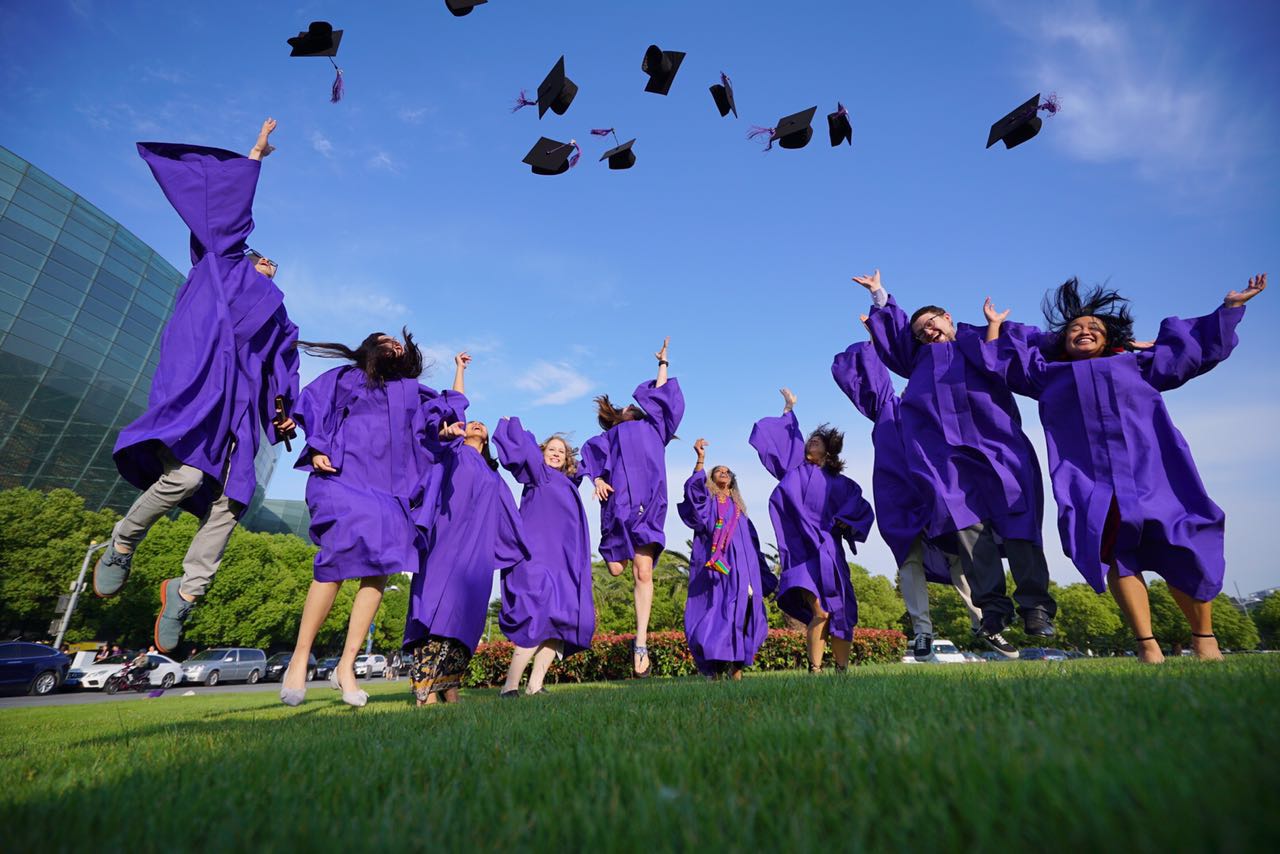 Borger (fourth from the left) with friends at graduation
What is your advice to current NYU Shanghai students?
Embrace the experience. Get involved. Take advantage of the opportunity to build relationships with people from across cultures and countries, whom you never would have met if you hadn't gone to NYU Shanghai.

If you are an NYU Shanghai alum or know one who would like to share their story, please email shanghai.uc@nyu.edu.