Where Did All the Metal Cups Go?
Sep 30 2022
Wondering where all of the NYU Shanghai-embossed metal cups from the cafe have gone? So is the University's dining caterer, Sproutworks, who in August 2019 introduced an initiative to reduce single-use plastics by making 3,000 reusable metal cups available through the campus cafe. 
In December 2020, NYU Shanghai had a total of 6,000 metal cups in service, but month by month the numbers dwindled with hundreds of cups reported missing or discarded in trash bins in the academic building. Last month, over 5,000 cups were still missing, prompting Sproutworks and Assistant Professor of Environmental Studies Yifei Li, who sponsored the initiative, to finally halt distribution.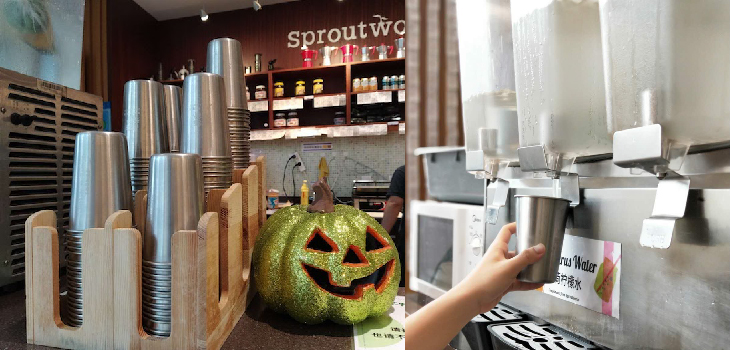 NYU Shanghai-branded metal cups previously available in the campus cafe.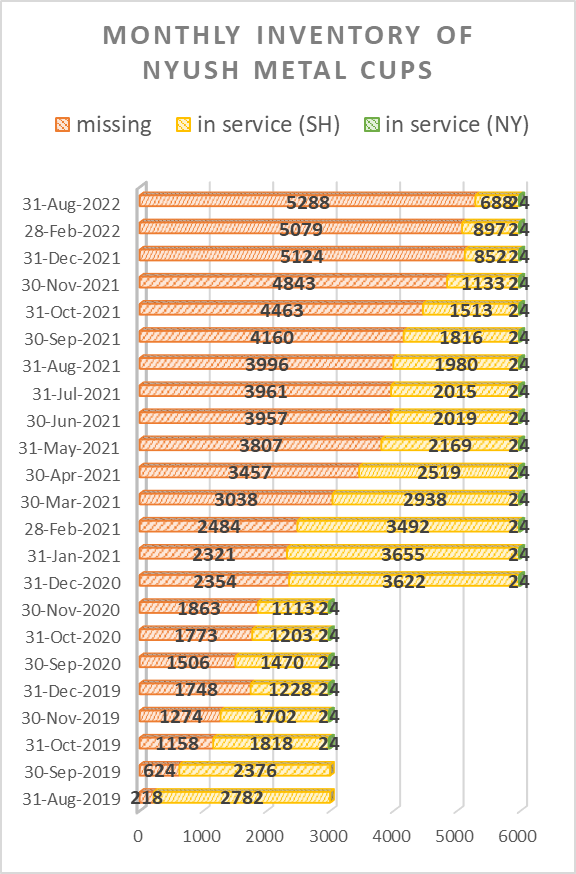 A chart depicts the monthly inventory of the metal cups from August 2019 to August 2022 
(Banner image: Cups recovered from trash sorting on campus)
The discontinuation of the metal cups presents an opportunity for the NYU Shanghai community to embrace a new sustainable habit and save some cash–by rewarding those who bring a reusable cup or bottle to the campus cafe with a five yuan discount on drinks.
The Bring Your Own Bottle initiative is one of the university's many sustainability efforts, originating in 2019 in response to Shanghai's systematized
trash sorting
in response to Shanghai's garbage sorting regulations. Over the years, the community has also organized events in alignment with
GoGreen Week,
a student-led environmentally-themed initiative covering everything from field trips and DIY workshops to film screenings,
Trash Fashion
shows, and conferences.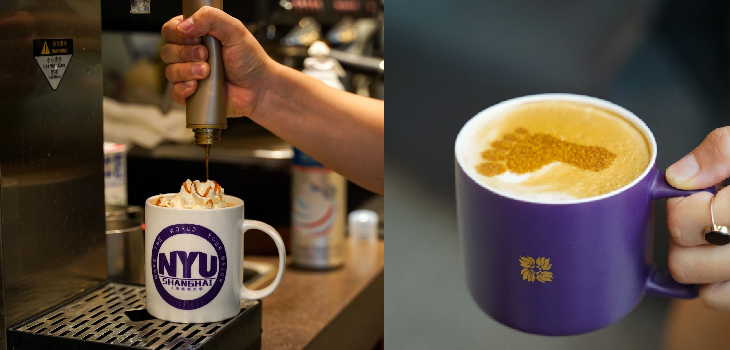 Bring your own mug and get 5rmb off your next caramel toffee latte. Coffee art that inspires reducing your carbon footprint.
Assistant Professor Li said that organization is key if the university community wants to further promote sustainability on campus. "Organize and have an impact. It could be a community book club, a film event or a walk-n-talk," he said. "As long as we band together, support each other, and spread the sustainability spirit, we can have an impact as a community."
So what will become of the remaining few hundred metal cups? The bulk of them will be donated to the Interactive Media Arts program for creative repurposing in classes, and some of them may be upcycled as decorations for the rooftop garden of the new Qiantan campus Qiantan in spring 2023.