Two NYU Shanghai Seniors Earn Fulbright Scholarships
Apr 30 2020
Two NYU Shanghai fourth-year students have received prestigious Fulbright Awards to fund advanced study and English teaching in the 2020-2021 academic year. 
Madison Pelletier '20 was granted a Fulbright Study Award to pursue a Masters in International Crimes, Conflict and Criminology at Vrije Universiteit Amsterdam in the Netherlands, while Vittoria Vitucci '20 was awarded a place in the Fulbright English Teaching Assistant Program in South Korea. A third student, Adele Kramber '20, was named an alternate for the Fulbright Research Award in Croatia, while alumnus Anthony Comeau '19 also advanced as a semi-finalist for Taiwan's open research award.
The highly competitive Fulbright US Student Program, administered by the United States Department of State, was established to promote friendship and mutual understanding among nations through the exchange of students. The scholarship program typically provides study or research award recipients with full tuition and research allowances, while all awardees receive funding for a full year of room and board abroad in addition to round-trip airfare to their host country and healthcare benefits.  
"Building on their academic training, social leadership and global experiences, each of our Fulbright applicants demonstrated extraordinary purpose and preparation," said NYU Shanghai Clinical Assistant Professor of Literature and Director of Global Awards, Anna Kendrick. "This spring marks an exciting milestone, with the first NYU Shanghai students to advance as finalists for competitive research and study grants. On behalf of our Fulbright campus committee and faculty and staff, we wish our awardees well as they pursue Fulbright's values of furthering knowledge and cultural exchange."
Madison Pelletier, a social science major and political science minor from Boulder, Colorado, is one of four US students selected this year to receive a Fulbright scholarship to pursue a Masters degree in International Crimes, Conflict and Criminology at Vrije Universiteit Amsterdam. Pelletier says she selected the university's one-year criminology program for its wide-ranging coursework, especially its strength in cross-cultural legal psychology – the study of how cultural differences can impact the way eyewitness testimony is perceived and applied in the criminal justice system. The program also benefits from proximity to the Hague, home to the UN's Criminal Tribunals and the International Criminal Court. For Pelletier, Vrije Universiteit Amsterdam's Project Reasonable Doubt, through which students investigate closed criminal cases, will allow her to continue making practical interventions in real cases as she did volunteering for Colorado's Innocence Project. 
Pelletier is also considering an offer of admission to the Masters of Philosophy in Criminological Research program at Cambridge University, where she would focus on independent research in legal psychology. Whether these programs lead her to a career in the United States judiciary (she also interned at the U.S. Supreme Court while studying away in Washington, D.C.) or in social science research, Pelletier says she is determined to work toward reforming the criminal justice system. It's a calling she says she ultimately found through coursework and undergraduate research with NYU Shanghai Professor of Psychology Pekka Santtila.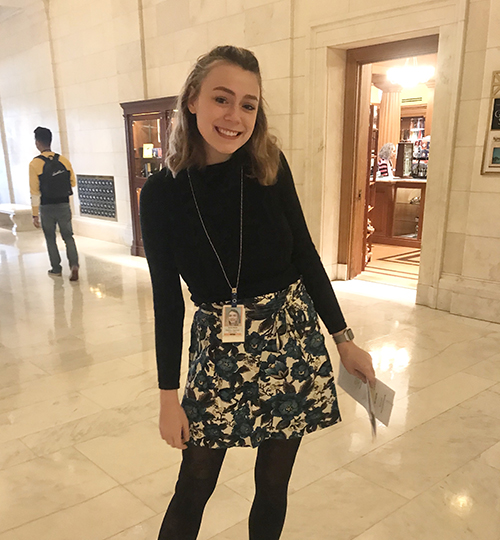 Madison Pelletier '20 at her internship at the Supreme Court of the United States during the 2018-2019 academic year.
Since 2018, Santtila and Pelletier have collaborated to devise and evaluate a law enforcement training program that will help police investigators create less biased eyewitness lineups in criminal cases. 
"As an undergraduate sophomore, to have the opportunity to begin a research project with the head of our psychology department is unheard of in a university setting," said Pelletier, who credits her receipt of a Fulbright scholarship in large part to this collaborative research experience and the professional opportunities it opened up for her. Through her work with Professor Santtila, Pelletier also connected with Professor Annelies Vredeveldt at Vrije Universiteit Amsterdam and began working as a research assistant before applying for a Fulbright award at the same university. 
"Going to a school that is as small as NYU Shanghai gave me the opportunity to form connections with my professors in a way that I just would not have been able to if I had gone to the New York campus or any larger school," Pelletier said.
Vittoria Vitucci, a social science major with a focus in international relations from Shirley, New York, will be posted to a primary or secondary school in small town South Korea as a recipient of the Fulbright English Teaching Assistant Program award. Vitucci says the program will be a great opportunity to enact the kind of people-to-people diplomacy that she hopes to practice in her dream career, as a public diplomacy officer in the U.S. Foreign Service.
"Your first job is to teach English to students, but you're also being a representative of your country and determining what values you want to represent as an American and what conversations you want to have with students overseas," Vitucci explained. 
She says her experience studying away at Seoul's Yonsei University in the summer of 2017 and interacting with Korean classmates and friends gave her new perspective on East Asian issues, one which is hard to find in academic studies of international relations. Vitucci is also looking forward to building on the Korean language skills that she developed during her studies at Yonsei.
When asked about the key to her success in the competitive Fulbright application process, Vitucci was eager to express her gratitude for NYU Shanghai's Office of Global Awards and Writing and Speaking Fellows in the ARC (Academic Resource Center). "Having feedback from them to improve my application was definitely what improved my chances of actually receiving the award," she said.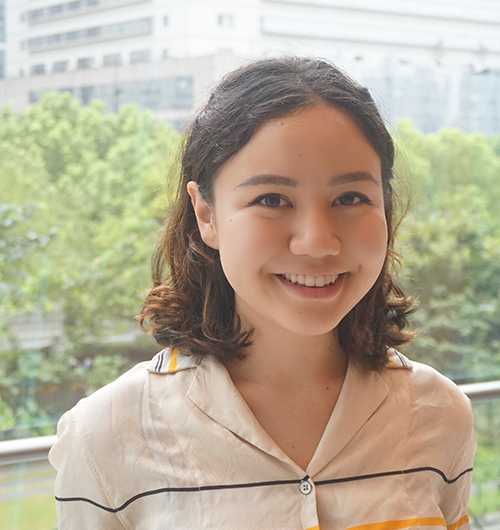 Adele Kramber '20 on campus at NYU Shanghai. Kramber was named an alternate for the Fulbright Research Award in Croatia.
Adele Kramber, a social science major with a focus in environmental studies from Boise, Idaho, was awarded as an alternate for the single Fulbright Research and Study Award offered in Croatia. A 2017 Udall Scholarship honoree, she was inspired by her study away at NYU Prague and by her work assisting NYU Shanghai Professor of Environmental Studies Yifei Li on the Zaanheh Project examining the role of waterways in Shanghai's history. An environmental journalist and storyteller, Kramber devised a detailed independent research plan to study the cultural and environmental legacy of the Sava River. In concert with academics and analysts from independent social science research institutions in Zagreb, she proposed an interdisciplinary project to investigate the impacts of the Yugoslav Wars of the 1990s on contemporary efforts to sustainably manage the river's use and protection.
Kramber has also received an offer of admission to the University of Edinburgh's Masters of Environment, Culture, and Society program, which she plans to attend in Fall 2020.