Students Light Up the Shanghai Skyline
Jan 14 2021
The 65-storey Sinar Mas Plaza on Shanghai's North Bund usually plays ads across its 320-meter facade. But since December 11, it's been lit up by geometric designs, tessellations, and Chinese art -- all designed by students in Associate Art Professor Stavros Didakis's Media Architecture course.
Every evening between now and May, NYU Shanghai students' visual installations will take over the entire facade of Shanghai's fifth tallest building and largest media display, seen in passing by an estimated 826,000 people every day. 
A recording of the students' designs playing on the Sinar Mas Building.
As part of Didakis's course, which examines media and technology in relation to architecture, students were tasked with producing original digital animations for the building's facade. They learned to use a wide range of pre-production, production, and post-production software and incorporated the latest media design techniques, including fluid and cloth simulation, particle systems, point-cloud rendering, and 3D compositing.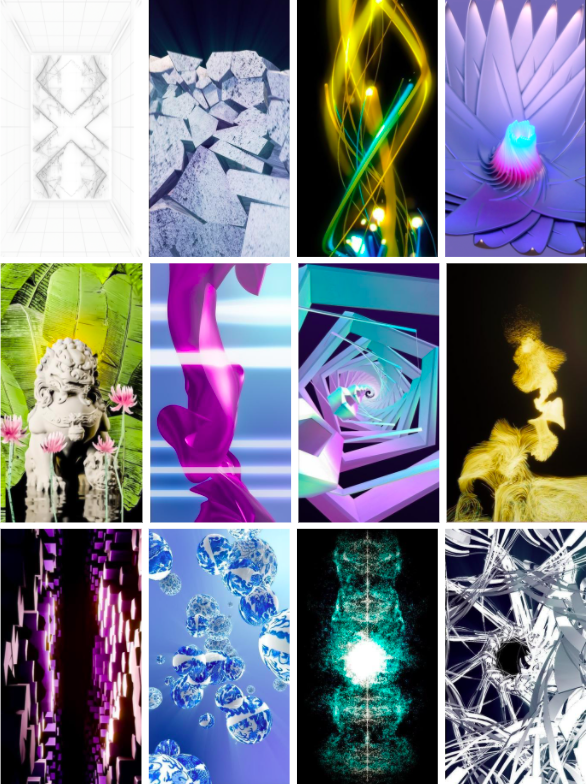 Screenshots of the students' animations, inspired by geometrical patterns, traditional Chinese art, architecture, and fractals.
"A critical aspect of this project was for students to create challenging concepts and implement them into a media composition that is visually engaging and as professionally-refined as possible," said Didakis. Students also had to ensure their content would meet client standards and be appropriate for display. For this reason, the final projects were presented to the Sinar Mas Group for approval before they were displayed on the building.
Originally, the projects were only slated to run on the weekend of December 11 from 6 PM to 11 PM. However, representatives from the Sinar Mas Group were so impressed with the students' work, they decided to run the designs 30 times a day until mid-May 2021.
"The Sinar Mas Group is honored to have the opportunity to collaborate with NYU Shanghai," said Andy Zhong Xuefeng, Deputy General Manager of Sinar Mas Plaza. "The created visual content for the...facade was of a highly captivating artistic and technical quality. We are happy with the professional effect that has been achieved and look forward to future collaborations and creative expeditions."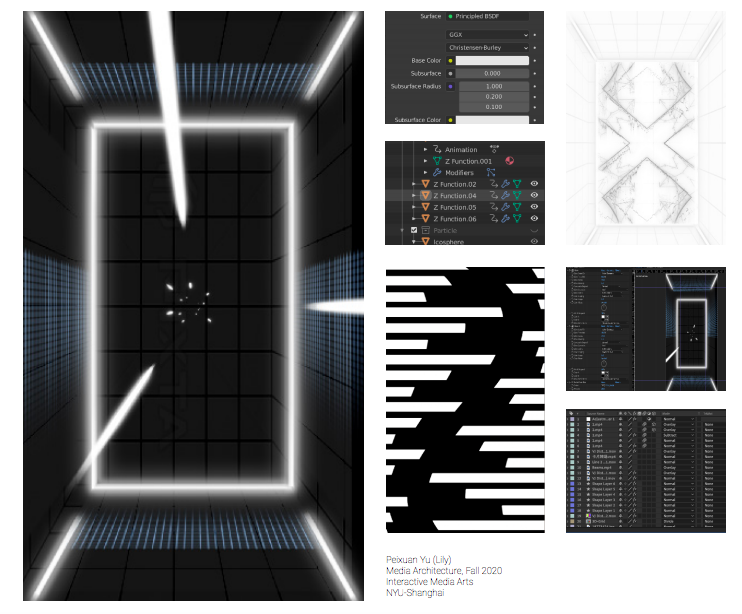 A partial screenshot of Yu's final project poster.
On the weekend the designs were launched, students went to the west side of the Bund on the Huangpu River to view the culmination of a semester of work with their classmates.
"I had done field trips to the site by myself...asking tons of questions...and spending hours trying to represent the ideas with new tools," says Lily Peixuan Yu '21 who designed her project to mimic the interior of a building. "I originally thought about creating a frosted glass texture on the facade and dimly showing the 'interior' of the building...but realized that subtle textures would not be suitable. After going through a lot of twists and turns...I kept the main idea of a 3D space on the facade and added stronger contrasts…. The process of tackling these difficulties was fun enough, but when I saw this project being displayed on the facade of the building, it felt even unreal to an extent."
"The complexity of the content was quite high, but I am super excited and proud that the students were able to achieve this level of work in only one semester," said Didakis.
Read more about courses at NYU Shanghai:
Recycling Materials While Serving Others
Life Design: Prototyping Your Own Future