NYU Shanghai Welcomes the Class of 2025 - In Person and Online
Aug 24 2021
NYU Shanghai welcomed 250 members of the Class of 2025 to the Century Avenue campus on August 23 as the community hosted its ninth annual University Welcome. Some 257 other students from the United States and over 40 countries -- from Mongolia to South Africa to Costa Rica -- joined Monday's ceremony online. Due to ongoing COVID-19 travel restrictions, many international students this year will begin their studies remotely, either from home or from NYU Global Network campuses around the world.
Chancellor Tong Shijun opened the ceremony with special greetings for the remote members of the first-year class. Tong described the unique opportunities that NYU Shanghai's dual identity as a Chinese and American university will afford students (no matter where in the world they will be studying). He also encouraged students to learn to recognize when they need help and learn how to ask for help effectively.
"Students of NYU Shanghai -- if making best use of the uniquely precious and rich resources available here -- will surely be better prepared culturally and socially, as well as intellectually, for their future roles in this dramatically changing world," Tong said.

Chancellor Tong Shijun and Vice Chancellor Jeff Lehman address Class of 2025 students in person in Shanghai. The welcome event was also livestreamed to students studying remotely around the world.
Vice Chancellor Jeff Lehman built on Tong's advice, encouraging students to learn from one of the university's most valuable resources -- their diverse fellow community members, including their classmates. He advised students to be prepared for constructive cultural and ideological discomfort and urged them to learn the art of "civil disagreement."
"Our university is committed to a fundamentally optimistic belief that, on the one hand, differences of view, background, and perspective are real and important, and, on the other hand, people who hold those differences can come together, listen to one another with tolerance and respect, and engage," said Lehman. "Helping you do the work of being one, single multinational class is the single most important goal we have as a university this semester, and we are here to help you succeed."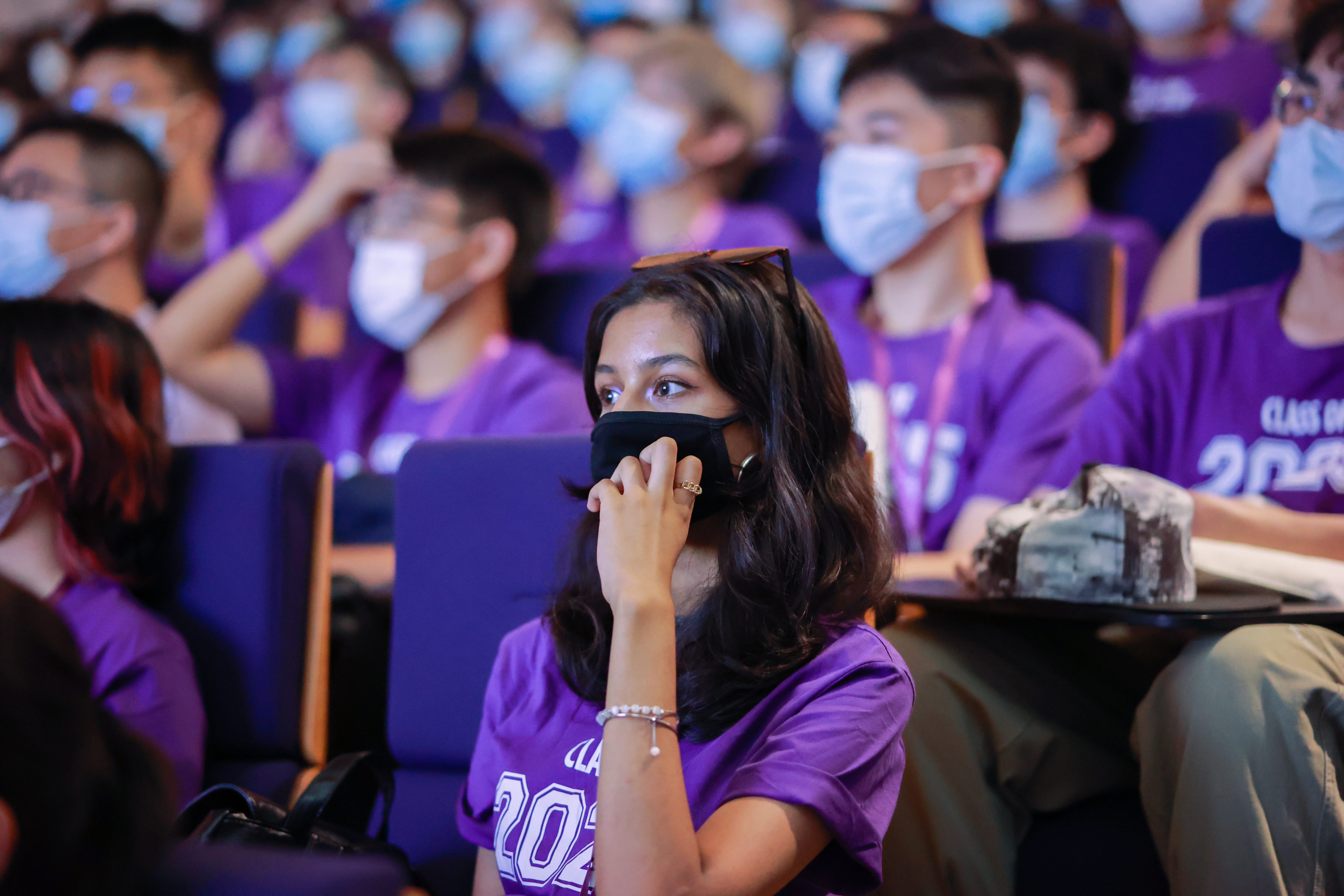 Maanyaa Jain '25 watches the OA video tour of Shanghai along with her new classmates. 
"I really like what Vice Chancellor Lehman said, that we can't just agree to disagree," said Zhan Kaiyan '25 of Ningbo, Zhejiang Province. "I have had lots of chances to express my opinions in the past, but I feel like they have been wasted before, because I just wanted to avoid having an argument. But that is unavoidable here at the NYU Shanghai campus because you have to communicate effectively with classmates and professors. So for me, I think I need to try to have more courage to share my opinion, and I hope I will have more chances to make my voice heard here."
Monday morning's ceremony closed with the music video rendition of NYU Shanghai's bilingual Alma Mater. Liu Jiayin '25 of Taizhou, Jiangsu Province echoed the song's sentiments with a message for her classmates who are as yet unable to come to Shanghai in person. "We all miss you very much! You are a really important part of the university -- without you we are not complete. Please come to China as soon as you can!" Liu said.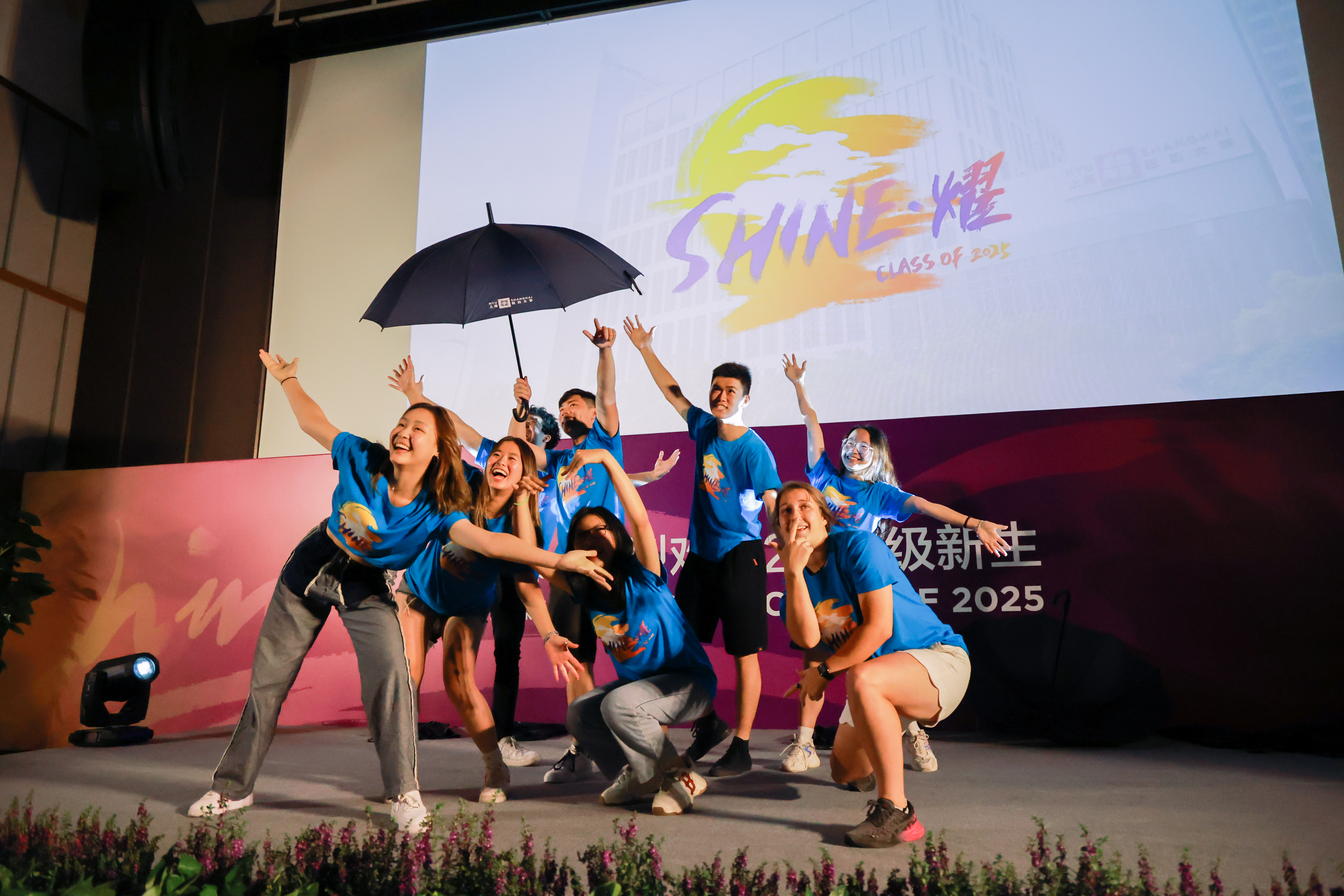 The Orientation Ambassadors got the party started Monday morning with a live dance compilation and a video neighborhood tour. The blue group's choreography to a clip from Rihanna's "Umbrella" was a crowd favorite. 
As the global COVID-19 pandemic continues for a second year, members of the NYU Shanghai community remain spread across the world and the NYU Global Network. The majority of the international members of the NYU Shanghai Class of 2025 are slated to take part in the Go Local program in New York City this fall, moving into residence halls in the city beginning August 27. They will take part in special orientation activities for NYU Shanghai students, as well as orientation activities for all undergraduate students attending the New York campus. Meanwhile, on August 26, NYU Shanghai will again host over 600 China-based visiting students, including roughly 200 Study Away students and nearly 300 first-year students from NYU New York and NYU Abu Dhabi who will be taking part in the NYU Global Network's Go Local program. 
To help the Class of 2025 get to know each other despite continuing geographic divides, this year's first-year students will also be taking an entirely new class together, "Design Your NYU Shanghai," led by Associate Arts Professor of Interactive Media Business Emily Tsiang. The entire Class of 2025 will attend the course online at the same time, spending most of their class time in small group sessions where they can share their experiences and viewpoints with each other, in addition to hearing personal and professional stories from a broad range of current NYU Shanghai students, alumni, faculty, and staff.
The students will devise "design maps" to help them identify underlying interests and educational resources that fit their goals. "What makes NYU Shanghai's culture so unique is that everyone has a traveler's mindset. So the course is designed to let students explore their college experience through this lens -- What am I curious about? How do I design meaningful experiences? Who are the guides that can help me navigate my way there?" Tsiang said. "We hope to help students find ways to walk on a collective journey together with the support of the broader NYU Shanghai community."
Some 180 members of the Class of 2025 participating in the "Go Local" program at NYU's campus in New York City gather to share their NYU Shanghai spirit.
Monday's welcome ceremony launched a week of both in-person and mixed-mode events to help the Class of 2025 jumpstart their journeys and successfully navigate the challenges and opportunities of college life. Led by a team of 45 Orientation Ambassadors (OAs) -- upperclass student volunteers who train extensively to advise first-years -- new students get a crash course in campus resources and build team spirit through activities such as a campus scavenger hunt, the annual Fun Olympics, academic advising sessions, and a range of workshops offered by campus offices and student groups.
"Building community among the OAs and with the students has been really great," said Orientation Ambassador Chelsea McLean '22, who recently returned to Shanghai after studying online from her home in New Jersey since early 2020. "It's nice to be able to meet new people again in person after being away from the university for a year."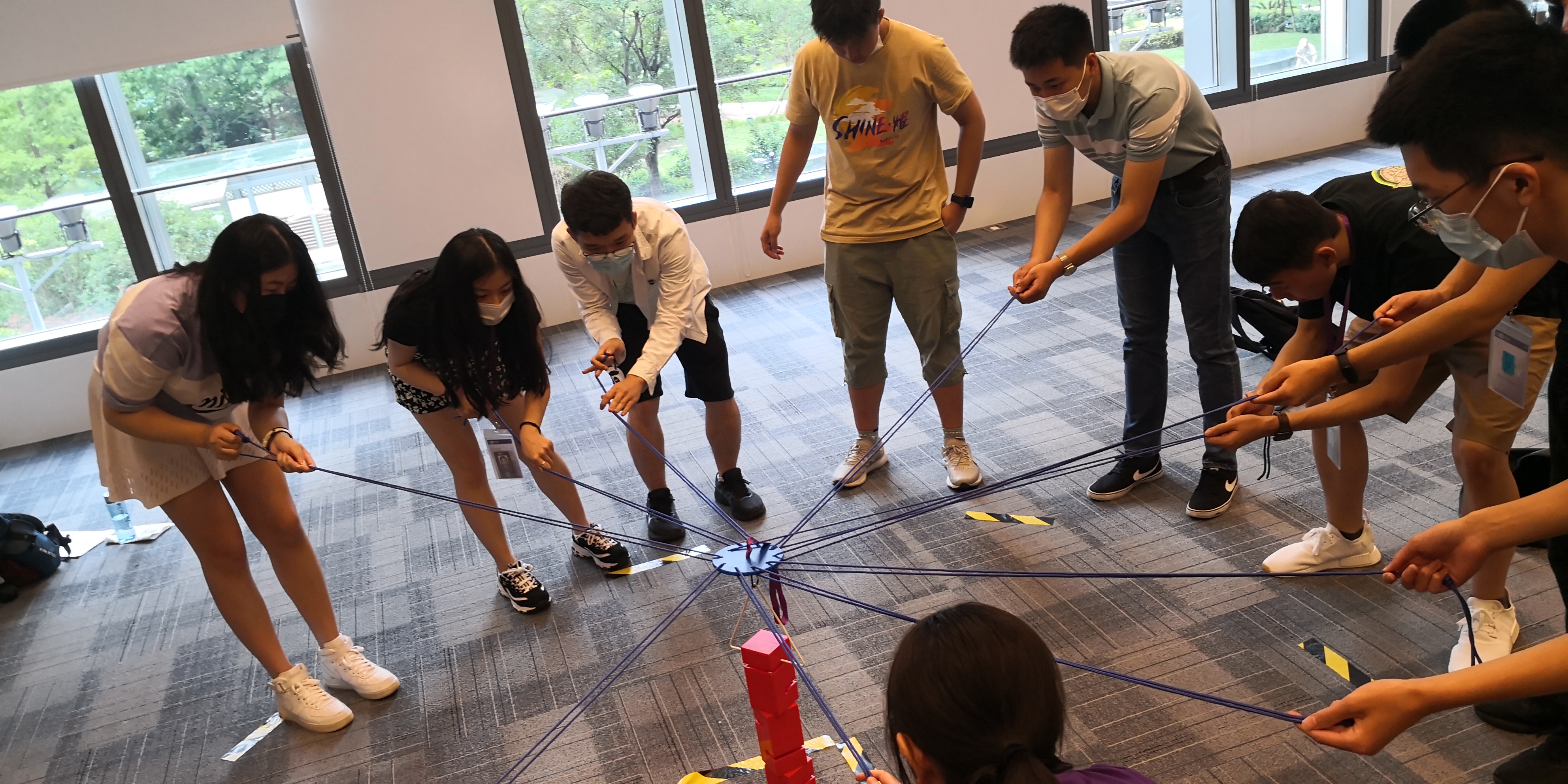 In the annual "Fun Olympics," first-year students team up to break the ice and learn the value of communication. Here, students must reach a delicate balance as they form a many-armed human crane, attempting to move a tower of blocks without knocking it over.
Food's links to culture, identity, and belonging are another theme for this year's orientation activities, complementing this year's NYU Shanghai Reads selection, Shark's Fin and Sichuan Pepper: A Sweet-Sour Memoir of Eating in China by British author Fuschia Dunlop. At Monday's University Welcome, Provost Joanna Waley-Cohen delved into her favorite moments from the book, noting how turning points in Dunlop's path to becoming the first westerner to study at the Sichuan Higher Institute of Cuisine might  inspire the Class of 2025's own journey into new cultures, new interests, and new dimensions of themselves.

Students line up for their first taste of NYU Shanghai food culture in the Dining Hall.
"Be ready to take a risk and to experiment, don't be afraid; taking these kinds of risks is the first step on the path to creativity, and the value of human creativity is one of the core values at NYU Shanghai," Waley-Cohen said. "Think of this as a moment of unparalleled opportunity that's precious and not to be wasted, a voyage of self-discovery as well as a voyage of learning about the world around you."
Nathalie Brzesowsky '25, who joined the University Welcome online from her home in Dallas, Texas, said she will be taking Waley-Cohen's advice to heart. "Profound communication from screen to screen will be a challenge, but I think Provost Waley-Cohen's point about keeping an open mind and understanding that people from other cultures see our customs in a completely different light than we do will be a great foundation for conversations that we start now and can later carry over to the Shanghai campus. We are all very privileged to have the chance to continue our education at a university with such a global mindset, where we can learn from each other."
Check out more photos from the Class of 2025 Shanghai move-in day.