NYU Shanghai Upgrades Remote Learning Tech to Enhance "Mixed Mode" Classrooms
Sep 25 2020
With international borders mostly closed and students spread across 61 countries around the world while they wait to return this fall, NYU Shanghai embarked on a second "mixed-mode" semester last week, delivering a large slate of classes - 383 courses out of a total of 556 - simultaneously live and online. 
In anticipation of this second "mixed-mode" semester, NYU Shanghai spent the summer refining and enhancing its remote learning technologies, installing nearly 300 new technological devices across 60 classrooms in the Academic Building. Since the university was among the first in the world to have to adapt to the challenges induced by the COVID-19 pandemic last semester, NYU Shanghai faculty and staff have been able to take advantage of their head start.
"Many faculty members shared that it was very important for them to be able to write on a whiteboard, especially in math and finance, so we responded by adding new tracking cameras," said Chang Pan, director of IT. The tracking cameras can follow speakers as they move around the classroom, creating a more "in-the-room" experience for online students. "Many of these additions were implemented with the goal of allowing faculty, students in the classroom, and students who are remote to maintain visual contact with each other," Chang said. 
In addition to the tracking cameras and whiteboards, IT also installed new ceiling microphone arrays and digital handheld and lapel microphones to improve classroom sound, and extra monitors and TVs to improve user experience for both online and in-person students.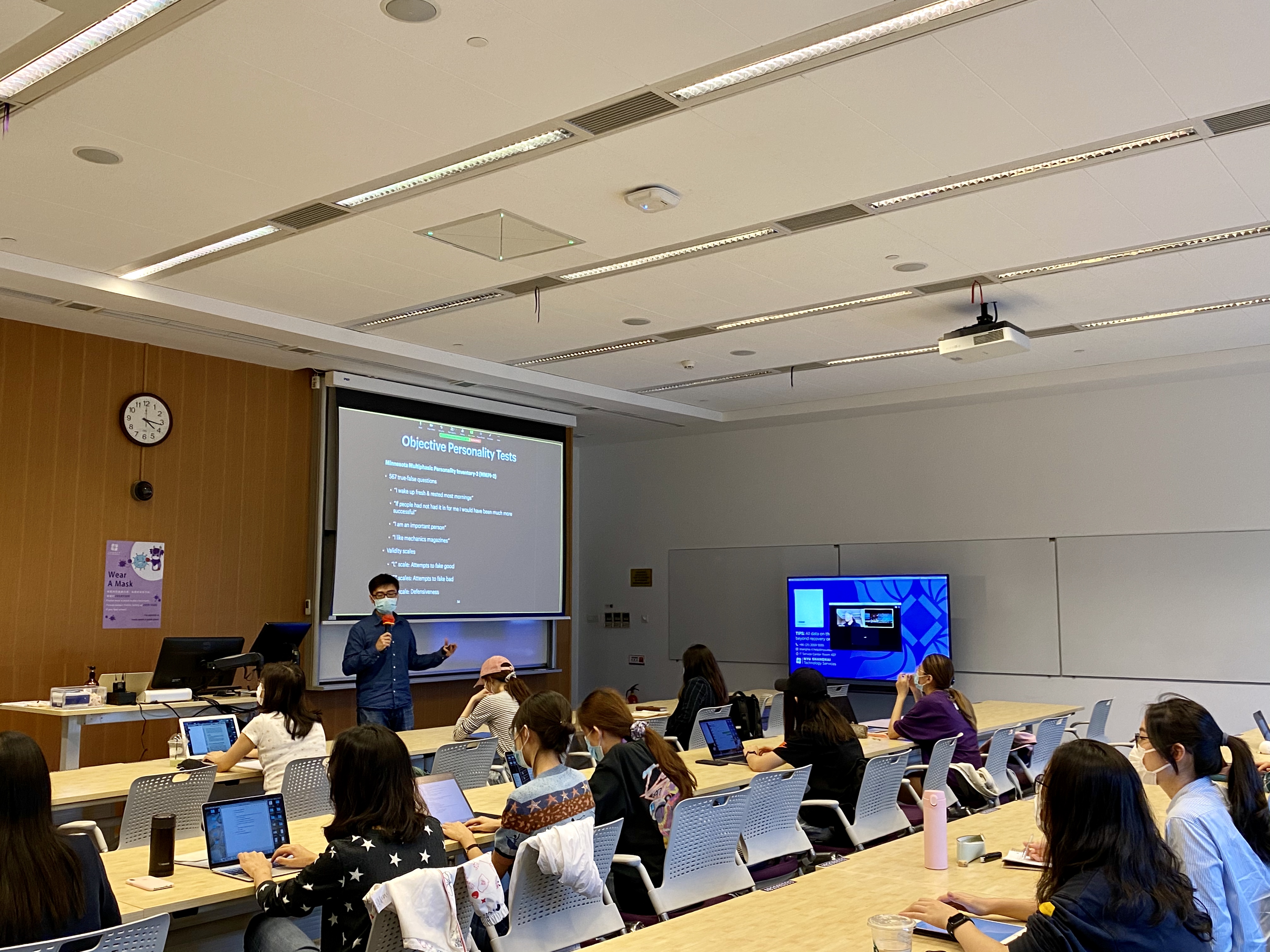 Students in Professor Li Gu's Abnormal Psychology class join both in person and online. Online students are projected on the newly installed TV monitors set up on the side of the classroom. 
Faculty members have also attended IT department training sessions to help instructors  prepare for and adapt to the new technology. These sessions varied from one-on-one mixed mode classroom demos, to group tech camp training sessions. During July and August, NYU Shanghai's Research and Instructional Technology Services Team (RITS) also provided a number of workshops to help faculty prepare for mixed-mode instruction for the fall. 
Barbara Edelstein and Zhang Jianjun, Clinical Associate Professors of Arts are co-teaching two classes in mixed-mode this semester: Introduction to Studio Art, and Projects in Studio Art. To prepare for the semester, they worked with IT and RITS to improve the technology from last spring, including adding additional classroom microphones, TV monitors, and iPads. "The new cameras allow everyone to see the room and professors to move around the classroom," Edelstein said. "Last semester we experienced a lot of echoes in the classroom, but with the new classroom microphones, it's been working a lot better."
In addition to the tracking cameras, new iPads have the potential to allow in-person students to share artwork with remote students during critique sessions because often they aren't able to pick up a painting or ink piece when it's drying. Now, in-person students are able to bring an iPad to their work station, and online students can see their classmates' work and offer feedback.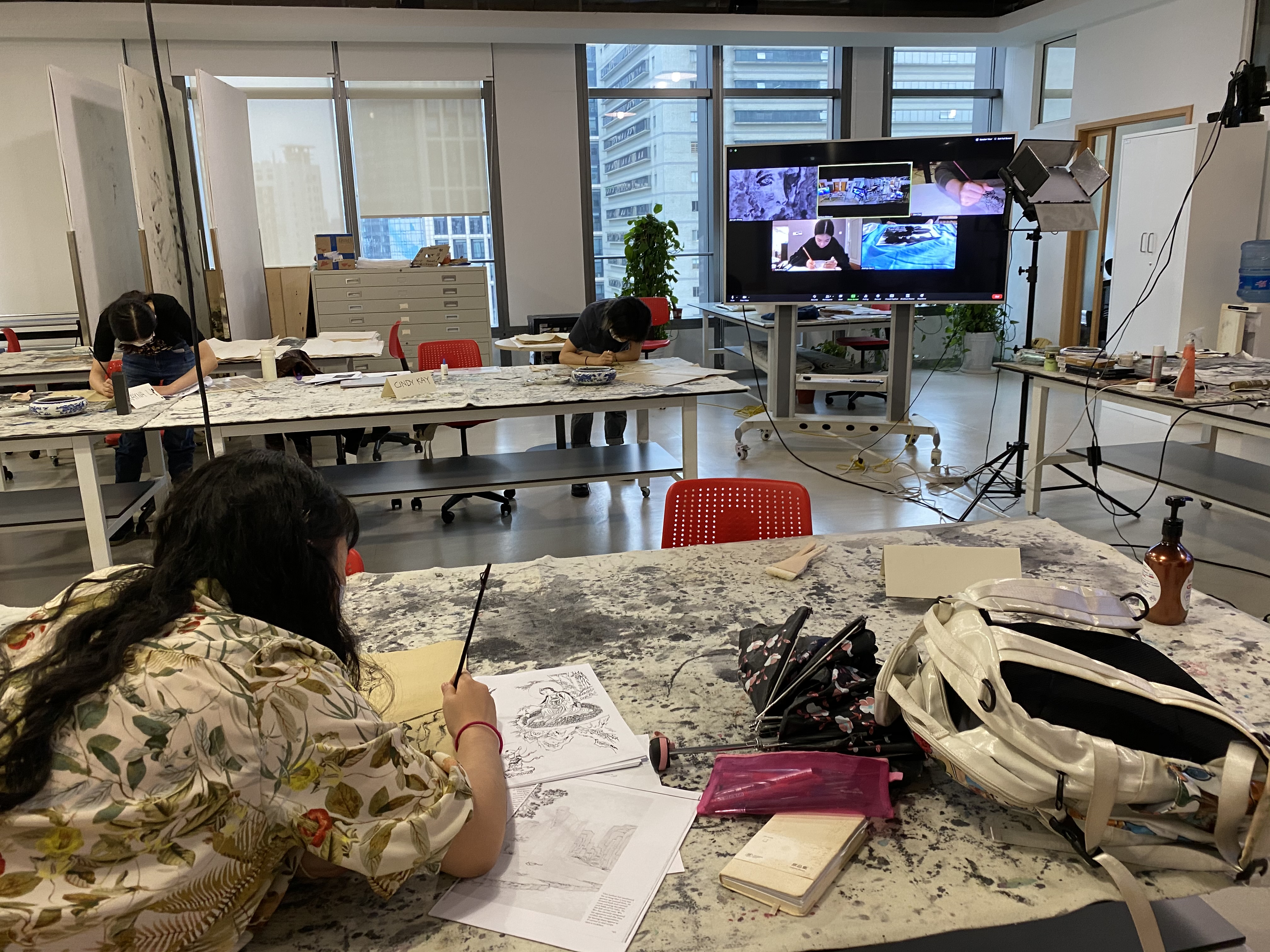 Students in Projects in Studio Art work while their online classmates paint on screen. 

Zooming in from El Paso, Texas Fiona Bennett '21 is taking five synchronous classes that utilize the new mixed-mode technology. Despite the difficulties of her classes being in the middle of the night, she has noticed the new technology has improved classroom function and her ability to stay engaged. "The new tracking cameras are definitely noticeable. They follow the speaker really smoothly and the microphones are better too." 
Last semester, all of Bennett's classes with the exception of one were online and asynchronous which posed a big challenge. But the new technology has enabled a much smoother transition into classes this fall. "While there are some issues with mixed mode (mainly scheduling with time zones across the world), the school is really trying to make it work," she said. "As someone with ADHD, mixed mode classes are so much better than a strictly online class would be because it's easier to keep myself accountable and engaged."
Student Government President Taylah Bland '21 is participating in mixed mode classes from her apartment  in Sydney, Australia. Although she is more than 7,000 kilometers away from Shanghai, mixed mode has allowed her to continue feeling part of the NYU Shanghai community. "Whilst the process may not be perfect, given we have never experienced anything like this before, I truly appreciate the efforts of all involved," she said. "I truly feel the NYU Shanghai community spirit even through my Zoom screen."