NYU Shanghai Reads: Fuchsia Dunlop on the Magic of Chinese Food
Mar 11 2022
Fuchsia Dunlop, author of Shark's Fin and Sichuan Pepper: A Sweet-Sour Memoir of Eating in China, joined students, faculty and staff on March 3 to discuss her memoir, which was assigned to all incoming first year students and recommended to all community members as this year's NYU Shanghai Reads selection. 
Zooming into the Thursday panel from her home in London, Dunlop told audience members that her book "is a personal story of how you immerse yourself in a different culture, and the experiences that illuminate that." She offered students deeper insight into the story of her 10 year quest to master Chinese cuisine, beginning in 1995, when she was the first foreigner to train as a chef at the Sichuan Higher Institute of Cuisine. "One of the purposes of the book was also to show some of the richness of Chinese food culture," she added.
Three students, Cui Yixuan '22, Raghav Dembla '25, and Hailey Long NYU '23 started the conversation by posing questions that reflected their various interests in the text. Dembla, a first-year student from Hisar, India, asked how cultural context might dictate the boundaries of gastronomy. 
As a vegetarian who is also new to China, Dembla said he has had to adjust to Chinese vegetarian cooking, which is different from what he normally eats back home. He said he was particularly inspired by Dunlop's sense of adventure in exploring China and Chinese food. "The book was really helpful for me, because Fuchsia had such a different experience. She writes in the book that she'll accept anything that's given to her. Like she ate caterpillars and worms. So reading the book in quarantine, I felt that if she can do it, I can do it," recounted Dembla.
"I find eating very interesting. It's a way of experiencing the world," said Dunlop. "In China, people know how to eat for health, how to eat for pleasure, and there is a very developed culture of gastronomy. I was a student in a culture that really understands food."
Students were keen to draw connections between the cultural exchanges occurring on campus and Dunlop's experience. Chen Yingfan '25 posed a question based on a discussion she had previously had with a friend who was an international student and a graduating senior. Even though her friend had lived in China for four years, she said she still felt like she did not fit in, and Chen wondered if Dunlop could talk about her own experience as a foreigner who had decades of experience in China. Dunlop advised Chen and her friends to focus on the value of relationships.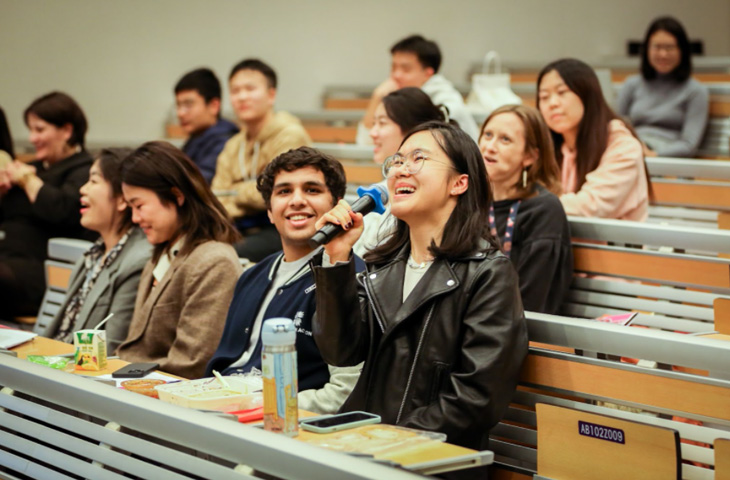 Chen Yingfan '25 asking Dunlop a question about adapting to China
"There's a sense of human connection, where it doesn't matter what your background is. I have Chinese friends I have known for 20 years, and we have a sort of bond. There's curiosity, kindness and warmth," Dunlop said. "Being an outsider is so interesting. If you don't take things for granted, you're learning all the time."
In response to questions from Cui about writing, Dunlop explained that the book was meant to serve as a "story of how you immerse yourself in a different culture." She also described familiar moments of writer's block and acknowledged the need for flexibility in the creative process.
Cui, who is minoring  in creative writing, said she appreciated Dunlop's candor. "I think the advice she shared was really helpful, especially when she talked about her challenges," she said. "It was so relatable that even a published writer encounters moments where they want to quit."
Reflecting on the discussion, Long said, "I appreciated Fuchsia's true cultural immersion process. She's not just showing she loves Chinese culture, but she proved it through things she had done. As the audience, we can feel such passion." 
Since the start of the academic year, the NYU Shanghai Reads Program, co-chaired by Director of Academic Resources Jin Tong and English for Academic Purposes Lecturer Sarah Warfield, has organized campus-wide activities relating to the themes of food and cultural diversity raised by the book. Programming started during New Student Orientation with online and in-person discussion groups for first-year students, who were encouraged to reflect on the cultural diversity of the incoming class through the lens of food. 
Senior Lecturer of Chinese Gu Beilei, who introduced Dunlop during the discussion, said she uses the Chinese translation of Shark's Fin and Sichuan Pepper in her Advanced Chinese course. "The book is a good example for discussing Chinese food in a very interesting way," said Gu. "In class, we talk about how you may describe feelings and tastes, and this discussion really starts from a discussion of the book itself. The unit on Chinese food is the students' favorite." 
The NYU Shanghai Reads Committee also organized activities in collaboration with other departments, including  a field trip to Cenbu Village co-organized with Community Engaged Learning. Programming for Shark's Fin and Sichuan Pepper will conclude on March 17 with "Let's Talk About Food," a storytelling event co-organized in collaboration with the Writing Program and English for Academic Purposes.
As the spring semester comes to a close, the university will turn its attention to next year's book, The Sound of a Wild Snail Eating, a memoir of author Elizabeth Tova Bailey's year-long encounter with a wild snail, who lived in a bedside terrarium while she was bedridden with illness. "The book is a good fit for programming with the entire NYU Shanghai community due to the cross-disciplinary themes that we know will resonate with many readers," said Warfield. Programming in the next year may cross the fields of medical humanities, environmental and hard sciences, as well as literature and poetry. Faculty members have already begun discussing ways the book could be incorporated into courses, as well as in campus-wide programming.
Cui said she appreciated the ability of a program such as  NYU Shanghai Reads to bind a community together. "What makes reading a book different from other activities is that it takes time. With other activities you just go, participate, and leave, but with a book, you have to read it before the event," she said. "You know people around you are reading it. It really gives you something to talk about."