NYU Shanghai Community Now Eligible for COVID-19 Vaccines
Mar 26 2021
Shanghai health authorities and the Municipal Education Commission have announced that all members of the NYU Shanghai community – students (both NYU Shanghai portal campus students and Go Local students), faculty, and staff – regardless of nationality and up to the age of 75 - will be eligible to receive COVID-19 vaccinations in April.
 
"The availability of vaccines marks a key milestone on the journey back to a more normal world," said Vice Chancellor Jeffrey Lehman. "It is gratifying to know that our university can now participate in the collective effort that is required in order to produce true community immunity."

Director of Residential Life and Community Standards Nupur Goyal, Dean of Students David Pe, Assistant Dean of Students Adam Ebnit, and Director of World Languages Melanie Hackney show off their vaccination certificates from a previous vaccination drive that targeted university faculty and staff in January.
The vaccines used will be those produced in China from an "inactivated virus" that have received authorization from the Chinese Food and Drug Administration. The vaccination process will require two injections, three weeks apart. The first injections will be provided before April 9, the second before the end of April.
Vaccinations are free for Chinese citizens with citizen ID cards. Community members who are not citizens will be charged 100 RMB for each injection, but those payments are reimbursable under NYU Shanghai's insurance plans.
 
University officials are exploring whether it might be possible to give the injections on campus. If not, then NYU Shanghai will coordinate scheduling and transport community members to the designated vaccine sites
Vaccination is not mandatory.
The April vaccination drive may be the only opportunity for community members to receive vaccinations through NYU Shanghai. Chancellor Tong Shijun, Vice Chancellor Lehman, and Provost Joanna Waley-Cohen all plan to get vaccinated in this drive. "I'm delighted that I am finally eligible for vaccination," said Chancellor Tong. "By being vaccinated, I can protect not just myself, but others as well."
All community members who wish to receive the COVID-19 vaccine through NYU Shanghai must register online before 5:00 pm on Sunday, March 28. Registration links have been sent to all community members via email.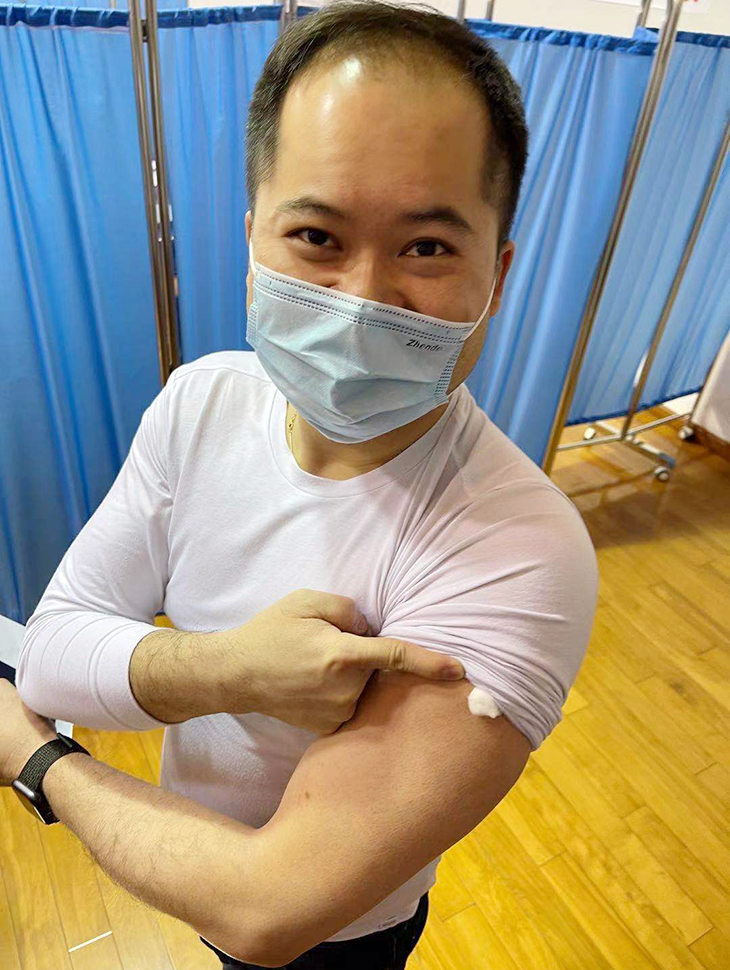 Dean of Students David Pe, moments after getting his shot. About 265 faculty and staff have been vaccinated to date.