Katherine Meighan: Leading with Yes
Oct 21 2022
On October 12, Hua Jingdong, former World Bank treasurer and visiting professor of business at NYU Shanghai, kicked off a new dialogue series "Women Leaders in Finance and Development." Hua's first guest was his friend and former colleague Katherine Meighan.  
Meighan is the associate vice-president, general counsel and UN assistant secretary general at the International Fund for Agriculture Development (IFAD) with more than twenty five years of international development experience. In the hour-long dialogue, introduced by Provost Joanna Waley-Cohen and moderated by Hua, Meighan addressed a Zoom audience of almost one hundred NYU Shanghai community members on topics ranging from career development, to global citizenship, and solutions for poverty and hunger alleviation. 
Meighan, whose father worked for USAID when she was a child, said growing up in Nicaragua, Barbados, Kenya, and Morocco left a deep impression on her. "This really helped me see and understand how development finance can positively impact a country and community." As an adult, Meighan continued to travel and learned multiple languages. She decided her career would combine her knowledge in finance and law to do good in the world.
She spoke about the importance of "leading with yes" when making career decisions. It was "yes" that led her to move to Argentina to continue her work with IFC (International Financial Corporation). She recalled how her initial instinct was to say "no," but with support and encouragement from her colleagues and family, she went on to open the Buenos Aires office in the wake of Argentina's financial crisis, which she said remains one of her proudest career achievements.
Meighan reflected on her own career path as she gave advice to those in the audience. "In the US, we use the expression 'career ladder' when you move from one thing to the next thing, to the next thing and you plan it out," she said. "I think that is not realistic." She introduced an alternative career development notion, a career lattice. "A lattice is what a vine will grow on," she explained. "Sometimes it will grow down, and sometimes up, and maybe across, but that is in my experience what one's professional journey is." 
Meighan described how using her knowledge of finance and law to do good has motivated her to move along her own career lattice. In her current role at the UN International Fund for Agriculture Development (IFAD) in Italy, she promotes the organization's mission to support rural farmers. Meighan uses her background in law and finance to develop strategies that support IFAD's financial architecture, resulting in more funding for the farmers.The organization includes 177 member states and aims to find ways to address rural poverty and hunger in developing countries. Meighan said the work has been strongly impactful. "Most of the farmers that work with IFAD have households that make an average of $2 USD per day," she said. "But after a few years with IFAD, they are often able to double or more their household income." 
Before the COVID-19 pandemic, 800 million people were living in hunger and poverty, and since then, the number has increased by over 150 million people. The problems the world is facing, including climate disasters such as increasing floods, droughts, and locusts swarms, along with COVID and Russia's invasion of Ukraine are already having an impact on global supply chains and agriculture. "I fear this will be the worst food crisis in over 100 years if we are not able to rectify it," Meighan said.
Meighan's career choices have always been motivated by the potential impact of her work. "I want to work where I can make a difference," she said. "I could have gone to work each day and made more money for JP Morgan, HSBC, and the like, which is fine - or I could go to work every day and do really interesting intellectual things and make an impact on the most poor and vulnerable people who really need my work."
The dialogue with Meighan was just the latest in a series of dialogues with leaders in international development finance. Last semester Hua hosted Asia Infrastructure Investment Bank (AIIB) Chief Financial Officer Andrew Cross and Patience Marime-Ball, founder and CEO of the Women of the World Endowment.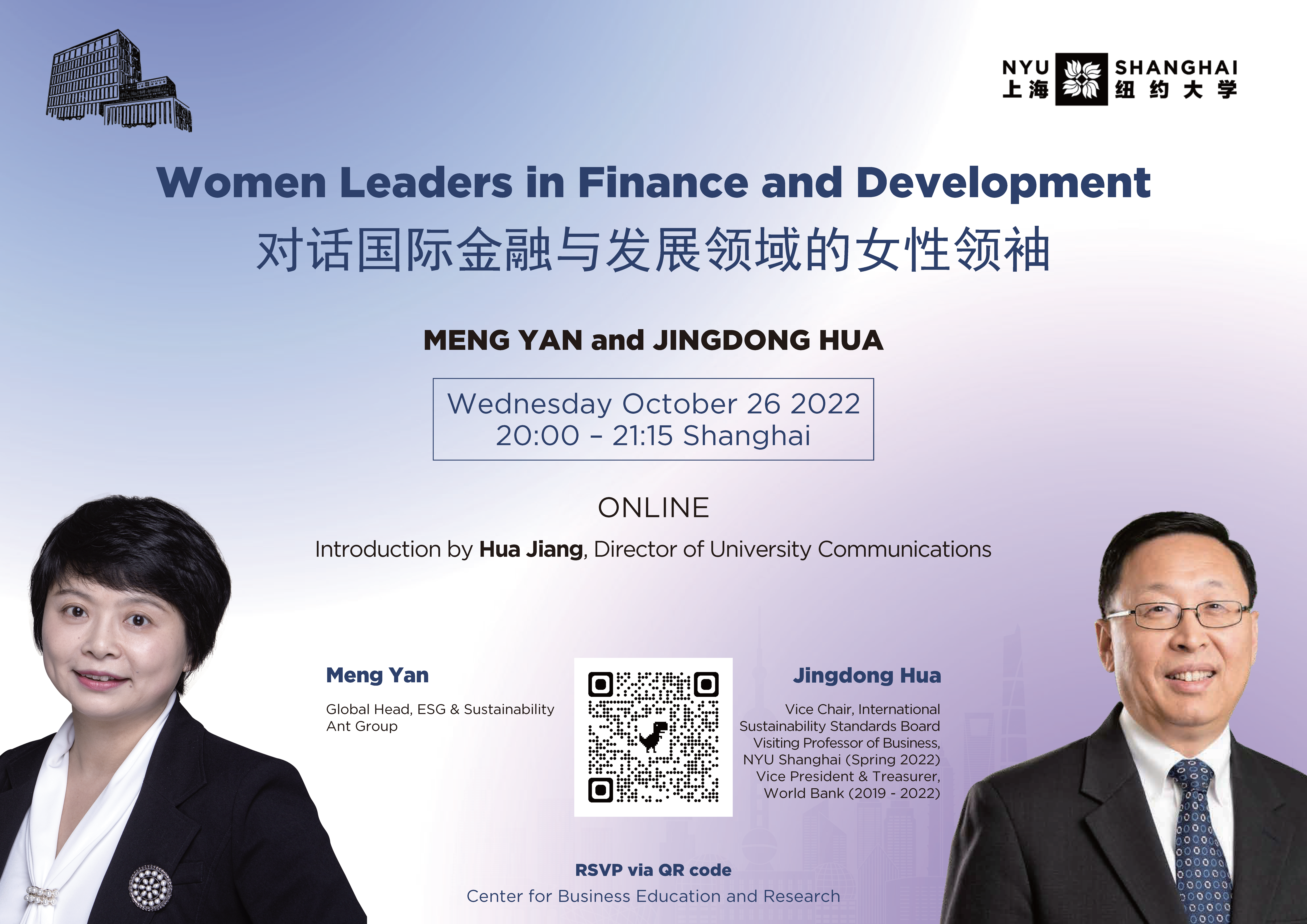 The next talk in the series will take place on October 26, when Hua hosts Meng Yan, Global Head of ESG & Sustainability at Ant Group.