A Conversation with the CFO of the Asia Infrastructure Investment Bank
Mar 25 2022
Kicking off the first in the series of "Dialogues with International Development Finance Leaders," NYU Shanghai Visiting Professor of Business and former World Bank Treasurer Hua Jingdong hosted Chief Financial Officer of the Asia Infrastructure Investment Bank (AIIB) Andrew Cross in a virtual dialogue on Tuesday. 
The semester-long series features Hua –  a seasoned senior practitioner in international development and international finance – in conversation with former colleagues and friends invited to share professional experience and advice with the NYU Shanghai community. 
Provost Joanna Waley-Cohen introduced Hua and Cross, encouraging students to get to know Professor Hua while he is teaching on campus. "Jingdong is a shining example of the bringing together of business and finance on the one hand and arts and humanities on the other hand," she said. "Hua Jingdong who is a humanist in the world of finance absolutely exemplifies this in ways better than I could ever describe in words."
Hua and Cross then dove in, giving the NYU Shanghai community a candid inside look at the history and structure of the Asia Infrastructure Investment Bank, a Multilateral Development Bank (MDB) founded in 2016 and headquartered in Beijing.
"Multilateral Development Banks such as the World Bank, The Asian Development Bank and the AIIB are a critical piece of international development architecture. Through supporting infrastructure and other projects with large positive network effects, the MDBs play a key role in promoting poverty eradication and economic growth," Hua said. "As a member of AIIB's Executive Leadership Team, Andrew's perspectives are strategic and panoramic."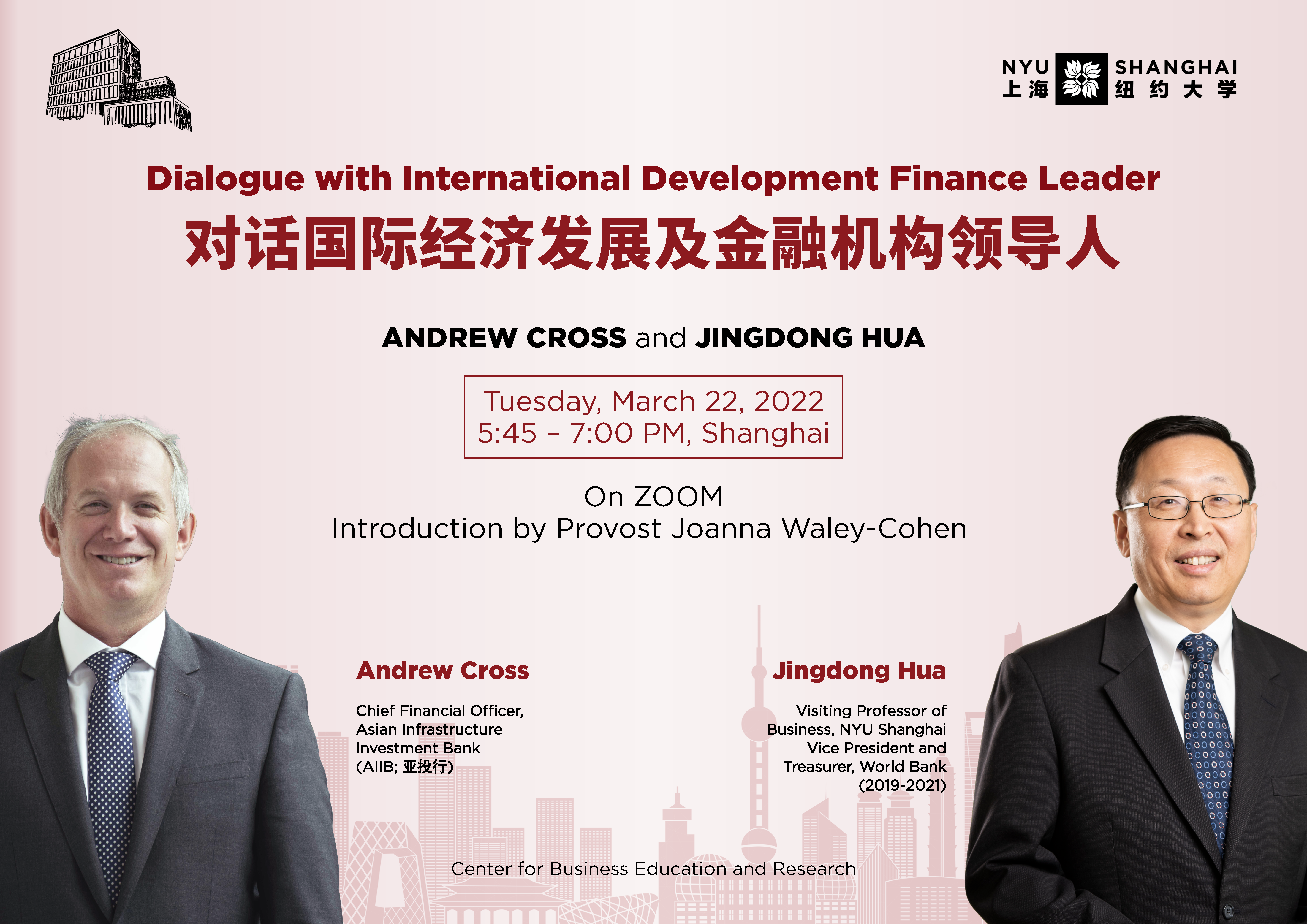 Experts believe that approximately US$3-5 trillion are needed to meet infrastructure demands in Asia. The Asia Infrastructure Investment Bank was created to help shrink the gap and catalyze the investment needed to make positive impacts on people's lives in Asia. Over the past six years, the organization has lent US$32 billion to its members, which include 105 countries. Compared to other MDBs, AIIB is unique in that it invests capital solely in public and private infrastructure projects, rather than policy or tech advisory work. These infrastructure projects range from roads to hospitals, waste plants, clean energy alternatives, and vaccine production. "Connectivity is one of our main goals and arguments. We are not just investing in Asia, but in the rest of the world, targeting projects that connect Asia with the rest of the world," Cross said. 
Cross reflected on how pressing issues like the COVID-19 pandemic and climate change have influenced the AIIB's direction and priorities. The bank has already issued US$30 billion dollars in Covid response, including lending to members to buy vaccines and more recently, investing in vaccine production. At the same time, the bank is working toward achieving 100% alignment with the Paris Agreement by the end of 2023, and ensuring that by 2025 50% of all lending will support climate finance. 
Cross also introduced to audience members the tension between wanting to do what's best for the environment and society, but also recognizing that achieving these goals is not always simple and fast, nor does it always align with immediate human needs. 
"The joys of being a practitioner are that you are very familiar with the challenges of implementation," he said. "Inevitably it leads to many many difficult decisions and tradeoffs." Hua echoed the gravity of this challenge, encouraging NYU Shanghai community members to get involved in developing solutions. "I think for [the multilateral finance] community, it is really a struggle between being 'pure' in the end goal and the journey to get there. I think this could be a great opportunity for research … for NYU Shanghai professors and students in this particular area." 
Students in the audience, many of whom are taking Professor Hua's class, Investing in Emerging and Frontier Markets: Opportunities and Challenges, peppered Cross with a variety of questions, including career advice. As a leader, he emphasized that investing in relationships is invaluable. "The only thing that matters is the people – that's the part that you must get absolutely right," he said. "You must make sure that members of your institution feel safe, supported, and valued." Cross' advice to young professionals was simple: "Take as much career risk as you can, as early as possible because at that point failure is nonexistent."
The next talk in the series will be held on Thursday, March 31, 2022 when Hua will host  Shrey Kohli, Head of Debt Capital Markets at the London Stock Exchange. Chen Yuxin, NYU Shanghai Dean of Business will provide opening remarks and introduce the distinguished guest.