Patience Marime-Ball: "What happens when women are at the decision making table?"
Apr 29 2022
During a live zoom conversation with NYU Shanghai Visiting Professor of Business and former World Bank Treasurer Hua Jingdong last week, Patience Marime-Ball, founder and CEO of the Women of the World Endowment, recalled a major turning point in her career. 
It was during the 2008 financial crisis, and Marime-Ball, then a Principal Investment Officer & Global Head at the International Finance Corporation (IFC), was on a business trip to the Middle East. "I was in Dubai when it was announced to the world that Lehman Brothers had fallen. I was listening to Christine Lagarde, who at the time was the head of the IMF [International Monetary Fund] and she said something along the lines of 'If Lehman Brothers had been Lehman Sisters things would have been different,'" she said. "That got my attention and I started interrogating, what exactly would be different? I was even more interested in discovering, what if Lehman brothers had been Lehman Brothers and Sisters?"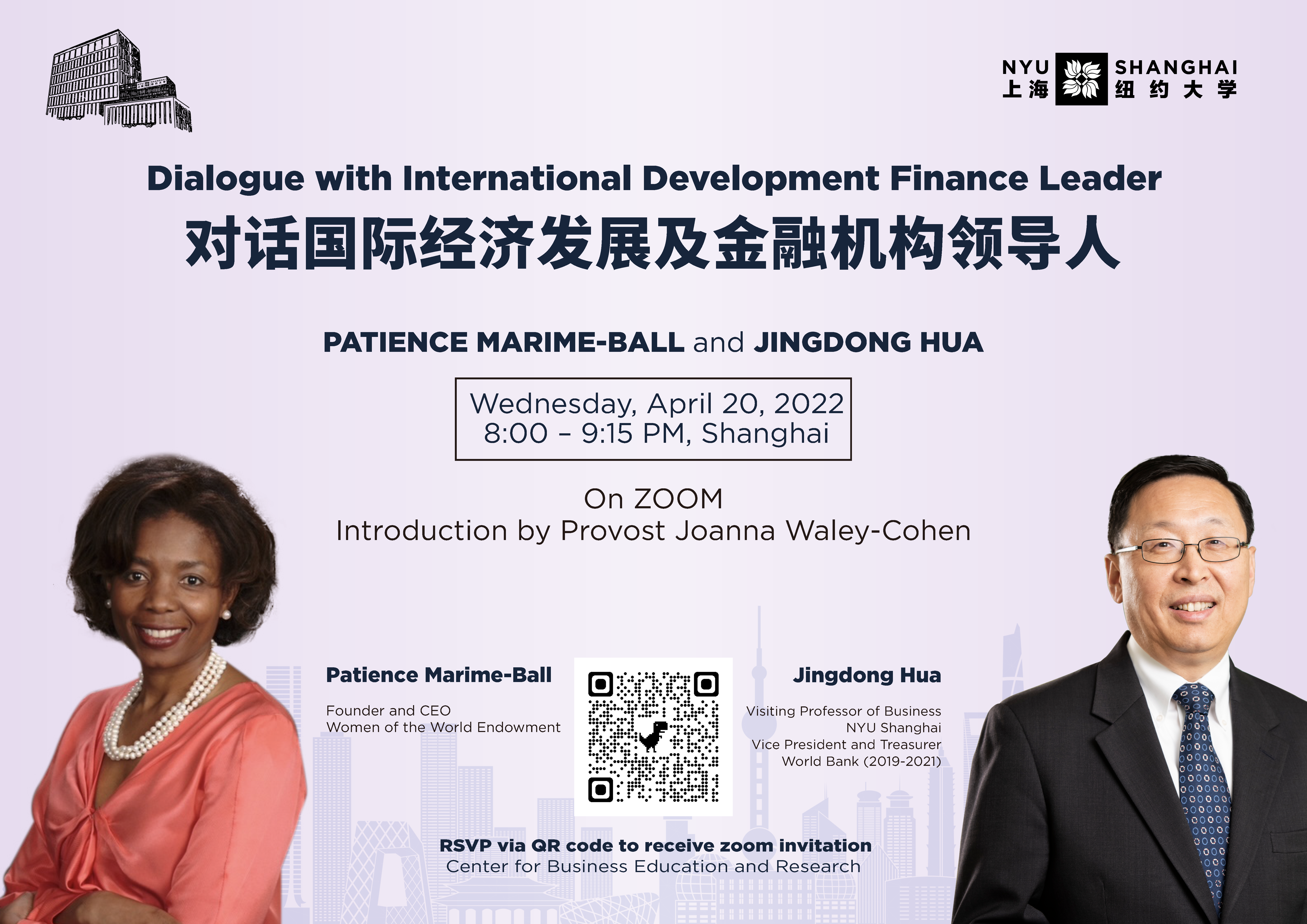 Over the next few years, answering that question became her life's work. Marime-Ball said she continued to probe this question of gender representation in leadership and found data that supported the fact that during the financial crisis, companies with gender diverse leadership in their boards and c-suites seemed to do better. 
At the IFC, whose mission is to advance economic development and improve the lives of people by encouraging the growth of the private sector in developing countries, Marime-Ball noticed that beyond micro-finance, a strategy did not exist that focused on women as change makers and solution drivers of economic activity. She realized that coming out of the 2008 financial crisis, there would be a need for IFC to do better and prioritize finding solutions that were women-led. So, with her colleagues, she started the IFC's Banking on Women strategy, which aims to invest in and finance women-led small and medium sized businesses in emerging markets. Since its inception, it has invested over US $15 billion. "In financial markets, of the US $110 trillion that are being managed around the world, 97.8% are being managed by men," said Marime-Ball. My view is that men and women have different lived contexts. If capital continues to be allocated with only the sensibilities of a certain lived context, we will miss many opportunities…"
During the conversation, Hua affirmed the success of the program, recalling the time was working with the World Bank and met with one of the Banking on Women partners - a woman who had received a loan to support  her camel milk business in Mauritania. 
In 2018, Marime-Ball founded the Women of the World Endowment (WOWE), an NGO to bring capital -  public equities, fixed income, private and venture equity, mezzanine, and grants - to initiatives in women's economic empowerment, women in peace & security, violence against women, women's health, and women's leadership  and catalyze positive change for women. 
"I saw the opportunity to centralize the role of women as change makers. Not just beneficiaries and victims," she said. "We are at a place in our human evolution where every single one of us should be at the table in decision making. Every single one of us should be represented in innovation labs. Every single one of us should be represented in asset allocation, and that's why I decided to make WOWE." 
When Hua asked Marime-Ball to share advice with students thinking about their next steps and future careers, she offered this: "When it comes to the work that you decide to do, and if it is in financial markets, know that capital yes, is there to make people more money, but it is also there to fuel change. To make things better for humanity. You can absolutely have both. You can do well financially and do good at the same time. Seek out those opportunities that allow you to do both and allow you to live a life with purpose. I think you will be much happier rather than just being out there to make money for the sake of money." 
Hua's dialogue with Marime-Bell was the final talk in Hua's three-part series "Dialogue with International Development and Finance Leaders." Hua hosted the second dialogue on March 31 when he interviewed Shrey Kholi, Head of Debt Capital Markets at the London Stock Exchange. In the first dialogue on March 22, Hua interviewed Chief Financial Officer of the Asia Infrastructure Investment Bank (AIIB) Andrew Cross. 

In June, Marime-Ball's first book, The XX Edge: Unlocking Higher Returns and lower Risk, which she co-authored with Dr. Ruth Shaber will be published with Simon and Schuster.