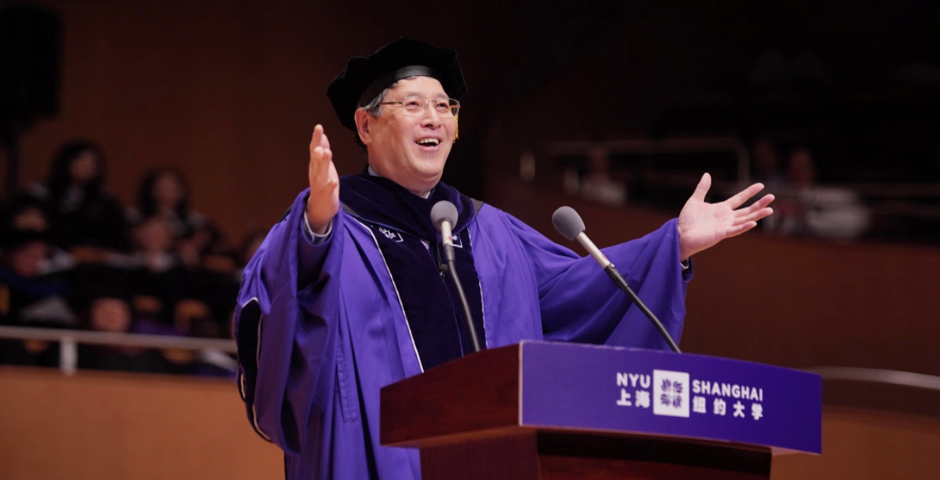 In late January, as word began to spread of a growing coronavirus epidemic in Wuhan, Chancellor Yu Lizhong's cell phone began buzzing.  
The text messages kept pouring in - from parents concerned about the safety of their children, from students worried about losing a whole semester of classes, from seniors wondering if they'd be able to graduate on time.
Yu replied to every message."He answered questions, clarified misunderstandings, especially during the early stages of the COVID outbreak when students were most uncertain," says Tim Wu Guangyu '20. "He also guided us to view the crisis as an opportunity to develop resilience and resourcefulness, cultivate creative learning skills."
 "I told them, 'We can do this together,'" Yu says. 
That so many students and parents felt they could reach out directly to their chancellor is relatively rare in higher education.  But it has been a hallmark of Chancellor Yu's tenure at NYU Shanghai.  It will be one of many things students, faculty, and staff will miss about their beloved founding chancellor once he retires on June 1.
What the students didn't know as they were messaging Yu last winter was that he was replying from a nearly empty office.  A date in early March had been set for his retirement - and after 24 years as a university administrator and more than 40 years in higher education, he was looking forward to becoming a full-time grandfather and traveling around the world, perhaps even to the South and North Poles. 
But as the COVID crisis grew, and as a temporary delay in reopening campus became an indefinite one, it was clear to Yu that he had to stay a bit longer to shepherd NYU Shanghai - the innovative Sino-U.S. university he had spent more than a decade to launch and nurture - through one more challenge.
---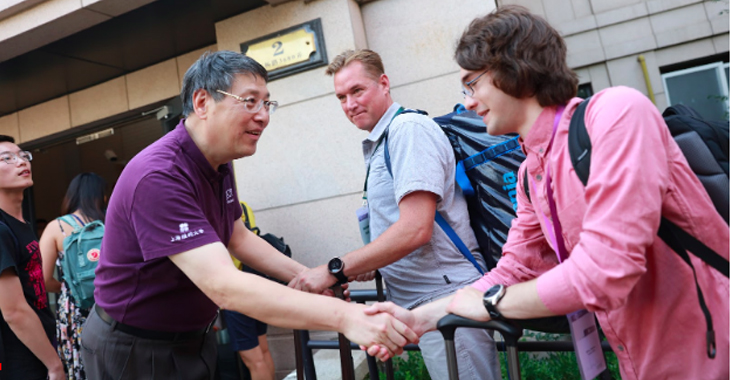 Chancellor Yu was a regular presence at freshman move-in day every August.  From morning to night, he greeted arriving students and helped with their luggage.
Yu's relationship with NYU reaches back to 2006, when, as President of East China Normal University (ECNU), he welcomed the first 18  students to NYU's new study away center on the ECNU campus. By 2008, hundreds of NYU students were applying to study away in Shanghai.  And before long, negotiations began for a joint venture between ECNU and NYU that would serve as a full-fledged NYU campus in Shanghai. 
 "From the first moment I met Li, I could see that he was a special man," says then-NYU President John Sexton. "We soon became dear friends and partners - and I realized he had a critically important talent: he could get things done, from the majestic big idea to the tiny but critically important detail." 
Approvals from China's Ministry of Education to form the world's first-ever Sino-US research university came in September 2012.   "It was the right time, right place, and right people," Yu says. "The Ministry of Education was actively promoting cooperation between China and foreign higher-education institutions, which created the 'right time'; Shanghai was the 'right place,' since it needed an international university that could deliver a world class education, meet world class standards, and help build the city; ECNU and NYU were  the 'right people,' since we had already cooperated for years and built a solid foundation of shared values and mutual understanding.  So, NYU Shanghai is very special, but also very lucky."
"Li is one of those rare human beings who are centered in virtue and great values," Sexton says.  "He had a great vision for education and for the world, one of a humankind that was united for the progress of all.  And it was clear that he had the courage to pursue that vision. Li is a truly great man for whom NYU Shanghai stands as a legacy."
---
Yu's faith in the transformative power of education has been lifelong,  even he was not so certain he would be able to obtain one himself.  A high school student during "Down to the Countryside Movement" of  the Cultural Revolution, Yu was sent to work on a farm in Heilongjiang.  He stayed there nine years, farming wheat, soybeans, corn under extremely difficult conditions, even losing part of a finger to a machinery accident, but never losing hope that he might be able to return to Shanghai to attend university. "I loved to study, even in the countryside," he says, "My dream was to be educated, to be a student."
When China finally reinstituted the national exams, Yu studied for the exams late into the night after working in the fields, achieved outstanding scores, and was admitted to the geography department of ECNU.  "Education," he says, "changed my life." 
---​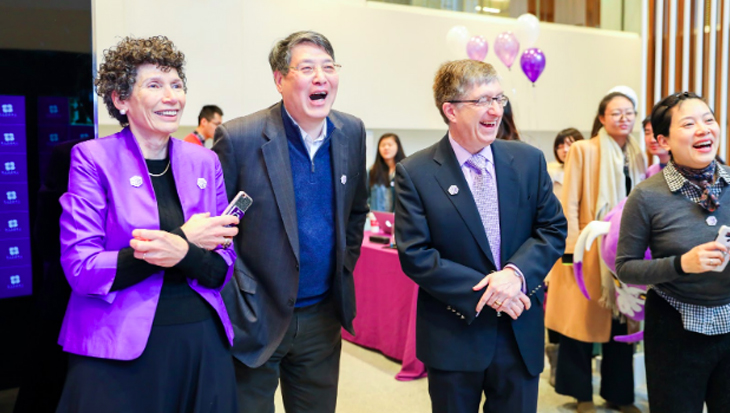 Chancellor Yu formed a thriving partnership with Vice Chancellor Jeffrey Lehman and Provost Joanna Waley-Cohen
With approvals secured, Yu turned to the next challenge:​ convincing students to come to a new institution that did not yet have a glamorous campus or successful graduates.  Yu knew he had to find ambitious students who were not afraid of leaving their comfort zones.  Wu, who was part of the fourth class recruited to NYU Shanghai, remembers being inspired by Yu's speech at candidate weekend.  "Many of us can still recall the question he asked, 'Are you ready to take a different path that has more risk but also more unexpected opportunities?'"
The students who have answered the call have been Yu's greatest source of pride these last eight years. "NYU Shanghai students have a special character," he says. "They accepted the challenge to try something different, to live together with people from different parts of the world, to interact, to create lots of new ideas and bring progress to the world.  I think our students can compete with any other university, but even more important, they have a strong sense of social responsibility."
Yu is also proud of the working relationship he built with his American counterpart, Vice Chancellor Jeffrey Lehman.  Together, they modeled the cross-cultural cooperation they hoped NYU Shanghai students would master during their time on campus.
"Our partnership was built on a deep foundation of mutual respect and shared values," says Lehman. "We both worked seriously to promote NYU Shanghai as an exemplar of twenty-first century cosmopolitanism, but we also both enjoyed a good laugh. We each had areas of experience and knowledge, but we also enjoyed bouncing ideas off each other, refining them through conversation."
---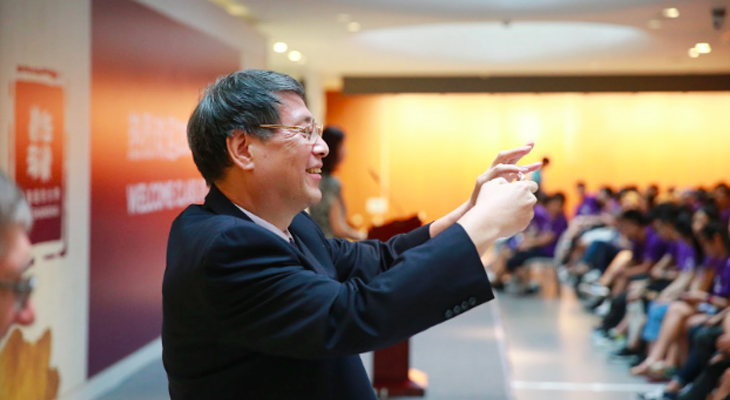 Yu's relationship with social media dates back to its earliest days, when he was president of Shanghai Normal University and students were posting on online bulletin boards.   He immediately recognized how an unanswered complaint on a public forum could spread - and sought to answer every one.  "If young people are unhappy, they will use strong words on social media," he says diplomatically. "I realized that most students just wanted a sincere response."
Yu became the first university president in China to open an account on Weibo. Today, he has 1.7 million followers on Weibo, a platform Yu uses regularly to promote NYU Shanghai and the value of international cooperation in higher education. 
Yu accepts WeChat friend requests from all students and belongs to group chats with each class of NYU Shanghai students from the first class of 2017 through to the class of 2023.  "Through WeChat, I can speak directly to students, and know their concerns wherever they are," he says. "To me, social media has been positive, not negative."
Being connected to NYU Shanghai students was particularly helpful this winter.  He reached out directly to students stuck in Wuhan during the earliest days of the crisis.  And as the epidemic spread, he reached out to students studying away in New York - exhorting them to stay home, stay focused, take care of themselves  … and eat something healthier than instant ramen.
"He is probably one of the most approachable chancellors a school can have," Wu says.
====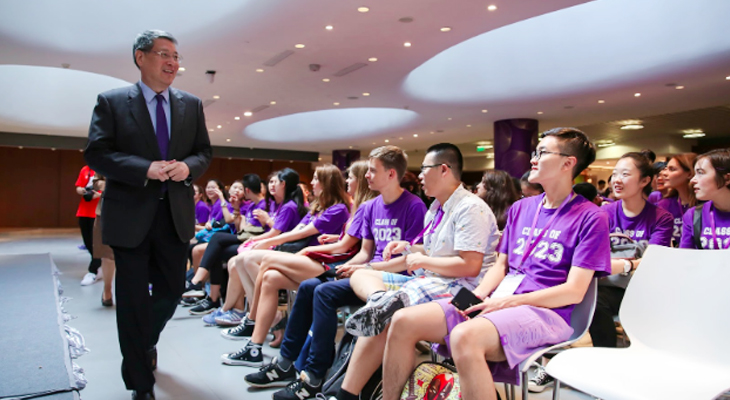 After three months of closure to prevent the spread of COVID-19, NYU Shanghai re-opened its doors to students and faculty on April 27. For now, the virus appears to have receded and Yu is finally ready to begin retirement with his grandson.  His office is empty - the Christmas cards and thank you notes from NYU Shanghai parents, cartoon portraits by students have been boxed up and moved to his home.  
Yu knows he is leaving the university in good hands.  His successor and former ECNU colleague, Tong Shijun, is someone whose commitment to cross-cultural education and the mission of NYU Shanghai is as passionate as his own, and will form a powerful partnership with Vice Chancellor Lehman.
"The challenges will continue," Yu says. "But NYU Shanghai is used to it and they will know how to handle it."
Because, Yu says, the world needs NYU Shanghai more than ever: "This is a time that needs people and institutions that value inclusiveness, that can bring diverse people together to recognize differences, but focus on shared values and goals to build a solid and peaceful future."
Yu says he is not worried about his legacy.  "It's not important that people remember me.  We are all small pieces of history.  It is much more important to have more people working to advance the vision and mission of the university."
But there's no chance that Chancellor Yu will be forgotten. Says Lehman, "As the first chancellor of the first Sino-American joint university, Yu Lizhong will always be remembered for having proven that a true partnership of this kind can be a triumphant success, and when it is, the educational possibilities are limitless."
---
From the 2011 ground-breaking ceremony to the inauguration of the Century Avenue Academic Building in 2014, from receiving freshmen on move-in day to NYU Shanghai's first virtual commencement three days ago, Chancellor Yu has been there every step of the way. Here's a look back at his wise, joyful, and generous leadership. Photo Gallery