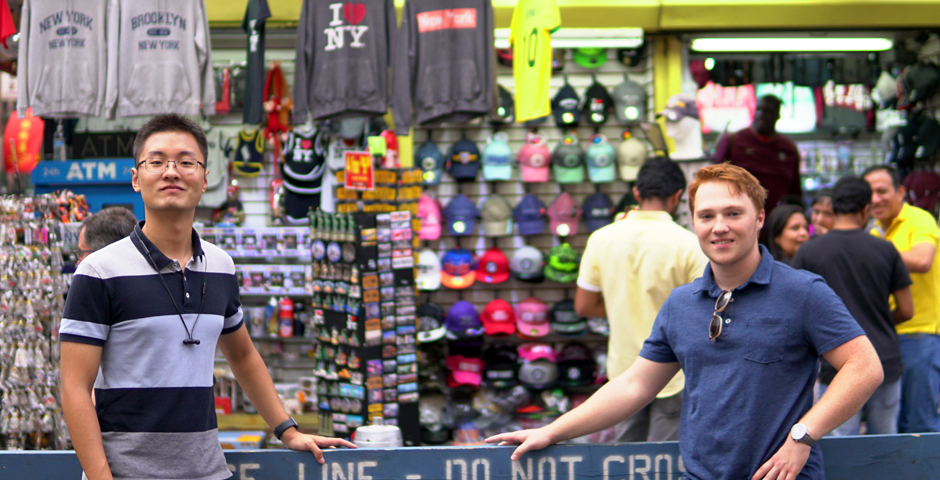 Frank and Justin have been roommates since freshman year. The pair plan to room together again this fall as study away students in New York City. Having spent Chinese New Year with Frank's family, Justin is looking forward to bringing Frank to Chicago for Thanksgiving with his family.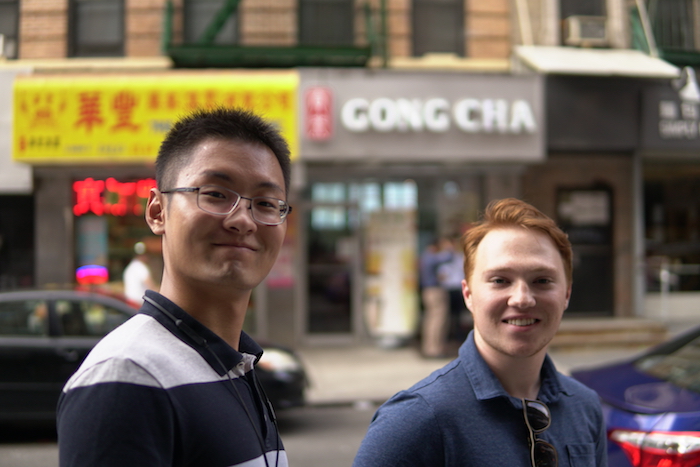 Frank and Justin in New York City. Photo by Nicholas Yiu '20
Frank Zhou '21
Hometown: Yangzhou, Jiangsu Province
Major: Data Science, Economics
Justin Zotos '21
Hometown: Chicago, IL
Major: Marketing, Global China Studies
Choosing NYU Shanghai
Justin: I lived in Singapore from age 1 until high school and then moved back to Chicago. I didn't realize how awesome the cultural experience I had growing up was until I didn't have it anymore. I came to NYU Shanghai to be back in a multicultural community.
Frank: When I came for Candidate Weekend, I felt this college was so cool. I've made so many friends and experienced so many amazing cultures. It's my first time out of my hometown. And it's my first time to have a roommate for such a long time.
Justin: What really sticks out about NYU Shanghai are the people. How everybody really tries their best to understand cultures. They care about careers, they care about school. But they also care about other people. People here just get it. That's what makes it the best school in the world.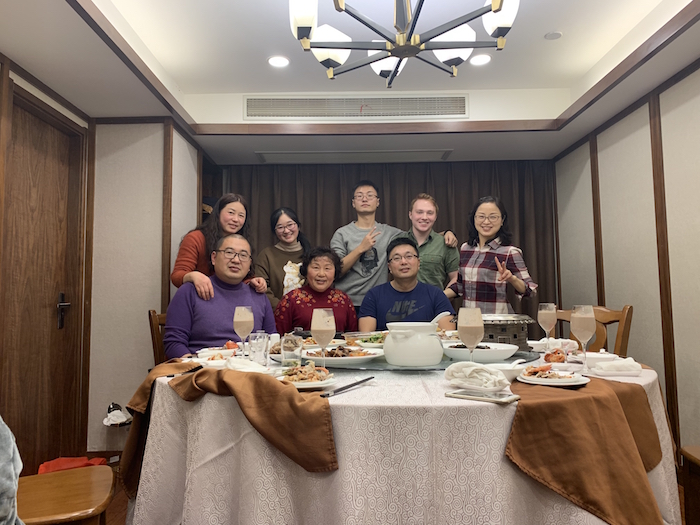 Spending Chinese New Year in Yangzhou with Frank's family.
Helping each other
Justin: Freshman year, Frank was worried about his English and I was worried about my Chinese. We made this pact to practice with each other. That was one of our defining moments. We set goals for each other and helped each other accomplish them.
Frank: When we moved in, we had to sign a roommate agreement. There was space to add whatever we wanted. Justin wrote: "We will love each other." I was so moved. We don't need any other agreement, prohibitions, we just need to love each other. And you know, we can work this out.
Justin: Frank is the hardest working guy I've ever met. He'll spend all day getting his work done, sometimes finishing things weeks before the due date. I was not like that at all. He taught me the importance of waking up early, getting a breakfast, and now I have a lot more time to get stuff done. Right now, my GPA is its highest, ever. All because he's making sure that I'm doing okay.
Frank: Justin is such an outgoing guy. He has a lot of friends. One of my goals was to hang out with friends a lot more. Meet different people and try to go out more.
Justin: Frank was one of just 3 Chinese guys at a party I hosted. I really respect Frank for pushing himself socially.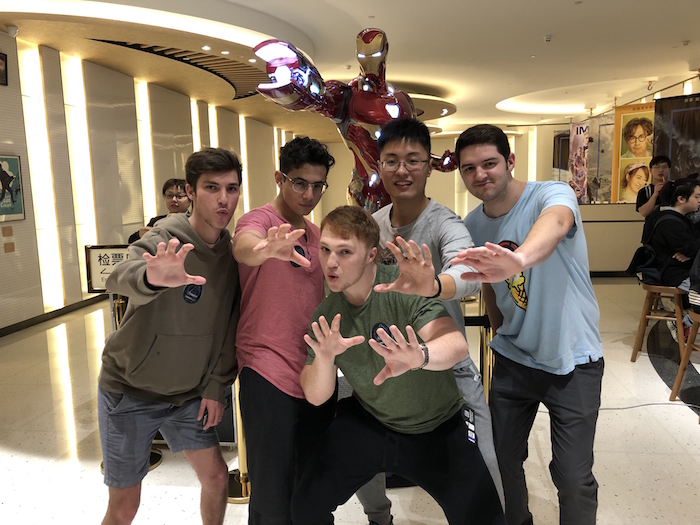 "Every superhero movie that comes out, Frank and I will go see it together," says Justin.
Roommate traditions
Justin: We connected over our love for superheroes. Every superhero movie that comes out, Frank and I will go see it together. We went to the midnight release of Avengers Endgame in China. We've probably seen 6 or 7 different movies together.
Frank: We like to eat. We will recommend different restaurants to each other.
Justin: The first time we really hung out was at this Peking duck restaurant. I remember he ordered duck heart. That freaked me out but it was not bad. 
Frank: When we ate hot pot, you ate a little bit of pork brain, right?
Justin: One of my goals when coming here was to never turn away new foods. Frank has definitely pushed my limits that's for sure, but I'm very thankful for it. 
Justin: I've got some really great places lined up for you in New York. 
Frank (smiling): I will have a hot dog in Chicago--and I will definitely put some ketchup in it.
Justin (shaking his head): No, no, no! In Chicago, you cannot put ketchup on hotdogs if you are above the age of 10. I'm making sure Frank has street cred.
--
Read more roommates stories:
Lauren Benedict '21 and Mi Zhou (Dora) '21
 Liu Tianwei '19 and Matthew Couch '19
 Dayna Brown '21 and Yuxin Feng '21