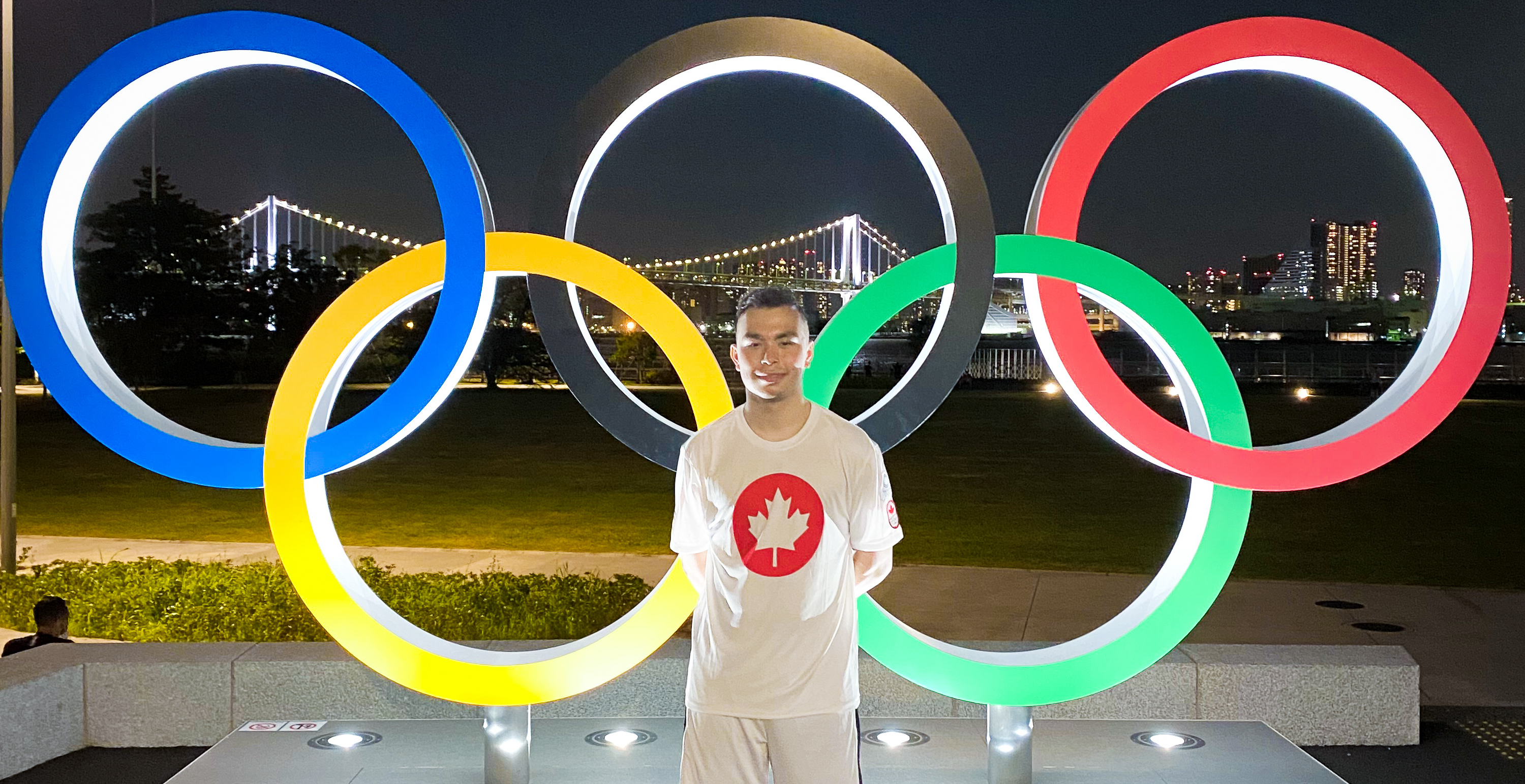 If, as a kid, you ever beat your friends in a race to the other side of the playground, landed a cartwheel, won a soccer game with teammates, or scored a point against your dad in badminton, you probably had a fleeting fantasy of making it to the Olympics one day. Most of us will never get there, but for one NYU Shanghai first-year student, that dream came true this summer.
Jeremy Hazin '25 made his Olympic debut in Tokyo on July 24, playing men's singles table tennis for Canada. Although he was eliminated in his first-round match against Bojan Tokic of Slovenia, Hazin says he is still proud and honored to have this unparalleled opportunity to test his skills on the world stage. Hazin sat down with NYU Shanghai for a video chat from his Toronto-area home to talk about what it meant to play under the Olympic banner and what he's looking forward to as he starts college life.
How did you get started playing table tennis, and what do you love most about the sport?
I started the sport when I was almost nine years old, which is a bit late for a table tennis player. I started out playing just for fun, so I never thought about going to the Olympics or playing professionally until I was about 12 or 13. I got started because an elementary school friend's parents liked to play table tennis, so they invited my parents to play at their table tennis club. Then my dad brought me along just to watch them play, and I found it pretty interesting and started to pick up on it. The table is very small and the ball moves very fast, so that attracted me to the sport a lot - you don't see that combination of speed and intensity a lot in other sports.
How did you feel when you learned that you were selected for Canada's Olympic team?
It was definitely a very exciting feeling. Making it to the Olympics was my biggest goal in my sport. A lot of athletes from a lot of different sports try their whole life to make it to the Olympics, but it's not something that many athletes can achieve. So that moment, to know that I finally achieved that, it was very meaningful to me.
But it also was very hard mentally to find out that the games were postponed, and you have to extend your preparations. So it was a very difficult year and a half. My goal in Tokyo was just to gain experience and try to do the best that I can -- there was no expectation to win a medal or anything. Just take it step by step and see how I can improve for the future, because at 21, I still have many good years to come, hopefully. Who knows what the future holds - maybe Paris [Olympic Games in 2024]?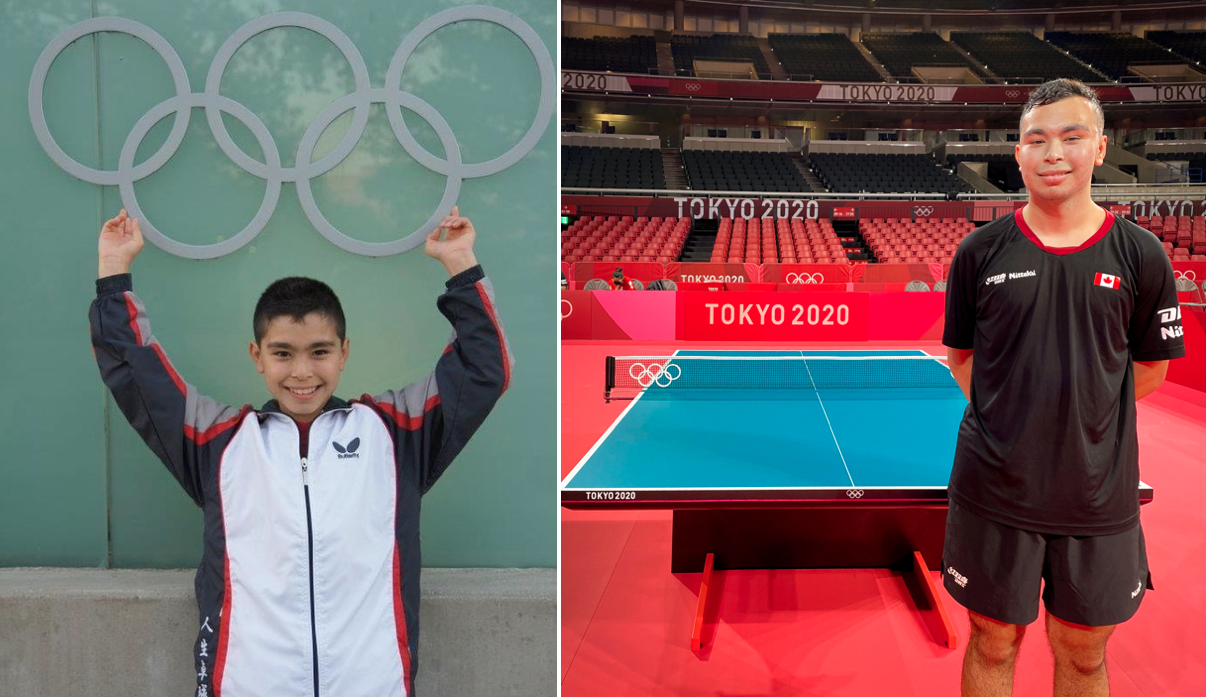 Childhood dream (left) come true (right)! 
Do you have a favorite Olympic moment?
I think my favorite Olympic moment would have to be the moment I stepped on the court, when the match first started, because that's when it really hits you. It felt unbelievable that it was actually happening, especially after all the news about potential cancellation. When you step onto the court and you're playing in front of the Olympic rings, it's definitely a very unique experience. It was almost overwhelming, thinking that this will probably be the greatest moment of my table tennis career.
 
How would you describe your playing style? And how does your play style reflect your personality? 
I would say I'm more of an attacking player, but when I need it, I'm also very good at defense. My defense has definitely saved me a lot throughout the years -- once I'm able to defend the ball, I can create more opportunities to attack the ball. In my studies or my daily life, there is definitely a very big similarity to my training attitudes. No matter what you do, whether it's table tennis or normal life, you need to develop dedication and passion for something if you want to excel at it. You've got to put in the hours, and you have to find smart ways to try to improve yourself. It's not just hard work -- you have to do smart work, too.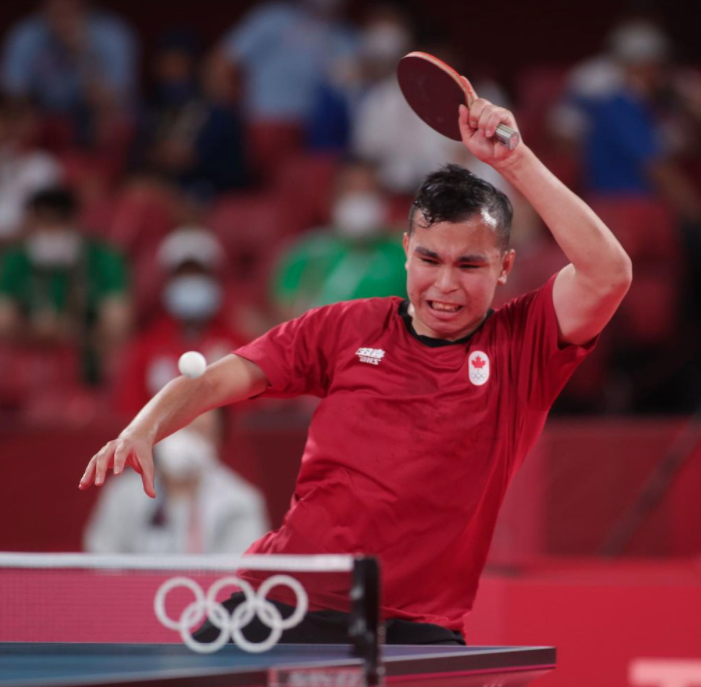 Hazin takes a shot during his Olympic match. Photo courtesy of the International Table Tennis Federation.
How did you decide to come to NYU Shanghai?
I learned about NYU Shanghai a few years ago when I did some of my own research into NYU, because I knew NYU had a lot of global programs. I've been to multiple cities in China before -- including Shanghai -- to do some training, because China has a really good table tennis program. One of the reasons that I wanted to come to Shanghai was the facilities there for table tennis. After I graduated high school in 2018, I did table tennis training full-time, so some four to six hours of training every day. Now I want to study, but also balance that with my table tennis training. Also, I'd like to become an entrepreneur and start my own businesses. And at NYU Shanghai, the business program is not only about business in the US, but also international opportunities for business.
What are you most looking forward to as an NYU Shanghai student?
I'm really excited to be with a mix of international students from all around the world. That's very unique to NYU Shanghai -- you have students from all around the world, and also Chinese students, so I can make a lot of different friends from different countries. For me, getting to meet new people is the best part of travel, and that's also the best part of university, to get to socialize with new people and study together. That's definitely something that I missed when I was training full time. I also really like to travel, so even though I'm in Shanghai I can do some traveling to other NYU global campuses.
My mom's side of the family is from Hong Kong, so I can speak Cantonese, and then with my knowledge in Cantonese I can speak a little bit of Mandarin. But I never took any formal classes in Chinese, so studying Chinese as a language is also going to be really fun, and it's definitely exciting to do some reading and writing. So there are a lot of things that I am really looking forward to at NYU Shanghai!
Learn more about Jeremy on his Instagram, @jeremyhazin
Learn more about NYU Shanghai's Class of 2025:
NYU Shanghai Welcomes the Class of 2025 - In Person and Online
NYU Shanghai's Class of 2025 Moves In