2018 graduate Liu Lingyi studied the humanities with a minor in art history during her time at NYU Shanghai. Since graduating, Liu has set her sights set on furthering her academic career in art research, and is currently working on her M.A in History of Art and Archaeology in East Asia and Intensive Japanese at SOAS, University of London.
Her path, however, wasn't always so clear.
Her high school coursework consisted mainly of science courses, and she came to NYU Shanghai assuming that she would study biology or business. But in her first year, Liu took an elective course called Masters of Asian Cinema, which gave her a brand new direction. "After I took this course, I developed a deep fascination with the humanities," said Liu. "I also realized the potential in these subjects."
Liu shares how NYU Shanghai's interdisciplinary liberal arts curriculum helped her uncover her true interests and choose a major and research focus. She also gives us a glimpse of her new life in London, studying and surrounding herself with art.
Why did you choose NYU Shanghai, and what did your family, classmates, and friends say when you told them?
When I was at Beijing Huiwen Middle School, I heard that Chancellor Yu was coming to Beijing to do an admissions talk. I had heard that NYU Shanghai was a Sino-US university, and I was interested in the idea, so I decided to go to the talk with my mother. I listened to what Chancellor Yu and the admissions staff had to say about the educational philosophy and curriculum at NYU Shanghai, and I was moved. I also loved the study away element, so I applied.
When I visited NYU Shanghai for Candidate Weekend with other Chinese candidates, it really helped me make up my mind about this school. We sampled a class, wrote essays, did group activities, and went to interviews. No traditional Chinese university has such a comprehensive system for assessing candidates. It was so interesting and challenging. In those 24 hours, I met students from around China. They were friendly, and had such vibrant minds. We became close very quickly. I naturally took to the atmosphere. So I chose NYU Shanghai, and my parents supported my decision.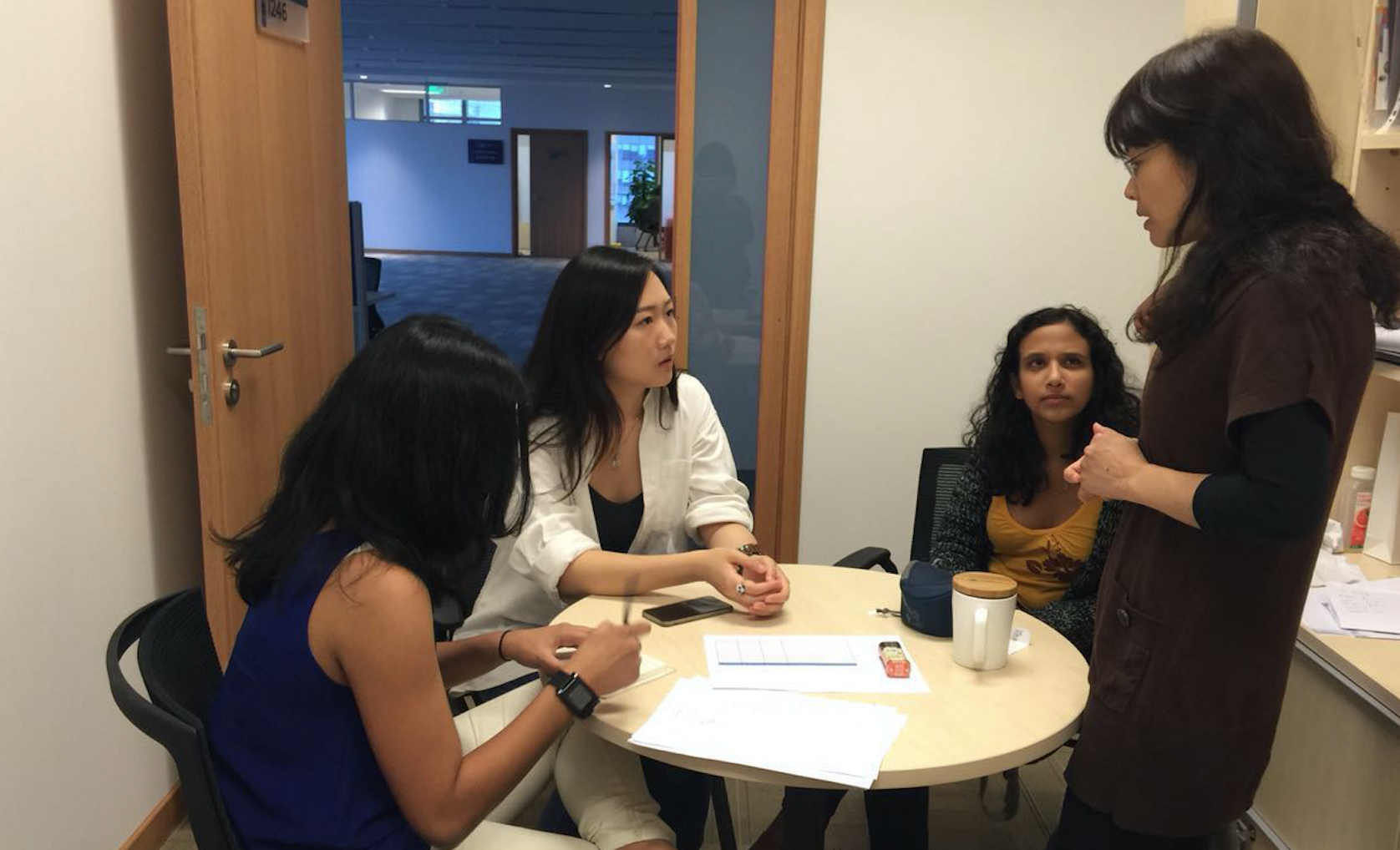 Liu (second from left), planning an event for the NYU Shanghai Gallery
Did NYU Shanghai meet your expectations? Was it challenging to come into an environment where classes, discussions, readings, and writing are all completed in English?
It was a gradual process. From my freshman year onwards, the curriculum slowly and steadily built up to help me acquire the academic and critical thinking abilities that I needed. All the while, it also helped me discover new academic interests.
For example, all Chinese students have to take a class called English for Academic Purposes. This class is not like any other language training class, because it focuses on training students to use English in different academic situations. We learned to engage in discussions, write essays, and make effective presentations. We also worked on strengthening how we communicate across disciplines, which helped us with knowledge sharing, and applying knowledge from different fields to our own area of study.
Professor Brandon Conlon focused on the details when he taught this course. He taught us how to speak confidently, showed us the structure of an essay, and demonstrated how to engage the listener's attention with eye contact. He also exposed us to the underpinning theories of rhetoric, inspired us to think deeply, and encouraged us to apply theory to practice. This class gave me a firm foundation for all of the classes that followed later, regardless of the discipline.
NYU Shanghai does not require students to decide their majors until their third year. During the first two years, the curriculum focuses on six major areas. This foundational core curriculum is designed to expose students to a variety of disciplines, and help them choose a major that they can be passionate about. What was your experience of this?
I benefited immensely from the core curriculum. During high school, most of my courses were focused on the sciences. I had intended to major in biology or business in university, but during my first year, I took a course called Masters of Asian Cinema. After I took this course, I developed a deep fascination with the humanities. I also realized the potential in these subjects, so I switched tracks.
Compared with other universities in China that require students to select a major upon admission, the first two years of liberal arts studies at NYU Shanghai offer students the space to discover their academic passions. I had the opportunity to try other disciplines, which broadened my horizons and shaped my plans for the future.
After engaging in this type of interdisciplinary study, I began to see connections between many seemingly unrelated fields. This changed the way I approach problems and how I engage in research. It showed me how to see an issue from different angles. The concept of interdisciplinary thinking is trending in higher education these days, but if institutions want to take it from concept to execution, they have to create an immersive liberal arts environment like the one I had at NYU Shanghai.
I gained competence in a wide range of skills in this interdisciplinary environment. It opened door after door. I remember in my second year, I had to complete foundations of science requirements, which is part of the core curriculum at NYU Shanghai. I selected an Interactive Media Arts course that taught basic coding. Even though it was an entry level course, it still helped me expand my understanding of computer science.
Often, if you stay immersed in your area of expertise, you might lose sight of other areas, and start making assumptions about them. Your notions may not be prejudicial, but this is how a mind becomes closed off. With NYU Shanghai's curriculum, I was able to "visit" different fields, and build a basic understanding of the knowledge and thinking employed in those fields. This helped me overturn preconceived notions. Even if I don't end up using the things I learn along the way, at the very least, the process has broadened my horizons. In essence, this challenges the overly utilitarian nature of what we're used to seeing as "traditional" education.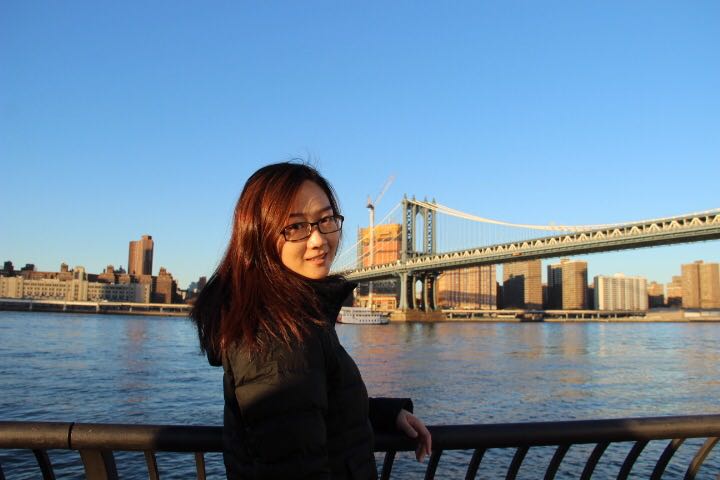 Liu studied away in New York for one year.
Some say it's better to settle on a major in your first year, so you have two more years to dig more deeply into that major. What are your thoughts about this?
Speaking from my own experience, I went from being undecided to an eventual immersion in my major, which then helped me determine my research direction. My major was humanities, which is a comprehensive study of the humanities. Prior to starting on my thesis in my fourth year, I had the freedom to take courses about literature, history, philosophy, and cinema. This abundance of choice nourished me. It gave me the room to gradually discover my research interests and form my thesis topic.
In my sophomore year, I took Francesca Tarocco's Contemporary Art & New Media course, which introduced the trajectory of contemporary art in China since the founding of the People's Republic of China.
She [Tarocco] took us to museums and galleries across Shanghai, and my interests expanded from the medium of film to encompass more forms of art. Then, in my third year, I studied away in New York, one of the premier art capitals of the world, and began focusing on art history as a minor. I took so many art history courses during that year in New York. Then, during the summer I got a Dean's Undergraduate Research Fund (DURF) grant to engage in research on the the Chinese art movement.
My way forward became clear. For my senior thesis, I compared the early work of two "85 Art Movement" artists. After that, I took stock of everything I had learned, consulted with my professors, and decided to pursue my postgraduate studies in art history. As a Master of Arts candidate at the University of London, I am able to frame China's history and how Chinese art has changed within the regional context in my research.
During the summer of your junior year, you applied for and received funding to do research under DURF. As an undergraduate student, what made you want to do research? What did you learn from this process?
DURF is a fantastic platform that teaches undergraduate students how to engage in research. As a student of art history, I can see that it is an especially valuable and useful opportunity for students who are considering an academic career. To become a mature scholar, you have to choose your research topic, research methods, and obtain funding. DURF lets undergraduates "preview" what being a researcher is really like.
Undergraduate students are usually busy with classes, and don't have time for research. This project encourages us to explore and practice new ideas outside of class. It's a complete end to end process. So DURF is more than a methodical process for training students to engage in academic research, it also encourages young people to see something through from start to finish.
My DURF advisors were Pepe Karmel and Boris Groys, both of whom are seasoned art historians. When I studied away in New York, I took their courses and assisted them with archival work on their projects. To this day, I have a great relationship with both of them.
NYU Shanghai students come from more than 70 countries around the world, so every student has a different background and unique life experiences and perspectives. Every Chinese student is assigned at least one roommate from one of these 70 countries. How did the university's diverse environment impact you?
During my first year, I stayed in a three person dorm room. I had a Chinese roommate and a Polish roommate. The three of us came from different places; we held differing customs and habits. As we got closer and learned to compromise, each of us were able to grow. This is something that a diverse and multi-dimensional learning environment can give you.
Incredibly, just a few days ago, I found out on Facebook that my Polish roommate is now working in London. So of course we met up and had dinner. While we were eating, she started reminiscing about our freshman days. She told me my habit of drinking hot water was incredible to her at the time. It was such a brand new thing for her.
I see a metaphor in this. I might be a glass of hot water, and she, a glass of cold water. NYU Shanghai brought us together, and encouraged us to mix together in a multicultural environment. As a result, some of us might have been warmer than we're accustomed to, while others might have been cooler. There's always some discomfort associated with stepping outside your comfort zone. But eventually, you discover that a few degrees doesn't make much of a difference one way or another.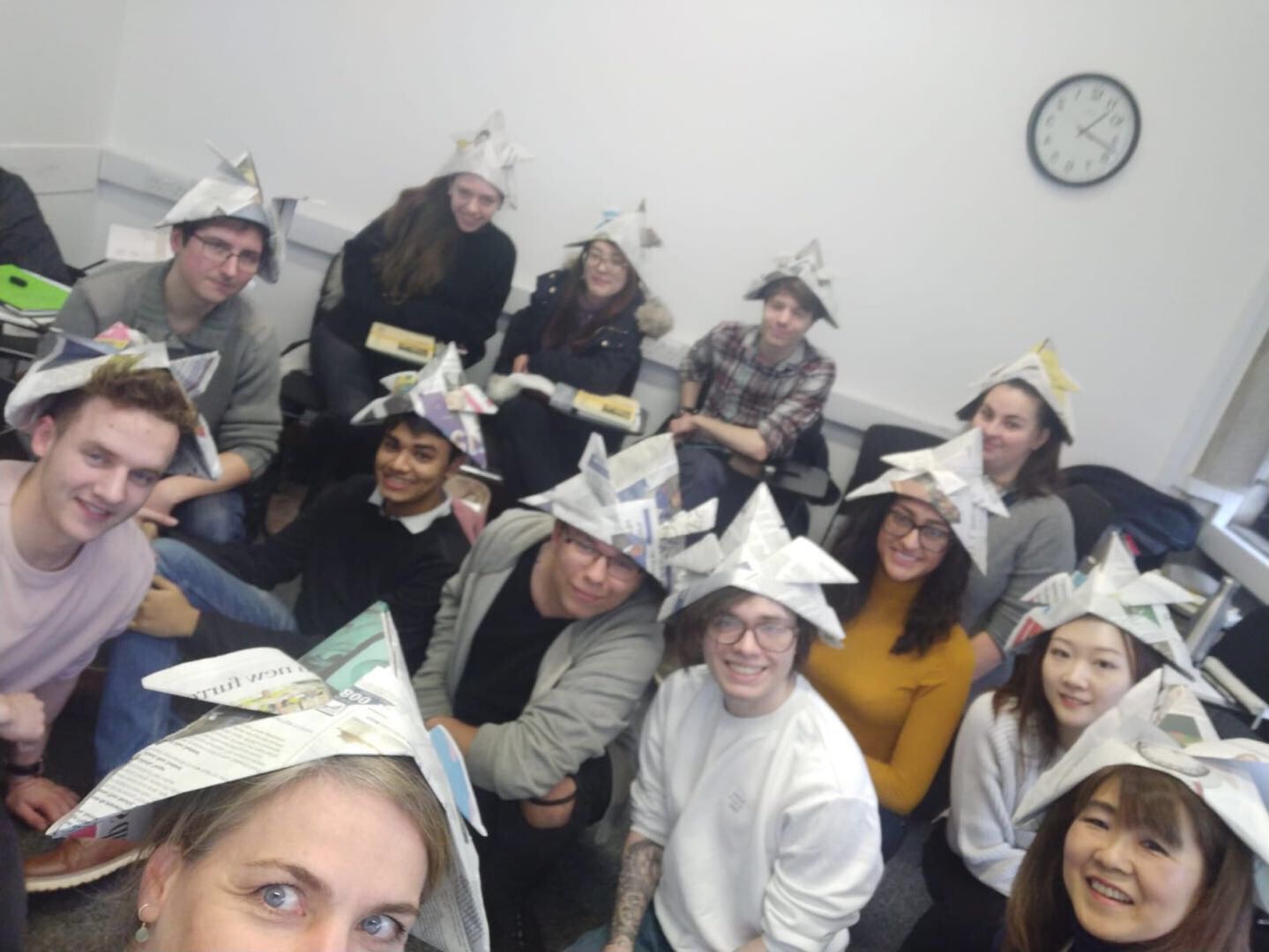 Liu (second from right) and classmates wearing kabuto in their Japanese class.
Can you talk about the academic environment in London? How does it compare to your undergraduate studies?
Currently, one aspect that my program focuses on is to train our visual literacy, which is a key competency for art historians. Whenever I see a piece of art, I have to be able to "read" the image, much like how scholars study and read texts. The program also encourages us to see more, to spend time with the actual objects.
An art historian also needs to have a keen memory. We need to be able to establish an archive in our minds. When I see an unfamiliar piece of art, I need to be able to think of a reference. So what I'm doing now is constant observation, going to museums and galleries, and consciously registering these art works in my mind. I want to have a bank of references to call on in the future.
I have a pretty full schedule, since I'm also studying Japanese for 10 hours a week. My two year Master's program is a combined study of Japanese and East Asian art history. Classical Chinese art has a significant impact on Japanese modern art, particularly on some genres of the Edo period. So there is a great deal of Japanese scholarship surrounding classical Chinese painting. I'm also fascinated by modern Japanese art. By studying the language, I hope to improve my ability to read primary texts in Japanese.
As part of my Master's program, I will be travelling to Kyoto University this summer for a month-long language learning program. I'm hoping to visit temples and museums while I'm in Kyoto.
This year, I am doing an internship at Chiswick Auctions, a local auction house in London. Next year, I'll continue my studies in London, and intern at Christie's Auctions. I will also be exploring my career options in art.