Jack B. Du, NYU Abu Dhabi Associate Arts Instructor of Interactive Media
Hometown: Yan'an, Shaanxi
Major: Interactive Media Arts and Computer Science; Minor: Studio Art
Why did you decide to enter NYU Shanghai as one of its first class of undergraduates? 
I entered NYU Shanghai with a deep interest in technology, thinking I would be an engineer. At the IMA studio, I met Marianne Petit, who co-founded the IMA program and cultivated a very welcoming environment. I was captivated by how computational technologies were used to create fun, engaging, interactive experiences in IMA classes. I knew I would regret it if I did not pursue an IMA major. It turned out to be one of the best decisions I made at NYU Shanghai. 
The interdisciplinary nature of the program allowed me to freely explore many interests as I discovered the artist in myself. Even today, I am always experimenting with new modes of artistic expression, developing custom tools when they do not exist. Through my artworks and tools, I hope to empower people with creative possibilities they never anticipated.
What were some of the highlights of your time at NYU Shanghai?
Working on my IMA capstone project and showcasing it was one of the most rewarding and memorable experiences I had at NYU Shanghai. My capstone project was to design and build a robot that draws on paper. It was much more challenging than I originally thought. I tried countless design approaches, had many in-depth conversations with my faculty mentors, and received so much feedback from my classmates, friends, and family. After months of research and prototypes, I was finally able to build Minus E, an award-winning drawing robot that was exhibited at venues around Shanghai. I was also invited to talk about my robot at places such as Zaojiu Youth Talk, where I attempted to demystify computational art. I met and talked with so many new people throughout the process, and it is these interactions that made this time particularly special.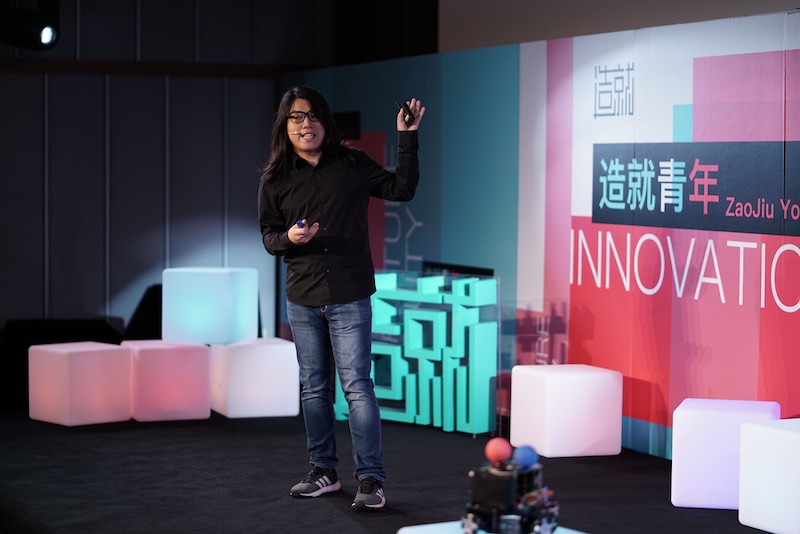 Jack B. Du talking about his drawing robot, Minus E, at Zaojiu Youth Talk in Shanghai in 2018. Photo from Zaojiu Youth Talk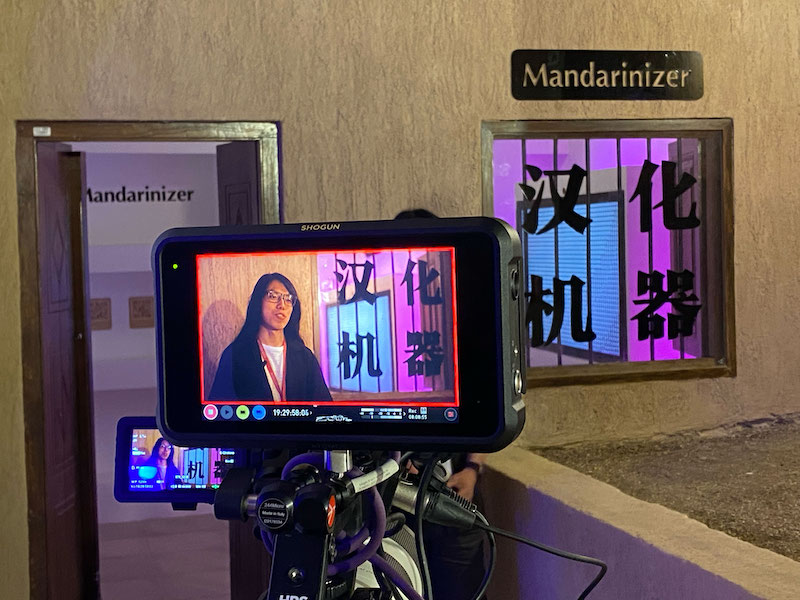 Jack B. Du talking in front of his interactive installation, Mandarinizer, at Al Fahidi Historical Neighborhood in Dubai, UAE in 2022. Photo by Senior Language Lecturer, Jing Chai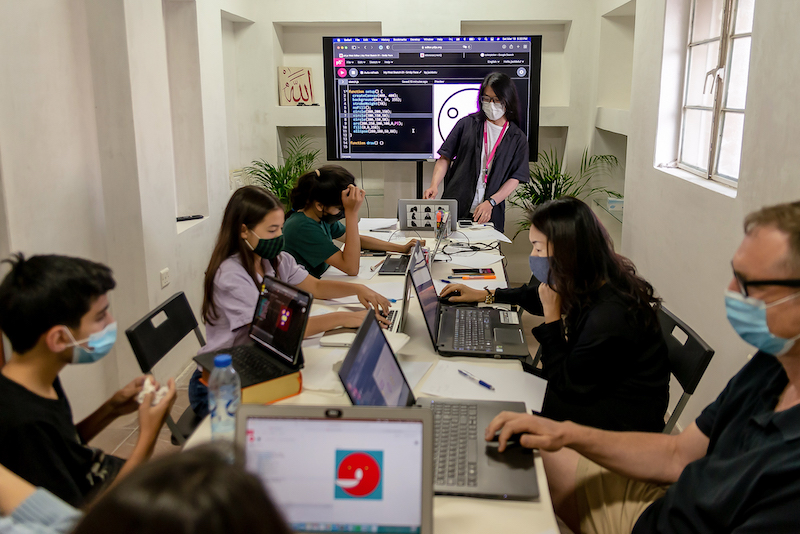 Jack B. Du teaching a creative coding workshop at Sikka Art and Design Festival in Dubai, UAE, in 2022; Photo by Orouge Photography
What's a typical day for you at NYU Abu Dhabi? 
At the Interactive Media program, I spend a significant amount of time teaching and interfacing with students. For instance, I developed and taught workshops on a variety of topics, most notably web development and creative coding. These workshops were purposefully designed to be beginner-friendly so everybody [in the community] could attend. The popularity of my workshops ultimately made me decide to bring them to communities beyond the university campus, including Dubai Design Week and Sikka Art & Design Festival.
In addition, I create computational sketches on a daily basis and post them on social media to actively engage in conversation with the public. I believe this is a form of research that is particularly suitable for me as an artist. It helps me produce continuous creative output, which often leads to surprising results that I would otherwise not achieve. I recently did a talk on my daily sketches at NYU Shanghai's IMA, where I discussed in depth how some of my sketches came to be.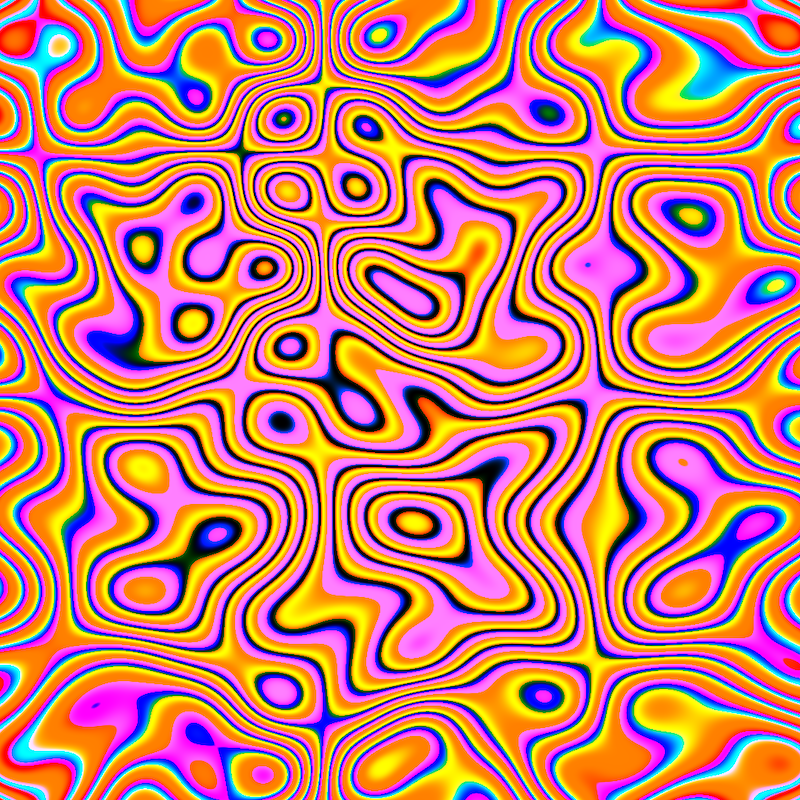 Still captured from Jack B. Du's computational sketch posted on Instagram on March 25, 2023
How has your experience as an NYU Shanghai student helped you as an instructor at NYU Abu Dhabi? 
Studying and working at NYU Shanghai has given me the opportunity to view the world from a truly global lens, deepening my understanding and respect for cultures across the world. At NYU Abu Dhabi, I work with students and colleagues from very diverse social, cultural, and geographical backgrounds. When working with them, I try to be a good listener and take my time to understand their perspectives. 
What's your advice for NYU Shanghai students?
Stay curious and have an open mind! Curiosity is the best drive for learning anything. If you are a curious person, you are always exploring new ideas. It is these new ideas that help us grow, both as a learner and as a person. Also, try to challenge yourself to do something new consistently every day, you would be surprised what you can achieve!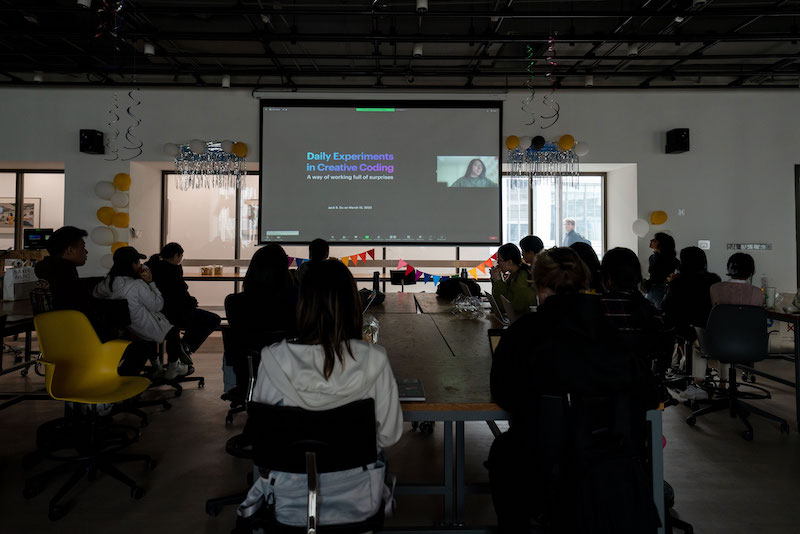 Jack B. Du presenting daily creative coding experiments to NYU Shanghai IMA students in 2023. Photo by Ken Wu '24
If you are an NYU Shanghai alum or want to recommend one to share their story, please email shanghai.uc@nyu.edu.