CHIN-SHU 460 Teaching Chinese Language Through Children's Storybooks 
A Dean's Service Scholars (DSS) Course.
This course starts in the second half of fall semester and finishes by the first half of the spring semester. It integrates Chinese language learning and teaching with community exploration and service to introduce students to Chinese language pedagogy and its application in early childhood education.
Co-taught by Chinese Language Faculty Jing Chai and Jinghong Bi, this course will be conducted in an immersive target language environment. The students will have the opportunity to work closely with a local kindergarten on a curriculum development project centered on children's storybooks. Students will observe kindergarten classes, analyze sample teaching videos, prepare teaching plans, conduct mock teaching, conduct field teaching and reflect on their first-hand service learning experiences in the Chinese language. As a final project, students will combine the teaching skills that they have learned with relevant research in order to create either: 1) a teaching manual that incorporates children's literature into listening comprehension exercises; or 2) an original children's book that incorporates target pedagogical techniques for Chinese language learning. In the course of exploring teaching, students will improve their interpersonal skills and communication skills in the target language as well.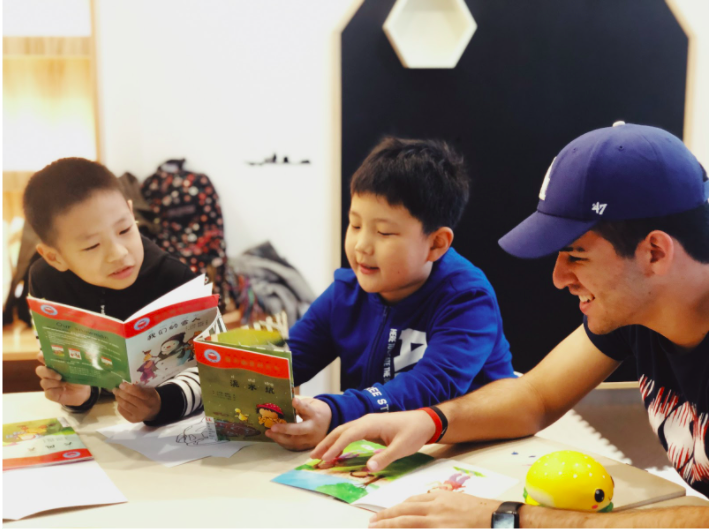 Course Details: The course will meet in the second 7 weeks of the semester once a week on Wednesdays from 2:30 - 5:00 pm. It will continue on in following spring semester for the first 7 weeks of the semester. 
Service Commitment: In both semesters, students need to commit to observing classes and teaching at least 1 hour per week outside of class time. You will teach in pairs based on your schedules the kindergarten's needs.
Eligibility to Apply: Students who have completed Advanced Chinese II or the equivalent and who can commit to the above requirements are eligible to apply. An interview with the course instructor is necessary for enrollment into the course.
Application Instructions: Please fill out the application form. Questions? Email Jing Chai (jing.chai@nyu.edu) or Jinghong Bi (jinghong.bi@nyu.edu)