Student Research Team Examines Shanghai Lockdown Food Responses
Sep 23 2022
Shanghai's strict two-month lockdown due to COVID this past spring posed incredible challenges for millions of residents–especially when it came to accessing food. Out of these unexpected challenges arose an immediate community response with incredible innovations and grassroots organization, including a research group of NYU Shanghai students, staff, and professors who met regularly to examine food responses during the lockdown. Projects ranged from examining the group buying phenomenon to researching how special populations and people with disabilities - including the elderly and visually impared people - were able to get food, to thinking about the lockdown's impact on food waste. 
On March 31, 2022, the day before the official lockdown in Puxi began, Assistant Professor of Contemporary Global Media Anna Greenspan reached out to Director of Community Engaged Learning and Associate Dean of Academic Affairs Diane Geng about forming a research group. "Within such a short time… the normal systems of food and feeding in the city broke down," Greenspan said. "While incredibly difficult to live through, the whole thing was fascinating from the perspective of a person interested in food in the city." 
Under Greenspan's guidance, twelve students signed on to participate in the non-credit project. Meeting weekly from April until June, the sessions included research method workshops from NYU Shanghai staff and faculty, including Professor Shuang Wen, who gave a workshop on oral history methods, Professor Margaret Minsky, who shared methods on archiving WeChat information, and Librarian Caitlin MacKenzie Mannion, who led a workshop on using library research databases. Fan Luo from RITS and Chunhao Qian from Community Engaged Learning worked with the students to develop their ArcGIS Story Map skills.
On June 23, the group presented their findings to the NYU Shanghai community. The team used a visual tool called ArcGIS Story Map to document and present their research. The Story Map lives on and can be viewed by the public, acting as an archive of the research the students completed during the lockdown period.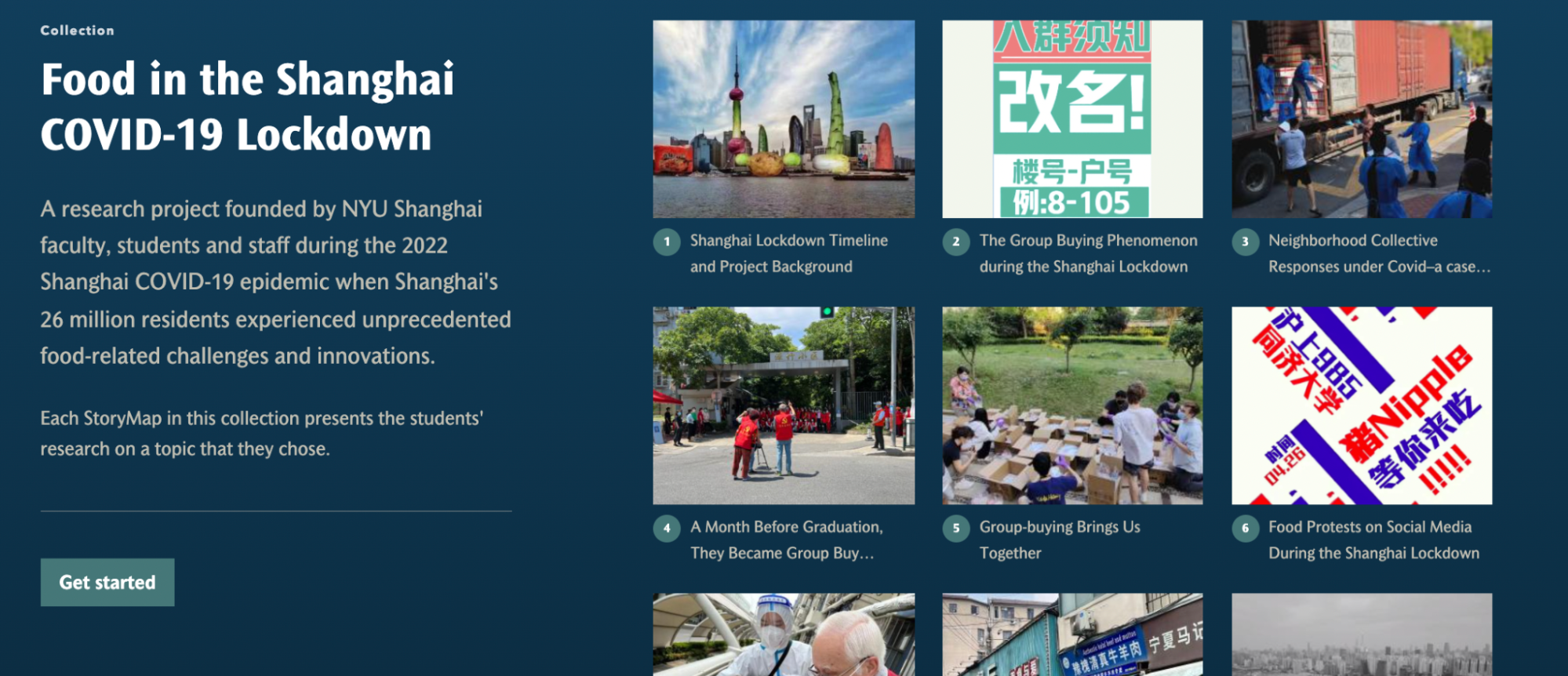 The homepage of the Story Map. Visitors to the website can click around and explore different research projects by students.
Eadin Wang '24 worked with Sandy Xu '22 and Zhu Ziyi '25 to document the group buying phenomenon. "I could utilize my free time [while in lockdown] in the dorm to know more about something I was experiencing from an academic perspective," said Wang. "Linking the interview responses with literature findings was interesting and rewarding because I could see people sharing some similarities universally, and analyze how the differences came about."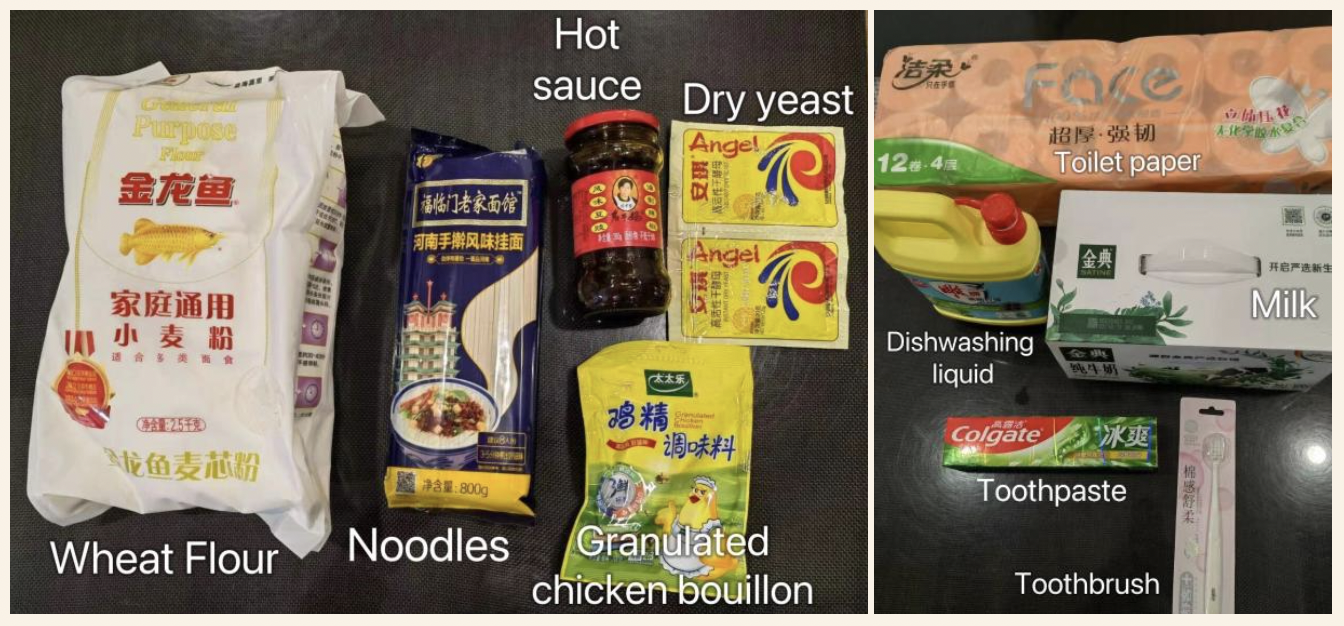 A photo documenting food rations received from Zhu Ziyi's project. 
Sandy Xu's project documented her own classmates' experience as group-buy leaders in their housing compounds. Two students, Jamie Wang '22 and Layla Lei '22, who were residents of the Yuanzhu Neighborhood (源竹小区) in Pudong, managed to find several hours each day to volunteer for their compound of 500 residents–ordering and distributing dumplings, cake, cheese rolls, ice cream, and pizza–all while finishing their last semester of classes and completing capstone projects. In her Story Map, Xu documents the journey Layla and Jamie went on as group buy captains, including moderating arguments between neighbors, collecting payments, and receiving grateful messages at the end of the lockdown.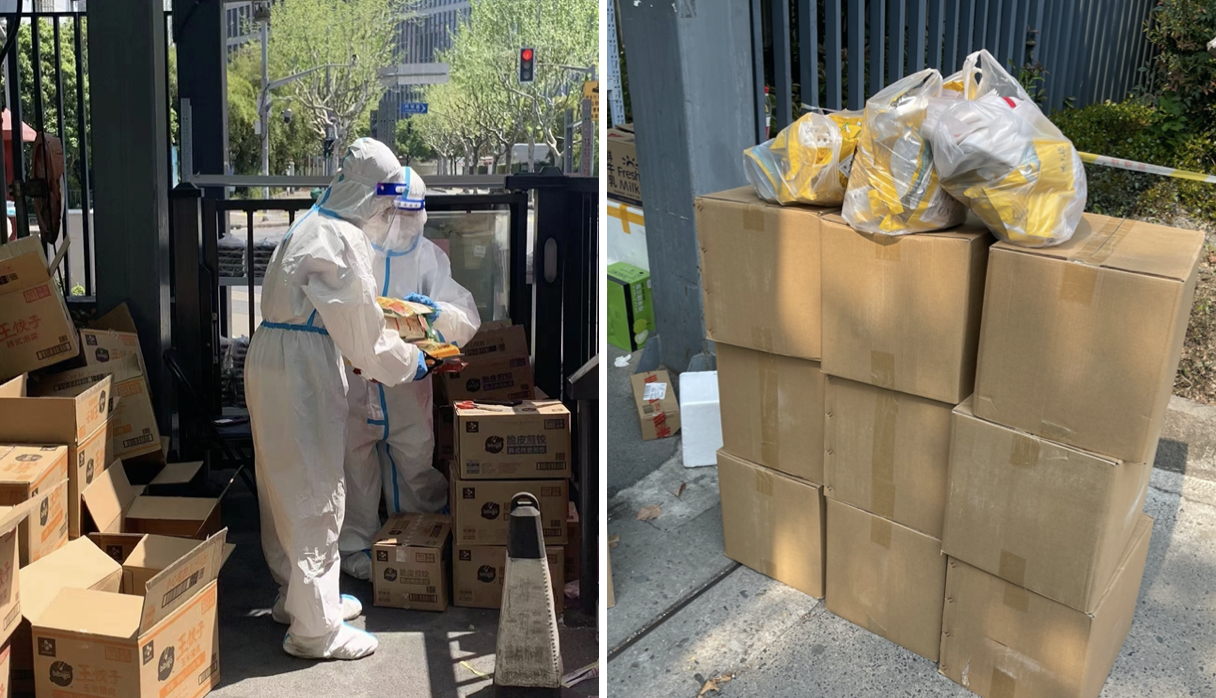 Jamie and Layla '22 organizing food buying and distribution for the 500+ members of their compound. Photo Credit: Jamie Wang '22
"Community Engaged Learning initiatives are designed to deepen students' inquiry into the city and their surrounding communities and this was a wonderful opportunity to support students' research in direct response to an event that affected all of our lives," said Geng. "We hoped that students would exercise and hone their research skills, and produce valuable documentation of these issues."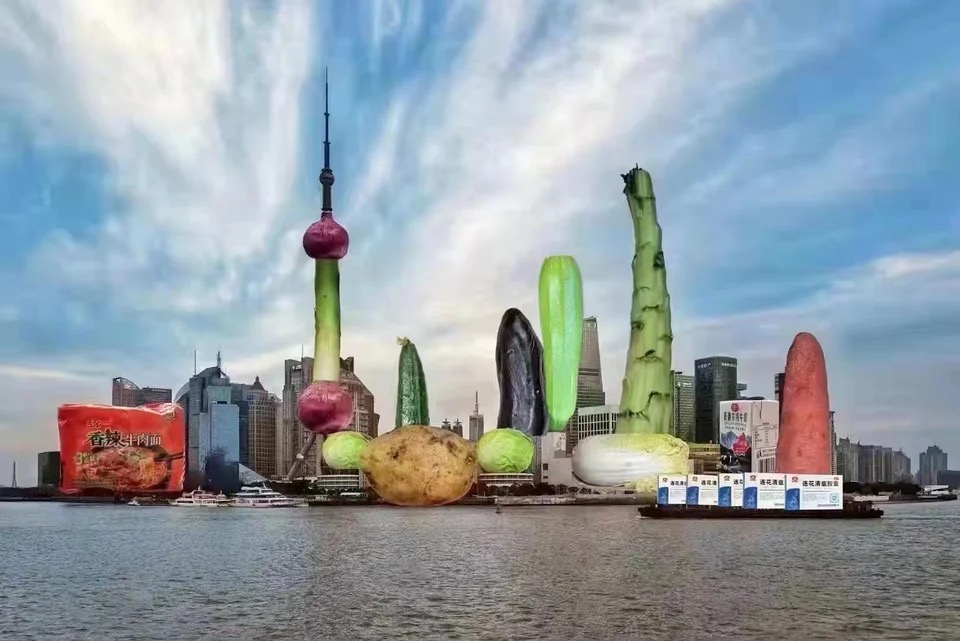 An image widely circulated during the Shanghai lockdown showing the iconic Pudong skyline turned into government ration supplies. 

Reflecting on the project, Professor Greenspan spoke of the significance of documenting such a monumental time in history. "It's hard to make a judgment on what this research has done, because we are all still very close to it. It will be really interesting to look back on this in a few months and years. I'm really glad we have this record. As our memory fades, we'll go back to it, and it will be an important experience and reminder."
A complete list of students and their projects: 
Yuhong Zha '24 & Yunhe Zhang '25: The Group Buying Phenomenon during the Shanghai Lockdown
Ziyi Zhu '25: Neighborhood Collective Responses under Covid: a case study
Sandy Xu '22: A Month Before Graduation, They Became Group Buy Leaders: Navigating the group-buy leaders' journey through interview
Eadin Wang '24: Group-buying Brings Us Together: Food in Shanghai Lockdown - Collective Responses
Tracey Lan '22: Food Protests on Social Media During the Shanghai Lockdown: A Case Study of the Tongji University "Pork Sashimi" Incident
Jess Jiapeng Tang '25: Challenges of Elderly People in the Lockdown
Axl Cheng NYU '23: To Halal, or Not to Starve, That is the Question: On the Plight of Procuring Halal Food during the 2022 Shanghai Lockdown
Louis Li' 24: A Population with Special Needs: Blind-visually impaired people in Shanghai lockdown
Jiayi Xu '25 & Aijia Li '25: The Food Supply Chain During the Lockdown: The breakdown and the added steps
Minxuan Xie '25: Food Waste in the Lockdown: Can you hear the food crying?